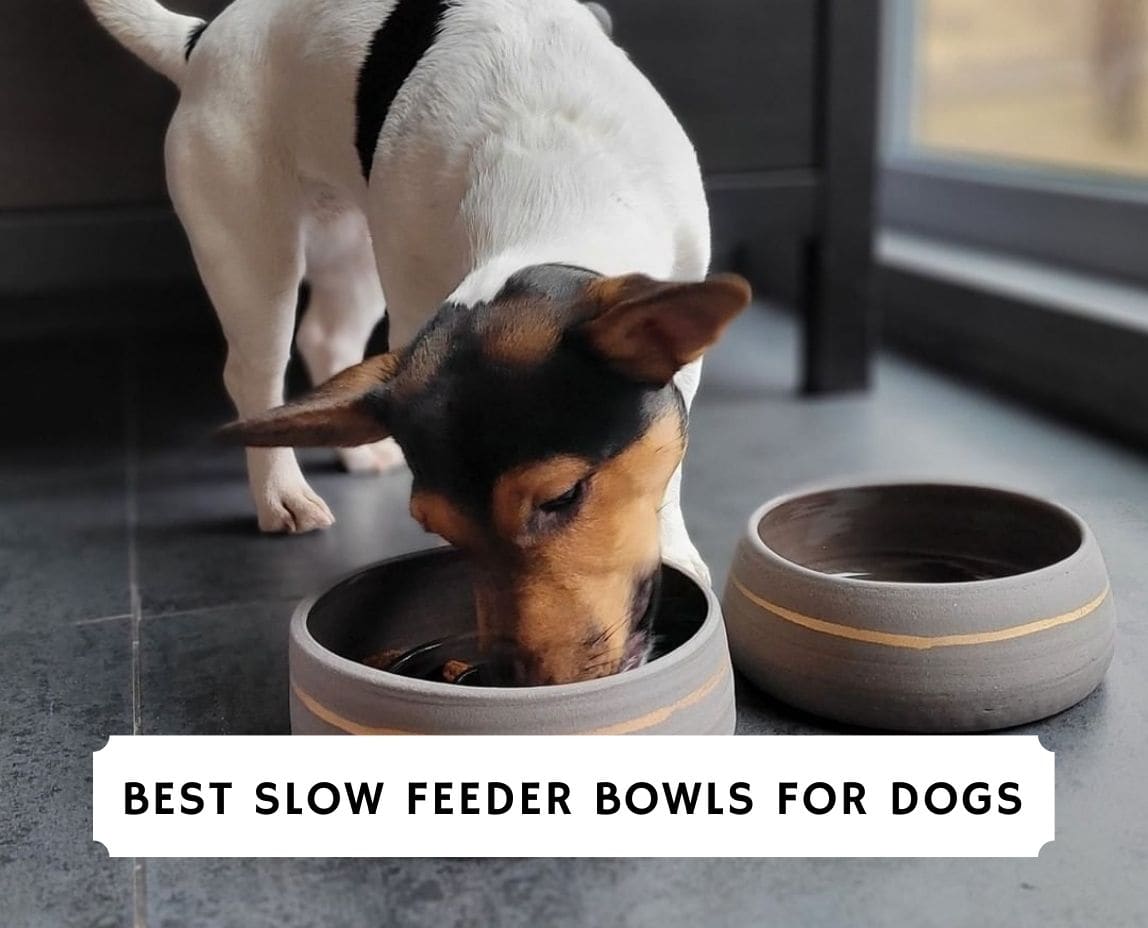 Is your pup a gulper? If so, a slow feeder can help you out. If you're a pet parent, you know how important it is that your dog eats slowly. Otherwise, there's a good chance they'll end up with bloat (a dangerous condition in which the stomach fills with air or fluid and then twists) or other gastrointestinal issues. 
Bloat, also referred to as gastric dilatation-volvulus (GDV) complex, is both a surgical and medical emergency that needs emergency treatment right away.
The American Kennel Club (AKC) explains that "As the stomach fills with air, pressure builds, stopping blood from the hind legs and abdomen from returning to the heart. Blood pools at the back end of the body, reducing the working blood volume and sending the dog into shock." 
Even in the mildest bloat case, dogs can die from this condition. If this isn't enough, there is yet another scary thing that happens, and it is devastating to see."
The AKC adds that "As the stomach flips, it drags the spleen and pancreas along with it, cutting off the blood flow. The oxygen-starved pancreas produces some very toxic hormones. One, in particular, targets the heart and stops it cold. A dog can go through successful treatment and seem out of danger when suddenly the heart stops."
The worst part is dogs gulp their food so quickly that you may not even notice them doing it. That's why a slow feeder can help – it makes your pup eats more slowly.
Best Slow Feeder Dog Bowls
In this review, we'll go over what a slow feeder does and answer the question: are slow feeders worth it? We'll also give you some advice on bloat and choosing your new slow-feeder dog bowl. Finally, we'll review the top six slow feeders available right now, so you can find the best one for your dog.
All of these bowls are designed in such a way as to prevent your pet from eating too fast. So, for example, if you're looking for a slow feeder bowl for your dog, you've come to the right place. Instead, we're reviewed dozens of bowls to find the best slow feeders for dogs.
From elevated dog feeder bowls that keep your pet's head up while eating to unique toys designed to stimulate your dog's natural chewing behavior and reduce their speed of eating. These products are made from safe materials and have been tested by pet parents for both durability and effectiveness in slowing down their dog's eating.
You can use any of these bowls alone or in conjunction with each other depending on your pet's needs and the types of problems associated with fast eating. We've included a variety of slow feeder bowl designs so you can find one that works for both you and your pet.
In a rush? Here are the top picks!
Product
Best Overall
PetSafe 5 Meal Programmable Pet Food Dispenser
Runner Up
Neater Slow Feeder
Budget Pick
Outward Hound Fun Feeder Slo Bowl
Best Slow Feeding Mat
Lickimat Splash, Dog Slow Feeder Bowls
Image
Best Slow Feeding Mat
Product
Lickimat Splash, Dog Slow Feeder Bowls
Image
The Outward Hound Fun Feeder Slow Feed dog bowl is designed to prevent digestive issues through the use of varied ridges and maze patterns, which slows a dog's eating pace up to 10 times! These bowls aid digestion while engaging dogs during mealtime and reducing overeating behavior. 
Fun Feeder Slo Bowls come in multiple sizes and maze patterns to suit your pup's needs and make feeding fun. For example, the large/regular slow feeder holds up to 4 cups of dry kibble, the medium/mini holds 2 cups, and the minor/tiny holds 3/4 cup. You can also add a little water to food and freeze in the bowl for a fun popsicle puzzle game or switch up styles to keep meals interesting for your furbaby. 
We like these slow-feed dishes for dogs because they're made from BPA, PVC, and phthalate-free materials; these bowls are also top-rack dishwasher safe. Most of the buyers appreciate the great designs. This is one of our top picks because these feeders are crafted to reduce your dog's risk of bloat, encourage proper chewing behavior, and eliminate extra gulping that can lead to digestive issues like diarrhea. This product features over 69,800 positive reviews.
Features
Affordable

Over 69,800 positive reviews

An Outward Hound pet product

Deep grooves to slow down eating

Numerous sizes for all dog breeds

9 color options & 3 size options

Non-slip base

Crafted with food-safe materials

BPA, PVC, lead & phthalate-free

No mess design with no floor spills
With the exponential growth in obese pets in America, obesity is now considered a common disease. The PetSafe 5 Meal Programmable Pet Food Dispenser helps prevent your pet from becoming obese by controlling his food intake to precisely five portions per day, each consisting of 1/4 cup (40z). The built-in clock and LCD screen help you to set up your pet's feeding schedule quickly. The takeaway from this slow feeder pet food dispenser is that the built-in clock and LCD screen allow you to quickly set up your pet's feeding schedule.
An added benefit is that the PetSafe 5 Meal Programmable Pet Food Dispenser also slows down your pet's eating pace so that he can be better engaged in his meal, leading to better digestion.
Another benefit of the PetSafe 5 Meal Programmable Pet Food Dispenser is that it works with dry and semi-moist food. Its removable plastic trays are dishwasher safe. 
Each compartment holds up to 1 cup of dry or semi-moist pet food; the feeder is best for cats and small to medium-sized dogs. PetSafe 5 allows you to schedule smaller meals throughout the day to help keep your best friend healthy. This product features over 9,400 positive reviews.
Features
Taupe, plastic material

Global brand in pet products 

Over 9,400 positive reviews

Fast & easy setup

Dishwasher safe tray

Schedule pre-portioned meals for your pet

Affordable

Five meal scheduling

Digital clock technology

Removable BPA-free tray
The Lickimat Splash dog slow feeder bowl has three color options and helps calm and soothe your pet by helping release endorphins through the promotion of licking. It sticks on tile, floor, bath, shower glass, car window to allow your pet to be distracted licking a tasty treat, like peanut butter or cream cheese. 
The large suction cap sticks firmly to most hard surfaces. This is the only wall lick pad with a clever rubber teat in the center to allow you to load with food then stick on the wall. This slow feeder is perfect for serving meals or creating tasty lickable treats. 
The Lickimat Splash is ideal for dog training car travel and to help reduce create training time. We like this product because it's environmentally friendly and features no silicone. Lickimat has an extensive line of slow feeder pet products to choose from in all colorways and sizes.
Features
No silicone, BPA, or PVA

Food grade rubber

No phthalates

Environmentally friendly pet product

Innovative design

Lick pad

Freezer, microwave & dishwasher safe

Affordable for multi-pet households
The Neater Slow Feeder's unique design has 17 full-sized pockets to divide food into smaller portions. This slow feeder for dogs makes your pet eat slower, resulting in a healthy weight. This is a veterinarian-recommended dog bowl that helps reduce bloat, prevent obesity, stop vomiting, and improve digestion. It works for all cats and dogs – even flat-faced and large breeds. This slow-feeding pet bowl is designed to slow them down without driving them crazy. 
We like this slow feeder because it's non-toxic, durable ABS plastic. This plastic is BPA, PVC, and Phthalate free. And best of all, it is top-rack dishwasher safe (we recommend removing the rubber feet before washing). It also comes in 4 fun colorways.
This Slow Feeder is a Dog bowl designed with your pet's safety in mind. The simple design of the Neater Feeder is based on the geometry of a food dish and will not cause bloat or digestive issues like regular dog bowls. Instead, it is made from high-quality material to ensure your pet's safety. This product has over 2,000 positive reviews.
Features
Affordable for multi-pet households

Holds up to 2.5 cups of kibble

Features non-toxic ABS plastic

Crafted with anti-skid rubber feet

Top-rack dishwasher safe

Crafted with 17 full-sized pockets to divide food into smaller portions

4 stylish colorway options & 3 size options

Made in the US

Over 2,000 positive reviews
This Dog Feeder is made of high-quality plastic, durable and safe for your lovely pet. The unique design can prevent choking or bloating, making it an effective slow-feed dog bowl.
This slow bowl can hold about 1.5 cups (about 9 oz) of dry dog food and works well for all-sized dog breeds. It's also an easy and simple way to make sure dogs take their time eating. By carefully spacing out their kibble, you can prevent gulping and bloat, which are common in dogs that gulp their food.
The material is FDA-approved high-quality plastic, BPA-free, eco-friendly, healthy for your dog's health. It's crafted with food-safe, high-strength PP materials and is BPA-free and phthalate-free. Jasgood dog feeder for slow eating features over 9,400 positive reviews.
Features
Affordable

Slow feeder design

Three sizes

Numerous fun color options

Effective for pups & medium-sized dog breeds

Crafted with high-strength PP material

BPA free and phthalate-free

Four rubber feet reduce slipping

Safe, 100% recyclable material

Non-toxic

Over 9,400 positive reviews
With the Our Pets Spiral, Slow Feeder inserts, you can turn your stainless steel dog bowls or ceramic dog bowls into slow-feeder dog bowls. These slow-feeder dog puzzle inserts for dog bowls will challenge your pet and prevent them from gulping their food too quickly, slowing down their feeding process.
We like these because you can use them in any dog bowl, and they're crafted with food-safe silicone material that is BPA, PVC, and phthalate-free. The Our Pets Spiral Slow feeder insert helps to slow down the pace of eating, which can help in proper digestion, choking, and overeating. This product is flexible and easy to secure to most dog food bowls. Here's the takeaway:
Features
One insert for any dog size bowl

Affordable

Silicone

BPA, PVC, and phthalate-free

 Slow feeder dog puzzle 

Suctions to plastic, ceramic, steel & glass

Flexible 

Easy to secure in bowl
Warning signs of bloat in dogs
Pet parents of large- and giant-breed dogs should be educated about the early signs of bloat, as fast treatment is associated with greater than 80 percent survival rates. 
Symptoms of GDV include the following:
Distended belly

Abdominal pain

Dry Heaving

Anxiousness or pacing behavior

Pale gums (from lack of oxygen)

Drooling

Hypothermia

Unsuccessful attempts to vomit or belch

Change in temperament

Possible collapse.
New research at how effective slow feeders are at getting dogs to eat more slowly
A 2016 study published in Research gate demonstrates that " Go slow feeding bowls are effective at reducing eating speed and, while dogs become quicker at eating as they develop experience eating from these devices, the consumption rate is still slower than that observed when eating from a standard dog bowl. Therefore, if slowing down the rate of eating is effective at reducing risk of GDV or confers improved satiety, these bowls may have a role to play in improving the welfare of some dogs. However, we found no evidence that dogs wanted to have their rate of eating slowed down, so caution is advised in conflating a slower rate of eating with having fun (a game) and marketing these devices to clients in this way."
How to Choose a Slow Feeding Dog Bowl
Ridge patterns
Slow feed dog bowls have ridges laid out in a specific pattern or configuration to slow your furbaby down while eating. Ridges slow down the eating process and encourage dogs to eat their food more slowly than a traditional dog bowl.
This has led to a review of a wide range of different styles in our top 6 best slow-feed dog bowls! Some designs use horizontal ridges that create an unpredictable pattern as kibble moves along the length of the bowl. Others use vertical ridges or no ridges but incorporate elements like internal dividers that break up the flow of kibble. Some have shallower ridges than others, which work best for dogs with short snouts.
Best slow feeder size
The slow feeder or dog bowl size is essential in two ways. First, it is necessary to ensure the feeder is high enough for your pup to be nose-to-bowl, and second, to ensure you choose a slow feeder that is big enough for your dog's individual needs. 
A slow feeder that is too small can be just as bad as one too large. To suit different dog breeds, you can opt for slow-feed pet bowls in various sizes and capacities. Many brands of slow feeders list their kibble cup capacity product description, which helps a lot if you measure your pup's meals. 
Some brands feature up to five sizes, while most offer two sizes. Slow-feed dog bowls come with removable or adjustable partitions that help you control the flow of food and limit how much your dog can eat at one time.
There are also bowls with protruding obstacles in various configurations (some call them "speed bumps") to encourage pups to slow down even more by pausing now and then to lift their head and look around.
Material
Plastic: This is the most common material for slow-feed dog bowls. Plastic can be easily molded into a wide variety of shapes, so it's the best material for producing slow feeders with intricate ridge patterns. There are two main concerns about using plastic with your dog. The first is that they can be harmful if not made out of the right kind of plastic, and it's easy for puppies to chew through when not supervised. Opt for BPA-free plastic that is dishwasher safe.
Stainless steel: Stainless steel is very popular for its sturdy nature, and it doesn't rust easily. It's also easy to clean up and very hygienic. Plastic bowls are quickly chewed up by dogs, especially puppies or giant breed dogs who can easily bite off chunks of plastic. In some cases, the dog may need surgery to remove pieces of swallowed plastic from its digestive system. Always supervise when using plastic if your pup is a chewer!
What is a slow feeder?
A slow feeder dog bowl has an adjustable design so you can control how much your pet eats at each meal. When fully extended, it's large enough for dogs who are serious chow hounds, but the inner tray can be removed to make feeding smaller or toy breed dogs easier. 
There are even additional inserts that allow you to control the flow of food even more finely. For example, if your dog eats too fast, this slow feeder bowl is a great choice. It's made of BPA-free plastic and is dishwasher safe. Instead of scarfing down his food in a couple of minutes, your dog will now be forced to work for each bite.
Slow feeders are specially designed to make eating an interesting and challenging experience for your dog. The bowls are equipped with ridges around the edge that forces him to slow down as he tries to get all of the kibbles or treats out of the bowl.
The best slow-feed dog bowls are designed to reduce gorging, vomiting, and bloat, which are all common health problems with eating too fast. Your dog won't be able to scarf down his food in record time if it's more challenging for him to get it out of the bowl! They're also a great way to make mealtimes more interesting for your pet.
A slow feeder bowl is an easy and simple way to help prevent your dog from eating too fast and reduce or even eliminate common health problems that come with eating fast, such as vomiting, gorging, and bloat. 
Most dogs enjoy the challenge of working for their food, and many pet owners say they love how it slows their pup down. That means fewer chances of your pup coming down with digestive issues or bloat. As usual always reach out to your vet for the best advice and make sure to have pet insurance from day one to help with emergency vet bills.
How to use a slow feeder?
A slow feeder dog bowl is a device that makes your pet eat slower. This means giving their body more time to send signals telling them they are complete, helping with weight loss and digestion. When you use a regular dog bowl, it can be easy for your pet to devour their food because the dog bowl has a large surface area, allowing dogs to gulp down their meal.
 A slow-feeder dog bowl will make your pet eat at their own pace. This means not gulping down their food too quickly, but it also slows them down if they tend to eat too fast. You can use a slow-feeder dog bowl when you are home, and it makes for an excellent way to interact with your dog while they eat their dinner.
Slow feeder benefits
Slow feeder dog bowls come with a lot of advantages. One is for weight loss, as eating fast can cause bloat and obesity problems. It also helps digestion by giving the food more time to process in its stomach. They will not feel hungry right away, and it will also help them keep their activity level up. 
Slow feeders can be a great way to reduce or stop dog anxiety, as they spend eating far longer than usual. And slow feeder dog bowls can also be used for older dogs who have chewing problems and need softer food. Slow feeders can be used for both wet and dry dog foods.
How to slow your dog's eating?
The simplest way to make them eat slower is with a slow-feeder dog bowl. This works by making your pet focus on eating their meal, slowing them down if they are eating too fast. They are designed with ridges which make it harder for the dog to pull the food out of the bowl, creating a puzzle for them to solve when eating. These can be fun for dogs, and you might need to introduce them slowly to get your pet used to eating from a slow feeder.
How to choose a slow-feeder dog dish?
Many slow-feeder dog bowls are available, but they vary in price and design. You should consider if you want a hard or soft bowl, as well as the material it is made of. Plastic tends to be cheaper than metal, but stainless steel is often more durable. It can also come in different sizes depending on your pet's size and how much food you want them to eat per meal.
Some slow-feeder dog bowls include a non-slip base to keep it in place. It can be helpful if the bowl is elevated from the ground, and it will also make it harder for your pet to flip the bowl over.
TIP! The best slow feeder dog bowls often have a non-skid rubber bottom that keeps the bowl in place while your pet eats. This makes it harder for them to flip the bowl over, keeping their food safe. A slow feeder for dogs will help with weight loss, indigestion, and stress when eating. They can also make great gifts if you know someone with a pet!
For more information, check out this video: 

Claudia Bensimoun is a writer who specializes in dog content and veterinary topics! Aside from writing for We Love Doodles, Claudia also writes for other major dog blogs like Fido Friendly, Animal Wellness Magazine, and the United States Dog Agility Association (USDAA). She has a ghostwritten over 50 different dog e-books. Her passions include animal welfare, veterinary research, and wildlife conservation.
Why Trust We Love Doodles?
At We Love Doodles, we're a team of writers, veterinarians, and puppy trainers that love dogs. Our team of qualified experts researches and provides reliable information on a wide range of dog topics. Our reviews are based on customer feedback, hands-on testing, and in-depth analysis. We are fully transparent and honest to our community of dog owners and future owners.