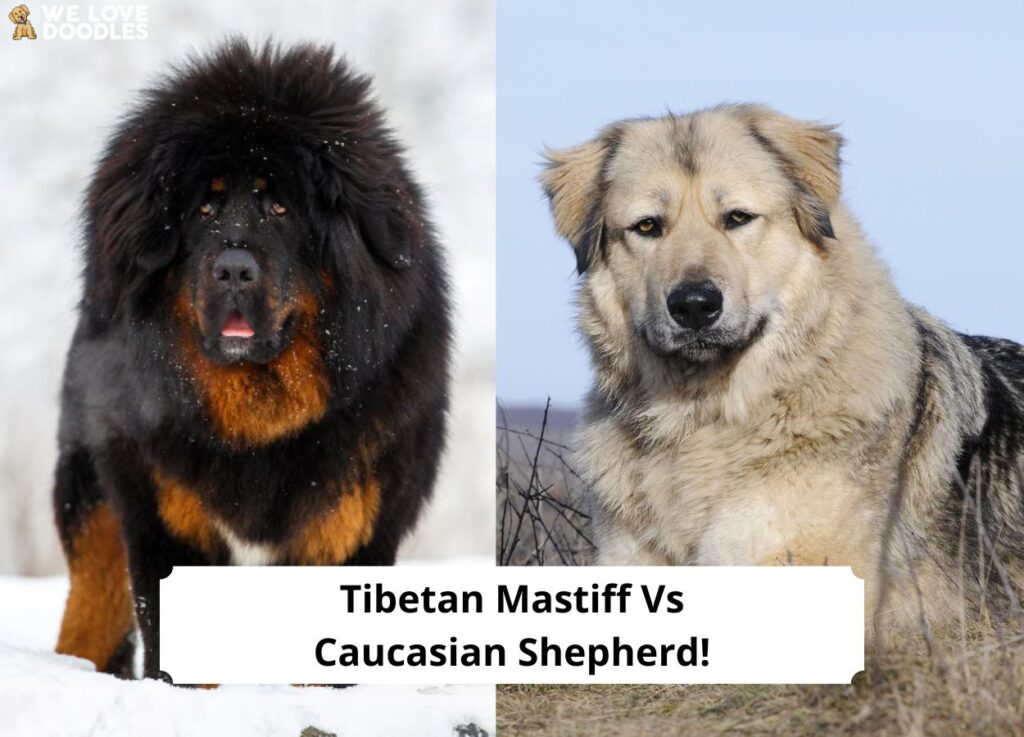 Are you debating between the Tibetan Mastiff vs Caucasian Shepherd as your family pet? There are minor differences that can influence whether to bring one of the dogs home over the other.
When compared to one another, the Caucasian Shepherd and the Tibetan Mastiff are quite similar. This is due, in large part, to the fact that they are related and were bred for similar purposes. The only significant distinction between them is their outward appearance and their relative size.
To help you decide which breed is ideal, we'll look at their similarities and differences in this guide.
Before you read this guide, "Tibetan Mastiff vs Caucasian Shepherd," check out: Best Shock Collar for a Mastiff! (2023) and 10 Interesting Facts About the Caucasian Shepherd Puppy! (2023).
Breed Backgrounds
Although the Tibetan Mastiff and the Caucasian Shepherd have different histories, it is thought that they are linked. Before comparing qualities between these two breeds, let's first take a closer look at their histories as they might occasionally be mistaken for one another.
Caucasian Shepherd
The names Caucasian Ovcharka, Kawkasky Owtscharka, Kaukasische Schäferhund, and Caucasian Sheepdog are all used to refer to the Caucasian Shepherd. He is a 2,000-plus-year-old Molosser dog that's also descended from Mastiff-type dogs (believed to be the Tibetan Mastiff and another larger breed). He is a Caucasian native who was born between Europe and Asia (formally part of Russia).
His original job was to guard flock or cattle from wolves, bears, and robbers when in the highlands. Due to the same qualities and appearances of many breeds descended from this ancestry, there are other Molosser dogs that resemble him.
He was the preferred breed for a long period for military personnel in Eastern Europe who required security. He is gradually making his way into the homes of families that enjoy having large, protective dogs who also love cuddling their loved ones, despite the fact that he is still fierce and protective.
Although the American Kennel Club does not formally recognize the Caucasian Shepherd, it's on the path to full recognition.
Tibetan Mastiff
The reason the history of the Tibetan Mastiff is largely shrouded in secrecy is that its homeland, Tibet, has historically been remote and closely guarded. The only thing we can be certain of is that they were the guardians of the temples in the Himalayas.
They partnered with little Lhasa Apsos at the temples, who would warn their Tibetan Mastiff partner of any threat. The Tibetan Mastiff would then jump into action and protect the monastery and the monks.
A Tibetan Mastiff was a special gift to visitors to the Himalayas throughout ages. As a result, it moved to other regions of Europe and Asia. The Tibetan Mastiff is believed to be the ancestor of all Mastiff breeds since he crossed with other huge dogs while traveling.
He is believed to be connected to the Caucasian Shepherd since it is possible that he was transported to the Georgia region where the Caucasian Shepherd was born.
The Tibetan Mastiff was introduced to the United States in the 1950s as a present to the President, but this was kept a secret. It was not until two decades later that more of this large breed were brought, and this is when people really started to fall in love with them.
The Tibetan Mastiff is ranked as the 137th most popular breed by the American Kennel Club in 2022.
Tibetan Mastiff vs Caucasian Shepherd
Let's now look at some of the differences and similarities between the two breeds in this section.
Size
Although the Caucasian Shepherd and Tibetan Mastiff seem quite similar, there are minor distinctions between the two breeds. If you live in an apartment, you definitely need to look for another breed. One of the key factors to take into account before adopting a dog is size.
The Caucasian Shepherd may grow up to 30 inches tall at the shoulders. Smaller adults might be as short as 26 inches. The Tibetan Mastiff, in contrast, is just around 24 inches tall.
The Tibetan Mastiff weighs up to 150 pounds, while the Caucasian Shepherd weighs between 100 and 170 pounds. This just goes on to show how much of the Mastiff's stature is due to their thick, fluffy coats!
Due to their different sizes, the Tibetan Mastiff is referred to as a huge breed, and the Caucasian Shepherd as a gigantic breed.
Appearance
Both the Tibetan Mastiff and the Caucasian Shepherd have double coats. Smooth, thin hair makes up their undercoat, whereas the longer, coarser guard hairs are on the outside.
Due to this, Caucasian Shepherds and Tibetan Mastiffs have relatively low heat tolerance. However, due to the thickness of their coats, these breeds are ideal for cold areas.
They also have quite different colorings: the Caucasian Shepherd has a wide range of gray tones, mixtures of gray, white, and black, as well as reddish tints. On the other hand, the Tibetan Mastiff has two color varieties: reddish and black and brown.
Temperament
The Caucasian Shepherd and the Tibetan Mastiff are both large dogs bred for their guarding and protective abilities. Although they are no longer employed to defend temples or operate in high altitudes, they still have these traits.
They will unquestionably defend their family from danger. Both breeds will boldly stand guard rather than attack unless absolutely required. However, if needed, they will protect their family or flock and have been reported to take down bears and wolves.
They are quite intimidating when on guard, and because of their looks and inadequate training, they have earned an unjustified reputation as vicious dogs.
But with the right training, they are both devoted dogs that are friendly with their family and enjoy unwinding in front of the fire. Even with their size, they are loving toward children and are kind with them.
However, due to their enormous size, they must never be left alone with children. Both are said to be gentle giants who don't enjoy competitive sports or strenuous exercise.
They both have a strong sense of territoriality, which calls for careful consideration. Both of these dogs are not for you if you find it difficult to manage a territorial dog.
Being a single flock protector or temple guard, they both like being by themselves outside in the fresh air. As long as you provide the appropriate shelter, they would be content to spend the majority of the day outdoors. Therefore, in a perfect world, they should only be adopted by a family who can offer them a lot of living space, both inside and outside.
Health and Care
The Tibetan Mastiff, like so many large breeds, is prone to skeletal and joint problems including hip and elbow dysplasia. As a result, it's crucial to only purchase from trustworthy breeders that go through the advised pre-breeding health examinations. Since there is less of a chance of overbreeding, the rarity of the breed works in this dog's advantage.
Additionally, this dog is prone to hypothyroidism and a few eye conditions. The Tibetan Mastiff is a healthy breed overall. As part of the grooming regimen, we highly advise you to examine his eyes and ears for any indications of illness or discomfort.
Regular grooming is a crucial component of your pet's care. It's also a fun way to spend time with your dog. To avoid matting in his thick coat, you must be ready to brush him a few times every week.
Due to his rarity, the Caucasian Shepherd is a generally healthy breed. He is prone to degenerative myelopathy and other bone and joint conditions that affect other big canines. Therefore, it's crucial to only buy puppies from reliable breeders who carry out the recommended examinations, as suggested by the Orthopedic Foundation for Animals.
Obesity is another issue with Caucasian Shepherds. While he does some exercise, keeping an eye on his nutrition is a great approach to make sure he stays in shape.
Training
These two breeds are not appropriate for inexperienced dog owners since they are both quite independent and headstrong, which suggests that if they're not in the mood for training, they won't pay any attention at all.
With these dogs, all of it is done on Mastiff or Shepherd time. Fortunately, they are both food-oriented and could be convinced with a few treats but watch out for overfeeding.
They both need to be socialized from a young age since they are both quite territorial and need to avoid being unduly violent or protective.
They won't feel the need to defend themselves as fiercely once they are away from the family home, so make sure to regularly take them outdoors into new environments and socialize them with other dogs and people.
Both breeds require a strong leader who can commit to ongoing training. If any breed detects any flaws in your leadership style or level of training, they will take over as pack leaders, which can result in behavioral issues.
Therefore, obedience training with other dogs present would be beneficial for both breeds to establish discipline and help them learn that they are not in command.
Guard Instinct
Due to the fact that both breeds were developed to be guard dogs, they exhibit extremely similar behaviors. The Tibetan Mastiff was bred in Tibet, the Himalayas, Mongolia, and India to protect both cattle and sheep, whereas the Caucasian Shepherd was developed in the Caucasian mountains to protect flocks of sheep and shepherds.
Both breeds are tolerant of hot temperatures, although the Tibetan Mastiff excels in this area while the Caucasian Shepherd has slightly stronger guarding instincts.
Additionally, based on our observations, the Caucasian Shepherd has a higher need for protection and is always vigilant when on its property. When it comes to guarding their area, the Tibetan Mastiffs are a little more laid-back and disinterested.
Price
A trustworthy breeder will charge $1,000 for a Caucasian Shepherd and $1,500 for a Tibetan Mastiff as their starting prices. If you're looking for a Tibetan Mastiff, keep in mind there is only one estrus each year, generally in the late fall. As a result, Tibetan puppies are often only ready around December or January.
Working with a trustworthy breeder is crucial, in particular when it comes to dogs who are protective or territorial since these dogs need to be trained and handled carefully. Since puppy mills won't care about this, you'll likely meet a dog that has both behavioral and health issues.
Since they are both considerably more rare than the typical dog breed, if you are considering adopting one of these lovely dogs, your search may take more time. However, once you do discover one, he will undoubtedly be worth the wait!
Visit the Tibetan Mastiff Rescue website to learn more about their work rehoming Tibetans in America. Due to their rarity, Caucasian Shepherds do not have a dedicated website; however, the Facebook page for the Caucasian Shepherd Club of America can help you in your quest to keep a Caucasian.
Frequently Asked Questions
Can a Caucasian Shepherd take down a wolf?
Based on its lineage, a Caucasian Shepherd could protect against a lone wolf and fend it off.
What dog is similar to the Tibetan Mastiff?
The Himalayan Sheepdog resembles the Tibetan Mastiff, but smaller in size and stature.
Are Caucasian Shepherds fearless?
When protecting its flock or family, a Caucasian Shepherd is fearless.
Conclusion for "Tibetan Mastiff vs Caucasian Shepherd"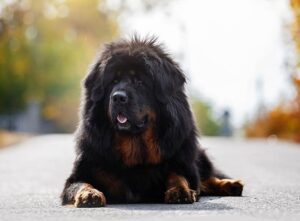 Whichever breed you decide to adopt, expect a demanding dog that requires skilled and constant training along with having low energy and being a big fan of cuddles.
The Tibetan Mastiff and Caucasian Shepherd like spending time alone and with their families, but ultimately, if you need a family guardian, both of these dogs are equally capable.
If you find this guide, "Tibetan Mastiff vs Caucasian Shepherd," helpful, check out:
Learn more by watching "17 Secrets Your Dog Knows About You" down below:
Garrett loves animals and is a huge advocate for all Doodle dog breeds. He owns his own Goldendoodle named Kona. In addition, he volunteers at the Humane Society of Silicon Valley, where he fosters dogs and helps animals. Garrett enjoys writing about Doodles and believes that dogs can teach humans more about how to live than humans can teach a dog.
Why Trust We Love Doodles?
At We Love Doodles, we're a team of writers, veterinarians, and puppy trainers that love dogs. Our team of qualified experts researches and provides reliable information on a wide range of dog topics. Our reviews are based on customer feedback, hands-on testing, and in-depth analysis. We are fully transparent and honest to our community of dog owners and future owners.