So, you've brought a teacup Pomsky home — congratulations! These darling, charismatic dogs know how to have fun and make the most of every day. In recent years, the teacup Pomsky has skyrocketed in popularity for its cute face, friendly demeanor, and spunky personality. So, when is a teacup Pomsky full grown?
A teacup Pomsky is considered full grown between eight and 11 months of age, with some fluctuation here and there. You can expect your teacup Pomsky to be a full-grown adult by the time they reach their first birthday.
While that's the simple answer, there's a lot to know about Pomsky's growth, including other factors such as appearance, health, and temperament. Whether you've just gotten a teacup Pomsky or are looking to add one to the family, you might wonder what to expect.
Here's everything you need to know about the teacup Pomsky, from infant to full-grown adult.
Before scrolling down this guide, "When is a Teacup Pomsky Full Grown," check out: When is a Poochon Full Grown? (2023) and When is a Goldendoodle Full Grown? We Did the Math! (2023).
What is a Teacup Pomsky?
If you've never heard of a Pomsky before, they're a crossbreed between the Siberian Husky and Pomeranian. These darling hybrids continue to rise in popularity for their dashing good looks and spunky personalities. Strong-willed and feisty, this hybrid is best for experienced owners.
Specifically, the teacup Pomsky is significantly smaller than the traditional Pomsky. In fact, the teacup Pomsky only stands about 10 inches tall (but usually much less) and weighs about three to eight pounds.
By comparison, a traditional Pomsky stands about 12 to 15 inches tall and weighs around 20 to 30 pounds.
What Are the Different Types of Pomskies?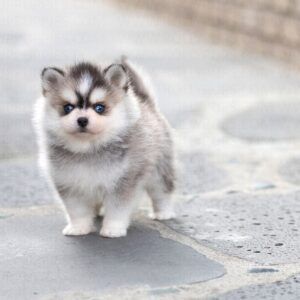 Now that we've established what teacup Pomsky is, you might be wondering if there are any other different types of this darling breed. There are! There's the teacup Pomsky and the standard Pomsky.
Teacup Pomsky
The teacup Pomsky, also known as the toy or mini Pomsky, is a Pomsky that is much smaller than its traditionally sized counterpart. In order to breed a teacup Pomsky, the runts from a litter of Pomeranians, and the runts from a litter of Huskies, must be bred with artificial insemination.
Standard Pomsky
The standard Pomsky is the result of breeding Pomeranians and Siberian Huskies. In order to successfully achieve a standard Pomsky, the father must be the Pomeranian and the mother must be the Husky. This ensures both parties are safe and comfortable.
When is a Teacup Pomsky Full Grown?
As previously mentioned, a teacup Pomsky is considered full-grown somewhere between eight and 11 months, so you can expect your teacup pup to be a full-grown adult size by the time they turn one. A teacup Pomsky won't grow half as fast as its normally-sized counterpart.
How Big is a Full-Grown Pomsky?
A full-grown Pomsky varies in size, especially if they're male, female, teacup, or standard. These can all have a major influence on a Pomsky's size, height, and stature. The simple answer is that it depends.
As we previously mentioned, you can expect the following size differences between a standard and teacup Pomsky:
A teacup Pomsky will max out at about 10 inches tall, weighing from three to eight pounds.
A standard Pomsky will range from 12 to 15 inches tall, weighing anywhere between 25 and 30 pounds.
The Teacup Pomsky Growth Chart
It always seems like dogs and children grow up so fast. In the case of the teacup Pomsky, it can be quite fast! These little teacup breeds will grow to their full size much faster than their standard-sized counterparts, and definitely much quicker than a normal Siberian Husky.
Birth to 4 Weeks
In the first two weeks of your Pomsky's life, they are both blind and deaf. They rely heavily on their mother and human caretakers, who feed them, clean them, and keep them warm. Their eyes remain closed and they begin to make sense of their senses.
4 Weeks to 12 Weeks
At the four-week mark, puppies start to become more independent. They begin to move around and play. This is when they learn crucial boundaries from their mother and learn how to be a dog. They'll nurse until they're about seven to eight weeks, then they'll begin to wean.
Weaning is the process of transitioning a puppy from its mother's milk to solid food. Weaning doesn't take very long, and around the time they're done weaning, they'll be ready to go to their new homes. Then, they begin to acclimate!
3 Months to 6 Months
This is where the joys of potty training and mouthing begin. At three to six months, your puppy will begin exploring the world around them and forming strong bonds with people. This is when training considerably counts since the habits you form with them at a young age inform the ones they take into adulthood.
Additionally, they'll probably experience a significant growth spurt, from a small puppy to a full-fledged teacup! You can expect them to be about half their adult size at this point.
6 Months to 9 Months
Between six to nine months, they're almost full-grown. This is when they reach sexual maturity. It might fall on the earlier side since a teacup Pomsky will mature faster than a regular Pomsky. Ideally, it's best to spay or neuter your Pomsky at around six months, unless you plan on responsibly breeding them.
9 Months to 12 Months
Right before the one-year mark, it's time to consider switching your puppy to an adult brand of dog food since they're almost full-grown. Training habits should be close to being cemented.
They should have an established exercise, feeding, and sleep routine.
History of the Husky, Pomeranian, and Pomsky
To fully understand the teacup Pomsky, we must first understand their history, which includes the history of the Siberian Husky and Pomeranian, separately.
Here's everything you need to know about how your favorite teacup Pomsky came to be.
Husky
The Siberian Husky is a breed of working dog raised in Serbia by the Chukchi people. They were used both as sled dogs and companion animals. In 1909, they were brought to Alaska as sled dogs and competed in sled dog races.
They established themselves as the number one breed for sled dog races in America, unsurprisingly. Not long after, in 1925, the breed became known for saving lives after transporting a life-saving serum over 600 miles to Nome, Alaska, amid a diphtheria outbreak and a blizzard.
The Walt Disney movie, Togo, is about champion dogsled trainer Leonhard Seppala and his lead dog, Togo, of the same name as the movie, chronicling their journey.
Today, the Siberian Husky is recognized as a working dog by the American Kennel Club. The Husky possesses a thick coat to withstand brutal winter conditions. Huskies also possess incredible drive and endurance.
They come in a variety of different colored coats and their size can vary depending on sex and age. They're known for their intelligence, loyalty, silliness, and striking physical appearance.
Pomeranian
Small, utterly adorable, and paired with a personality larger than life, the Pomeranian's ancestors, the Spitz family of dogs, were considered working dogs in their early days. Now, the Pomeranian enjoys its status in the toy group.
Yes, Pomeranians descended from working dogs! In fact, similar to the Siberian Husky, Spitz dogs were used to pull sleds in Iceland. Spitz dogs were much larger than their Pomeranian counterparts and were used for pulling sleds, herding, and even protection.
After the Spitz was transported to Europe, Pomeranians began to debut in smaller sizes and gained their name. In the 18th century, we begin to see the earliest pictures of Pomeranians. In the late 1800s, they were brought to America. By 1900, they received recognition from the American Kennel Club.
Today, the AKC recognizes the Pomeranian as a toy breed. They possess thick, long coats, small faces, and charming personalities. They are loved across the world and hold high ranks as one of the most popular toy breeds. Pomeranians come in a variety of colors and are known for their hilarious antics.
Pomsky
So, how did the Pomsky come to be? The Pomsky is the result of recent breeding. In fact, the breed as a whole is around 15 years old. The Pomsky is generally believed to have made its debut in 2009, with the first Pomsky litter being recorded in 2012.
They quickly gained popularity, with the demand for the Pomsky skyrocketing in America and Europe.
There's no known solid reason for crossbreeding the two. Many have suspected it's because these two distinct breeds have roots in hard work and sled-pulling, while others suspect it's because they're both distinctively adorable.
Regardless, today, the Pomsky possesses a blend of its parents' striking coats and fun-loving personalities.
The Appearance of the Pomsky
The Pomsky takes after its parents in the looks department. Often, these hybrids will have the fluffiness of the Pomeranian's coat with the markings of the Husky parent. Their eyes can vary in color, thanks to the husky, from blue, brown, black, and green, to mismatched.
If your Pomsky is a teacup size, you can expect them to be fairly small. If your Pomsky is standard-sized, you can expect a small to medium-sized dog. Their coats can be white, black, gray, fawn, cream, pied, or brown.
Often, they're a mix of two or several different colors, but it's not uncommon for them to be one solid color either. Their coats are also thick and dense.
The Temperament of a Pomsky
Much like its parents, the Pomsky is fun-loving, stubborn, and hilarious. They're incredibly vocal, taking after both parents, which is something to consider if you live in an apartment. Pomeranians are often considered "yappy" while Huskies are considered "talkative."
They tend to form formidable bonds with one person but develop a deep love for the whole family. They crave attention, so they might not be fond of young children or other animals vying for the spotlight.
Socialization is key with this crossbreed, especially at a young age. Once properly socialized, they tend to realize that company is much more fun!
Grooming Requirements of a Pomsky
Expect to spend a pretty penny on grooming your Pomsky. Also, invest in a quality vacuum. They're considered intense shedders, much like both of their parents.
Your Pomsky will require daily brushing and trims every one to two months. Additionally, they will need to be bathed regularly, as their thick coats make them susceptible to picking up debris or holding onto fecal matter on their rears.
They'll also need their ears cleaned regularly, about once a week, since Pomsky's ears are full of hair. It's easy for wax and debris to build up. Since they take after their Pomeranian parent, they'll also need their teeth brushed several times weekly, as small breeds are prone to developing dental disease.
They're a very attractive and darling mixed breed but require a considerable amount of care. If it's not in your budget to spend money on grooming, the Pomsky might not be the right choice — even if they are just a teacup.
Frequently Asked Questions
What is the lifespan of a teacup Pomsky?
A typical Pomsky should live for 13 to 15 years.
What does a Pomsky look like full-grown?
A full-grown standard-sized Pomsky can look like a smaller Siberian Husky when it's full-grown.
Can you leave a Pomsky alone?
You should avoid leaving your Pomsky alone for more than four hours on a regular basis.
Conclusion for "When is a Teacup Pomsky Full Grown"
All in all, the teacup Pomsky is a precious breed that can expect to be full-grown between eight and 11 months of age. They'll require lots of playtime and activity, but that's nothing that can't be solved with a long walk or an hour of play in the backyard or dog park.
If you're looking for a breed that loves you more than life, look no further than the teacup Pomsky!
For guides similar to "When is a Teacup Pomsky Full Grown," check out:
Learn more by watching "Pomsky Dog Breed Guide | Dogs 101 – Pomeranian Husky Mix" down below:
Garrett loves animals and is a huge advocate for all Doodle dog breeds. He owns his own Goldendoodle named Kona. In addition, he volunteers at the Humane Society of Silicon Valley, where he fosters dogs and helps animals. Garrett enjoys writing about Doodles and believes that dogs can teach humans more about how to live than humans can teach a dog.
Why Trust We Love Doodles?
At We Love Doodles, we're a team of writers, veterinarians, and puppy trainers that love dogs. Our team of qualified experts researches and provides reliable information on a wide range of dog topics. Our reviews are based on customer feedback, hands-on testing, and in-depth analysis. We are fully transparent and honest to our community of dog owners and future owners.