Here's what you need to know if you're searching for Sheepadoodle breeders in Oregon. Sheepadoodle puppies are one of the most recent crazes in the world of Poodle hybrids.
Their Poodle and Old English sheepdog backgrounds combine to produce dogs who have the devotion and trainability of Sheepdogs and intelligence and hypoallergenic traits from their Poodle pedigree. And, to make things prettier, they are available in smaller sizes.
Before scrolling down this list of Sheepadoodle breeders in Oregon, you can check out these other recommendations from our team at We Love Doodles: Best Dog Breeders in Oregon and Best Doberman Breeders in Oregon.
Sheepadoodle Puppies For Sale in Oregon
You've come to the right place if you want to take a puppy from Sheepadoodle breeders in Oregon. We've done the hard work for you and identified the top breeders with Sheepadoodle puppies in Oregon for sale. The excellent breeders on this list are all reputable and involved in ethical breeding only.
Sheepadoodle Product Recommendations: Best Brushes For a Sheepadoodle and Best Luxury Dog Houses.
1. PuppySpot's Sheepadoodles For Oregon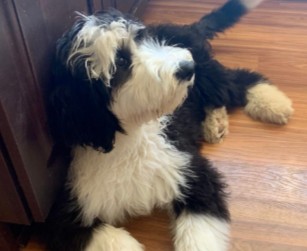 If you're in the market for a Sheepadoodle puppy, you're not particularly looking forward to doing all the research into it. A very practical and efficient option would be to get your puppy through PuppySpot, where you can find your dream puppy in minutes.
Every Sheepadoodle puppy on PuppySpot's site will be bred at the highest possible quality. Every breeder PuppySpot works with has to go through one of the toughest hiring processes in the industry, which includes over 100 different points of emphasis. From this test, only the best and most prepared get the chance to work with them.
Mission
PuppySpot knows that having a dog can greatly improve your life, and they work hard to make it as easy as possible for you to get one. Their main objective is to breed happy and healthy puppies and help them find a place where they'll be loved and appreciated.
Vision
Thanks to technology, PuppySpot offers a rare combination of efficiency and speed mixed with quality. You can get a dog with them as easily as logging into the website, selecting the dog you want, and in a few days, it'll be yours. Adopting a puppy has never been easier or more accessible.
Every PuppySpot puppy is bred following these principles:
Quality: Every breeder PuppySpot works with is guaranteed to do the best possible work they can with every puppy. You can rest easy knowing your puppy is in safe and capable hands.
Care: PuppySpot is not a puppy mill by any means. Although they have many options, every breeder focuses on breeding puppies with comfort and care, ensuring they are okay and happy every day.
Health: Without health, there is no puppy. Breeders understand this very well and work as hard as possible to ensure the puppies grow well and are safe. Before sending them to their new family, they are checked from nose to tail to ensure they are fit to go.
Certainly: Every dog on PuppySpot's website has already been born. This way, you'll know what exactly it is you'll be getting
PuppySpot Details
2. Sharon's Sheepadoodles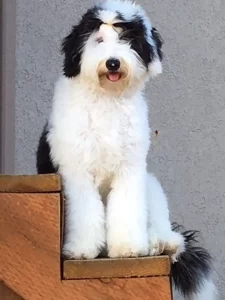 Sharon's Sheepadoodle's are a small family breeder of Sheepadoodle puppies in Oregon. They specialize in the F1 and F1B generation of this breed only. The Sheepadoodle puppies from this kennel have awesome, health-tested parents who also happen to be Sharon's family pets: Nymeria (Nya), Remington (Remmy), Kloe, and Gabby.
Daisy, Josie, and Margaret are the other new additions to the family who haven't given any litter yet. Every Sheepadoodle puppy from Sharon's receives plenty of cuddles and is taught the basics of obedience so that they don't face any problems in their forever homes. The kennel has only a few litters available throughout the year. So, you've to join a waitlist if you're interested in adopting one.
Sharon's Sheepadoodle's Details
3. Life Unleashed Farm
Life Unleashed Farm offers mild-tempered, health-tested canines with foundations that encourage curiosity, patience, and eagerness to learn. It's a small family-owned hobby farm in Vernonia. This kennel puts a lot of emphasis on health and training.
Puppies are taught the basic directions like "leave it," "come," and "sit." They also take care of socializing, crate, and litterbox training. Puppies are dewormed twice a week, and a veterinarian examines them before going to their forever homes.
Puppies are given only a 48-hour health guarantee. They're sent with Distemper and Parvo vaccines, a puppy leash, a food starter bag, a puppy collar, a blanket, and a health certificate. You have to apply from the kennel's Good Dog profile if you're interested in a puppy from them.
Life Unleashed Farm Details
4. Shelby's Sheepadoodles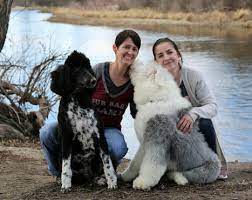 Shelby's Sheepadoodles are dedicated to helping you search for a suitable pet. They follow "puppy culture" and "badass breeding program" protocol. And they only breed from health-tested parents to prevent any major health and genetic condition.
This kennel is located in Nampa, Idaho, surrounded by rich nature. So, the puppies are involved in various activities such as hiking, camping, and other outdoor activities. They also breed with more hybrid vigor, which leads to the Sheepadoodles growing with fewer health concerns.
In addition, the breeder doesn't dock the tails of the puppies. They think that their tails provide them with an excellent means of communicating with people. It would be best to visit this kennel to get your puppy physically.
Shelby's Sheepadoodles Details
5. Doodle Dogland
Doodle Dogland is another small family breeder of Sheepadoodle puppies for sale in Oregon. Janice is the face behind this breeding farm, producing beautiful puppies from a consistent bloodline. She specializes in breeding F1 standard Sheepadoodle puppies only. So, Doodle Dogland is healthy and well-loved from the start.
Also, they grow in a home environment, not in a kennel facility. As Doodle Dogland is a small breeder, they don't have a lot of puppies available throughout the year. They also don't have a full-fledged website yet. If you're interested in adopting a puppy from them, visit their social media channels, choose from the available puppies, and send a message.
Doodle Dogland Details
6. Columbia River Sunset Poodles
Shelli Brown is a certified AKC breeder with H.E.A.R.T. (health, education, accountability, responsibility, and tradition), and she is the face behind this kennel in Clatskanie, Oregon. She prioritizes the health and well-being of all her dogs before they go to their forever families.
Shelly utilizes the "puppy culture" method to raise her puppies. Puppies are enriched by grooming desensitization, household desensitization, socialization with adult dogs and children, and various other ways. Also, puppies are given initial potty, doggy door, biosensor, and travel training.
Puppies are dewormed, vaccinated, microchipped, and given a thorough veterinary examination. The kennel provides a health guarantee for two years and implants a microchip into each of its puppies before leaving the facility.
Columbia River Sunset Poodles Details
7. Fern Ridge Sheepadoodles
Last on the list of the best Sheepadoodle breeders in Oregon is this small hobby farm in the beautiful Willamette Valley. Here, puppies have access to many acres of land to run about and play. All dogs live in the house. Puppies from Fern Ridge get early brain stimulation and socialization, and desensitization.
They also get the necessary vaccinations, worming, and veterinary examinations after they are born. Puppies have natural tails, their dewclaws are removed, and they are given a health guarantee as they're bred only from AKC registered parents.
Expect a Fern Ridge Sheepadoodle puppy to arrive well-loved, socialized, and introduced to children and other animals when you purchase one from them. They're $3,500 each; you have to reserve your puppy from their website by filling out an application form.
Fern Ridge Sheepadoodles Details
How to Choose the Best Sheepadoodle Breeders in Oregon
Getting in touch with breeders of Sheepadoodle puppies in Oregon is the best way to choose a puppy for yourself or your family. When you speak in person with a breeder, you'll be easily able to determine whether or not they know what they're doing.
When you visit a breeder's kennel, the first thing you need to make sure of is that you should be able to take a tour of the breeding facility. If the breeder doesn't permit that, it's a red flag. Also, you should be able to meet the dog's parents in the same facility.
After that, the health standards of the breeder should be an essential factor in your decision. Please inquire whether or not they examine their breeding canines for genetic problems and personality compatibility. Also, puppies should be properly vaccinated, and vet checked before going home.
It would be best to buy a dog from a reputable breeder, not a puppy factory. Puppy mills are unethical breeders that do not take the care of their animals seriously, and as a result, the animals suffer.
These breeders will not do genetic testing on their dogs, overbreed their canines, and create long-term health problems in their puppies. If a breeder exhibits any of the following red signs, do not purchase a puppy from them:
They are much less expensive (less than $1,000) than other breeders.
They have too many different breeds of dogs (more than four or five).
They aren't interested in seeing you or don't need you to go through an application procedure.
They are willing to give up the puppy before it reaches the age of eight weeks.
They do not provide you with any veterinary records or information about the parents' health.
The parents are elderly or have had more than four litters of children together.
It would be best if you avoided these breeders at all costs. You don't want to waste your money on a dog plagued by health problems for the rest of its life. It's not fair to you or the dogs, and the sooner the bad breeders are revealed, the better off everyone will be in the long run.
Related: What is a Golden Sheepadoodle and F1 vs. F1B Sheepadoodles.
More Information About Sheepadoodle Breeders From Oregon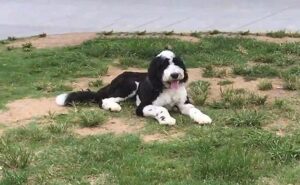 Sheepadoodle puppies are cheerful, extroverts, and affectionate, and they will adore you unconditionally. They're also very intelligent and make fantastic pets for any household, whether a family, a couple or a single person. However, keep in mind that they need care and playtime. See if you can manage enough time for your pet or move to another breed.
If you decide on getting one, this list will help whether you're living in or near Oregon. All of our listed breeders of Sheepadoodle puppies for sale in Oregon are investigated properly before adding. We've ensured that they aren't puppy mills, have an online presence, have a lot of experience, and are reviewed by their previous customers.
Related: How Long Do Sheepadoodles Live and Do Sheepadoodles Shed?
Conclusion For The "Best Sheepadoodle Breeders in Oregon"
The Sheepadoodle is a lovable, sweet, and fluffy breed that will be an excellent addition to your family. Purchasing Sheepadoodle puppies from reputable breeders in Oregon is simple as the state offers some breeders that are well worth checking out.
However, keep in mind that you may need to wait for a bit. The breed is too popular, but it will all be worth it when you bring your new puppy home to meet the rest of your family.
For more guides similar to this list of Sheepadoodle breeders in Oregon, you can check out:
Before you bring home a Sheepadoodle puppy from a breeder in Oregon, you can learn more about this dog breed by watching the "Sheepadoodle Dog Breed Guide" down below: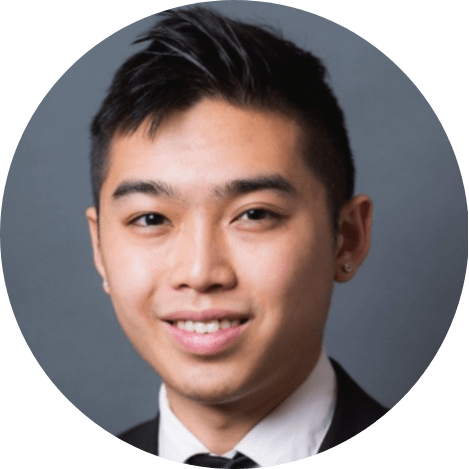 Andy is a full-time animal rescuer and owner of a toy doodle. When he's not saving dogs, Andy is one of our core writers and editors. He has been writing about dogs for over a decade. Andy joined our team because he believes that words are powerful tools that can change a dog's life for the better.
Why Trust We Love Doodles?
At We Love Doodles, we're a team of writers, veterinarians, and puppy trainers that love dogs. Our team of qualified experts researches and provides reliable information on a wide range of dog topics. Our reviews are based on customer feedback, hands-on testing, and in-depth analysis. We are fully transparent and honest to our community of dog owners and future owners.