Affectionate, active, and intelligent, the Schnoodle is an ideal family dog and one of the most trending dog breeds within the last couple of years. Being a crossbreed of a Poodle and a Schnauzer, a typical Schnoodle possesses the best trait of both breeds. They're a friendly and affectionate breed with quite a pleasing personality. Additionally, Schnoodles are generally devoted, loyal, nonshedding, and mostly hypoallergenic. Schnoodles come in various colors, which can be mixed, or in single colors such as black, brown, white, or apricot.
For Schnoodle lovers, one of the hardest things to do is find an ethical breeder. We've done our research for you and created a list of the 8 best Schnoodle breeders in Arizona and surrounding states. 
Before scrolling down this article, check out: How Long Do Schnoodles Live? and Miniature Schnoodle Breeders in the U.S.
Schnoodle Puppies for Sale in Arizona – Top Breeders
Schnoodle puppies have grown in popularity. While there still aren't a ton of Schnoodle breeders in Arizona, there are several breeders around the United States who have the capability to ship their dogs to the state. In this article, we will go over some popular breeders so you can get a Schnoodle puppy in Arizona. In general, we always recommend not to buy from a puppy mill since they won't care about the health of their dogs. Some easy ways to screen Schnoodle breeders is to ask how often they breed in-between litters, if they do any health checks, and if they will provide a health warranty.
PuppySpot is the top place if you want to buy a Schnoodle puppy in Arizona today. We bought our Goldendoodle from them because they have some of the best breeders from around the United States. The reason that PuppySpot has Schnoodles today is that they are a large network of ethical and reputable breeders located around the U.S. that are screened and vetted according to AKC and USDA standards. If you contact any other Schnoodle breeder on our list, chances are you are going to be waiting on a long waitlist.
Additionally, you can choose the perfect Schnoodle puppy that you want based on its coat color, size, gender, and price. If the Schnoodle puppy that you choose isn't located in Arizona, they PuppySpot will personally fly them out to you. They have sold over 220,000 puppies with thousands of 5-star reviews. They are fundamentally changing the way that breeders are selling their puppies and it works out better for the customer. This is because you know that you won't be getting scammed and you'll be purchasing a puppy from an ethical breeder.
Lastly, all their Schnoodle puppies for sale in Arizona come with an industry-leading 10-year health guarantee. No other breeder will offer this long of a health guarantee. In addition, when you purchase a puppy they will do an initial health inspection and verify they are 100% healthy. We have a great experience getting our doodle and we hope that you check them out.
Schnoodle Breeder Details
2. Lyons Little Paws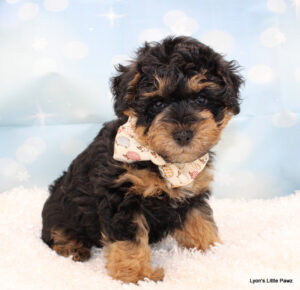 Lyons Little Paws are owned by Melissa Lyon and are located on the seven-acre property. They are high-quality and responsible Schnoodle breeders with the sole aim of producing the best in personality, color, and health. Their puppies are born indoors and grow up inside until they are adopted by approved families. Their papa Schnoodles and mama Schnoodles also live indoors as pets in their home.
Litters are born under the supervision and are carefully examined individually before, during, and after whelping. The puppies are all up to date with their vet examinations, properly vaccinated, and de-wormed with complete documentation. Their nutritional needs are met with top-grade meals and vitamins. Adults and puppies are raised in a loving environment, kept in excellent health, and raised in a loving home.
Lyons Little Paws make sure the puppies undergo the imprinting program, also known as Biosensor. This program uses a set of specific tests and exercises to stimulate the neurological systems of a puppy at a young age. This speeds up the rate at which they mature and makes them smarter than non-stimulated Schnoodles. Their use of charts and graphs is enough indication of how technologically advanced they are.
Dewclaws of all the Schnoodle puppies for sale are removed and tails trimmed to accepted lengths. Lyons Little Paws keep their doors open, and they encourage visits to the homes. Special offers like shipping and delivery can also be discussed.
Schnoodle Breeder Details
Phone: 336-870-1596

Website:

www.lyonslittlepawz.com

Location: Winston-Salem, North Carolina
3. Animal Kingdom Puppies and Love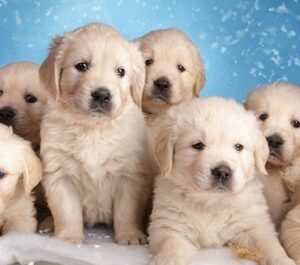 Animal Kingdom Puppies and Love is owned and managed by siblings Vicki and Frank Vineo. They operate four pet stores located in Tempe, Phoenix, Glendale, Gilbert, and Tucson. Founded in 1966 in New York by their father, they moved to Arizona in 1978, where they have grown the business to unimaginable heights. Their families comprising their sons, daughters, and their lovely mother, help both siblings. They sell a variety of puppies, including Schnoodles.
In Animal Kingdom Puppies and Love, they have a philosophy that all Schnoodle puppies come first. They do not take any decision without putting the interests of their puppies first. Additionally, they also believe that happy customers can only be made by doing what is best for the puppies. Emphasis is placed on getting puppies from reputable, kind, and ethical breeders.
They offer financing alternatives through various companies to help alleviate the expenses getting a Schnoodle can incur. Their website contains details of their recommended veterinary doctors, trainers, and all other personnel. It should be noted this personnel is recommended but have no affiliation to the home.
High standards in animal welfare are admired; Animal Kingdom Puppies and Love ensures that by working closely with customers to match them with dogs that fit their temperament and personality. They also promote responsible ownership through community outreach and education.
Schnoodle Breeder Details
 4. Moss Creek Goldendoodles (and Schnoodles)
Moss Creek Golden doodles are premium home breeders of English puppies located in sunny central Florida, but can ship your puppies to Arizona. Their primary breed is the English Goldendoodle in various sizes, including small, medium, and large. However, they also breed Schnoodles. They specialize in breeding properly socialized dogs with superb temperaments. With a total commitment to research, development, and improvement of their dogs, they have succeeded in being one of the best.
Their Schnoodle puppies are intelligent and obedient while been held to high socialization and health standards. Moss Creek is recommended by various veterinarians and is also a member of the golden doodle recommended breeder list. The team carefully selects the puppy parents from high-quality lines with a history of good health. Also, their puppies are from top kennels located around the world, such as Netherlands and Romania.
Most of their puppies are health tested, certified, and comes with a two-year health guarantee. Their puppies are vet checked, microchipped, vaccinated, and is delivered with a signed health certificate. Moss creek puppies are temperament-tested using the Volhard Puppy Aptitude Test and also stimulated using the Early Neurological Stimulation Biosensor Program. Beginning crate training is offered along with a detailed instruction sheet and schedule.
A standard Schnoodle costs $3,495 and comes with all required certifications, vet's contact information, and a week's supply of life abundance foods. Therefore, interest on a puppy would require paying a non-refundable deposit of $295.00 while applying on their website. They have a flexible delivery option. Additional information can be obtained from their website. 
Schnoodle Breeder Details
5. Desert Gold Ranch
Brad and Karen Stevens own desert Gold Ranch located in Gilbert, Arizona. They began raising Schnoodles in 1987 and have since grown in capabilities. From the moment the Schnoodles are born, Brad and Karen raise them indoors, giving them full attention. Their Schnoodle puppies for sale in Arizona are well socialized with humans and other dogs.
Desert Gold Ranch ensures the puppies have their first set of vaccinations with regular vet checks. You should know that Schnoodles is a non-registered breed since they are a crossbreed, but their Poodles and Schnauzers are purebreds. You can contact them for additional information. If you're looking for miniature Schnoodles in Arizona, this should be your top breeder.
Schnoodle Breeder Details
Address: Gilbert, Arizona

Phone: 480-239-2255

Mail:

Schnoodles@desertgoldranch

Website:

desertgoldranch.com
6. Angela's Schnoodles
Angela's Schnoodles is owned by Angela, located in Bluffton, Indiana on a nine-acre land. They breed either Poodle to Giant Schnauzer or Schnoodle to Schnoodle. She's been in the breeding business for twenty-five years but started producing Schnoodle puppies ten years ago. Her breeding adults stay in adoptive loving homes until its breeding season.
All the Schnoodles are AKC registered, and OFA certified. The puppies come with a one-year guarantee which can be extended to two years if all the terms and conditions are met. New puppies are free to go to their adoptive homes for eight to ten weeks. This is after they have received their first shot between six to seven weeks and the second shot at 9-10 weeks.
While the breeder owns all the Schnoodle breeding adults, none are related in any way. This is to diversify the gene pool to reduce any risk of hereditary disease. Angela's Schnoodles raise their puppies on the site. They have only one litter whelped and nursed at a time to ensure they get the necessary attention.
The average price of an Angela Schnoodle range from $2200-$3500, depending on size and color. You should note that a $300 non-refundable deposit is required to reserve a puppy. They are also open to taking back their puppies at any time. Additionally, this Schnoodle breeder is open to meeting up to 3 hours away if you can't make it to Bluffton. They can also ship their Schnoodle puppies to Arizona.
Schnoodle Breeder Details
Address: Bluffton, Indiana

Phone: 260-728-2500

Mail:

angelasdogs@yahoo.com

Website:

angelasschnoodles.com
7. Windy Hill Kennel Schnoodles
Windy Hill Kennel is located in Utica, Columbus. A family business that started breeding Schnoodles in 1988. Puppies raised by Windy Hill Kennel are well socialized to different experiences ranging from traveling to family events. They take a lot of pride in their kennel and dogs. 
The Schnoodle puppies are happy, friendly, and healthy. You should note that they do not sell to pet shops. Their Schnoodle puppies for sale are expensive, but the prices are justified considering that they come with a two-year guarantee. Windy Hill Kennel puppies are spayed, neutered at eight weeks, and also microchipped. This microchip is used to recover lost puppies.
Windy Hill Kennel offers to ship of their puppies to interested families living only in the United States. This only applies if you're willing to cover shipping expenses such as airline tickets and health tickets. You should know that there is no refund after payment.
Schnoodle Breeder Details
8. Domino Schnoodles
Domino Schnoodles is a small-scale family operation owned and managed by a mother and her daughter located in Southern California. They encourage interested parties to make arrangements ahead of time to visit the facilities. These arrangements are to prevent the Scnhoodle puppies from contracting any sort of disease.
Their puppies have different prices depending on their size, color, and coat texture. Therefore, if you are interested in any of their puppies, you would have to deposit part of the payment on the litter of interest. This deposit is final and non-refundable.
Although their website is quite confusing, it contains a plethora of information on the various breeds of dogs in their care and suitable lifestyles for each Schnoodle puppy. Getting a domino Schnoodle is definitely worth the hassle.
Schnoodle Breeder Details
Conclusion for Schnoodle Breeders in Arizona
Schnoodle breeders in Arizona are pretty limited, but that does not mean you should jump on any you see out there. One of the most challenging tasks while getting a Schnoodle is finding a reputable breeder to purchase a puppy. You should therefore research extensively on the ever-evolving breeding practices. You need a breeder you can trust will sell you a healthy puppy so it lives a long life.
You will also like:
Garrett loves animals and is a huge advocate for all Doodle dog breeds. He owns his own Goldendoodle named Kona. In addition, he volunteers at the Humane Society of Silicon Valley, where he fosters dogs and helps animals. Garrett enjoys writing about Doodles and believes that dogs can teach humans more about how to live than humans can teach a dog.
Why Trust We Love Doodles?
At We Love Doodles, we're a team of writers, veterinarians, and puppy trainers that love dogs. Our team of qualified experts researches and provides reliable information on a wide range of dog topics. Our reviews are based on customer feedback, hands-on testing, and in-depth analysis. We are fully transparent and honest to our community of dog owners and future owners.