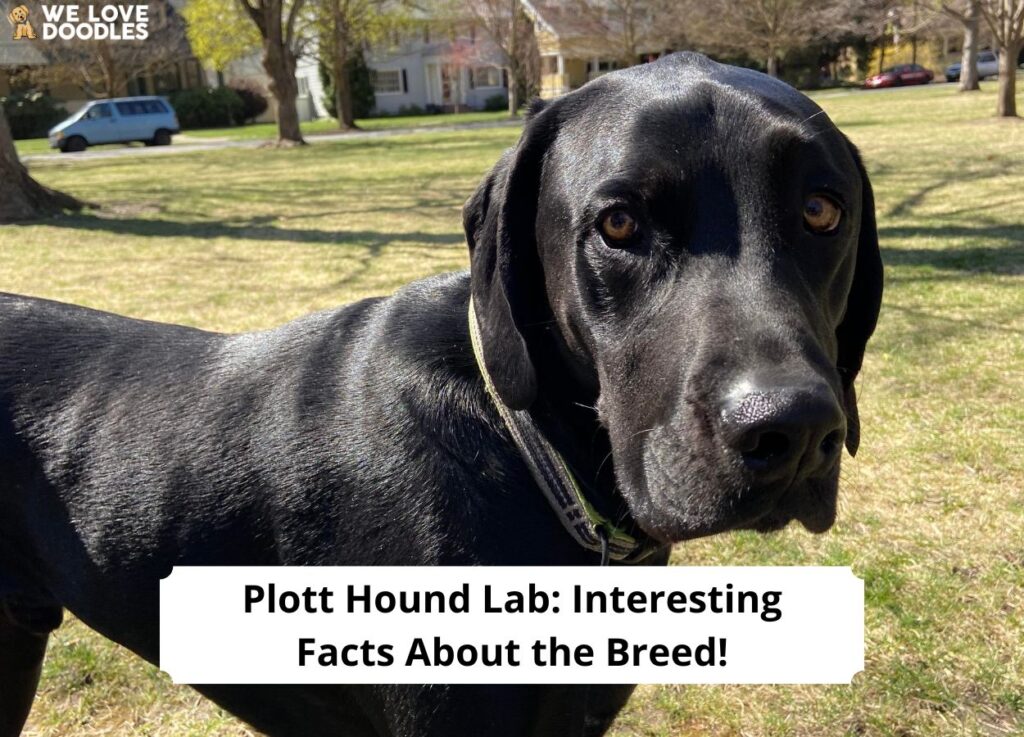 The Plott Hound Lab is a relatively new breed with a great history of hunting. Before you decide to get this dog, it's important to do as much research as possible so you can give him the best life.
The best place for Plott Hound Labs to live is out in the country, where there is lots of space for them to explore. Given their history of pack hunting, they require a lot of exercise and would likely enjoy a household with at least one other dog.
It is crucial to train this breed. If you decide to take one of these puppies home, just ensure you have a tall fence wherever you live.
Read on for even more tips about the Plott Hound Lab mixed breed.
Before reading this list of interesting facts about Plott Hound Lab, check out: When Do Labs Stop Growing? (2023) and Do Labs Have Webbed Feet? (2023).
1. History of the Plott Hound Lab
The five Hanoverian Schweisshund that German immigrant Johannes Georg Plott brought to North Carolina in 1750 are the ancestors of the Plott Hound. The dogs originally hunted boars in Germany, but Plott taught them to hunt bears in North Carolina instead.
The canines became referred to as Plott's hounds as Plott's descendants carried on breeding them.
Over time, they returned to their original purpose of hunting wild boar in addition to bears as they moved throughout the Smoky Mountains, each hunter contributing his unique characteristics to the breed. Some owners trained them to chase raccoons and mountain lions.
Plotts gained superior noses and the black-saddled brindle pattern from a cross with Blevins' black-and-tan hounds in the early 20th century. Most modern Plott Hounds may trace their ancestry back to the two famous dogs that sprang from this pairing: Tige and Boss.
The United Kennel Club started recognizing this breed in 1946. In 1989, the Plott Hound was designated as North Carolina's state dog. He is beginning to make his mark in the show ring as well as being certified with the American Kennel Club.
Despite this, he is still quite uncommon and is most frequently found in the Appalachian Mountains, the Smoky Mountains, and other untamed regions where his hunting abilities are valued.
When breeders began combining different breeds with Labrador Retrievers in the late 1980s and early 1990s as a result of the popularity of the Labradoodle, it quickly became a common practice.
Eventually, the Labrador Retriever was crossed with the Plott Hound to create the Plott Hound Lab that we adore today.
2. Plott Hound Labs Personality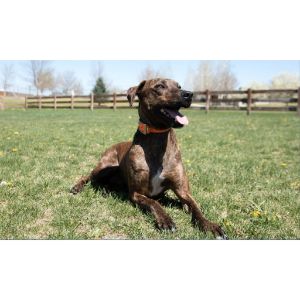 The Plott Hound Lab is intelligent, compassionate, self-assured, and brave. He is devoted to his family and hesitant to approach strangers, though he normally warms up to them fast. While he gets along with other dogs quite well, he is not as friendly as other breeds.
Plotts bred to hunt big game and those bred to catch raccoons frequently exhibit different temperaments, with the big game canines being sharper.
The Plott, like all hounds, has an independent mind and needs strict, constant training, but overall, he wants to please his owners. He makes a great watchdog since he is fiercely devoted to his home and loved ones. On the other hand, the Labrador is known for its cheerful personality.
Many elements, including training, socialization, and heredity, have an impact on temperament. Instead of picking the vicious dog or the one hiding in the corner, go with the puppy in the middle. You should always meet at least one parent, preferably the mother, to make sure they have good personalities.
Plott Hound Labs, like all dogs, require early socialization or exposure to a wide variety of people, sights, sounds, and experiences when they are young. The process ensures your Plott puppy develops into a well-rounded adult.
It would be wise to enroll him in a class for puppies. Regularly hosting guests, taking him to crowded parks and dog-friendly shops, and going on strolls to meet neighbors will help hone his social skills.
3. Plott Hound Labs Health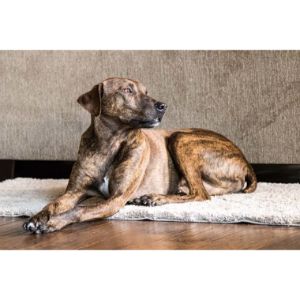 Although Plott Hound Labs are often healthy, they are susceptible to several health issues, like all breeds. Not every Plott Lab will contract one or more of these illnesses, but if you're thinking about getting one, you should be mindful of them.
Choose a reputable breeder who will provide you with health clearances for your puppy's parents. Health certifications confirm a dog has undergone testing and been declared free of a specific ailment.
Hip dysplasia (scored fair or better), elbow dysplasia, hypothyroidism, and Von Willebrand's disease clearances from the OFA, thrombopenia clearance from Auburn University; and normal eye certification from the Canine Eye Registry Foundation (CERF) are all standard fare for Plott Hound Labs.
4. Plott Hound Lab Diet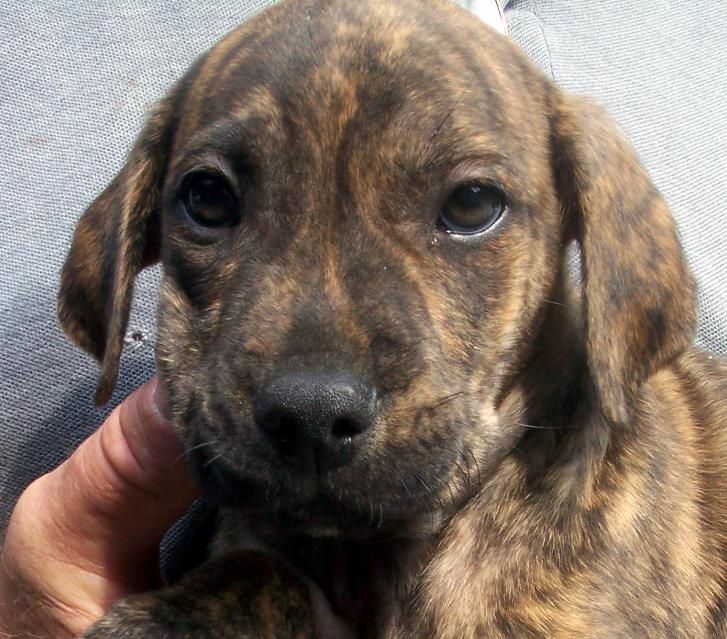 Two to three cups of premium dry food should be fed every day, split between two meals. Your adult dog's appetite will be influenced by his size, age, build, metabolism, and degree of exercise. Like people, each dog is unique, so they don't all need the exact same quantity of food.
It practically goes without saying that an energetic dog will require more energy than one who prefers to lounge around. The kind of dog food you buy also matters. In other words, the better the food, the more effectively it will support your dog and the less you will have to toss into the bowl.
You can tell if your Plott Hound Lab is overweight by looking at him and feeling his body fat percentage. Start by glancing downward at him. There should be a waist visible. After that, lay your hands on his back with your thumbs down his spine and your fingers stretched outward. Without exerting much pressure, you should be capable of feeling his ribs without being able to see them.
Plott Labs are among the breeds susceptible to bloat, also known as stomach dilatation-volvulus. Instead of feeding them only once per day, feed them twice or three times per day, and never allow them to exercise right after a meal.
5. Plott Hound Lab Coat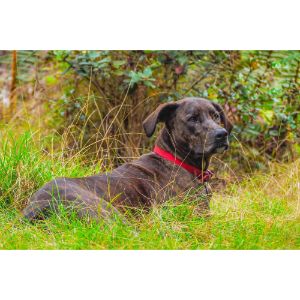 The coat of the Plott Hound Lab is sleek, and its hair can range in texture from extremely fine to medium-coarse in thickness. A hunting dog raised in the North Carolina highlands needs protection from the weather, which the thick double coat offers.
The most common color for Plott Hound Labs is brindle, which is a coat pattern made up of light and dark flecks and streaks. Brindles come in a wide variety of colors, including tan, chocolate, yellow, buckskin, chocolate, orange, gray, blue, liver, brown, and black.
They can also be a single black shade or a rare range of tones known as buckskin, which includes white, beige, sand, ochre yellow, red fawn, dark fawn, and golden tan. A Plott Lab may occasionally have a tiny touch of white on its breast and foot, regardless of its color.
6. Plott Hound Lab Grooming
The Plott Hound Lab is simple to groom. They have dazzling coats after a thorough once-weekly brushing with a rubber curry brush or hound mitt, a spongy glove that goes over your hand. Brushing your Plott Hound Lab once a week will help keep the occasional shedding under control.
As a low-maintenance breed, Plott Hound Labs can be cleaned with either dry or foam shampoo. Use a dog-specific shampoo during bath time to prevent the water from removing the coat's natural oils.
The Plott Hound Lab's floppy ears must be examined and cleaned every week to avoid ear infections since they may obstruct airflow. Use a cotton ball saturated with a cleaning solution suggested by your veterinarian to carefully wipe out the ear, making sure to only clean the visible portion.
If the inside of your Plott Lab's ear smells unpleasant or seems red or painful, or if he constantly shakes his head or scratches at his ears, he may have an ear infection.
To get rid of tartar, brush your Plott Lab's teeth at least twice every week. If you want to avoid dental problems like gum disease and bad breath, brushing your teeth every day is the best way to go about it.
If your dog doesn't normally wear down their nails, routinely trim their nails. They are excessively long if you can feel them clicking on the ground. When your Plott Hound Lab eagerly jumps up to welcome you, the short, carefully trimmed claws prevent your legs from being scratched.
While grooming, keep an eye out for sores, rashes, or infection-related symptoms, including redness, tenderness, or redness on the skin, in the ears, nose, mouth, or eyes, as well as on the feet. You can identify any health issues early on thanks to a thorough weekly exam.
7. Plott Hound Labs with Children And Other Pets
Although they are ideally suited to living with older kids who know how to connect with dogs, a Plott Hound Lab will do well in a family household. Plott Labs tend to be protective of their food bowls, which can be problematic if a young child tries to grab a handful of kibbles.
Always instruct kids on how to deal with dogs, and watch over any interactions with dogs to avoid biting or tugging of ears or tails. Instruct your youngster to never try to take a dog's food or approach a dog while he or she is eating. An unattended dog and a child should never be together.
If introduced to other dogs at a young age, your Plott Hound Lab will get along with them nicely. They can even learn to get along with cats, although they may still chase any cats they find outside.
Frequently Asked Questions
How big will a Plott Hound Lab mix get?
You can expect your Plott Hound Lab mix to weigh anywhere from 40 to 60 pounds.
Do Plott Hound Labs bark a lot?
Due to their Plott Hound and Labrador lineage, Plott Hound Labs are known to bark and howl loudly.
How long do Plott Hound Labs live?
The life expectancy of a Plott Hound Lab is 11 to 13 years.
Conclusion for "Plott Hound Lab: Interesting Facts About the Breed"
And there you are. In this article, we discussed many interesting facts about the relatively new breed known as the Plott Hound Lab. If you're getting one of these dogs, be prepared to have a canine companion that is a world of fun.
If you find this guide, "Plott Hound Lab: Interesting Facts About the Breed," helpful, check out:
Learn more by watching "Plott Hound Dog Breed: 10 Amazing Facts You Must Know" down below:
Garrett loves animals and is a huge advocate for all Doodle dog breeds. He owns his own Goldendoodle named Kona. In addition, he volunteers at the Humane Society of Silicon Valley, where he fosters dogs and helps animals. Garrett enjoys writing about Doodles and believes that dogs can teach humans more about how to live than humans can teach a dog.
Why Trust We Love Doodles?
At We Love Doodles, we're a team of writers, veterinarians, and puppy trainers that love dogs. Our team of qualified experts researches and provides reliable information on a wide range of dog topics. Our reviews are based on customer feedback, hands-on testing, and in-depth analysis. We are fully transparent and honest to our community of dog owners and future owners.