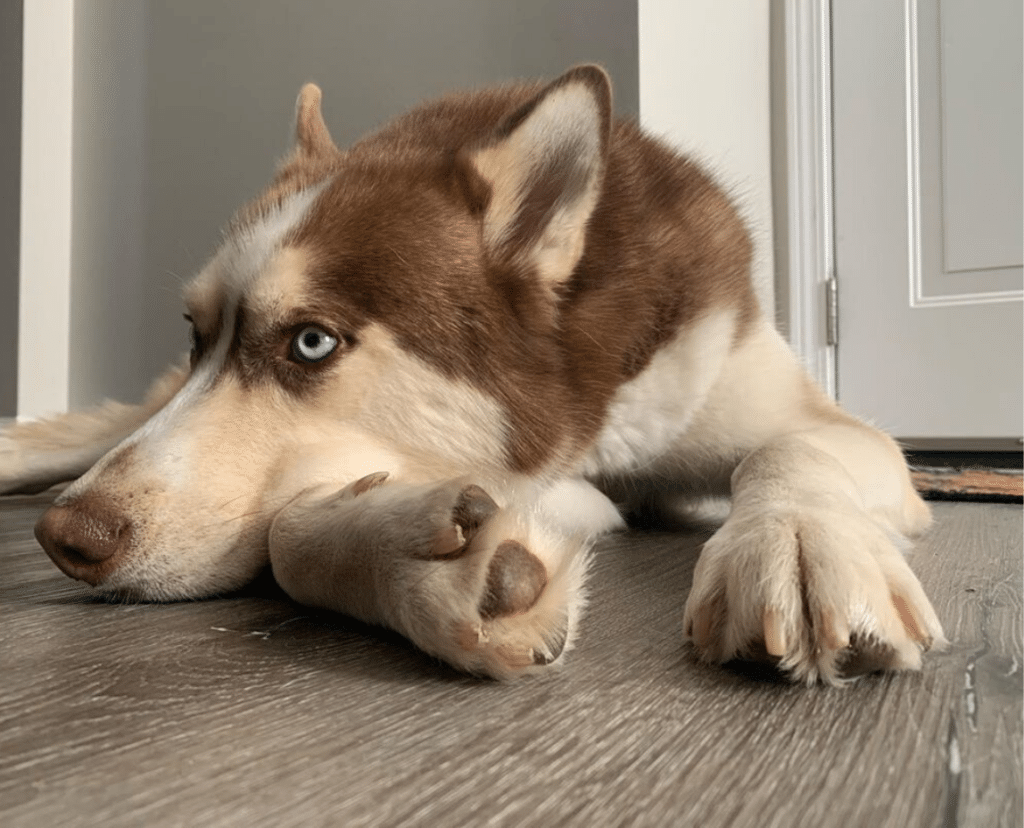 Tap, tap, tap… every time the dog crosses your floors you hear their nails clicking across the floor. It's a great warning signal that your dog is coming to greet you but you know that also means his nails are getting long. Did you know that dog nails can get TOO long?
Grooming our animals is incredibly important, especially when you have extremely overgrown dog nails. Whether you take the time and effort to learn how to safely groom them at home or you take them to a groomer for routine care you must trim your dog's nails. There is also such a thing as too short, for both dog hair and dog nails, so it's important to know how to do it safely if you plan to trim your dog's nails at home.
So, how long should dog nails be? Well, ultimately, the best way to know if your dog's nails are too long is if you can hear them. There are several tips and tricks for understanding how long a dog's nails should be and how you can safely trim their overgrown nails from home.
In this guide, we will discuss how to identify when your dog's nails have grown too long, the signs to knowing when it's time to trim them, and basic instructions on how to safely trim them as well. Let's get started!
In a rush?  Check out the Top 3 Nail Trimmers and trim your dogs nails every 2-3 weeks.
What's the purpose of dog nails?
Sometimes it's hard to know when you should trim your dog's nails. Perhaps it is more scary for us to try to trim their nails and worry about trimming them too short and hurting them. Many dog owners have done this before and the nail bleeds everywhere (which is why we always recommend a nail grinder).
A dog's nails serve a purpose much like a human's nails do. A dog cannot feel within the nail itself, same as what we might experience when we trim our own nails. Consider how it feels when your nails get too long or perhaps even when they're trimmed too short. It tends to be uncomfortable.
It is much the same for dogs in that nails being too long or too short can cause a lot of discomfort for them. Nails that get too long are easy to snag on carpet, break, chip, or experience other painful side effects. Additionally, if the nails get too long, they can curl and cut into the pads of the dog's paw.
You can see the dilemma here – don't have extremely overgrown dog nails. Dog nails must be trimmed on a routine basis, much like a human nail is trimmed routinely. If you are not comfortable trimming your dog's nails, we recommend finding a groomer that can help you with the task. It's usually pretty cheap, less than $20, but this can significantly add up over time if you're going every 2-3 weeks.
Knowing When to Trim Your Dog's Nails
Ultimately, you will know it is time to trim your dog's nails if they are clicking across the floor. But there are a few good tips for best practice as well.
For starters, your dog's nails should not stick out over the pad of their paw. This measurement can sometimes be confusing to understand. What it means is that the sloped downward point should not go past the pad of the paw.
Another way to understand when it's time to trim your dog's nails is knowing that your dog's nails should not touch the ground when they are standing. This one is certainly easier to understand and pretty straight forward. You can easily notice this trait when your dog is standing near you.
Trimming your dog's nails too short can be painful if you get into the quick of the nail. On the same note, nails that are too long can cause your dog pain in other ways. We'll dive into this a bit more here shortly.
How to Trim Dog Nails That Are Extremely Overgrown
We mentioned this before but want to mention it again. If you're not comfortable trimming your pet's nails, that's perfectly OK. It's fairly simple to do and there are many intuitive videos and articles such as this that will walk you through the process.
However, the key here is that it's very important to be sure your dog's nails are getting trimmed on a regular basis. This doesn't mean you have to trim them weekly but that when you see or hear the signs of them getting long, you should take action. Generally, you'll need to trim your dog's nails every 2-3 weeks.
Here are some steps for trimming your dog's nails to help you through the process.
Be sure you have the proper tools – We highly recommend the Casfuy dog nail grinders so you don't cut too deep in your dog's nail with scissors. You can also get dog nail clippers and scissors, paw balsam (optional), and maybe a flashlight for darker nails.
Find a way to get your dog comfortable for the process.
Determine where to cut the nail. Nails have a blood supply in them and you don't want to cut into this portion. You can see it on light-colored nails and a flashlight may help for dark nails. Cut the nail straight and not at an angle.
Make the trim, being mindful not to clip the nail too short. You should only need to trim a small amount.
Reward your dog (and yourself) for your hard work.
Trim every 2-3 weeks for best grooming processes.
Trimming overgrown dog nails is fairly simple, although it can be nerve-wracking because if you cut too deep then blood squirts out. The important part is to be sure you don't accidentally cut into the blood flow. If you do, it's not the end of the world but it will cause your dog some pain that can be avoided.
We don't really talk here about how to keep your dog calm. Every dog is different and some handle the process much better than others. Have treats nearby and be very patient with an anxious dog. You may need an extra set of hands to help with the dog during the process.
IF you do see some blood after you've trimmed your dog's nails or during the process, don't beat yourself up. It does happen. Keep the area clean and try to stop the blood flow.
You can put paw balsam on your dog's paws after trimming for a full spa treatment effect. Dog paw balsam is great because it prevents your dogs paws from cracking on the hot ground, snowy conditions, or rough terrain. Giving your dog an additional layer on their paws helps a lot.
Trimming your dog's nails is not just about the looks. It's also about keeping your dog's paws healthy and comfortable. It is necessary to do to avoid discomfort for your dog and even potentially for you.
Extremely Overgrown Dog Nails
Unfortunately, some people get pets and either don't take care of them properly or don't really know how to take care of them. So many think that trimming nails isn't necessary and if the animal is active or walks around or spends time outside then the nails will take care of themselves. Walking your dog on concrete does grind there nails down, but often times it doesn't grind them enough and they will become overgrown.
You still need to pay attention to our dog's nails and trim them as needed. Perhaps you've just noticed that your dog's nails are extremely overgrown or you've taken in a stray that needs some serious TLC.
Don't just trim the nail short right away. As the nail lengthens, the quick also lengthens so you cannot just clip the nail down short right away or you will cause your dog pain as well as some bleeding. In addition, you risk the extremely overgrown dog nail cracking.
The best thing you can do if you are trimming extremely overgrown dog nails is to trim them slowly over time with a nail grinder. Each trim, you will trim them just slightly, without trimming into the quick. And then you will wait. The quick of the nail will naturally recede on its own and then you can trim again.
With this pattern, you could trim the nails about once a week until you get them where they should be, and then you can trim them on a routine schedule to keep them properly maintained. The main thing to know is you cannot take extremely overgrown nails and just cut hem short right away. It's a bit of a process to go through in order to do it properly.
Why Must We Trim Dog Nails?
Some dog's nails do control themselves slightly, depending on the environment that they are in the most and the activity that they do. Dogs who spend more time around soft surfaces like dirt or carpet are more likely to need routine nail trims.
Dogs who spend time walking on harder surfaces like asphalt, concrete, or hard wood floors somewhat maintain their own nails. In both scenarios, your dog's nails will probably still need trimmed, it just may be in different time frames.
There are many health reasons for trimming your dog's nails. There are also many factors that may make a difference for why the nails need trimmed and when.
Dog activity
Feeding habits and food type
Dog breed
Genetic effects
Each of these aspects can affect how often your dog's nails need trimmed. Failure to trim your dog's nails regularly could lead to pain, injury, or even lameness in extreme cases.
Conclusion
We hope that you feel fully informed on the topic of how long should dog nails be. This information could be overwhelming, but just remember to look for the signs that indicate that it is time for a trim and go from there. We recommend getting a dog nail grinder so you don't cut your dog's nails too short and cause them to bleed.
You can easily trim your dog's nails at home once you've educated yourself on the overall process but groomers can also help with this task for a small fee. Happy trimming and long live your dog's paws!
Other articles you might like:
For more information about dogs, you can also visit
YoDoggyDog
.
Frequently Asked Questions
Can extremely overgrown dog nails hurt your dog?
Yes, when your dog's nails are overgrown, they will start to curl inside of your dog's paw. Essentially, your dog will be walking on their own nails and they will be extremely uncomfortable. If you let your dog's nails get overgrown, they are also more difficult to trim as your risk cracking their nail. We suggest that you regularly trim your dog's nail.
Where do you cut a dog's nails that are black?
If you can't see the bloodline in your dog's nail, you can try to put a flashlight underneath their nail to make things more clear. If you're dog's nail still looks black, we recommend that you use a nail grinder as to not cut your dog's nails too short. Cutting your dog's nails too short will cause them to bleed.
How do you fix extremely overgrown dog nails?
If your dog's nails are extremely overgrown, then you need to slowly cut them over a period of time. If you cut your dog's overgrown dog nails short, you risk cracking your dog's nail. Your dog's nail will usually end up bleeding and this causing significant pain to your dog. It's similar to cracking your own nail.
Garrett loves animals and is a huge advocate for all Doodle dog breeds. He owns his own Goldendoodle named Kona. In addition, he volunteers at the Humane Society of Silicon Valley, where he fosters dogs and helps animals. Garrett enjoys writing about Doodles and believes that dogs can teach humans more about how to live than humans can teach a dog.
Why Trust We Love Doodles?
At We Love Doodles, we're a team of writers, veterinarians, and puppy trainers that love dogs. Our team of qualified experts researches and provides reliable information on a wide range of dog topics. Our reviews are based on customer feedback, hands-on testing, and in-depth analysis. We are fully transparent and honest to our community of dog owners and future owners.