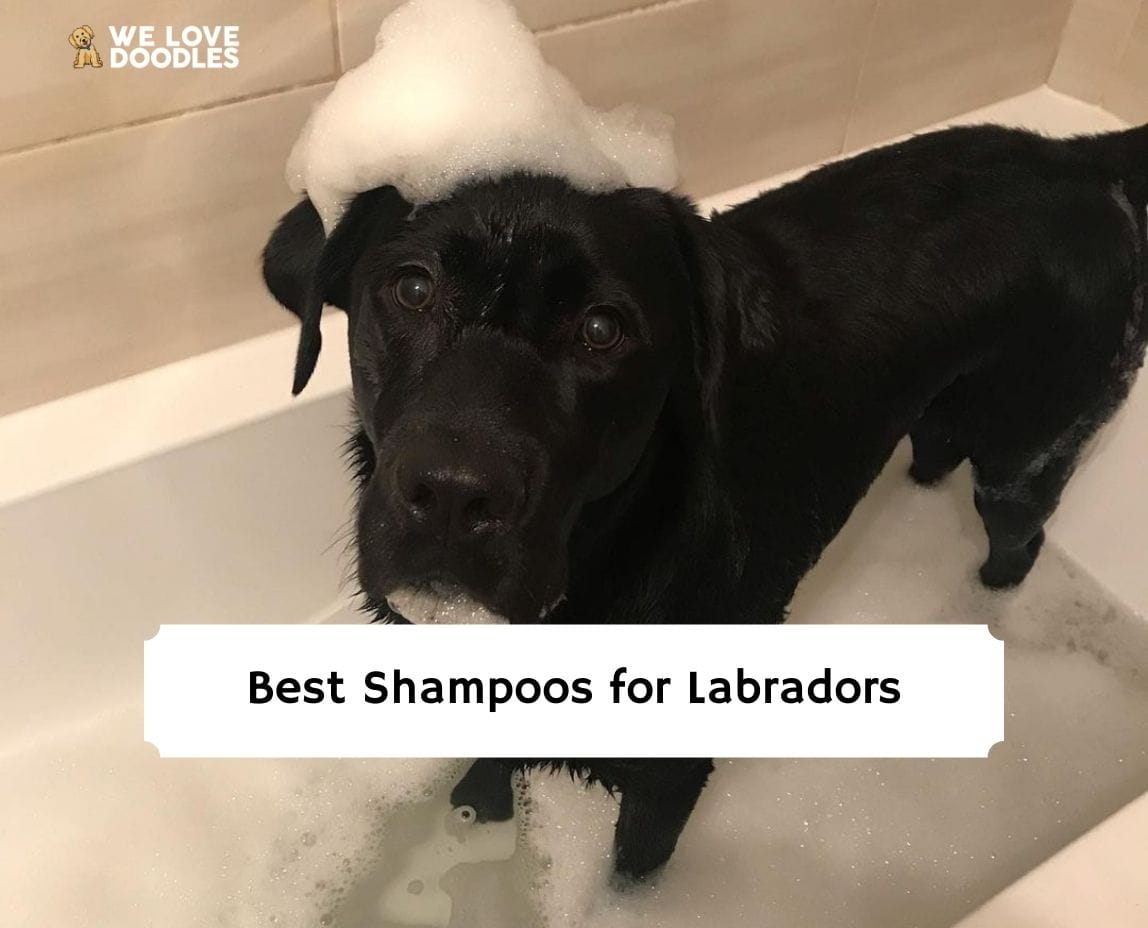 In our review for the best shampoo for Labradors in 2022, we're going to give you our 8 top picks, which you can find below, ranging from super affordable to premium formulas. 
In addition, we've reviewed over 50 of the top Labradors shampoos to provide you with some valuable information. This will help you find the perfect new shampoo for your Labrador Retriever. We'll also give you tips on using the shampoo and what to look out for in a quality product. Finally, we'll give you our best shampoo for Labradors in 2022 in the market.
With such a wide variety, it can become quite difficult to narrow down your choices to just one shampoo – especially if you're not knowledgeable about the different types on the market.
Another interesting fact is that Labradors are prone to having some pretty serious skin issues at times, which means that you'll probably need something effective in handling these problems. This is especially important if your dog suffers from allergies or just has dehydrated and sensitive skin.
With all of this in mind, let's take a look at the criteria you should be used for narrowing down your choices.
How to choose the best shampoo for Labradors?
Our review is based on a few different criteria, which are as follows: Price, ingredients, and customer satisfaction. It is our goal that by considering these criteria, we'll be able to help you narrow down your choices of shampoo even further which will then decrease the time that it takes for you to buy a new one.
We have also added a short FAQ section after the reviews, so be sure to read up if you're new to this whole thing.
What is the best dog shampoo for Labrador?
When you choose your dog shampoo, it's not — or shouldn't be without considering factors like hair type and skin sensitivity. According to the dog groomers we spoke with, the same goes for shopping for all the best dog grooming products in 2022. Every Labrador or dog has different needs, which means that no two shampoos are alike. So you should take your pup's sensitivities into account when looking for a great shampoo!
Consider your Labrador's needs
You should figure out what your Labrador's needs are, and depending on those, choose the right shampoo. As yourself, whether your goal is to just bathe off the mud or horse manure your pup just rolled in? 
Do they have a bacterial infection you need to control? Are they itchy and sensitive? Do they have hot spots? Do they have a funky body odor? You should have numerous pet shampoos at home to choose from including gentle everyday shampoos and medicated options if your Lab comes down with skin sensitivities every now and then.
To make it easier for you, we've also included our top recommendations across a variety of different price points to suit all budgets.
Best Shampoo for Shedding in Labradors
Overall Best Labrador Retriever Dog Shampoo: Labradors shed, and they shed a lot. While regular brushing your Lab can help with the constant shedding, you need a shampoo that can help move the process along to keep the shedding under control. If you're looking for a suitable shampoo to reduce shedding, the Furminator Ultra-Premium or Earthbath dog shampoo would would great.
In a rush? Here are the top picks!
Product
Best Overall
Earthbath Dog Shampoo
Budget Pick
Furminator Deshedding Shampoo
Image
This shampoo has been created with a unique blend of botanical extracts that cleanse deep into the skin's pores to remove any dirt or debris while preventing excessive shedding. Labradors are active dogs, so it's essential that when you wash your pup, you use hypoallergenic shampoo so that their skin isn't damaged in any way.
This shampoo is free of all harsh chemicals or dyes; it contains all-natural herbal extracts to soothe the skin and help calm your pup while also cleansing deep into the fur for an intense cleanse. The best part about this shampoo is that it's also affordable, which is why it made it onto our list. 
We like this Lab shampoo because it reduces excessive shedding by the undercoat during bathing. It also features no nasty stuff like parabens or chemical dyes and is enriched with Omega 3 & 6 Fatty acids, calendula extract, and papaya leaf extract.
This is an all-natural herbal blend for cleansing and calming the skin. It's a soothing formula with no harsh chemicals or dyes. Furminator Labrador shampoo is an affordable option without skimping on quality. This product has over 11,000 positive reviews.
Features
Enriched with omega 3 and 6 fatty acids, calendula extract, & papaya leaf extract

Affordable for multi-Labrador homes

Use as part of a monthly grooming regimen.

A specialized shampoo for hair reduction during shedding

 No harsh chemicals
Curaseb medicated shampoo relieves itching and scratching. This shampoo features aloe & vitamin E. It helps soothe and nourish rashes, redness, and dry skin irritations. Before using any medicated pet shampoos, you should reach out to your vet, especially if your furbaby has super sensitive skin or is prone to allergic skin reactions.
Curaseb is a pharmaceutical-grade formula that contains bacterial infection at the source and deep cleanses for all-natural shine and gloss.
This shampoo is specifically designed for dogs with skin and coat irritations; it has been created to reduce itching, redness, flaking, and scaling. 
You can use this shampoo on dogs with yeast or bacterial infections and other types of dermatitis. It's also great for dogs under constant stress and strain, and it helps reduce the weight of excessive shedding.
This is a medicated formula for cleansing and soothing skin irritations. It has a soothing, cooling effect on hot spots and inflammations and reduces itching and flaking from dry skin. This product has over 9,300 positive reviews.
Features
Affordable

Veterinary strength medicated Formula

Over 9,300 positive reviews

Paraben & soap-free

Formulated with chlorhexidine & ketoconazole
This quality pet shampoo helps eliminate itchy skin, oily coats, dry skin, and more. It's an extra-foaming soap-free shampoo that doesn't contain soap, sulfates, or parabens. This ultra-rich formula includes coconut oil for deep hydration. 
The takeaway with this pet shampoo is that it features ophytrium, which veterinarians say helps restore and improve the skin barrier, and will make a dog's skin less prone to irritation. All in all, this will help combat problems like bacterial infections or excessive itching. 
As a Lab pet parent, you may find that your Lab may be prone to dry, itchy skin, so veterinary formulated products like Douxo help. However, we like that this pet shampoo is soap-free, sulfate-free, paraben-free, and phthalate-free. 
It's a pH-balanced concentrated shampoo that can be diluted to suit your dog's needs. The best way to use this product is to start with a small amount and increase as needed. It has a fresh scent that will leave your Labrador smelling great for days. 
Douxo S3 is easy to use and convenient to store. However, the shampoo doesn't leave a residue behind and works well, even just for a mild case of itchy skin.
Features
Hypoallergenic fragrance

Formulated & tested by veterinary dermatology experts

Antiseptic & antifungal pet shampoo for Labradors

Suitable for Labradors with inflammatory dermatological disease

Cleansing & hydrating pet shampoo
Earthbath Oatmeal & aloe dog shampoo and conditioner is a gentle oatmeal formula with aloe vera and vitamin E for itchy, dry skin. This combination of natural botanicals soothes hotspots, itchy skin, scales, flaking, and dull or lackluster coats. The colloidal-oatmeal-and-aloe Formula helps to calm and soothe irritated and dry skin.
At the same time, this Formula cleanses deep down to the skin's surface, removing flakes and dander, leaving a healthy shine. It is soap-free, pH balanced for pets and people, non-drying, tearless, and biodegradable – perfect for pets with sensitive skin. 
We like this product because it is made of natural ingredients. It smells good and does not irritate the skin. It also features no added fragrances, so it's gentle on the nose. This product has over 1,000 positive reviews.
Features
Shampoo & conditioner kit

Crafted with natural & organic ingredients

Specially formulated for pets with dry, itchy, sensitive skin.

Formulated with colloidal oatmeal and organic aloe vera 

All-natural with no parabens, no dyes, no soap, no sulfates, no alcohol, & no phthalates.

A cruelty-free pet shampoo

Over 1,000 positive reviews

pH balanced for pets

Recyclable packaging
This shampoo by Pride and Groom is made with a blend of natural essential oils that smell great. It also contains all-natural ingredients. The shampoo is also safe for human use, making it pretty unique. 
Every PRIDE+GROOM Formula contains its unique blend of all-natural essential oils, unique signature scents, and sustainable ingredients chosen for dogs' specific coat and skin types. This pet shampoo features coconut oil, avocado oil, vitamin E, flaxseed oil, jojoba seed oil, and aloe. In addition, the Final Coat conditioner contains marshmallow root, Lavender, sage, safflower seed oil, and hemp seed oil. This is an all-natural pet shampoo that is free of sulfates & parabens.
We like that the shampoo's scent isn't too strong or overwhelming (it does not give you a headache). You can use this shampoo to wash your pet's toys, blankets and bedding too. This shampoo conditioner kit provides healing, hydrating, cleansing, nourishing, and beautifying benefits. 
This natural dog shampoo leaves the coat feeling soft and silky. It contains natural ingredients like aloe vera, coconut oil, oatmeal & more. T The shampoo lathers well and is easy to rinse off. 
The cone-shaped AppCap (only available for 16oz) allows for flow control, easy one-hand washing & ensuring the shampoo penetrates deep into the coat + skin. 
Features
All-natural & non-toxic

Shampoo & conditioner kit

Crafted with coconut oil, avocado oil, vitamin E, flaxseed oil, jojoba seed oil, & aloe

Crafted with jojoba oil to reduce shedding & avocado oil for hydration.

Features marshmallow root for killing bacteria and healing hot spots

Crafted with hemp seed oil for optimal coat health
Aesop dog shampoo features a green tea and bergamot scent. Aesop is a 100% vegan dog shampoo that contains no sulfates or parabens. The product is made of 98-99% natural ingredients, and it's also cruelty-free. It's a good option for pets with sensitive skin because it contains aloe vera, chamomile, and natural moisturizers. This pet shampoo has a light scent that's not overpowering. 
We like this shampoo because it contains ingredients like lemon rind and tea-tree leaf, which give the shampoo its fragrance. It also calms the skin as well as cleanses dirt and grime. So if you're looking for an all-natural pet shampoo for your Labrador, then this may not be the one for you. It does contain sodium laureth sulfate, a common chemical detergent used for its foaming properties.
Features
Mild skin and fur wash with deodorizing properties

Crafted with lemon rind & tea tree leaf

The low-foaming clear gel texture

Vegan

Leaping Bunny approved

Bottles are made from a minimum of 97% recycled plastics.
This is a high-end product made of natural ingredients containing coconut oil, vitamin B5, and silk amino acids to hydrate and soften skin and hair. 
The shampoo smells amazing and leaves the coat healthy, clean, and shiny. We love this pet shampoo because it's gentle enough for daily use on dogs with sensitive skin. It's also tear-free and made in California.
We like this pet shampoo for Labradors because it's a gentle, vegan pet wash that can be used on all your furry friends. This dog shampoo features vegan moisturizing, protective ingredients, and the same fragrance used in OUAI's shampoos and conditioner, Mercer Street, which contains notes of Italian lemon, Turkish rose, jasmine sambac, and white musk. This shampoo uses plant-derived surfactants, not chemicals. The formula is also vegan and only tested on humans.
Features
Vegan & eco-friendly pet product

Crafted with Italian lemon, Turkish rose, jasmine sambac, and white musk.

It contains aloe vera to conditions fur & panthenol for a shiny finish.

Added rambutan seed extract helps protect fur from pollution while hydrating the skin underneath

Included hydrolyzed vegetable protein improves fur strength and elasticity to fight breakage

A cruelty-free pet product

No gluten or other irritants
This is an enzyme-based formula that efficiently and safely cleans your Labrador's coat without having to use water. Begley's Natural No Rinse dry pet shampoo is an excellent alternative to bathing your Labrador in water, most especially if you're in a rush.
It's one of our must-have waterless pet shampoos. This is because it's not animal-tested and is 100% cruelty-free. It's also recyclable per product. Another plus is that all the scents come from natural essential oils without synthetic fragrances.
This waterless pet shampoo does not feature harsh chemicals, perfumes, or dyes. Instead, the dog shampoo acts as an all-in-one, cleaning, deodorizing, and moisturizing product with aloe vera, coconut oil, and chamomile extract. This product is perfect for deep cleansing and deodorization with its enzymatic formula.
One of the best things about this pet shampoo is that it can be used on cats, dogs, ferrets, and rabbits! This product is free of caustics, dyes, synthetic fragrances, parabens, phthalates, chlorine, formaldehyde, triclosan, or phosphates use.
It's tearless, so you don't have to worry about your pup's eyes. The shampoo is so gentle that it can be used as a pet wipe solution. This product has over 3,200 positive reviews.
Features
Affordable for multi-pet homes

Lavender waterless pet shampoo for Labs

USDA biobased certified ingredients

All-natural formula

Features no caustics, dyes, synthetic fragrances, parabens, phthalates, chlorine, formaldehyde, triclosan, or phosphates 

Over 3,200 positive reviews

Available in Lavender, citrus, oatmeal mango & Tea Tree
What to look for in pet shampoos for Labradors?
An excellent dog shampoo should cleanse and moisturize your pet's skin, inhibit bacterial growth and keep it healthy. It needs to lather well without damaging delicate tissues of the mouth and eyes, be easy to rinse out and free from irritants such as sulfates which can damage the coat, and strip essential oils from the skin. 
You should opt for dog shampoos with ingredients known to be gentle on the skin to minimize any unwanted irritation. Look for shampoos that feature aloe vera, colloidal oatmeal, avocado oil, argan, and coconut oil. Pet shampoos that are heavily scented may be too intense for a dog's nose.
A dog's skin and coat are very delicate. That said, it is essential to work with your veterinarian on determining the right frequency of bathing and which type or brands you should use for optimal health benefits! This is most important if your Lab suffers from skin issues like hot spots and scaling.
The American Kennel Club (AKC) bathing tips for Labs
The effectiveness of any pet shampoo hinges on using proper bathing techniques, reminding dog parents not to squirt a product onto a dog's hair or fur. The correct method will keep Labradors clean, healthy, and smelling fresh. 
The American Kennel Club (AKC) explains that you should comb your Labrador before bathing. "This gets rid of any debris that might cling to the coat and remove any tangles." 
If you have an indoor Labrador, the AKC recommends bathing every 4 to 6 weeks. Bathing is best done 4 to 5 days before showing if your dog shows. 
The AKC explains that "Labrador Retrievers shed twice a year in handfuls and combing them every day during heavy shedding and bathing in warm water gets rid of the dead hair and saves it from falling all over your floor."
Finally, they advise opting for a high-quality pet shampoo on your Labrador and always rinse with warm, clean water. If your Lab enjoys the pool, the AKC advises it's best to bathe your Labrador to remove the chlorine.
How to wash your Labrador?
Prolonged bathing can strip away natural skin oils. The best way to avoid this is to brush down your Lab's coat before shampooing with a high-quality bristle brush (not a scrubbing brush or wire-bristle brush, both of which can damage the skin). After brushing down your Labrador's coat:
Start at the neck and slowly work in circular motions towards the tail. This will help raise dirt and debris to the surface of your pet's skin before shampoo is applied.

Apply shampoo around their face using your hands.

Avoid shampoo in their eyes or ears, as it can be extremely painful for the animal.

Massage the lower part of your pet's body to remove all dirt and debris before rinsing it off. 
You should shampoo at least once a month, ideally twice or more, depending on how dirty your pup gets. While most pet shampoos don't require a prescription, it's always a good idea to consult with your vet if your furbaby has skin sensitivity.
The Labrador Retriever
We love Labradors, and they are one of the most popular breeds in America, if not the world. They are so friendly and loving toward everyone, which is why families choose them as their companion dog of choice.
Labradors come in 3 different colors; black, chocolate, and yellow. They can adapt to any climate as well. This is why they're such a popular breed all around the world. The three most important things to look for in a Lab include temperament, coat, & tail. 
The American Kennel Club (AKC) adds that "The short, dense, weather-resistant coat—whether yellow, black or a luscious shade of brown known as chocolate—should be fairly hard to the touch."
An old-time breed expert wrote, "The smooth or short-haired dog is preferred because in frosty weather, the long-haired kind become encumbered with ice when coming out of the water." 
With their love of swimming and water play, Labradors need a perfect shampoo that will not dry out their skin or fur too much after being washed. Most importantly, the AKC adds that "Their short, dense, weather-resistant coats should never be clipped or trimmed."
It's also essential to keep the skin cleansed and bacteria-free, especially after they've been swimming or playing in dirty conditions outside.
When you start looking at different shampoos for Labradors, there are so many options now available on the market, which is why it can be quite overwhelming when trying to make your decision.
This is why we've reviewed and created a list of the top 8 shampoos for Labradors that we think you and your Labrador will love.
Frequently Asked Questions
What is the best shampoo for Labradors?
While many shampoos are available, not all of them are suitable for your dog. Some shampoos can dry out their skin and irritate. Also, chemicals found in some pet shampoos can be very harmful to pets.
Labradors are active dogs who love long walks and play fetch. They also love swimming which means they need a gentle yet effective shampoo to hydrate their skin and coat without irritating it. The best shampoo for Labradors should be tear-free, hypoallergenic, and soap-free. It should also include ingredients that will moisturize the skin and coat. The shampoo should be gentle enough for everyday use. 
Can I use two different shampoos in my Lab?
Most shampoo needs to be diluted before using on your pet. Salon brands will usually have the dilution ratio on the bottle. If you are unsure, dilute at 1 oz. of shampoo to 8-10 oz. of water before using. Always test a small area first before using it on the entire body.
How often should I wash my Labrador Retriever?
Labradors require regular grooming and bathing to keep their skin and coat clean, shiny, and healthy. Most pet owners bathe their Lab every 3-4 weeks, but how often you wash your Lab depends on the owner's preference. 
Some owners prefer to bathe their labs twice a month, especially in warm climates. If your dog struggles in the bathtub or gets stressed out quickly, it may be best to stick with washing them every four weeks; if your pup is active or gets covered in mud when outdoors, you'll need to bathe him right away after brushing him off first.
How do I wash my Labrador Retriever in the tub?
This step-by-step guide will help you bathe your Labrador Retrievers in the bathtub from start to finish, including how to prepare for bath time, bathing and shampooing your dog, what products work best for Labradors, and how to dry your Labrador Retriever.
Prepare for bath time

. Many pet parents get caught up in the excitement of bathing their dog, only to realize they're missing a crucial step-preparing the bathroom! Setting up the tub before bringing in your Lab is key to a successful bath. Ensure you have everything you need to bathe your furbaby, including shampoo, towels, and cotton balls.

Pick a shampoo

. There are many good (and not so good) shampoos out there that will work great on Labradors, but remember, you get what you pay for! Always use high-quality pet products that are specifically formulated for dogs. Some great options to choose from include oatmeal shampoo, tearless shampoo, and natural soap-free shampoo.

Fill the tub with water

. Turn on the water faucet and adjust it until you have a nice warm temperature for your dog, not hot, but also not cold either! Once you've filled up the tub, use the handheld showerhead to wet your dog's coat.

Apply shampoo

. Applying shampoo can be done by first pouring a small amount into your hands. We like to dilute many pet shampoos since some may be concentrated. Make sure you rub the shampoo into your dog's skin and fur so that they're completely covered with the product. You don't need to apply too much shampoo, just enough to create a nice lather.

Rinse off shampoo

. Before your dog's coat can dry, you'll need to rinse all the shampoo out of their fur. It may take an extra minute or two for this step since Labradors have thick coats that absorb water quickly! Use warm (not cold) clean water to rinse your Labrador's coat.

Dry their fur.

There are a few different ways you can dry Labradors after they're done bathing-hand towels, bath towels, and blow dryer. Make sure you start helping them dry off before the rinse process is complete so that all the shampoo is rinsed out. You'll want to dry off their fur in sections with a large bath towel, making sure you're not rubbing the shampoo back into their coat. You can also use a handheld blow dryer set on low heat (again, make sure it isn't too hot) to help them dry faster.

Give them a treat

! Once your Lab is completely dry, it's time for a little reward. Make sure you give your Lab plenty of doggie treats and praise after their bath!
What is hypoallergenic dog shampoo/conditioner? And why should I use it on my Labrador Retriever?
Hypoallergenic shampoo is specially formulated for sensitive skin or dogs that suffer from skin allergies. It will typically be free of dyes, artificial fragrances, parabens, petroleum-based chemicals, sulfates, phosphates, glycols, and gluten. That said, it's best to opt for hypoallergenic pet shampoos regardless of whether your Lab has allergies or not.
Labrador Retrievers are not necessarily allergic to any specific ingredient. Still, hypoallergenic shampoos will at the very least contain none of the ingredients that could cause them an issue (though not all dogs with allergies react to all allergens). 
If you think your Lab is having some skin reaction, first try changing their diet, but if you are still having trouble, look for a high-quality hypoallergenic shampoo. Then, as usual, always reach out to your vet for a consult.
Garrett loves animals and is a huge advocate for all Doodle dog breeds. He owns his own Goldendoodle named Kona. In addition, he volunteers at the Humane Society of Silicon Valley, where he fosters dogs and helps animals. Garrett enjoys writing about Doodles and believes that dogs can teach humans more about how to live than humans can teach a dog.
Why Trust We Love Doodles?
At We Love Doodles, we're a team of writers, veterinarians, and puppy trainers that love dogs. Our team of qualified experts researches and provides reliable information on a wide range of dog topics. Our reviews are based on customer feedback, hands-on testing, and in-depth analysis. We are fully transparent and honest to our community of dog owners and future owners.