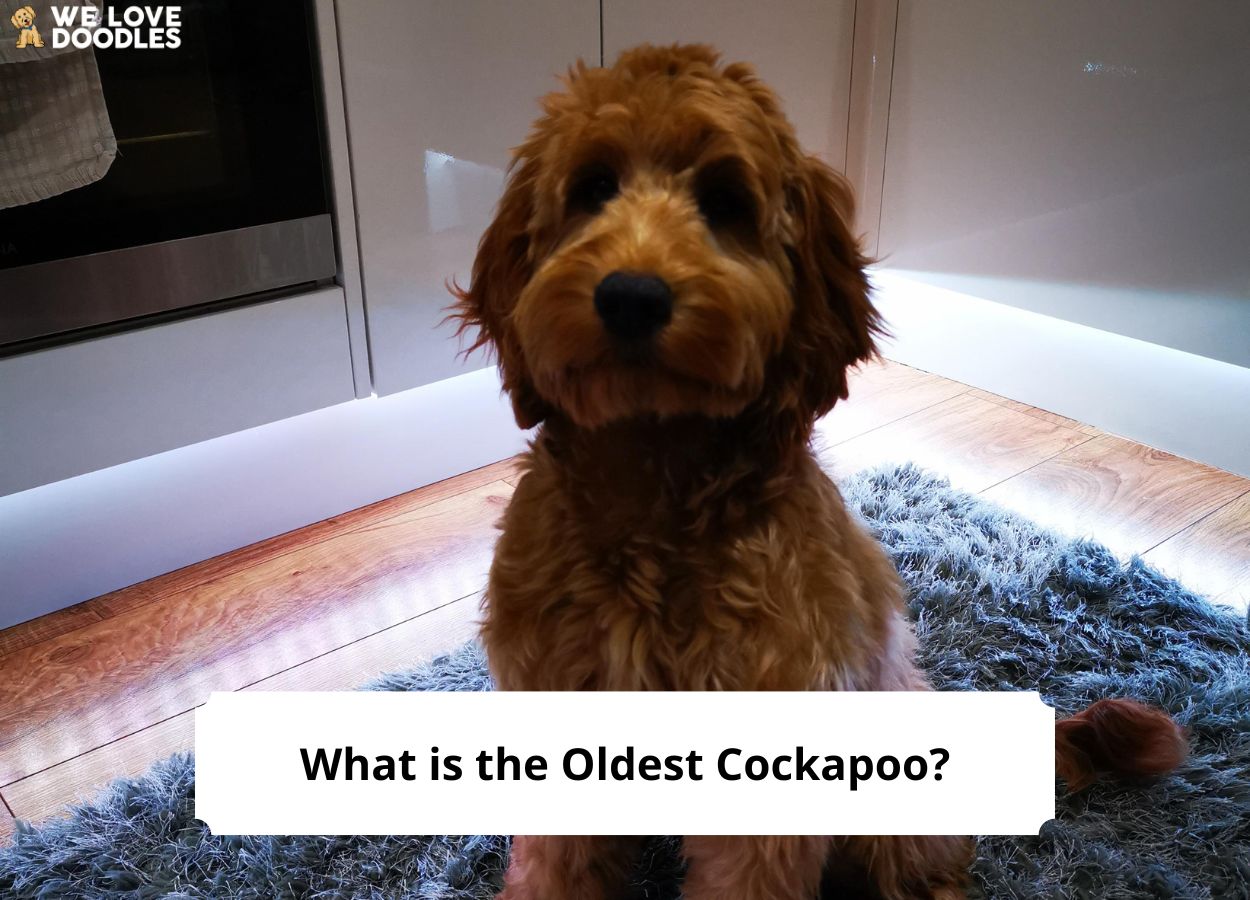 Have you ever wondered just how old your Cockapoo will grow to be? How old is the oldest Cockapoo, and will your designer dog live to be that old, too?
Cockapoos are a relatively new breed, having been first deliberately bred in the 1960s. For that reason, we don't have centuries of records. It's difficult to determine, throughout history, which little designer dog holds the title.
In this guide, though, we'll look at the oldest verified Cockapoos on record, and we'll also take a look at what you can do to help your dog live a long, healthy life. Keep reading to learn more about Cockapoo lifespans and more!
Before reading this guide, "What Is the Oldest Cockapoo," check out: Do Cockapoos Get Cold? (2023) and Are Cockapoos Hypoallergenic? (2023).
What's the Oldest Cockapoo?
As mentioned in the introduction, we don't have a lot on record for the oldest Cockapoo. Some news stories do exist, though, including one that featured Missy from Tehachapi, California. Missy turned 20 years old in 2014, which is the equivalent of 115 years old in human years!
Anecdotal stories have told of dogs who have lived even longer, though, with some Cockapoos having been reported to live up to 23 years. This, of course, is much longer than the average lifespan of a Cockapoo, which we'll look at in just a moment.
Just a simple Google search will bring up oodles of Poodles and Cockapoos that have lived well beyond the average of around 12 to 15 years. However, we don't have certifiable records of these Cockapoos that have lived to 23 years old or so, so we simply have to choose whether or not to believe these anecdotal stories and local news reports.
Related: What Is a Dog Whisperer?
What Is the Lifespan of a Cockapoo?
The Cockapoo is a designer dog created by crossing a Poodle with a Cocker Spaniel. Both dogs have a life expectancy of between 12 and 15 years. They're generally healthy and active dogs, and your Cockapoo baby will hopefully inherit these healthy genes, too.
On average, your Cockapoo baby will live to be between 12 and 15 years old. As you may know, smaller dogs tend to live longer than their larger canine companions, and the Cockapoo typically weighs only between 12 and 25 pounds.
Despite their respectable lifespans, Cockapoos are known to have several different health conditions that can affect them. They include:
Hip dysplasia
Cataracts
Dental disease
Glaucoma
Allergies
Glaucoma and retinal atrophy
Ear infection
None of these conditions are particularly life-threatening, but regular trips to the vet will help mitigate long-term issues caused by the disorders.
For instance, caring for your dog's hip dysplasia from the earliest stages will help keep your dog energetic, able to exercise, and capable of living a happy, healthy, and active life.
Should you have questions about the proper diet, exercise, and healthcare of your dog please ask your vet to speak with you. Your unique dog has unique needs, and your vet can direct you to the right path toward optimal health.
There are general guidelines you can follow, though, so let's take a look at those in the next section.
Caring for Your Cockapoo's Health
Like humans, dogs need adequate attention paid to their grooming, diet, and exercise.
Your Cockapoo requires about an hour of exercise each day. You can split this up into a couple of walks, or you can bring your dog out for a day on the beach or in the mountains to hike! In fact, just a vigorous game of fetch can contribute to your pup's daily requirements.
If you want to hold the record for the world's oldest Cockapoo, you'll also need to care for your dog's dietary needs. Choose a high-quality dog food with meats, grains, and healthy fats, then speak with your vet about how much to feed your dog based on his age.
In most cases, your adult Cockapoo will only need between one and two cups of food each day. Puppies and seniors will need a bit less — talk to the vet and refer to the instructions to learn about your specific dog's needs.
As for grooming, you'll want to make sure you're brushing your Cockapoo at least weekly. This is relaxing for your dog, and it helps maintain his healthy coat.
However, brushing your pup regularly also allows you to spot "changes" in your dog. Skin issues, allergies, or even strange lumps on your dog will be more noticeable if you're up close and personal with your dog.
Finally, you'll need to manage your pup's ear cleaning, dental cleanings, and nail trimming regularly to prevent injury, infection, and other issues.
What Is the Leading Cause of Death in Cockapoos?
Cancer, blood disorders, and other illnesses are among the leading causes of death in Cockapoos. In a perfect world, your dog will live to hold the world's oldest Cockapoo title. But in the real world, it's more likely that your dog will thrive between 12 and 15 years.
In addition to preventable or treatable health issues, keep in mind that it's also possible that your dog will experience an automobile accident. This, too, is largely preventable by keeping your dog safely contained in a fenced yard or indoors. Please refrain from leaving your dog outside, unattended, all day while you work.
Obesity is another cause of death in the Cockapoo breed. Once again, it's important that you speak with your vet about the appropriate amounts of diet and exercise for your dog. Like in humans, diet and exercise can prevent obesity, which causes more serious and significant health issues.
How Can I Help My Dog Become the Oldest Cockapoo?
Paying attention to your dog and spending time with him is one of the best ways to mitigate health issues and other concerns in your dog. Spending one-on-one time with your pup makes you more likely to notice when something's amiss.
For instance, lethargy or loss of appetite will be more noticeable when you study your dog's habits.
Similarly, physical symptoms like lumps or skin infections will be readily visible to you. Early detection and treatment is crucial to your dog's longevity.
Is There a Drug to Help Dogs Live Longer?
Aside from a healthy diet, adequate exercise, and regular trips to the vet, you may be wondering if there are additional ways you can help your Cockapoo live longer.
In short, no. There's no "miracle pill" or supplement that will increase your dog's longevity. However, there's a longer answer to that question, too!
Scientists have been researching the efficacy of the drug rapamycin in helping dogs to live longer. Rapamycin is a medication that affects the metabolism and the immune system, and it's been shown to help mice live longer.
In addition to experimental drugs, your vet can talk to you about supplements that are available to your dog to improve his overall health. As one example, glucosamine can help dogs with arthritis to feel better, leading them to live more active and pain-free lives.
All this is to say that while there's no "magic pill" that will improve your dog's health or increase his longevity, there are studies in the works to create just that. Dietary supplements can also help your dog live longer.
How Do I Apply for the World's Oldest Cockapoo Record?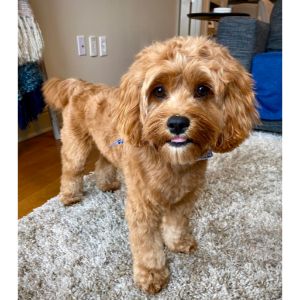 Do you have a dog that's getting older? Do you want to apply for a Guinness record for the world's oldest Cockapoo?
Well, if you're an individual, you'll first visit the Guinness site for an application. There's an administrative fee you'll need to pay before you apply; at the time of writing that fee is just $5.
Within 12 weeks, you'll receive the application guidelines, and once your app is submitted it will take an additional 12 weeks or so for your evidence to be reviewed.
If you have birth records for your pup, please supply them, as well as vet records and other pertinent information. The application process can take as long as 16 weeks, but you can view the current wait times on the Guinness website.
There's no monetary award issued when you earn a title, but you'll receive a certificate proving your accomplishment. You'll also have the opportunity to purchase merchandise, and you'll certainly gain the envy and respect of all the neighborhood dogs.
The current record is held by Bobi, a Portuguese dog that has reached his 31st birthday! Bob is not a Cockapoo, however — he is a purebred Rafeiro do Alentejo.
Frequently Asked Questions
Can a Cockapoo live 20 years?
It's possible for a Cockapoo to live up to 20 years, but in most cases, these dogs have a shorter life expectancy of 12 to 15 years.
Why do Cockapoos live so long?
Smaller dogs like Cockapoos tend to live longer than larger dogs due to various factors. Larger dogs can be more susceptible to cancer and other health issues that cut their lives short.
What age do Cockapoos slow down?
Your energetic Cockapoo will likely still be a handful even past the point of puppyhood. Many Cockapoos won't begin to slow down until they turn seven years old.
Conclusion for "What Is the Oldest Cockapoo"
The Cockapoo is a designer breed that's only been around for a few decades. For that reason, we don't have a lot of information regarding the oldest Cockapoo. Verified stories have cited the oldest Cockapoo at 20 years old, while anecdotal evidence points to as old as 23 years of age.
If you're looking to break world records for the oldest Cockapoo, take good care of your pup. Your vet can help you design a healthy exercise regimen and a quality diet to improve your dog's chances of living well into his late teens or twenties.
If you find this guide, "What Is the Oldest Cockapoo," helpful, check out:
Learn more by watching "Cockapoo Puppies and Dogs: Temperament, Lifespan & more | Petplan" down below:
Garrett loves animals and is a huge advocate for all Doodle dog breeds. He owns his own Goldendoodle named Kona. In addition, he volunteers at the Humane Society of Silicon Valley, where he fosters dogs and helps animals. Garrett enjoys writing about Doodles and believes that dogs can teach humans more about how to live than humans can teach a dog.
Why Trust We Love Doodles?
At We Love Doodles, we're a team of writers, veterinarians, and puppy trainers that love dogs. Our team of qualified experts researches and provides reliable information on a wide range of dog topics. Our reviews are based on customer feedback, hands-on testing, and in-depth analysis. We are fully transparent and honest to our community of dog owners and future owners.