There are many different types of mites that affect dogs. It's important for dog owners to be aware of the common ones so they can spot them early and start the appropriate treatment. As such, you may be wondering what nasal mites in dogs are.
Nasal mites are mites that primarily live inside the nasal and sinus cavities, living off blood and other bodily fluids. Nasal mites can be quite uncomfortable for dogs but the good news is that it is easy to diagnose and treat.
Keep reading below as we describe the potential causes and treatments for nasal mites.
Before reading on, check out: Hard Bump on Bridge of Dog's Nose: Causes and How to Treat It! (2023) and My Dog is Sneezing a Lot Lately. Why is My Dog Sneezing Nonstop?.
What Are Nasal Mites?
Canine nasal mites, sometimes called Pneumonyssoides or Pneumonyssus caninum, are tiny mites that inhabit our dog's sinuses and nasal passageways. The keratin in their skin is a favorite food for these mites.
Pneumonyssus caninum is the only type of canine nasal mite that exists today, even though there are many other types of mites that dwell on our dogs and other types of animals, even people.
Dogs are the only hosts for this species of mites and it only lives in their nasal and sinus passages. Canine nasal mites can affect just about any dog that is out there. They can be found in canines of every breed and in any country on the planet.
It's common for dogs to pick up canine nasal mites from one another through playful interaction. Transmission of nasal mites typically occurs either directly from one dog to another by nose-to-nose contact or indirectly between dogs. The good news is that canine nasal mites cannot jump species and infest humans.
While all life stages of the nasal mite cycle are present in a dog's nose, the larval or immature stages are the most easily transferred from one dog to another. While in our nasal passageways, they mature into adults.
How Do Dogs Contract Nasal Mites?
It's believed that the mite can be passed from one dog to another either through direct or indirect contact. Experts agree that this bacterium poses little threat to human health.
Affected dogs can spread the mites to other dogs through close contact, such as when one dog sniffs or plays with another. Sharing towels, pillows, or toys can also potentially result in the spread of these mites.
Dogs in kennels, puppy mills, and other overcrowded or unclean environments frequently have nasal mite infestations. Nasal mites are more common in dogs who spend a great deal of time outside and socialize with other canines.
Nasal mites invade a dog's nasal passages, where they feed on the dog's blood and other body fluids.
Dogs of all sizes, sexes, and ages are susceptible, though one study revealed that large-breed dogs had a higher risk than small-breed dogs. Mites populate the sinuses and nasal cavities.
Nasal Mites Symptoms
The nasal cavity and nose are common targets for nasal mites, as the name suggests. They may also have an impact on other parts and functions of the body.
Certain symptoms of nasal mites are more obvious than others, but increasing restlessness, head shaking, and noisy breathing are all indicators of a potential issue. The following are some symptoms that your dog may have an infestation of nose mites.
Sneezing
While it's normal for dogs to sneeze sometimes, persistent sniffling typically indicates health problems. Nasal mites may be the reason for your dog's sneezing if you've ruled out allergies and other illnesses like the common cold.
Dogs with mites may also have reverse sneezing, a condition in which the animal rapidly sniffs air inward due to irritation in the nose.
Nasal Discharge
An excessive amount of nasal discharge, such as mucus or pus, should raise concern for the health of your puppy. The irritation caused by nasal mites might be a contributing factor in persistent discharge from the nose.
Having said that, it's also possible that it is an indication of a bacterial or viral infection, and consequently, it's recommended that you contact your veterinarian in this case.
An Itchy Face
There are many reasons why dogs paw or scratch at their faces. Canine nasal mites could be the culprit if the itchiness is concentrated on the nose or snout rather than the eyes of the dog.
Bleeding From the Nose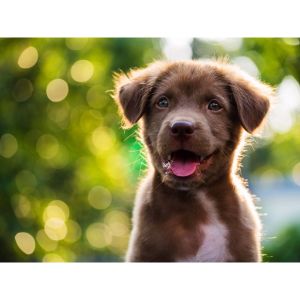 Bleeding from the nose, also known as epistaxis, is abnormal in dogs and often indicates health issues. Bloody noses in dogs are sometimes caused by minute mites that are impossible to see.
Appetite Loss
It's possible for irritants, such as nasal mites, to have a multiplying effect on other sections of your dog's body. Dogs' loss of appetite can be a sign of many different diseases and conditions, including nasal mites.
Tearing Eyes
Excessive tears almost always indicate some sort of eye discomfort or disease. However, it is also a sign of a mite infestation in the nasal canals.
Coughing
A dog's respiratory system consists of its lungs and its nostrils. Nasal mites can cause symptoms such as chronic coughing, wheezing, and trouble breathing.
Nasal Mites Diagnosis
Although nasal mites often reside deep within the nasal cavities, it's not uncommon to spot one on the exterior of a nostril or the muzzle. If your veterinarian suspects nasal mites but cannot visually confirm their presence, they will likely advise further testing.
If you suspect your dog has nasal mites, your doctor may recommend a rhinoscopy (an endoscopy of the nasal passages) and a nasal flushing.
Your veterinarian will analyze nasal fluid and samples visually for nasal mites using an adaptable microscope with a camera. It's imperative to use a general anesthetic for this kind of procedure.
The presence of nasal mites can be either primary (occurring on their own) or secondary (resulting due to another disease's effects on the respiratory system).
This is why, prior to endoscopy, it's routine practice to conduct other diagnostic tests that can help rule out more frequent causes of respiratory illness. Among these are:
Blood and urine analysis

Blood clotting factor tests for a dog with nose bleeds.

X-rays of the teeth and nasal cavity

CT scan
Nasal Mites Treatment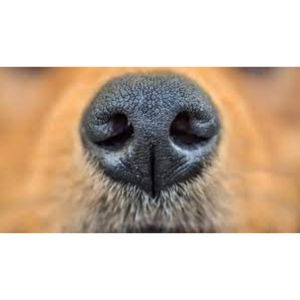 Never treat canine nasal mites on your own; instead, consult your veterinarian first.
Unfortunately, canine nasal mites have no universally effective cure. Some treatments are usually beneficial, but they may not completely eradicate symptoms, particularly if your veterinarian did not find nasal mites.
However, there are still numerous treatments that work very well. The following are examples of such treatment options:
Antihistamines

Steroids

Anti-parasitic drugs
Treatments for nasal mites in dogs may also be effective against other types of respiratory illnesses. It is possible to treat canine nasal mites with one of two medications.
Selamectin
For parasite control and prevention, use selamectin, a topical parasiticide and antihelminthic. It's helpful in the treatment of canine nasal mites because it is routinely used on dogs to treat and prevent various forms of parasites, including heartworms, fleas, ear mites, mange, and different kinds of ticks.
Ivermectin
Another medication that works well against canine nasal mites is ivermectin. You can give this pill or administer an injection to treat a nasal mite infection.
It's imperative that you adhere to your veterinarian's suggestions in order to effectively treat and prevent internal parasites. An overdose, no matter how minor, can be lethal for your dog.
Your dog may be irritating the skin on the outside of his nose by scratching because nasal mites thrive in and around the nostrils. Using a therapeutic balm on your dog's nose can aid in the healing process and soothe the skin.
Nasal Mites Prevention
Nasal mites are notoriously challenging to ward off because of their evasive nature and low visibility. Nevertheless, if you take the appropriate precautions, you should be able to protect your puppy from contracting any of these parasites.
To begin, it is essential to keep in mind that mites can be passed on to an unaffected dog either through direct or indirect contact with the animal.
As a result, you should keep your pets away from any dogs that you are aware of or suspect to be contaminated with mites. This applies to stray dogs and other unknown dogs, who may be carrying mites without the owner's knowledge.
Nasal mites can be avoided with the use of Advantage Multi and other topical antiparasitic preventatives including selamectin or imidacloprid/moxidectin when applied monthly.
Your best bet in preventing your dog from catching canine nasal mites is to keep him away from stray dogs and other dogs who are known to be infected with the illness.
This is easier said than done, though, because dogs are naturally playful. Canine nasal mites can be difficult to diagnose because some dogs may show no symptoms at all.
Can Nasal Mites be Treated?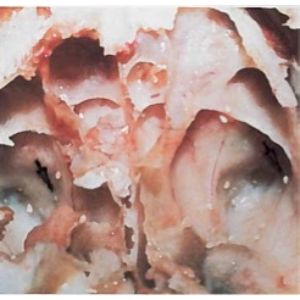 Your dog should make a full recovery from canine nasal mites if you administer the topical, oral, or injectable treatment your veterinarian prescribes.
It is of the utmost importance to follow the specific recommendations given by your veterinarian in order to not only get rid of nasal mites but also to prevent them from occurring again in the future. You can bet that no dog owner would be willing to go through this again.
Other Types of Mites in Dogs
There are other types of mites in dogs, and they are discussed in this section.
Demodex Canis Mites
An infestation of demodex canis mites is known as demodicosis. Common names for this condition include demodex mange, demodectic mange, and red mange. Demodex mites cause mange on your dog because they are parasitic and cling to your dog's hair follicles.
Infestations with mange mites frequently result in a thickening of the skin, hair loss, and secondary infections (yeast or bacteria) since these pests feed on the hair follicle.
Several medications, including afoxolaner, fluralaner, lotilaner, and sarolaner, are available if a veterinarian determines that a dog has demodex mange.
Sarcoptes Scabiei Mites
Sarcoptes scabiei mites dig into your dog's skin, whereas Demodex canis mites adhere to hair follicles. You could get the creeps just thinking about it, but your dog has it far worse because the itching never stops.
You may discover that your dog is scratching more frequently, most notably in the armpits and crotch. Mange also frequently causes skin redness and hair loss.
Otodectes Cynotis Mites
The external mites known as Otodectes cynotis cause severe itching in your dog's ears. Ear mites are more common in puppies and dogs that have frequent contact with outside cats.
Mites (Cheyletiella Yasguri)
The mite Cheyletiella yasguri is responsible for cheyletiellosis, frequently referred to as walking dandruff. The fact that this infestation looks like simple dandruff on your dog led to its unusual nickname. If your veterinarian looked at the "skin flakes" under a microscope, he would see mites, not dead skin cells.
Frequently Asked Questions
Do nasal mites in dogs go away?
With medication, nasal mites will completely go away in the majority of dogs.
How long do nasal mites last?
The life cycle of nasal mites in dogs is around 19 days.
How long does it take for dogs to recover from nasal mites?
In more extreme infestations, dogs may not fully recover from nasal mites for a matter of weeks or even months.
Conclusion

for "Nasal Mites in Dogs: Causes & Treatments"
And that's a wrap. If your dog is unfortunate enough to get canine nasal mites, you now have a better understanding of what they are, how to avoid them, and how to deal with them. Canine nasal mites are easily treatable, and your best friend should make a speedy recovery if you get on top of it right away.
If you find this guide, "Nasal Mites in Dogs: Causes & Treatments," helpful, check out:
Learn more by watching "Canine Nasal Mites in Dogs | Wag!" down below:
Garrett loves animals and is a huge advocate for all Doodle dog breeds. He owns his own Goldendoodle named Kona. In addition, he volunteers at the Humane Society of Silicon Valley, where he fosters dogs and helps animals. Garrett enjoys writing about Doodles and believes that dogs can teach humans more about how to live than humans can teach a dog.
Why Trust We Love Doodles?
At We Love Doodles, we're a team of writers, veterinarians, and puppy trainers that love dogs. Our team of qualified experts researches and provides reliable information on a wide range of dog topics. Our reviews are based on customer feedback, hands-on testing, and in-depth analysis. We are fully transparent and honest to our community of dog owners and future owners.