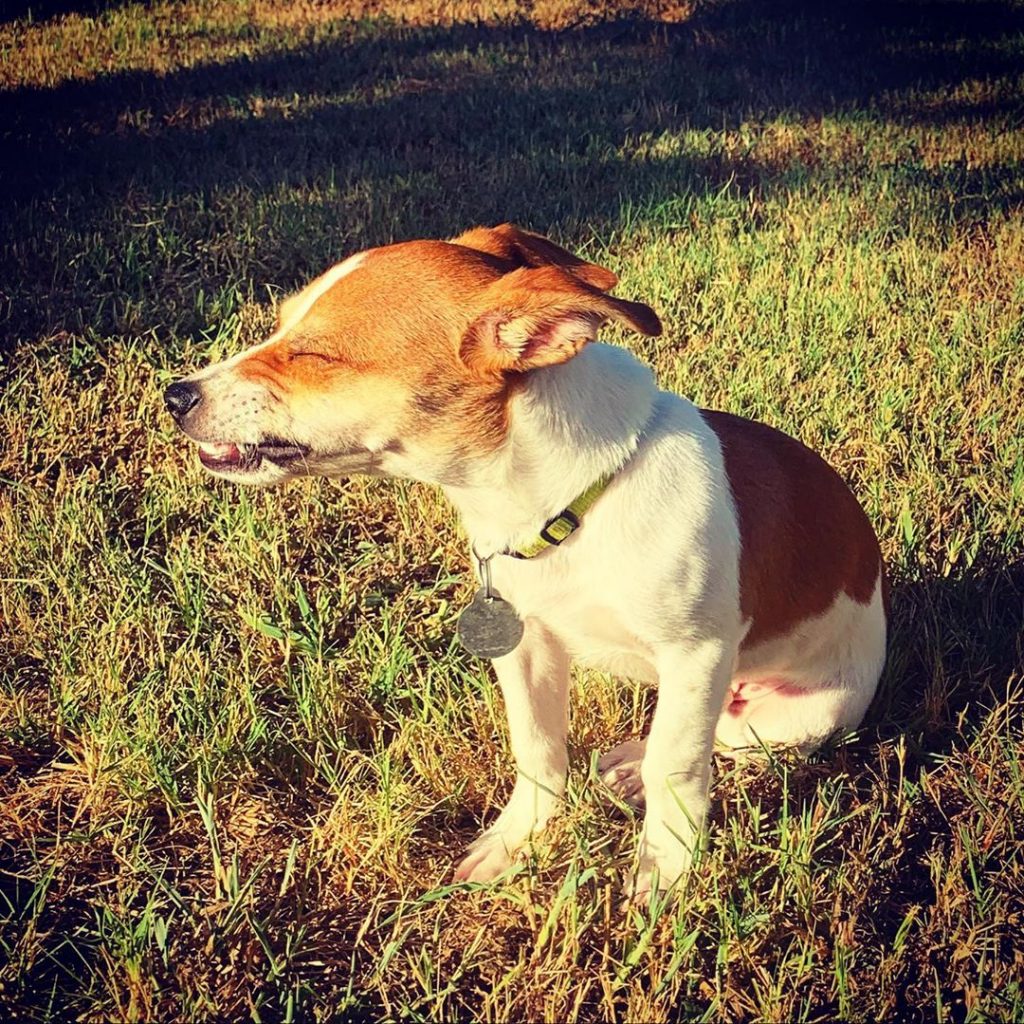 We have been receiving this question a lot: "My dog is sneezing a lot lately.  Why is my dog sneezing non stop?".  Chances are you have a new puppy or a younger dog and your dog is constantly sneezing non stop, snorting, or reverse sneezing either early in the morning, late at night, right after a nap, or while playing.  In addition, if your dog is sneezing they also may exhibit other symptoms such as red eyes, gunk in one eye, or eye discharge.  There are several reasons that your dog is sneezing a lot lately so it's best to visit a veterinarian if you're in any doubt.
Below, we will highlight the Top 5 most common reasons why your dog is sneezing a lot lately and what you can do about it.
Why is my dog sneezing non stop?
Dogs sneeze for all sorts of reasons from behavioral issues, to seasonal allergies, and to infectious diseases.  It's important that you monitor the signs and know when to see a veterinarian.  Keep reading for the most common signs why your dog is sneezing non stop.
1) Puppy Sneezing from Allergies
As young puppies begin to explore the world, they sniff, smell, and eat everything in site.  At some point within their first year of birth, your dog may start sneezing non stop which could be due to allergies.  For more information, here are the Top 3 Labradoodle Allergies.
Just like humans, puppy sneezing from allergies can be caused from pollen, dry air dust, or even chemicals.  Puppies that have allergies typically don't normally sneeze.  Puppies will do what is known as a "Reverse Sneeze" which is a repetitive inhale sneeze through the mouth that is usually pretty noisy.  Dogs do a reverse puppy sneeze when they have allergies.
What to do if your dog is sneezing a lot from allergies?
If your dog is sneezing a lot from allergies a common self-treating remedy is to give your dog liquid Benedryl (scientific name: diphenhydramine).  Liquid Benedryl is an antihistimine that will help your dog if they have allergies. If you notice that the liquid Benedryl doesn't start working within a few hours than you should probably take your dog to the veterinarian.  They may have an infectious disease which is either caused by bacteria or a virus.
Another precaution is take is to make sure that you properly wash all of your dogs bedding, toys, and clean around the house.  Cleaning around your house will reduce the amount of pollen that accumulates and will be a "safe zone" where your dog likely spends a majority of their time.
2) Dog Sneezing while Playing With Other Dogs or Humans
Dogs sneeze all the time while playing with other dogs or even humans.  As the dog wrestling, chasing, and play fighting intensifies you may notice a dog sneeze REALLY loud, but the sneeze is short in length.  A dog sneezing while playing signals to the other dogs or humans that the play is "just for fun" and they don't actually want to fight.  A dog sneezing is simply a way to calm the situation before it escalates and lets everyone around them know that they are just having fun and don't intend to hurt anyone.  Just like play bowing, yawning, or licking, a dog sneeze is a calming signal that your dog may be stressed, and he wants to indicate that the behavior is not to be escalated in order to avoid fights or be polite.
Dogs have many different forms of communicating with other dogs from body language to vocal communication to body positioning.  A dog sneezing while playing with other dogs is just another way form of communication.
A dog sneeze while playing with other dogs or humans is typically different from a normal sneeze.  Typically, a dog sneezing while playing sounds like an excited inhalation following by a short and loud sneeze.  A dog sneeze that signals that they are just having fun is usually "shorter" in length than a normal sneeze.
3) Dog Sneezing a lot from an Infection
If your dog is sneezing a lot, seems to have a runny nose, and discharge from their eyes, then they may have an infection.  In addition, you may notice your dog pawing at their nose or bleeding.  If you think your dog has an infection that they should immediately see a vet.  There are three major types of different infections that your dog may have if they are sneezing non stop.  A veterinarian will be able to determine which type of infection your dog has.
Viral Infection
Viral infections can cause a lot of a sneezing in a dog due to the effect that it has on the respiratory system.  One of the most common viral infections is Puppy Flu, also known as Parainfluenza virus which can be deadly for puppies.  Viral infections can cause sneezing, a runny nose, or coughing.  Viral infections are spread by close contact with other animals that are infected with the disease.  Veterinarians can diagnose whether or not your dog has Puppy Flu.
Bacterial Infection
Dogs that sneeze non stop can have a bacterial infection.  The most common bacterial infection in dogs is Bordetella Bronchiseptica, which is the bacteria that causes Kennel Cough.  A common symptom of Kennel Cough is frequent sneezing in your dog.  Bacterial infections are also highly contagious between dogs and should be treated immediately by a vet.
Fungal Infection
Fungal infections cause sneezing in dogs because when they cause various nasal or sinus infections.  Aspergillus is the most common fungal infection that you will see in your dog which affects the nose, nasal passages, and front sinuses.  Fungal infections in dogs are mold that is picked up through the environment through dust, grass clippings, or hay.  Nasal and sinus fungal infections can be common for dogs who like to continuously sniff the ground.
4) Dog Sneezing from Nasal Mites
Canine nasal mites can affect all dogs at any age.  Nasal mites live in the passages and sinuses of a dog and passes through direct or indirect contact with mites.  The symptoms of nasal mites are bleeding from the nose, sneezing, or a dog scratching at their nose.  Veterinarians have an endoscope that can observe the nasal passes for passages as well as technology that can examine the excretion of fluids of a dogs nose to determine if they have mites.  
5) Dog Sneeze from Nose Congestion
For nose congestion, check to make sure that there is nothing lodged in your dog's nose.  I am always concerned about foxtails, which are a plant that is extremely dangerous for your dog.  Foxtails essentially have barbed seed heads that can make their way into any part of your dogs body including their nose.  Foxtails are known to enter through a dogs mouth and puncturing their lung or entering through their nose and getting stuck.  Symptoms for nose congestion in your dog would be your dog constantly scratching their nose and sneezing.
Conclusion for "My dog is sneezing a lot lately. Why is my dog sneezing non stop?"
There are several reasons why your dog is sneezing a lot lately.  We've provided the 5 most common reasons why your dog is sneezing non stop.  Not all the reasons why your dog is sneezing are bad, but if your dog starts to develop other symptoms like bright red eyes, or discharge from their eye then it may be time to see a veterinarian.  However, if a dog is sneezing while playing with another dog it's simply a way to de-escalate a situation.
Garrett loves animals and is a huge advocate for all Doodle dog breeds. He owns his own Goldendoodle named Kona. In addition, he volunteers at the Humane Society of Silicon Valley, where he fosters dogs and helps animals. Garrett enjoys writing about Doodles and believes that dogs can teach humans more about how to live than humans can teach a dog.
Why Trust We Love Doodles?
At We Love Doodles, we're a team of writers, veterinarians, and puppy trainers that love dogs. Our team of qualified experts researches and provides reliable information on a wide range of dog topics. Our reviews are based on customer feedback, hands-on testing, and in-depth analysis. We are fully transparent and honest to our community of dog owners and future owners.