Are you searching for Maltipoo rescues in North Carolina to adopt a new furry family member? If yes, you must keep reading as this article will enlist some of the best Maltipoo rescues in North Carolina. The Poodle and the Maltese contribute to the luxurious coat of their offspring, the Maltipoo.
In contrast to other dog breeds that shed heavily with the changing seasons, the Maltipoo sheds only a small amount of hair, making it almost hypoallergenic. Since they don't trigger asthma attacks or allergic reactions like other breeds, these fantastic dogs are ideal for allergy sufferers. Another reason for the Maltipoos popularity is its even temperament.
They are loving dogs as they retain their puppylike characteristics well into adulthood. Despite being playful and high-energy dogs, you don't need a busy routine to keep up with a Maltipoo. They are low-maintenance dogs that remain happy with little effort. Hence a cute little Maltipoo is an excellent choice, so peruse this list of pet rescues in North Carolina to decide from where you can adopt your new pet.
Before you scroll down this list of Maltipoo rescues in North Carolina, you can check out these other rescue shelter recommendations from our team at We Love Doodles: Best Pug Rescues in North Carolina and Best Beagle Rescues in North Carolina.
Find a Maltipoo Rescue Shelter Near Me in North Carolina
Our team at We Love Doodles compiled this list of the best Maltipoo rescue shelters in North Carolina to help you on your journey to introducing a companion into your home.
Maltipoo Product Recommendations: Best Brushes For a Maltipoo and Best Shampoos For a Maltipoo.
1. Carolina Animal Rescue and Adoption
The CARA group is a nonprofit organization run by volunteers in the Fayetteville area of North Carolina. The organization began in the 1980s as the San-Lee Humane Society and changed its name to Carolina Animal Rescue and Adoption (CARA) in 2003.
Its mission is to rescue abused and abandoned animals while promoting responsible pet ownership. In addition, its mission is to provide shelter and care for stray, homeless, and abandoned dogs until they can be adopted into forever homes. CARA is run by passionate volunteers about animal rescue, adoption, and welfare.
Moreover, the animal shelter always looks for new adoptive families who devote their time and love to the rescued animals. The North Carolina Department of Agriculture has also granted CARA a license. However, this initiative has never received funding from the government or an animal welfare organization.
Instead, they depend on donations from the general public and companies to finance their activities. When it comes to assisting dogs in need, CARA is one of North Carolina's busiest Maltipoo rescues in North Carolina and is always grateful for donations.
CARA may have Maltipoos and other Poodle hybrids, so go through their available canines to choose your new best companion. The adoption agency will contact you within two days of receiving your application.
Adopting a dog costs $155 if you and the dog are a suitable match. Adopting a puppy under four months old will cost you $115 plus a $100 deposit, which will be reimbursed after you prove that the animal has been spayed or neutered.
A dog adoption fee includes the following:
Having had sterilization, either spaying or neutering,
Vaccinations
Heartworm testing
Deworming (if necessary)
Monthly prophylactic treatment for fleas, ticks, and heartworm disease
Microchipping
Owners of dogs or cats may qualify for a free month of insurance.
Carolina Animal Rescue and Adoption Details
2. Second Chance Pet Adoptions
Second Chance Pet Adoptions (SCPA) has been working to save animals' lives for the past 35 years and is widely regarded as North Carolina's premier large dog rescue. This rescue organization has existed longer than any other in Wake County that does not euthanize animals.
In addition, SCPA has been heavily involved in dog rescue and adoption in the Triangle region of North Carolina. In 1989, it was recognized as a legitimate 501 (c) (3) rescue organization. SCPA began as a three-person grassroots effort and has since grown to become a national leader in dog rescue.
This organization now supports the Combined Federal Campaign and the State Employees Combined Campaign (SECC) (CFC). The SCPA invites anyone interested in adopting a pet to visit their facilities. In addition, you can check out their website anytime to see what kind of adoptable pets they have.
Second Chance Pet Adoptions is a no-kill animal rescue organization founded in 1987. This rescue organization, which claims to be the oldest in Wake County, focuses on saving healthy or treatable strays of cats and dogs. Second Chance relies heavily on a dedicated group of volunteers to keep the doors open.
Except for dogs from Second Chance, they do not accept owner-surrendered pets. However, while looking for a permanent adopter, the family offering the pet for adoption may temporarily house the animal in their home. The animals have all been spayed or neutered, parasite and disease treated, microchipped, and vaccinated.
Adoption and foster care are frequently practiced regularly. As a result, it necessitates:
Permission from the landlord
Veterinary Referrals References
Information about your family and pets
The application emphasizes compatibility with the applicant's family and pets and the usual qualifications. The application fee covers the initial vet bills.
Second Chance, unlike the other shelters, accepts and owns dogs of all shapes and sizes.
Second Chance Pet Adoptions Details
3. Ruf Creek Ranch Animal Rescue and Adoption Center
Ruf Creek Ranch Animal Rescue and Adoption Center rescues animals from all walks of life. The institution has deep roots in the Smithfield community and is well known as an essential animal resource center dedicated to animal rescue. The rescued animals live on a repurposed farm on approximately 7 of the rescue center's 9 acres.
The rescue section of the property has a guarded entrance, two massive barns, and several smaller facilities. Each stable has been renovated to house rescued animals. Only pets on the euthanasia lists of local shelters are accepted at Ruff Creek; they don't accept pet surrenders.
In addition, Ruff Creek is an Adopt-A-Pet-approved rescue and a Cesar Millan Foundation Shelter Stars member. They are a Humane Society of the United States Emergency Placement partner and participate in the Pilots N Paws program. Ruf Creek can only provide as much information about an animal's history as it has.
Staff at a rescue facility will try to learn as much as possible about a rescued animal's past, but this is not easy. To keep its 501(c)(4) nonprofit status, the ranch relies on the efforts of volunteers and monetary and material donations. Ruf Creek is a shelter for many animals, so they have many adoptable dogs, including Maltipoos.
It would be best if you kept in touch with the shelter employees to adopt a dog of any breed as soon as one becomes available. A standard adoption agreement includes a questionnaire to help them determine whether or not you are eligible to be the owner.
Ruf Creek Ranch Animal Rescue and Adoption Center Details
4. Independent Animal Rescue
Independent Animal Rescue is one of the nonprofit Maltipoo rescues in North Carolina in the Triangle area of North Carolina (IAR). It was founded in 1994 but didn't become a recognized 501(c)(3) organization until 1995. Every year, hundreds of homeless canines find refuge in this group.
With the support of trained veterinarians, IAR ensures that all rescued dogs get the best possible treatment. In North Carolina, this shelter is well-known for providing a haven for rescued puppies. IAR volunteers go above and beyond to ensure the health and well-being of the rescue puppies. Before placing dogs in homes, IAR ensures they are healthy and well-trained.
Each dog is altered in some way before being adopted. Moreover, IAR has been working hard to find homes for the rescued dogs and puppies it has taken in. A board of directors is now guiding it, and over 300 volunteers are assisting. Puppies are $275 to adopt, while older dogs are $250 to adopt.
Adoption fees include deworming, microchipping, de-sexing surgery, and other necessary treatments. The IAR's elected executives also run outreach initiatives in the local community to spread the word about animal rights and foster an adoption culture. These projects contribute to the organization's mission of improving the lives of animals in need.
Independent Animal Rescue Details
Choosing a Maltipoo Rescue Shelter in North Carolina
Adopting a pet necessitates love and attention. However, raising a rescued dog is not as simple as raising a dog bought from a pet store or breeder, and there will be challenges. The truth is that taking in a rescued animal requires a special person.
This animal has suffered horrendous neglect, abandonment, and, in some cases, abuse. While rescue organizations do their best to rehabilitate these dogs, they continue to require more love and care due to their traumatic past.
Therefore, choose to adopt a rescue pet only if you are committed to the cause. Moreover, it's doubly important to choose the right rescue organization, but even though there are many rescues in North Carolina, it is still challenging to find a trustworthy one.
A few key things that can help you choose are:
How are the facilities? The overall facilities of the puppy Rescues in North Carolina significantly impact the development of the pups and dogs. Make sure the

rescue

you choose has at least the bare necessities to assist a rescued dog in getting back on its feet.
What services are included in the cost of adoption? While comparing adoption costs, look into the included services. For example, you may have to pay more if the price does not include spay/neuter procedures or vaccinations.
What is their adoption process? There is no standard set of procedures that all

rescue

teams must follow. Some

rescue

organizations may require references, while others may not.
Do they have satisfactory customer service? Overall, how accommodating a

rescue

is in its rules may significantly impact your adoption experience. As a result, the

rescue

organization you select must have a clear and reasonable policy.
Maltipoo Guides: When Does a Maltipoo Stop Growing and Interesting Facts About The White Maltipoo.
Conclusion For The "Best Maltipoo Rescues in North Carolina"
Millions of animals need "forever homes," including thousands of Maltipoos in North Carolina. This list includes the country's most well-known rescue organizations. We compiled this list of the top North Carolina dog rescue shelters based on extensive research and comparison.
In addition, we obtained information about each rescue from credible and recognized sources to ensure the relevance and integrity of facts. These top-tier rescue organizations are now more accessible compared so that you can select the best option for your requirements.
For more guides similar to this list of Maltipoo rescues in North Carolina, you can check out these other rescue shelter recommendations from our team:
Before you bring home a Maltipoo companion from a rescue shelter in North Carolina, you can learn more about this dog breed by watching "10 Things Only Maltipoo Dog Owners Understand" down below: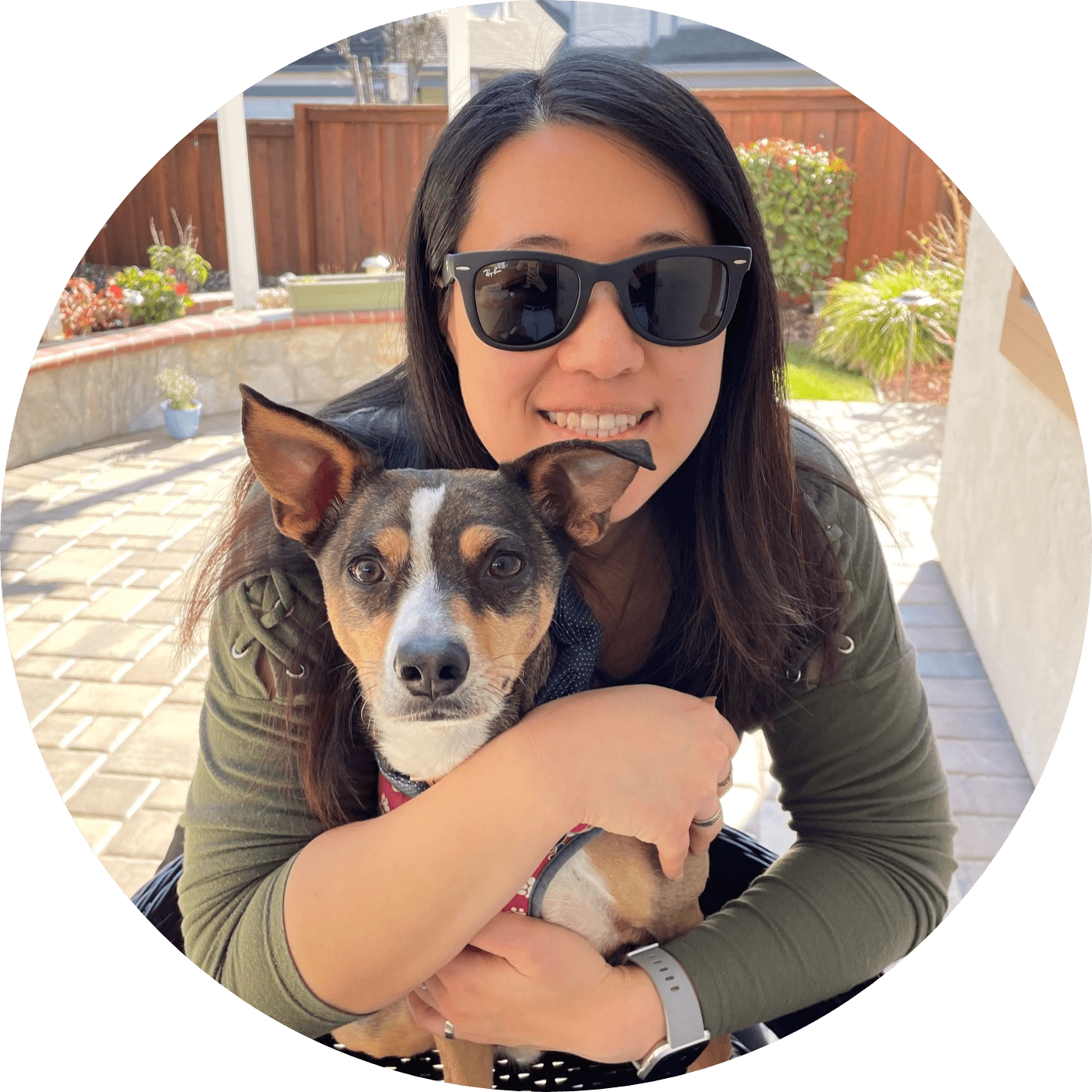 Dr. Sabrina Kong graduated from the Royal Veterinary College in England in 2016 and has been working at a small animal clinic in Northern California since then. She grew up in the Bay Area and got her bachelor's degree from Cal Poly San Luis Obispo. She also became a Certified Canine Rehabilitation Practitioner through a program at the University of Tennessee.
When she isn't in the clinic taking care of her four-legged patients, she enjoys traveling and trying new foods with her friends and her three-legged dog, Apollo. She adopted Apollo from her clinic when he was a puppy with numerous health issues. Dr. Kong truly cares about taking care of animals.