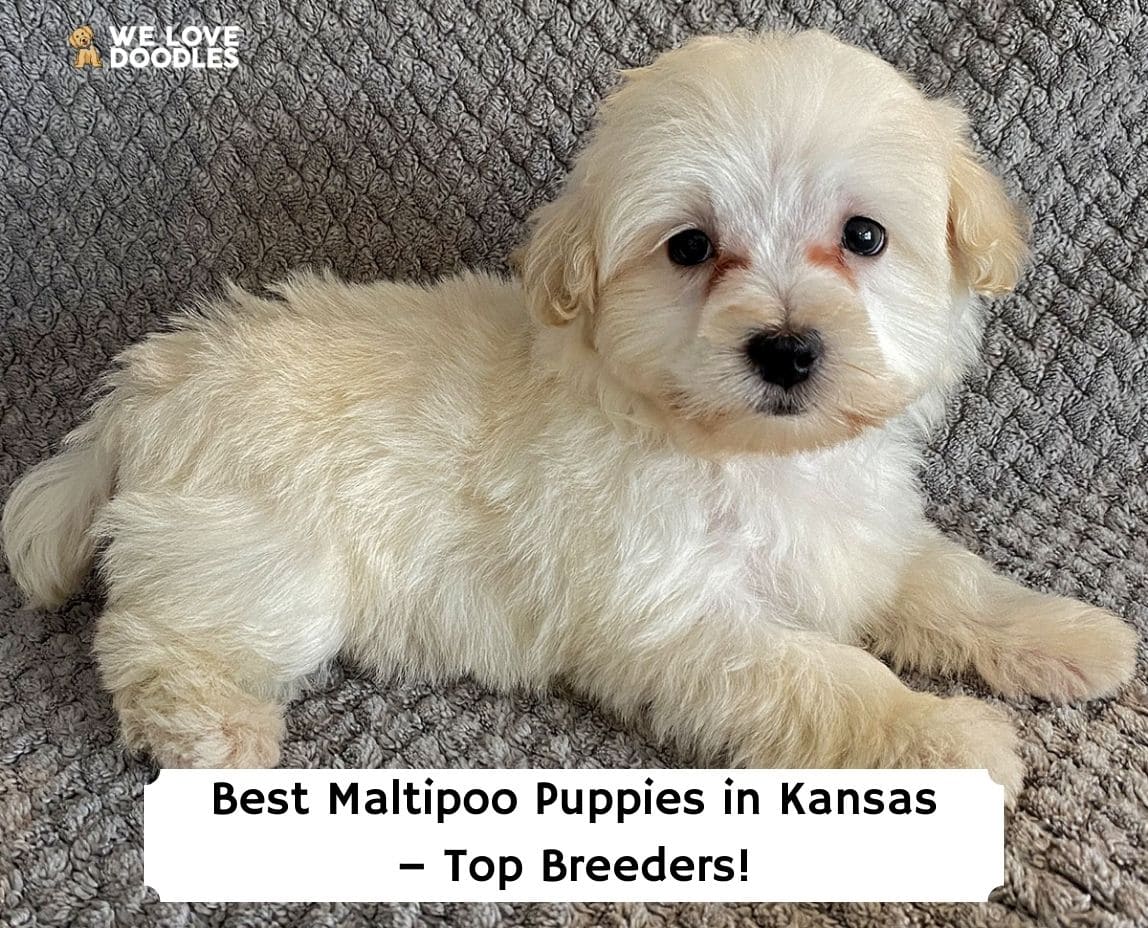 Maltipoo puppies in Kansas have become so popular over the last couple years. As one of the top hybrid designer breeds, the Maltipoo is an adorable, tiny bundle of love and energy. If you are looking for a new furry family member that is happy to join you on your walks but just as happy to cuddle on the couch, the Maltipoo may be the perfect canine companion to add to your family.
However, as a designer breed, it is even more important that you find a reputable breeder in order to help ensure your new Maltipoo puppy is happy and healthy. We want to help you on your new pippy search with some Maltipoo information, tips to find a quality breeder, and a list of some of the top Maltipoo breeders in Kansas.
Other articles you would like: Maltipoo Colors and Can Maltipoos Swim?
Why A Reputable Maltipoo Breeder is Important
When it comes to finding a new puppy, your focus is usually on picking the one with the cutest face and the coloring you like. While this is important, you obviously also want a healthy and happy puppy. As hybrid designer breeds like the Maltipoo gain popularity, puppy mills often latch on as a way to make a larger profit.
Unfortunately, these Maltipoo breeders in Kansas do not make the health of their dogs a priority, and, in many cases, the breeding dogs are poorly treated, and the puppies often have genetic health conditions.
A reputable breeder typically raises one or two breeds (In the case of Maltipoo puppies, it would be common to find a breeder that raises Maltipoos, but also Maltese and Miniature Poodles). They have a great depth of knowledge when it comes to the breeds they work with, and they are willing to share this knowledge.
But most importantly, they put the health and wellbeing of their dogs and puppies first. In many cases, breeding dogs undergo genetic health testing to rule out potential genetic conditions and puppies come with a genetic health guarantee. A reputable breeder sees these puppies as a member of their family, and they are committed to finding loving forever homes for each one.
Top Maltipoo Breeders in Kansas
Once you make the decision to add a Maltipoo to your family, the search begins for the perfect breeder. At this time, reputable breeders in Kansas are limited, but we have provided a list of top breeders in Kansas and the surrounding states to help you begin your search.
1. PuppySpot Maltipoo
There honestly aren't many reputable Maltipoo breeders in Kansas which is why PuppySpot is the number one breeder on our list. PuppySpot does all the work for you from vetting breeding and delivering your puppy. Reputable breeders apply to PuppySpot and, after going through a strict screening process, they are approved.
Once approved, breeders can list available puppies on the marketplace. Here you can simply browse through Maltipoo puppy pictures until you find the adorable face that speaks to you and your family. Once you choose an adorable puppy, PuppySpot works with you and the breeder to arrange your puppy delivery, bringing your new ball of fur to your door.
You never have to worry about puppy mill breeders with PuppySpot. In fact, they feel so confident in their breeders that they offer a 10-year health guarantee.
Maltipoo Breeder Information:
2. R Little Puppies
Located in Frankfort, Kansas, R Little Puppies is a small, licensed family-owned breeder specializing in breeding healthy and well-tempered French Bulldogs, Labradoodles, Bichon Poos, Morkies, and Maltipoos. All their Maltipoo puppies in Kansas receive current vaccinations, deworming, and health checks before heading to their new home. They can even microchip your new puppy if desired. In addition, every Maltipoo puppy comes with a 1-year health guarantee and is well socialized. This was the only reputable Maltipoo breeder in Kansas that we could find that was local to the area.
Maltipoo Breeder Information:
3. Midnight Acres Kennel
Located in Lebanon Missouri, Midnight Acres Kennel was established in 1997 and has been breeding and raising Havanese, Maltese, Toy Puddles, Havapoos and Maltipoos ever since. They strive to provide families with healthy and happy puppies.
They also believe that all their puppies and new families are an extension of their own and offer lifetime help, advice, and support to all their puppy parents. Every puppy also comes with a 1-year health guarantee against genetic conditions.
Maltipoo Breeder Information:
For more check out: Maltipoo Puppies in Iowa For Sale! and Maltipoo Puppies in Tennessee
4. DogGone Puppies
Located in Billings, Missouri, DogGone Puppies specializes in breeding and raising Maltese, Shih-Tzu, Mal-Shi, Maltipoo, Shih-Poo, Poodle, Yorkie-poo, and Morkie designer puppies. All their dogs and puppies are well loved and admired. In fact, they have a professional photographer that takes photos and creates a puppy's first album that all new puppy parents receive when they take their new furry family member home.
The health and wellbeing of all their dogs and puppies is priority and all puppies undergo complete health checks, recent vaccinations, and deworming. In addition, all puppies come with a 2-year health guarantee.
Maltipoo Breeder Information:
Conclusion for Maltipoo Puppies in Kansas
As a designer breed, the Maltipoo combines the best characteristics of both the Maltese and the Miniature Poodle. This small little bundle of fur is a gentle, highly intelligent, and playful little ball of energy that strives to please their human family members.
They love short little walks and lots of cuddles. And, given they are bred with the Poodle, they are also considered hypoallergenic and non-shedding, making them perfect for families with allergies. They love to please their owners and are very easy to train, making them a great choice for first-time dog owners.
The Maltipoo is considered a small dog, standing between 8-14 inches at the shoulder and weighing between 5-20 pounds. They have a medium to long coat that may have waves or curls, so they do require regular grooming. Common colors include black, blue, brown/chocolate/liver, cream, fawn, gold/yellow, red, and white, and their color patterns can be bicolor, tricolor, merle, sable, or tuxedo.
In general, the Maltipoo is a healthy breed. However, just like other dog breeds, they can be susceptible to genetic conditions, such as luxating patella, dental disease, allergies, and progressive retinal atrophy. It is a good idea to look for breeders that health test their breeding dogs to help reduce the risk of your puppy having one of these conditions.
You will also like:
Garrett loves animals and is a huge advocate for all Doodle dog breeds. He owns his own Goldendoodle named Kona. In addition, he volunteers at the Humane Society of Silicon Valley, where he fosters dogs and helps animals. Garrett enjoys writing about Doodles and believes that dogs can teach humans more about how to live than humans can teach a dog.
Why Trust We Love Doodles?
At We Love Doodles, we're a team of writers, veterinarians, and puppy trainers that love dogs. Our team of qualified experts researches and provides reliable information on a wide range of dog topics. Our reviews are based on customer feedback, hands-on testing, and in-depth analysis. We are fully transparent and honest to our community of dog owners and future owners.