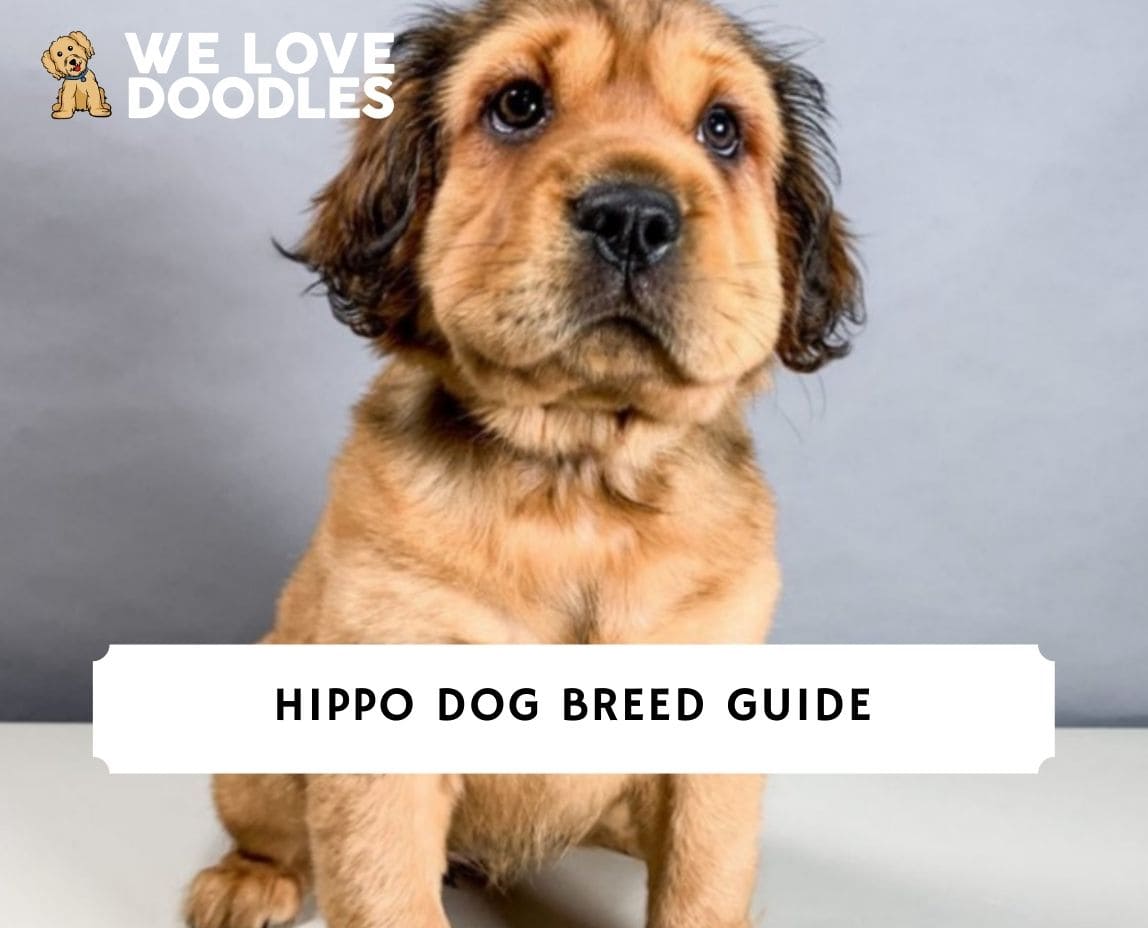 Before scrolling down this Hippo Dog breed guide, here's a question for you. Have you ever wanted to adopt a mini hippo? Unfortunately, these animals can be dangerous and not make the best pets.
However, dogs are great pets. So, what if I told you you could adopt a dog who is a hippo, just friendlier? That's right, Hippo Dogs are real, and they are everything you could ever dream of.
Hippo Dogs, also known as Miniature Hippo Dogs or Cocker Peis, is a new hybrid dog breed rapidly gaining popularity. Below you will find our Hippo Dog breed guide, where you will learn everything you need to know about these unique dogs.
Before scrolling down this Hippo Dog breed guide, check out these other dog mixes that we think you might like: Maltipoo Yorkie Mix Guide and Rat Terrier Chihuahua Mix Guide.
What is A Hippo Dog?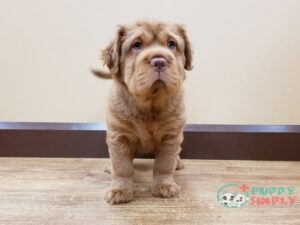 Mini Hippo Dogs are a relatively new dog breed. These dogs are a hybrid mix between a Cocker Spaniel and a Chinese Shar-Pei. This combination of dogs results in a unique new breed with all the best characteristics of both parent breeds.
Hybrid dogs have become extremely popular recently. This is because people have realized they can get the best traits from multiple breeds in one dog. This is why hybrid dogs are sometimes referred to as designer dogs; breeders are specially designing breed pairings that will result in the most desirable dogs possible.
This hybrid breeding results in dogs with unique appearances and temperaments that cannot be found in a purebred dog. If bred in a safe and healthy environment, hybrid dogs are often healthier than purebred dogs. This mixing of breeds reduces the chances of developing common illnesses found among purebred dogs.
Therefore, in the case of Mini Hippo Dogs, these dogs have the best characteristics of both Cocker Spaniels and Shar-Peis. Everything from appearance to health is the perfect combination of both parent breeds, making these dogs beautiful in their unique way.
More Mixed Dog Breeds: Popular Border Collie Mixed Breeds and Mastiff Poodle Mix.
Size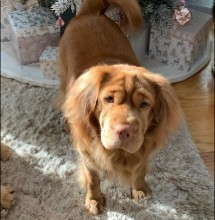 The size of a Hippo Dog can vary depending on the size of the parent dogs. Many factors play a role in the size of a puppy. Therefore, we must look at the details of the parent dogs before fully delving into the size of the puppies.
First, we will look at the Chinese Shar-Pei. These dogs are typically 18-30 inches tall, weighing between 45-60 lbs. Therefore, these dogs are considered medium-sized dogs. If your Mini Hippo Dog takes after its Shar-Pei parent more, it will likely be close to this size.
However, you must remember that the Shar-Pei is only part of a Hippo Dog. The other part of the Hippo Dog breed is the Cocker Spaniel. Cocker Spaniels are unique in that there are two types of Cocker Spaniel to choose from, both of which are different sizes.
First, you can use an American Cocker Spaniel to create a Hippo Dog. American Cocker Spaniels typically sit at about 13.5-15.5 inches in height, weighing between 20 and 30 lbs. On the other hand, you could use an English Cocker Spaniel when breeding Hippo Dogs.
English Cocker Spaniels are slightly larger than their American counterparts. English Cocker Spaniels are approximately 15-17 inches in height and 26-34 lbs. Therefore, Mini Hippo dogs can be a variety of sizes, depending on the type and size of the dogs used when breeding.
If your dog takes after its Shar-Pei parent more, it will likely be much larger than a Hippo Dog who is more akin to its Cocker Spaniel parent. Even the Cocker Spaniel used when breeding affects the size of the Hippo Dog puppies because Cocker Spaniels come in various sizes.
Generally speaking, a full-grown Mini Hippo Dog typically stands at 13-20 inches tall and weighs from 20 lbs to 60 lbs. Therefore these dogs are considered medium in size, but they can fall anywhere in this medium range.
Related: Best Medium Non-Shedding Dog Breeds and Best Shock Collar For Medium Dogs.
Appearance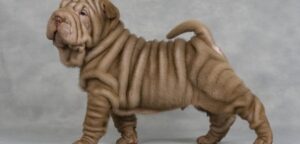 With a name like Mini Hippo Dogs, it should not be surprise that these dogs look like hippos. These dogs inherit physical traits from Shar-Peis and Cocker Spaniels that give them a unique appearance. This particular appearance is a huge factor in helping them gain their recent popularity.
Related: Dog Breeds That Look Like Rats and Dog Breeds That Look Like Fried Chicken.
General Appearance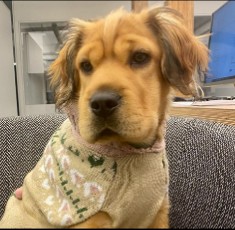 Shar-Peis have broad heads with small ears. This unique combination often draws the hippo comparison. This unique head shape is commonly passed down to their Hippo Dog offspring, giving them a similar appearance.
However, this head shape is not the most distinctive feature of a Shar-Pei. This feature is the plethora of wrinkles covering their bodies. In addition to their large head and wrinkles, Shar-Peis have another extremely distinctive feature: their blue tongue.
This is a trait that they share with another dog of Chinese origin: the Chow Chow. Shar-Peis are also known for their small, almond-shaped eyes. These eyes also look even smaller when hidden under their wrinkles. On the other hand, Cocker Spaniels have huge ears that are often draped with long, feathery hair.
While Shar-Pei's heads are more broad and boxy, Cocker Spaniel's heads are rounded. In addition, these dogs are well-known for their beautiful long hair that falls along their entire body. Mini Hippo Dogs can inherit any of these traits from their parent dogs.
Therefore, it is not always easy to predict what a Hippo puppy will look like because certain features are unique for each dog. Consequently, you cannot guarantee that your dog will have specific characteristics. Still, you can be sure that they will be adorable either way.
Coat Types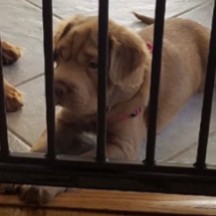 When it comes to their coats, Mini Hippo Dogs can have a variety of textures. If the puppies take more after their Cocker Spaniel parent, they are likely to have long, silky hair. This is because Cocker Spaniels have long, straight hair themselves.
On the other hand, Shar-Peis have shorter and rougher coats than Cocker Spaniels. Therefore, a Hippo Dog who takes after its Shar-Pei parent more will have much shorter and coarser hair.
Hippo Dogs have coats that fall into three categories: horse coats, bear coats, and brush coats. Horse coats are the shortest, coarsest, and densest coats. Bear coats are longer, softer, and more feathery.
Hippo Dogs with bear coats are more similar to their Cocker Spaniel parent. Finally, the brush coat balances the horse coat and the bear coat. Hippo dogs with brush coats may have short hair like a horse coat, but it is typically softer like a bear coat.
 Color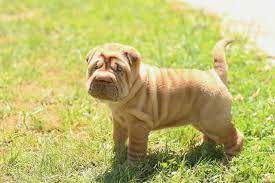 Mini Hippo Dogs come in a wide variety of colors. This is because both Shar-Peis and Cocker Spaniels come in many different colors. Although they come in many colors, the most common for a Shar-Pei are red, cream, fawn, and black.
These dogs can also come with various markings such as brindle and spotted. In addition, some Shar-Peis also have a darker-colored mask pattern around their face. These patterns all have the potential to be passed down to puppies.
Cocker Spaniels also come in a variety of colors and patterns. These dogs most commonly come in black, brown, red, and silver. However, not all Cocker Spaniels are a solid color.
Many Cocker Spaniels have a roan pattern on their hair. This pattern combines white fur and colored fur throughout their coat. This pattern can be passed down to Hippo puppies, giving them an incredibly unique coloring.
Temperament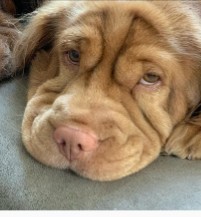 Similar to appearances, it is not always easy to predict the temperament of a hybrid dog. Some Mini Hippo Dogs take after one breed more than the other, so it is hard to guess which breed will be more dominant before a puppy is born.
Shar-Peis are known for being extraordinarily devoted and loving companions to their families. However, these dogs are suspicious of strangers, making them incredible guard dogs. Shar-Peis are also extremely intelligent, so they are easy to train.
These dogs are independent, so they may not get along well with small children or other dogs. On the other hand, Cocker Spaniels are outgoing and social dogs. These dogs are friendly with strangers and love to play with anyone willing.
American Cocker Spaniels are also extremely eager to please, easily trainable. They are gentle and kind with children as long as they are gentle and kind back. This gentleness makes them a favorite among families.
Cocker Spaniels also have high intelligence resulting in ease of training. However, as you can see, there are many differences between the Shar-Pei and the Cocker Spaniel temperaments.
Therefore, it is hard to predict the character of Hippo Dogs. However, both breeds are loving and devoted to their family and highly intelligent. Therefore, you can know for sure that your Hippo Dog will have unconditional love for you.
Training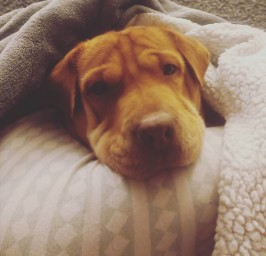 It is essential to train and socialize a Hippo Dog early in life as with any dog. This allows your dog to form good habits as it grows into adulthood. Additionally, socialization is key to keeping your dog friendly and comfortable around strangers.
Even if you have a dog with a great temperament, it can still become nervous in new situations, leading to misbehavior. This early exposure reduces the chances of this happening. Luckily, Shar-Peis and Cocker Spaniels are brilliant dogs, resulting in intelligent puppies. Therefore, Mini Hippo Dogs are generally easy to train.
Related: Best Puppy Potty Training Sprays and Negative Reinforcement Dog Training Guide.
Health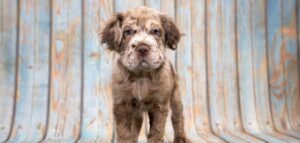 Mini Hippos are generally healthy dogs with a 10-15 year lifespan. As we mentioned before, because they are a hybrid breed, they have a lower chance of developing diseases found in purebred dogs.
However, that does not mean they never develop these problems; it just means that the possibilities are lower. Below you will find a list of some of the most common health problems faced by Mini Hippo Dogs.
Hip dysplasia
Skin infections
Breathing problems
Eye problems
Arthritis
Allergies
Diet and Exercise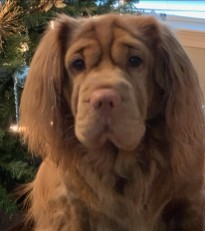 Although these dogs are prone to some health issues, there are easy ways to prevent and manage these problems, such as providing a healthy diet and ample exercise. Your Mini Hippo Dog can live a long and healthy life with these things.
Mini Hippo Dogs require a well-rounded, highly nutritious diet. The proper food for your Mini Hippo can be hard to find at first because many of these dogs suffer from allergies.
If you think your dog is suffering from a food allergy, you should consult a professional veterinarian. Your vet will be able to guide you in finding the proper food for your dog's specific needs. It is also important not to overfeed your Mini Hippo Dog.
Because of their Shar-Pei genetics, these dogs are prone to obesity. Therefore, careful regulation of food and treats is needed. Otherwise, your dog can develop weight-related health problems. You should also provide your Mini Hippo with ample exercise.
These dogs should receive 30-60 minutes of exercise a day. This will also help your dog maintain a healthy weight and a strong muscle tone. However, it is essential not to over-exercise your Mini Hippo as these dogs can overheat, causing breathing problems.
Related: Worst Dog Food Brands to Avoid and Best Dog Food to Build Muscle.
Grooming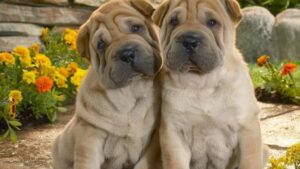 Because coats can vary so greatly between individual Hippo Dogs, there is no set way to groom these pups. However, the most important thing to remember for these dogs is to clean and dry their wrinkles each day; otherwise, they can become irritated and infected.
If your dog has long hair like a Cocker Spaniel, it will likely need daily brushing. This will prevent knots from forming. If your dog has hair similar to the Shar-Pei, it will only need a quick brush once a week. This light brushing will remove any dirt or dead hair from your dog.
Because of their floppy ears, Mini Hippo Dogs will also need an ear inspection once a week. Check for wax, dirt, and debris. If found, gently remove the blockage. This is especially important for Mini Hippos with Shar-Pei ears because their ear canals are naturally very small.
Related: How Long Does Dog Grooming Take and Do You Tip Dog Groomers?
Conclusion For "Hippo Dog Breed Guide"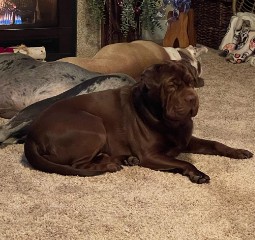 Miniature Hippo Dogs are a relatively new hybrid dog breed. However, these dogs quickly gain popularity because of their excellent looks and temperaments.
These dogs closely resemble hippos but act much nicer than them. So, if you are a hippo-lover, look no further! You can get your very own Mini Hippo who will love you unconditionally.
For more mixed dog breed guides, you can check out:
You can learn more about this mix by watching "Shar-Pei and Cocker Spaniel Mix Breed (Cocker Pei)" down below: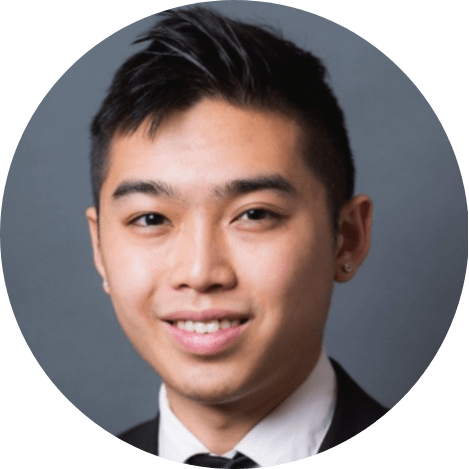 Andy is a full-time animal rescuer and owner of a toy doodle. When he's not saving dogs, Andy is one of our core writers and editors. He has been writing about dogs for over a decade. Andy joined our team because he believes that words are powerful tools that can change a dog's life for the better.
Why Trust We Love Doodles?
At We Love Doodles, we're a team of writers, veterinarians, and puppy trainers that love dogs. Our team of qualified experts researches and provides reliable information on a wide range of dog topics. Our reviews are based on customer feedback, hands-on testing, and in-depth analysis. We are fully transparent and honest to our community of dog owners and future owners.