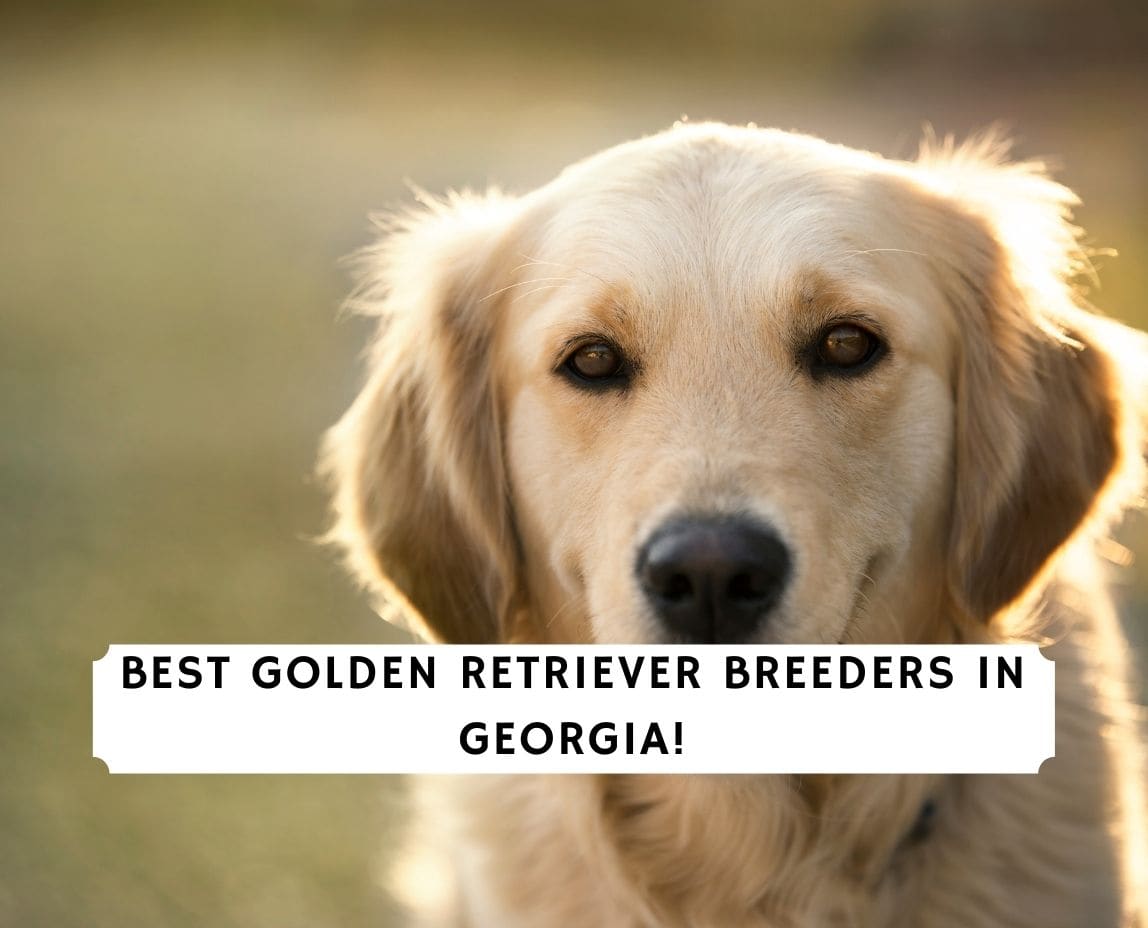 If you're searching for the best Golden Retriever breeders in Georgia, then you've come to the right place. Touted as the 4th most intelligent breed behind the Poodle, German Shepherd, and Border Collie is the Golden Retriever. Their high intelligence and easygoing temperament are exemplified by the breed winning 3 champion titles in the AKC's obedience shows.
It's really no surprise that your find many Golden Retriever puppies for sale in Georgia. However, finding and researching a reputable breeder takes a long time. Our list of the best Golden Retriever breeders should help you narrow down your search for a puppy.
Other articles you might like: Goldendoodle Breeders in Georgia and Labradoodle Breeders in Georgia.
Golden Retriever Puppies For Sale in Georgia
Health guarantees are an important subject of concern in finding a reputable breeder. Breeders who test for common health issues that Golden Retrievers are prone to will ensure that your dog will not develop genetic diseases. This is why our list contains several breeders who health and genetic test their Golden Retriever puppies in Georgia. You'll notice that puppy mills and backyard breeders are not health testing their Golden Retrievers, which is why they sell them for cheaper.
By choosing a breeder that does tests for health issues, you increase the odds that your Golden will be healthier and happier with much fewer veterinarian bills over the span of their lives. Please take a look into some of these breeders and request an in-person visit to learn more about their breeding practices and view their facilities.
1. Golden Retrievers of Atlanta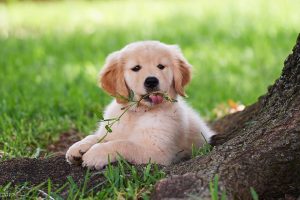 First on the list of Golden Retriever breeders in Georgia is "Golden Retrievers of Atlanta." Golden Retrievers of Atlanta is not just your basic, run-of-mill breeding operation run by owner Lee Carroll. This kennel has been diligently run since 1999 with Ms. Carroll's personal touch in the overall care given to every puppy who has a part in her litters. Daily life here at Golden Retrievers of Atlanta consists of hours in grooming, ear cleaning, loving, training, playing, and adoring Golden Retrievers. From childhood, the Golden Retriever has played a solid role in Ms.Carroll's life. Today, with her children, the breed continues as a staple of the family.
Educate yourself more on the breed, its history, and what supplies are necessary to buy for your new puppy so it grows strong and happy through the many tabs found throughout their website.
Purchasing a Golden Retriever puppy from this family-run breeder in Georgia guarantees an AKC quality dog born from parents who have received full-body x-rays to determine health. This ensures that the offspring meet or exceed the breed's purebred standards. Each puppy goes home with a veterinarian's bill of health, deworming, and 8-week vaccinations.
Get in touch through their puppy application so you can be added to the list for the arrival of their next litter. There are also times that adult Golden Retrievers are adopted out to loving homes once they are retired. Check them out, too, if a puppy doesn't fit into your lifestyle at the moment.
Golden Retrievers of Atlanta Details
2. Terra Cantatis Georgia
Looking out upon the 80 acres of working cattle ranch that is Terra Cantatis, you will most likely observe gorgeous cream-colored, AKC registered Golden Retrievers experiencing a life of fulfillment and joy amongst the other farm animals that include goat's chickens, and mini donkeys. Their dam and sire Golden Retrievers both possess affectionate, docile temperaments and are extremely intelligent, which are fabulous qualities passed down into their offspring.
These are relatively new Golden Retriever breeders in Georgia with their first litter born in 2019. However, the AKC quality standards produced in the English Cream Golden Retriever puppies were exceptional. You can see for yourself when you scroll through the puppy pictures available on the web pages.
Contact owner, Debbie Roseberry Odom, download a Puppy Purchase Agreement, make a non-refundable deposit of $500 and decide whether or not you want breeding rights to your puppy or not. If you want Golden Retriever puppies for sale in Georgia that come with breeding rights, it will cost an additional $500 on the purchase price.
Terra Cantatis Details
3. Savannah Goldens
Scotland, Australia, England, and Ukraine are just a few countries that the bloodlines of Savannah Goldens AKC dogs reign from. The breeder, Marley Meneely, breeds purebred English Cream Golden Retriever puppies with great temperaments and breeds for conformation and superior health. On Day 3 of life, the Golden Retriever puppies in Georgia begin Early Neurological Stimulation to assist in their positive growth and development. This type of stimulation from day 3 to day 16 has proven beneficial in creating stronger immune systems, increased emotional and intellectual performances, and enhanced the dogs' breeding traits that make them great companions and therapy dogs.
All their Golden Retriever puppies for sale in Georgia will be microchipped, have a health guarantee, be up-to-date on vaccines, and have a vet's bill of health. There are only so many puppies arriving in a litter, so make sure to get your non-refundable deposit in soon for your space on the waitlist. If you have caught wind of these highly prized puppies but live out of state, you are in luck! If within a certain driving distance, their Golden Retriever puppies can be delivered. If you're farther away, then they will look into the hand delivery of your puppy through flight nanny options.
Savannah Goldens' Guardian Program is another option for a family to enjoy one of their dogs. This program allows families to foster the puppies that will be future mothers to Savannah Goldens' litters. They will live with your family and experience happy dog lives until it's time to breed. The health and well-being of all the Golden Retrievers at this family-owned breeder is the top priority which can be observed from puppyhood to adulthood through photos and reviews.
Savannah Goldens Details
4. Syrah Goldens Georgia

Taking an unusual approach to dog breeding is what makes Syrah Goldens so unique and so successful over the past 14 years. All dogs take up residence in foster homes as pets, where they receive loving attention when they are not being bred or producing litters. Females are only bred up to or before five years of age. Then they are adopted out to homes where they will continue with peaceful lives when they even retire. The Golden Retriever breeders in Georgia work to help educate potential dog owners on the responsibilities of pet ownership and the specifics of the breed they are looking to purchase.
They care about the ethical ownership of their European-type light Golden Retrievers. Syrah Goldens also exhibits their ethical side by donating Golden puppies to help those in need, such as children who have won their battle with cancer or those who have lost a brother or sister to cancer and would like a companion to stand by their side as constant support to them.
Prices do reflect all the time, effort, and attention given to the health of each of their Golden Retriever puppies for sale in Georgia. Deposits are non-refundable with the purchase price including age-appropriate vaccinations, a health guarantee, a vet bill of health, AKC registration, and microchipping. With a deposit, your spot will be secured for the next litter born. Please contact the Golden Retriever breeders before making any permanent decisions about puppies so they may properly answer your questions.         
Syrah Goldens Details
 5. Golden Honey Golden Retrievers and Doodles
Last on the list of Golden Retriever breeders in Georgia is "Golden Honey Golden Retrievers and Doodles." Even though Golden Honey is a very small and private breeder, the puppies they produce are larger than life when it comes to high-quality standards preserved in the Golden Retriever and Goldendoodles breeds. The dedicated owner, Patrece, has dedicated her life to raising amazing dogs with calm demeanors, beautiful conformation, and color displays. She originally began her breeding experience with Labrador Retrievers but later switched to Golden Retrievers and Goldendoodles because of their nicer temperaments.
Due to this earlier experience in breeding, she easily transferred that knowledge when she decided to breed Golden Retrievers. She performs consistent genetic testing so that only quality genes are passed on in the litters produced. Quality over quantity is always her main objective. Visits are encouraged by families awaiting the moments when they can gather up their new puppy and take them home. Through these visits, connections can be made between family members and puppies early on so that the transition into new home life is easier and less stressful.
Patrece will work with all owners to lend her knowledge and support during all puppy life stages. Rave reviews support all these claims as families lucky enough to purchase a Golden Honey Puppy post their experiences and their lives with their 'perfect' Golden Retriever puppies for all to read about. A unique feature about the puppy you will bring home is that it will already have potting training underway and crate training too! Being part of the family from the moment of birth also promises a dog that is already well socialized as it has received a good amount of attention from all family members.
Apply online, go through an interview process to ensure you are the right fit for a Golden Honey puppy. You can then make a non-refundable deposit of $500 which will be deducted from your purchase price. This purchase price shall be paid in full when the Golden Retriever puppy is 8-9 weeks old and ready to come home.
Your Golden Retriever puppy in Georgia will come complete with a 2-year health warranty, a veterinarian health certificate, current vaccinations and deworming, dewclaw removal, microchip, appropriate registrations, and all necessary health records. A puppy pack with food, a 30-day trial of pet insurance, a blanket, a snuggle puppy with mom's and litter mates' scents, and Burt's Bees Puppy shampoo come along too.
Golden Honey Golden Retrievers and Doodles Details
Location: Duluth, Georgia
Telephone: 470-407-3152
Email: info@goldenhonetkennel.com
More Information About Golden Retriever Puppies
The Golden Retriever is the 3rd most popular dog, according to the American Kennel Club. The Golden Retriever lives up to its name with its ranges of golden colors that their magnificent coats exhibit. Golden Retriever puppies in Georgia can be a golden white to cream to light honey golden all the way to dark golden.
Per its name, this muscular, sporting breed has been utilized to retrieve fowl in outdoor hunting activities. Still, the Golden Retriever is just as happy to retrieve a frisbee or ball while enjoying outside playtime. They grow to be about 21.5 to 24 inches in height and weigh in between 55 to 75lbs. Male Golden Retriever puppies are typically larger than female puppies.
The Golden Retriever is great with families and is a trustworthy, attention-seeking companion who will joyously act like a puppy all the way into adulthood. They live to be about 10 to 12 years old but can be prone to genetic issues in the hips, elbows, and eyes. These issues can be reduced through genetic testing of parents used in breeding by a reputable breeder. Look for an ethical breeder by starting with the questions below. If a Golden Retriever breeder can not answer yes to these questions, start researching other ones.
Are your adults' health tested for hip, heart, and elbow?
Are your adult's eye-certified?
Will they allow you to visit their breeding facility?
Will you be supplied with a health guarantee?
Can they supply references?
Are the sire and dam certified?
Can you meet the sire and dam?
Conclusion For Golden Retriever Breeders in Georgia
Always remember to ask the important questions, don't be shy, and make sure you feel comfortable with a Golden Retriever breeder before purchasing your new puppy. Making a Golden Retriever a permanent part of your family will be one of the best choices you will ever make because they are a loyal, friendly, and affectionate companion to family and friends alike.
If traveling to these Golden Retriever breeders in Georgia is too far for you, we have other listed breeders from other states you might be interested in:
To learn more about the Golden Retriever dog breed, watch "Golden Retriever Pros And Cons" from Cocker Spaniel World down below:
Garrett loves animals and is a huge advocate for all Doodle dog breeds. He owns his own Goldendoodle named Kona. In addition, he volunteers at the Humane Society of Silicon Valley, where he fosters dogs and helps animals. Garrett enjoys writing about Doodles and believes that dogs can teach humans more about how to live than humans can teach a dog.
Why Trust We Love Doodles?
At We Love Doodles, we're a team of writers, veterinarians, and puppy trainers that love dogs. Our team of qualified experts researches and provides reliable information on a wide range of dog topics. Our reviews are based on customer feedback, hands-on testing, and in-depth analysis. We are fully transparent and honest to our community of dog owners and future owners.