If you're searching for available free Shih Tzu puppies, you've come to the right place. Shih Tzus are one of the most adorable dog breeds out there. They are small and compact, making them the number one option for dog lovers with small apartments or limited space.
The popularity of this breed has surged significantly over the years, increasing their price. Depending on your state in the United States, buying a Shih Tzu puppy from a breeder ranges from $750 to $4,000.
Demand for these puppies has also caused a considerable increase in their price. With the high cost of acquiring a Shih Tzu puppy, can I still get one for free? The simple answer to that question is "yes."
There are several ways to look for a free Shih Tzu puppy in the United States. Before we explore the various ways to get this puppy for free, here's a brief of what you need to know about Shih Tzus.
Before you scroll further down this guide, "Where Can You Get Free Shih Tzu Puppies," you can check out these other Shih Tzu-related guides from our team at We Love Doodles: Best Shih Tzu Rescues in the United States For Adoption and Shih Tzu and Maltipoo Mix Information, Facts, and Images.
What You Should Know Before Searching For Free Shih Tzu Puppies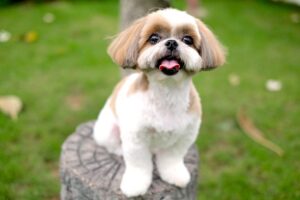 Chances are you might have been hearing this breed's name, "Shih Tzu," and wondering what it means or how it is related to the dog. The name means "little lion." However, there is nothing fierce about this breed. Shih Tzus are loving, adorable dogs, not hunters. These are bred solely to be companions and pets.
They are happy, affectionate, outgoing house pets who love to follow their owners everywhere they go. These dogs have existed for many decades and made themselves comfortable on the laps of people from all spheres of life, even emperors. However, in recent years, Shih Tzu owners have engaged these dogs in various activities.
Pet owners now train their Shih Tzus for obedience, agility, rally, and other sports competitions. These dogs are excellent family pets, as they get along with other pets and children. Is the Shih Tzu breed right for you? Before getting a free puppy, you want to ensure this breed is right for you and your unique personality. In terms of exercise, Shih Tzus do not require a lot. They are small dogs with minimal exercise needs.
A few minutes of a daily walk should be enough to expel some energy. These dogs also need plenty of indoor playtimes to keep them active and engaged. If you already have large dog breeds at home, a Shih Tzu should not be a part of that mix, as some large breeds have strong predatory instincts and can injure or kill smaller breeds.
These dogs also need frequent grooming, so you want to ensure you are up to the task before getting one. If you have a puppy with a long coat, then daily brushing is needed to keep them neat and good-looking. When it comes to health, these dogs have some inherited health conditions.
Some of the common health conditions these dogs are vulnerable to are:
Hence, it is important to get your puppy from a reliable source. Reputable breeders do not conduct proper DNA tests before breeding because of the high cost of such tests. However, reputable breeders go the extra mile to do all necessary tests to produce perfectly healthy and sound puppies.
When looking for a free puppy, you need to pay close attention to the source to avoid visiting the vet weekly and spending thousands of dollars on vet care. Here are some suggested places to find a free Shih Tzu puppy.
More Shih Tzu-Related Guides: Best Shampoos For a Shih Tzu and Best Shih Tzu Breeders in the United States.
Ways to Get a Free Shih Tzu Puppy in the United States
Here are some safe and productive options for a free purebred puppy.
1. Check Local Dog Shelters
Your search for a free Shih Tzu puppy should start by visiting a local shelter near you. Dog shelters are known for rescuing and temporarily housing various dog breeds, including large and small breeds. These shelters are open to dogs of all ages and sizes, including puppies.
If there are shelters in your area, we recommend you visit them and ask for the availability of this breed. Visiting in person, rather than calling, would show them how serious you are. However, you can call or email them if you reside far away.
You can check for local shelters near you, visit their website, and get their email or phone number. Purebred dogs like Shih Tzu do not stay in shelters for too long, as there is always someone out there who wants them, even at a cost.
Hence, you should act fast and even leave your contact with the shelters you visit if a Shih Tzu puppy is unavailable. Most of these shelters release their puppies for a very small fee. The fee is usually nothing compared to what breeders charge.
However, some shelters often give out these puppies when they have too many in the facility and want them to be cared for by responsible and loving individuals or families. You might be lucky to get a free puppy from them.
More Shih Tzu-Related Guides: Maltese vs. Shih Tzu Dog Breed Comparison and Best Dog Food For a Shih Tzu with Allergies.
2. Ask Family and Friends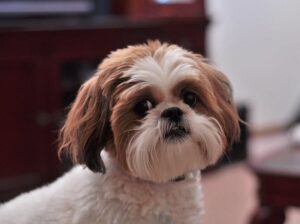 This is one of the first options to consider when looking for a free puppy. You might be surprised that a family member, friend, neighbor, or colleague at work might be planning to give out their upcoming litter or looking for responsible individuals or families to rehome their current puppies.
Reach out to your friends, family, coworkers, or neighbors and tell them you are looking for a free Shih Tzu puppy. Even if they cannot help you directly, one or two persons might know someone looking to rehome their puppy.
They might also know someone relocating and wants to give out their puppies and dog for free. A lifestyle change might make someone want to give out their puppies for free, and someone in your close circle might know that person. Hence, asking your network is a great way to find a free Shih Tzu puppy.
More Shih Tzu-Related Guides: Best Dog GPS Trackers and Best Hypoallergenic Dog Foods.
3. Dog Rescue Groups
Do you know you can get a puppy from a dog rescue organization without paying a dime? These organizations charge adoption fees for all their puppies and dogs because they spend money on rescuing, medically treating, caring for, and temporarily housing them; hence the adoption fees.
We have different types of dog rescue organizations in the country – breed-specific and all-breed rescues. When looking for a free puppy, your focus should not be on only breed-specific rescues. You have to explore both all-breed and breed-specific rescues.
These rescue groups and organizations often organize free adoption events, where they waive the adoption fees for puppies and dogs. They organize these events to encourage pet adoption and raise awareness for responsible pet ownership.
However, despite waiving the adoption fees, some rescues might have requirements or criteria you must meet to qualify for a free puppy. Here are some Shih Tzu rescues you can ask for a free puppy. Even if they don't offer free puppies most times, you can still proceed with the adoption, as they charge very small fees.
More Shih Tzu-Related Guides: Best E-Collars For Large Dogs and Best Go Pro Dog Harnesses.
4. Social Media
Social media platforms like Facebook have been helpful for pet owners who want to adopt or rehome their puppies. These platforms and forums allow people to connect with others in their area. You can search for free puppy adoption groups in your specific area.
Another way to leverage social media is to create posts expressing your interest in looking for a Shih Tzu puppy to adopt for free. You can share the post with your friends and ask them to rebroadcast or share it.
You can also use other platforms like Craigslist, Quora, Petfinder, and Reddit to find free puppies. Ensure you apply caution when dealing with people you do not know. We recommend trying these options when the above options do not yield tangible results.
More Shih Tzu-Related Guides: Best Brooms For Dog Hair and Best Soft Dry Dog Foods.
Conclusion For "Where Can You Get Free Shih Tzu Puppies"
Shih Tzus are cute, loving, and playful dogs that make excellent family pets and companions. Buying this dog breed from a breeder can set you back by a few thousand bucks, so getting a free puppy would help you save some money, which you can use to care for your puppy in the long run. Ensure you invest in proper vet care, socialization, and training, as they are the building blocks of a healthy and well-behaved dog.
If you find this guide, "Where Can You Get Free Shih Tzu Puppies," you can check out these other dog-related recommendations from our team:
Before you start your search for free Shih Tzu puppies, you can learn more about the process of finding a free dog by watching "How to Get Free Puppies" down below: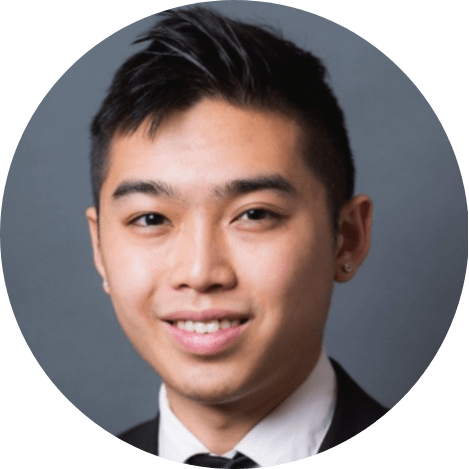 Andy is a full-time animal rescuer and owner of a toy doodle. When he's not saving dogs, Andy is one of our core writers and editors. He has been writing about dogs for over a decade. Andy joined our team because he believes that words are powerful tools that can change a dog's life for the better.
Why Trust We Love Doodles?
At We Love Doodles, we're a team of writers, veterinarians, and puppy trainers that love dogs. Our team of qualified experts researches and provides reliable information on a wide range of dog topics. Our reviews are based on customer feedback, hands-on testing, and in-depth analysis. We are fully transparent and honest to our community of dog owners and future owners.