Here's everything you need to know about the Eskipoo. When it comes to hybrid breeds, possibilities can be endless. Hybrids are a mix between two distinct breeds into one.
These mixed breeds often take on some of the best qualities of both parents to create a truly unique and adorable dog and friend. There are many different kinds of mixed breeds, each having its level of popularity. One mixed breed you may not have heard of is the Eskipoo.
While their name is fun to say, these mixed dogs are also a lot of fun to have around as well. Whether you've been dreaming of having an Eskipoo for a while or have not even heard of the breed, it can be a great option for adding to your family.
Next, we share some of the most helpful and important things you'll need to know about this one-of-a-kind breed. From their appearance to exercise requirements to their temperament, you'll be able to determine whether this breed is the right one for you.
Before scrolling down this Eskipoo guide, feel free to check out these other Doodle breeds: Goldendoodle Dog Breed Guide and Labradoodle Dog Breed Guide.
Eskipoo Overview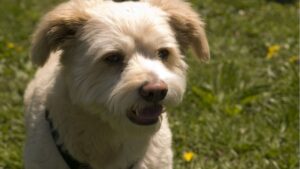 Based on their name, they may seem like exotic dogs that are very rare. While they may not be as common as dogs like the Goldendoodle, the Eskipoo can still be a great pet to get. They may also be called Eskapoo or a Pookimo.
The Eskipoo is a mixed breed between a Poodle and an American Eskimo dog. To understand what a combination of these two breeds is like, it's helpful to know more about their parents.
The Poodle is a common dog that can come in three main sizes, including Toy, Miniature, and Standard. Poodles tend to have curly or wavy hair and are very intelligent. Their versatility and lovable personality make them common parents in mixed breeds.
The American Eskimo dog is also very friendly and enjoys staying active. They come in just one standard size, ranging from small to medium, and they are dedicated companions who are loyal and care about taking care of their families. They are known for being fairly alert and active in their lifestyle.
When you put these two strong and smart breeds together, what results in a dog that is a joy to have around. With great size, excellent temperament, and ease of training, the Eskipoo can make for a great family pet for adults and kids of all ages.
Size
The size of the Eskipoo is heavily depending on what size the parents are. While the American Eskimo dog varies slightly, the Poodle can come in three distinct sizes. This can add even more diversity to the mixed breed of the Eskipoo.
In general, these dogs are on the smaller side. As both parent breeds can be fairly small, the resulting mixed dog follows that same size. Typically, Eskimos reach a weight range that is between 13 to 20 pounds.
Their height also varies, ranging from 9 to 15 inches tall. Keep in mind that most male dogs will have a larger size than female dogs.
The exact size of the parents also can make the mixed Eskipoo shift toward being larger or smaller on the typical scale. Overall, they are sturdy and strong, regardless of how big they are in size.
Their small size can be a great advantage for this breed. They do not require a significant amount of space, which means they can fit it well in places like apartments and other small living environments.
If you don't have a large backyard for a dog to run and roam, that's okay with the Eskipoo. Instead, they'll enjoy going on walks and can burn off energy right in a small living room space.
Appearance
Like many other mixed breeds, especially those that involve a Poodle, the Eskipoo can have coats that vary considerably. Some Eskipoos may have more Poodle in them and therefore have coats that are long and curly.
Or, they may have coats that are more similar to the American Eskimo dog that is more fine and straight. Or, they could have an interesting combination of both the Poodle and the American Eskimo coats.
Their coats also tend to be fairly heavy. This is because the American Eskimos have coats that are thicker due to their colder weather living. As a result, the Eskipoo may struggle a bit more to stay cool and comfortable in hot temperatures.
They may feel too warm with their coat and quickly become overheated or dehydrated. Keep in mind that with a more complex coat like that of the Poodle, the Eskipoo may require a more involved grooming process.
They may need to be brushed, combed, bathed, and trimmed on a more frequent basis than other dogs, such as the purebred American Eskimo dog.
The Poodle influence, no matter how much or how little is reflected in their coat, will still require more time spent in ensuring their coat and hair health is in the best shape. There is also a difference in the amount of shedding between the two parent breeds.
American Eskimo dogs shed while Poodles do not as much. The amount that an Eskipoo will shed depends on the genetic make-up of the Eskipoo and how much Poodle or American Eskimo they have in them.
On average, it's best to brush your Eskipoo between four and five times a week. Regular brushing will also help ensure that they do not develop mats easily. You'll also want to keep up on their trims so that their coats don't become tools and are much more difficult to manage.
Other aspects of their appearance include a white coat, although some dogs may have different color coats. These colors include gray, brown, cream, and even black.
They may be completely all one color or they may have different markings on their coat that make them even more unique. Their versatility in color can also help you find the perfect puppy that matches your preferences.
Related: Dog Breeds That Look Like a Rat and Dog Breeds That Look Like Ewoks.
Temperament
Like other Poodle mixes, the Eskipoo is known for being very friendly and affectionate toward their family. They are generally very happy dogs and seek continual time and attention from their family.
With their friendly temperament, they can make great choices for families with children. They are also very gentle, which may make things less stressful when they are out and about with children.
Despite their gentle side, they also do enjoy playing and staying active. As both the Poodle and the American Eskimo dog are active and outgoing, so are their offspring.
They enjoy playing and staying active with their families, whether that's through a game of tug of war, fetch, or just chasing around in the backyard. Eskipoos are also drawn by their family's affection and attention.
They constantly seek affection and want to be able to feel loved and cared for at all times. Because of this, Eskipoos tend to develop separation anxiety when you are not around them.
They can feel distant from those they love, which can heavily affect their overall behavior and emotional and mental health. By supportive training and consistent schedules, you can help to alleviate any type of emotional strain caused by separation anxiety.
Because of this temperament, you'll also want to be sure that they are not left alone for extended periods. Doing so could cause them anxiety and depression and deteriorate their emotional and mental health.
They may also turn to destructive behavior as a way to express their frustration and discomfort of being home alone for too long of a time. They need company and affection and can turn frustrated if they feel that need is not being met.
Keep in mind that one challenge with the temperament of the Eskipoo is that they can bark often. They are quick to voice their alertness when something seems unfamiliar or uncomfortable.
This aligns with the temperament of the American Eskimo dog who also is very alert and lets you know when there's something they think is out of the ordinary. However, with regular and intensive training, you can teach your dog not to bark, at least not as much.
By using training techniques like positive reinforcements when they don't bark or discouraging their behavior in other ways, you can help your dog become more relaxed rather than alert and voicing what they see.\
Related: Friendliest Dog Breeds with Images.
Training
Both the Poodle and American Eskimo dogs are fairly intelligent and can pick up commands and behaviors fairly quickly. They are also seeking to please their family and are delighted when they can bring their family joy.
With these personality traits, the Eskipoo can be quite an easy dog to train. They thrive on positive reinforcement and gentle and encouraging words. Therefore, it's best to take the approach of celebration and positivity.
They may not respond well to discipline or a very harsh tone you may take with them. They may feel hurt and rejected and not understand why.
Instead, focus on positive reinforcement and rewarding with lots of treats and other toys when they complete a task or learn a new behavior. Despite the intelligence and eagerness to please, the Eskipoos can also be a bit stubborn.
They need to learn that you are the leader of the pack and that you are the one who takes care of them. Focusing on this type of behavioral training can also help them relax and not bark so much when they have no reason to.
Related: How to Train a Dog with a Shock Collar and How to Use an E-Collar to Train Your Dog.
Exercise
Like all dogs, the Eskipoo requires regular exercise to stay healthy and strong. As their size tends to be fairly small, they may only require a moderate amount of exercise every day, which can be a helpful trait if you're not able to run them around or go for several walks a day with them.
While they may not need as much activity, they certainly do need some. They can have a lot of energy at one time and enjoy staying active. If you're not able to be with them or play with them all the time, be sure to find activities and puzzles for them to do.
They can exercise their mental health by navigating puzzles in trying to get a treat out or support their physical health with laps for them to run. By keeping them engaged in activities, you can decrease the likelihood that they will develop some kind of separation anxiety.
Recommendations: Best Dog Playpens For Hardwood Floors.
Health Problems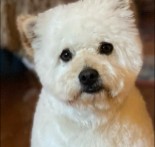 While mixed breeds are known for having fewer health concerns than their parents, that does not mean that they are without the potential for some health concerns somewhere along the line.
These health problems are ones that their parents, whether the Poodle or the American Eskimo dog may pick up. These inherited issues include things like eye issues like cataracts or glaucoma.
They may also be at a higher risk for developing certain types of cancers, as that is a common condition for Poodles. From the American Eskimo roots, they may develop things like hip dysplasia or other allergies.
Typically, dogs that are kept at a healthy weight, exercise regularly, have a healthy diet, and are regularly assessed for any concerning health issues can live a long and healthy life.
With their small size and fairly healthy status, Eskipoos typically live between 10 and 12 years old. Be sure to feed them quality food and provide them regular access to exercise. By providing a balanced diet, you can ensure that they get the nutrients they need to thrive.
Conclusion For "Eskipoo Information, Facts, Images"
Many mixed breeds have a great personality and beautiful appearance that make them very popular among families of all ages. The Eskipoo is also a popular breed that is known for its friendly personality and loveable demeanor.
While they can be fairly energetic and active, they also are loyal companions who stick with you through everything. From individuals to couples to large families, from young kids to seniors, the Eskipoo can be a great fit for all.
Explore your options for adding an Eskipoo to your home and get started finding the joy and delight of a four-legged friend.
For more Doodle breeds like the Eskipoo dog breed, you can check out:
You can learn more about this Poodle mix by watching "Eskapoo Dog Breed Information – The Best Dog For Seniors" down below: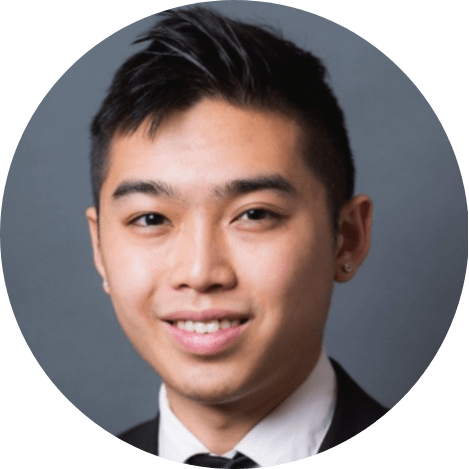 Andy is a full-time animal rescuer and owner of a toy doodle. When he's not saving dogs, Andy is one of our core writers and editors. He has been writing about dogs for over a decade. Andy joined our team because he believes that words are powerful tools that can change a dog's life for the better.
Why Trust We Love Doodles?
At We Love Doodles, we're a team of writers, veterinarians, and puppy trainers that love dogs. Our team of qualified experts researches and provides reliable information on a wide range of dog topics. Our reviews are based on customer feedback, hands-on testing, and in-depth analysis. We are fully transparent and honest to our community of dog owners and future owners.