Have you noticed your dog has warts on his paw pads, around his mouth, or even close to his private parts? You're understandably concerned.
What causes warts, and why does your dog have them? Are they contagious to humans or other animals? What will a vet do to remove them, if anything at all?
If your dog has a wart or two, don't worry. In this guide, we're going to look at the causes of these inconvenient bumps, the treatments, and how you can prevent them from appearing in the future.
Before reading more about this question, "Dog Warts: What You Need to Know," check out: Hard Bump on Bridge of Dog's Nose: Causes and How to Treat It! (2023) and Follicular Cysts in Dogs: What to Do and How to Treat Them! (2023).
What Is a Wart?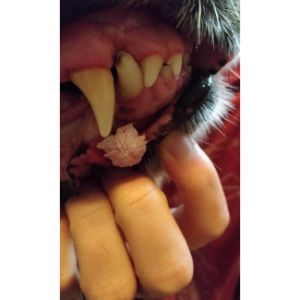 "Dog wart on paw pad" is a commonly searched phrase, so if you found this guide, know that you're not alone. Others are wondering where these imperfections come from, about their causes, and how to remove them.
Warts form when skin cells in a small area of your dog's body "proliferate," or grow very quickly. This is typically a response to a virus, and as such is called a viral (caused by a virus) papilloma (benign tumor).
Sometimes warts are not caused by a virus at all but are instead simply caused by the body's response to an external stimulus or even just old age. Generally speaking, warts are nothing to worry about unless they cause pain for your pup.
With that said, it may be important to recognize a benign wart. This can help you distinguish a wart on a dog's paw or other body part from a more serious condition.
Warts most commonly appear on your pup's paw pads, in the mouth, on his face, or around his genitals.
What Causes Warts?
Warts are usually caused by infection. There are quite a few types of canine papillomavirus, and your vet may or may not want to determine which has affected your pup.
If you've found a wart on your dog's paw or another area of his body, it could have come from something he contacted in his environment — even weeks ago! The virus lives for weeks, even without a canine host, so your dog's trip to the dog park a few days ago could even be the culprit.
Warts form when the virus breaks through the skin. Once this happens, there's a good chance your dog will fight off the virus and will exhibit no physical symptoms at all. In other cases, it may take as long as six weeks for your pup's body to develop a noticeable wart.
How Do You Treat Warts on Dogs?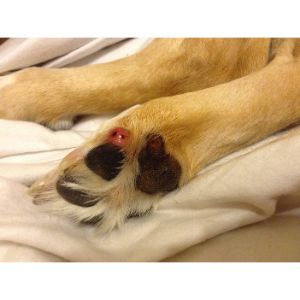 Usually, a dog wart on a paw pad, oral wart, or wart in other areas will disappear on its own. This may take a couple of months (six to eight weeks), as your dog's body must build up immunity to the virus.
However, we recommend that you talk to your vet if you notice any of the following:
Bleeding or infection in the area.
Numerous warts interfere with your pup's quality of life (discomfort in walking, eating, or vision, for example).
A failure of the wart to resolve on its own in senior dogs or other pups with compromised immune systems.
Warts that have changed in size or shape over time — while rare, it's possible a wart can turn cancerous.
There are quite a few medications your vet can prescribe or recommend to treat your dog's warts. Some are topical, some are injected, and others are pills that your dog must swallow. These drugs help your dog fight off the virus that causes warts.
In more severe cases, your vet may choose to surgically remove a wart. If you've found that the bump isn't receding on its own, your vet may opt to remove the infected skin.
There are several methods, so let's take a look.
Crushing
Your veterinarian may choose to crush a wart, releasing the virus into your dog's bloodstream. This allows your pup's immune system to respond by fighting off the virus.
Freezing
Also called cryosurgery, your vet may opt to freeze your dog's wart. This method shrinks your pup's warts and destroys the skin tissue impacted by the virus. Generally speaking, this procedure happens under local anesthesia.
Electrical Removal
Your vet may use an instrument that produces a small current to remove your pup's wart. Like freezing, this is performed under a local anesthetic, but instead of using cold temperatures, the vet will "burn" the wart from your dog's body.
Excision
Excision is performed under full anesthesia so it's usually chosen as a last resort. Full anesthesia is more costly than local, and it can pose risks for some dogs. During this procedure, your vet will use a surgical scalpel to remove the affected tissue.
Laser Ablation
Laser ablation is precisely what its name implies! Your dog's veterinarian will use a laser to remove his wart at its roots. Like excision, your dog will need to be put under full anesthesia.
Medicines
As noted, there are topical, injectable, and oral medications that may be prescribed to your dog. Most are anti-viral or antibacterial treatments or are formulated to stimulate your dog's immune system.
Home Remedies for Dog Warts
Usually, warts on your dog won't bother him at all. However, we understand that they can be unsightly. In some cases, a wart can begin to impact your dog's mobility. This is rare, but it does happen.
In cases like this, you may search for home remedies for dog warts. Fortunately, there are a few things you can try at home that are non-invasive and may help clear up your dog's warts.
Vitamin E
Vitamin E may prove useful in getting rid of a dog wart on paw pad areas or elsewhere on his skin. We don't recommend you use this method if your dog is affected around his mouth.
This method is super simple. Grab a bottle of vitamin E capsules from the pharmacy, then puncture one. Apply the liquid inside to the affected area.
Thuja
Thuja is a tree, and its leaves are harvested for use in medicines, flavorings, and as a fragrance. It's possible the leaves may help prevent or treat some common ailments. Cold sores, another viral affliction, are included in these ailments, so it stands to reason that your dog's warts may be treated with Thuja.
Note that there is not much scientific evidence to support this.
Castor Oil
If your dog is bothered by a wart, try applying a little castor oil to the area. This can help soften the wart, making it more pliable and also more comfortable for your dog.
Simply Wait
Remember that most warts will resolve themselves as your dog's immune system will eventually fight off the virus. Typically, you'll just need to wait for a few weeks — the wart will disappear without incident.
Frequently Asked Questions
Here are a few of the questions that are most commonly asked about warts on dog paws or other areas.
Are dog warts contagious to other humans?
No, dog warts are not contagious to humans. Canine papillomavirus can be spread to other dogs, though, so if you've spotted a wart on your dog, be mindful of this. Talk to your vet before you bring your dog to socialize with others, or before you book a kennel stay for your pup.

A general rule of thumb to follow is that as long as the wart is visible, it's contagious.
What is a wart-like growth on a dog's paw pad?
In some cases, a "wart" on your dog's paw pad isn't a wart at all! This is true for his genital area, mouth, and elsewhere on his body.

One type of lump is a corn. Corns may be caused by the same virus as a wart but also may be an indication of excess scar tissue or repetitive abrasion.

Another reason your dog may have a lump is if he has a sebaceous cyst. These cysts are benign and are caused by a buildup of sebum, dead skin, keratin, and lipids.

Other possible causes may exist. If you're concerned about your dog's health and well-being, please seek assistance from a vet.
How do I get rid of warts on my dog's paws?
Usually, the best course of action is none at all. If you notice that your dog is in pain or discomfort, feel free to reach out to your vet. Otherwise, the wart will typically resolve on its own. In the meantime, try to keep your dog away from other dogs, as warts are contagious.
What causes warts on dogs' paws?
A viral infection causes warts, but your pup's immune system is usually strong enough to fight off the canine papillomavirus. Your dog may have picked up the virus from a dog park, kennel, a neighbor, or just by being outdoors. Water and food bowls, mouth-to-mouth contact, and also bedding are common culprits for the spread of the virus.
Conclusion for "Dog Warts: What You Need to Know"
"Dog wart on paw pad" is a common search on the internet, and for good reason. The canine papillomavirus is contagious, so you may find your pup has contracted it from a neighbor's dog, a kennel, or the dog park.
Don't worry, though. Dog warts are benign and typically require very little — if any — treatment. Should you have concerns, speak with your vet about how you can make your dog more comfortable. Know, though, that these little bumps will typically recede on their own without human intervention.
If you find this guide, "Dog Warts: What You Need to Know," helpful, check out:
Learn more by watching "Everything You Need to Know About Canine Warts" down below:
Garrett loves animals and is a huge advocate for all Doodle dog breeds. He owns his own Goldendoodle named Kona. In addition, he volunteers at the Humane Society of Silicon Valley, where he fosters dogs and helps animals. Garrett enjoys writing about Doodles and believes that dogs can teach humans more about how to live than humans can teach a dog.
Why Trust We Love Doodles?
At We Love Doodles, we're a team of writers, veterinarians, and puppy trainers that love dogs. Our team of qualified experts researches and provides reliable information on a wide range of dog topics. Our reviews are based on customer feedback, hands-on testing, and in-depth analysis. We are fully transparent and honest to our community of dog owners and future owners.