Wheel chairs for dogs provide increased mobility if they are having trouble walking or healing from an injury on their back legs.  Since dogs naturally are high in energy and want to walk, run, and jump purchasing a dog wheel chair for their back legs will help promote a happy and healthy lifestyle.  Wheel chairs for your dog may be an expensive items, but they are absolutely worth every penny if your dog can walk again and play with other dogs.  This drastically increases your dog's quality of life and will make them happy and healthy again.  There are dog wheel chairs that can fit every pet owner's budget.
Table could not be displayed.
Who needs a dog wheelchair?
There are several different reasons why you should purchase a wheelchair for your dogs back legs.  If your dog is experiencing any type of mobility or walking issues, a wheel chair can drastically increase their overall happiness and give them the freedom to walk around again.  Below are some reasons why you might need a wheel chair for your dog:
Broken Leg
Dislocated Hip / Hip Dysplasia
ACL Issues
Degenerative Myelopathy (DM)
 Spondylosis
Spinal Disc Degeneration (neurological problems)
Paralysis / Slipped Disc.
Surgical Recovery
Congenital Abnormalities
The Walkin' Wheel Chair for Dogs is by far the best wheel chair for dogs that you can purchase on the market today, but it comes at a relatively high price point.  The best feature about this wheelchair is the patented adjustable height that can be tailored to your dogs size and ever-changing health – no other wheelchair has this patented technology.  Since the wheel chair is adjustable, this means that your dog will properly fit the mechanical device and be comfortable.  In addition, this dog wheelchair for back legs folds down flat which not only makes it easy for storing, but also easy for transporting in your vehicle.  Since your dog won't be wearing his wheelchair all the time, it's important that you can get one that is easy to store and transport.  Lastly, this dog wheel chair is made of durable and lightweight aluminum with solid rubber wheels.  Your dog can use this wheelchair inside or outside and can enjoy quality time with your family or other dogs.
This wheelchair for dogs is veterinarian approved and has helped a countless number of dogs suffering from mobility issues.  Despite your dog's limitations, they will be walking again with this mobile dog wheelchair in a comfortable and safe mechanism.  All you have to do is measure your dogs leg height, which ensures that they will fit the wheelchair.  This wheelchair is designed for comfort and comes in a variety of sizes that is guaranteed to fit your dog.  Walkin' has the most wheel chairs for dogs on the market today and they are by far the highest rated.
Honestly, this dog wheel chair is the best bang for your buck if you're on a budget and is one of the best working wheel chairs for dogs for the price.  Of course, it's not going to have every feature that the Walkin' Wheelchair for Dogs will have, but it is fully functional, comfortable, and durable device.  The downside of this wheelchair is that it can only fit dogs up to 40 lbs, if you have a larger dog they won't fit this device.  In addition, the back wheels are kind of small, so they won't be able to easily get over large objects or up stairs.
However, this is an absolute great entry level dog wheelchair that gets the job done.  It has an aluminum alloy base with and adjustable harness that fits around your dog's waist for additional support.  In addition, it has some dense foam wheels that will not puncture outside when your dog runs over rocks or dirt.  All around, this is the cheapest wheelchair for dogs that is fully functional.  I would highly recommend this dog mobile wheelchair if you are on a budget and need a temporary solution to get your dog running again.
The Syosin adjustable wheel chair for disabled dogs is an absolutely great middle-end chair that isn't too expensive, but is durable enough to last through your dog's heavy use.  This company strongly believes that dogs are part of the family, which is why they created a wheel chair that increases your dogs mobility and will get them walking and running again.  
This dog wheelchair for back legs is made of aluminum and has very clear instructions on how to set it up.  One of the best features is that the length, width, and height can be adjusted to the most optimal angle for your dog.  In addition, this durably made wheel chair for your dog will allow your dog to run down roads, lawns, and even inside homes.  The only downside of getting a dog wheel chair is that your dog will need to "warm up" to the unit as it is a large device that they won't be used too.  It may take several days to get the wheelchair on your dog, but they will absolutely enjoy it.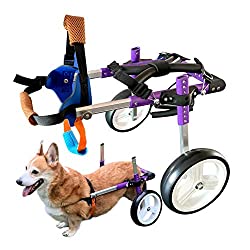 The HiHydro dog wheelchair for back legs was designed for dogs with their back legs intact because it includes a very nice harness.  The harness allows your dog to put their back legs securely into the wheel chair with adequate support to carry their body weight.  The lightweight design will make your dog comfortable, and they won't even know that they are in a wheel chair.  For dog owners, this wheel chair has all the standard features such as an adjustable height and length, durability for use outside, and comfort.
Since our dogs need exercise, getting a wheel chair for your dog will make them happy and allow them to have an active lifestyle.  They will be able to roam freely, and they will no longer feel handicapped.  Since this wheelchair is easy to assemble and very configurable, it will also be easy to put on your dog.  This is a mid-tier price point and is a great quality wheel chair for dogs.
The Homend Adjustable Dog Wheelchair is an outstanding wheelchair for small dogs.  It has a durable and lightweight aluminum frame so your dog won't even notice that they are wearing this wheelchair.  In addition, this dog wheelchair comes with a belly band to support your dog's spine and even comes with a dog leash.  The belly band ensure that your dogs weight is adequately supported off the ground by the wheel chair.  No other dog wheelchairs for back legs include a belly band and dog leash so this is quite a unique feature.
In addition, this is the least expensive wheel chair for dogs on our list.  It's completely economical, so if your dog is going through a temporary recovery or won't need the wheelchair for long periods of time, the price point is well justified.  This dog wheelchair is still extremely durable and works great.
The Sylphid Dog Wheelchair for Back Legs was specifically designed and inspired by dogs with Spondylitis.  Spondylitis is inflammation in the spinal bones with can dogs to either arch or limps around in pain.  There's no real cure for Spondylitis so once your dog gets it, you need to prepare for them to eventually have difficulty walking.  Having a dog wheelchair that supports your dog's back legs is extremely helpful for dogs with Spondylitis.  It allows them to still move around your house and outside using the power of their front legs since the dog wheel chair will support their back legs.
You don't necessarily need to use this dog wheelchair just for Spondylitis as this device has all the standard features of a normal wheelchair for dogs.  This company also has about 6 other different styles of dog wheel chairs that are fashionable, lightweight, durable, and portable so you can choose which one will best fit your dog.
What to look for when purchasing a wheel chair for your dog?
Comfort.  Most importantly, you'll need to make sure that this wheelchair is comfortable for your dog, or they won't want to wear it.  This means that you'll need to make sure it fits properly, adequately supports your dog, and has padding in the right places.  This has to be a pleasant experience for your dog, or they may get hurt themselves using this item.
Transportability.  Can you load this wheel chair for your dog in the car?  If not, you'll need to find a dog wheelchair that can fold smaller as this is a large item.  You'll want to take this wheel chair different places that you bring your dog.
Adjustable.  It's important to make sure that the dog wheel chair is adjustable so it fits your dog correctly.  You don't want to risk having your dog break or fall out of the wheelchair as this may cause additional injury to your dog.  You'll have to make sure that the length and height of the dog wheel chair is correct.
Ease of Use.  Make sure that dog wheel chair is easy to put on and take off because you'll be doing this several times a day when your dog wants to walk.  When you dog is tired you'll also have to take off the wheel chair.
Storage Size.  Your dog won't be using his wheelchair 24/7 so you'll want to make sure that it can be easily stored.  Wheel chairs for dogs are big items, so you'll make to make sure that they either fold down or you have storage space.
Durability.  If you plan on using your wheel chair for your dog indoors and outdoors then you will want to purchase one that is going to be robust when going on terrains such as grass, rocks, or dirt.
Safety Tips for your Dog Wheel Chair:
Always check that the harness and belly band is correctly connected to your dog which allows your dog to be in a "natural position."  This insures that your dog won't hurt themselves more and experience pain or discomfort.
Don't let your dog stay in the wheelchair for long periods of time.  Always make sure that your dog has time to rest.  In addition, it's not recommended that your dog sleeps in their wheel chair.
Always supervise your dog in a wheelchair.  
Conclusion for Best Wheel Chair for Dogs
Wheel chairs for dogs make outstanding solutions for pets with mobility or walking issues.  Your dog shouldn't be limited or restricted to laying down, instead they should have the ability to walk or run even if it includes a wheelchair attached to their back legs.  Dog wheel chairs provide a comfortable solution for your dog to freely explore the world and overcome the pain of their injury. There are several different dog wheelchairs with a variety of different price ranges that will fit all types of budget.
Other articles to read:
Frequently Asked Questions:
Are dog wheelchairs cruel?
No, in fact, we strongly believe that dog wheelchairs significantly increase your dog's quality of life by allowing them to run and walk again.  Denying your dog the ability to walk or run is cruel, not putting them in a wheelchair that may look different.
How much does a wheelchair for a dog cost?
Dog wheelchairs generally cost anywhere from $60 to $500 based on what features you are looking for.  Generally speaking, the most customized and adjustable wheelchairs are going to cost more, but they will likely be the most comfortable for your dog.
Can a dog poop in a wheelchair?
Yes, dog's can poop and pee in almost all wheelchairs since the harnesses are designed not to cover their private areas.  The only scenario I can think of where it wouldn't be possible to poop is if the bellyband covers the private areas of the dog.
Are dog wheelchairs good?  Should I get my dog a wheelchair?
Yes, dog wheelchairs allow an immobile dog to walk again.  If your dog suffers from hip dysplasia, spondylosis, spinal disc degeneration, or any injury a dog wheelchair is a good option to consider.
Garrett loves animals and is a huge advocate for all Doodle dog breeds. He owns his own Goldendoodle named Kona. In addition, he volunteers at the Humane Society of Silicon Valley, where he fosters dogs and helps animals. Garrett enjoys writing about Doodles and believes that dogs can teach humans more about how to live than humans can teach a dog.
Why Trust We Love Doodles?
At We Love Doodles, we're a team of writers, veterinarians, and puppy trainers that love dogs. Our team of qualified experts researches and provides reliable information on a wide range of dog topics. Our reviews are based on customer feedback, hands-on testing, and in-depth analysis. We are fully transparent and honest to our community of dog owners and future owners.