When most people think of bakeries, they think of places that produce breads, pastries, and other types of desserts. However, there is a growing trend of bakeries that specialize in baked goods for dogs.
These dog bakeries offer a wide variety of items for canine customers, including treats, biscuits, cake, and even dog-friendly doughnuts! If you're looking for a unique way to spoil your puppy, a visit to one of San Diego's many dog bakeries is the perfect solution.
When looking for a bakery for your dog, there are a few things you should look for. The first is that the bakery is licensed and inspected by the health department. This is important to ensure that the bakery is following food safety guidelines.
The dog bakery should also specialize in dog treats. This means that they will have a wide variety of treats to choose from, as well as knowledgeable staff who can help you pick out the right treat for your dog.
Finally, the bakery should be clean and organized. This is important for both your safety and your dog's safety. A dirty bakery could easily spread bacteria and illness, while an organized bakery will ensure that all of the ingredients and equipment are kept clean. With that being said, here are our top picks for the best dog bakery in San Diego.
Other articles you would like: Dog Birthday Puns and Best Dog Daycares in San Diego.
1. Original Paw Pleasers Dog Bakery San Diego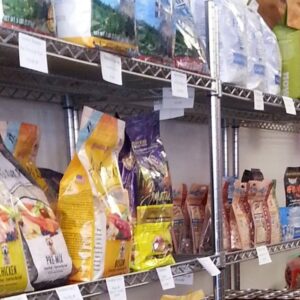 First on the like of dog bakeries in San Diego is Original Paw Pleasers. They specialize in fresh-baked birthday dog cakes and cat cakes, cookies, and ice cream for your dogs and cats made onsite in their own North Park dog bakery at Paw Pleasers!
They have freshly baked goodies for your pet's pampered paws, whether you're celebrating a birthday, a special event, or just because. Their cakes are Grain-Free, human-grade, and safe for dogs and cats! Allow them to create something special and original just for your four-legged companion.
Are the cakes tasty? The cakes have a gingerbread flavor to them. The icing is non-dairy, lactose-free, and has the taste of a doggie-friendly Cool Whip.
When it comes to planning your pet's unique day, they recommend that you call them right away. Custom and photo cakes might take up to 10 days to prepare. The more notice you provide, the more alternatives you will have. Please contact them if you have any questions! They sometimes can manage a last-minute request on a limited basis; so it never hurts to ask!
Dog Bakery Information:
2. A*SLoBBRiN Pet Bakery & Gifts
They have spent numerous years studying the advantages and disadvantages of feeding your dog specific ingredients. They've tried many different combinations, but finally discovered the ideal recipe for that ideal doggie treat.
The single dog treat has evolved into many different forms and flavors of dog cookies and cakes. Dogs adore them, and they are even healthier for them than their previous counterparts. They're also appreciated by pet owners just like they do.
They decided on the name A*SLOBRIN using the first initials of all of their own pets after completing several design courses to make their sweets more presentable and appealing to other pet owners and beginning their business for success.
They looked into what foods are bad for pets using ASPCA. They showed all of the recipes to their veterinarian, who not only approved but also recommended their dog snacks to all of her patients and animals throughout the area.
They make use of all-natural, animal-friendly substances. The chicken broth that they prepare from scratch is used to make the cake base. The coatings on the cookies are made with a yogurt frosting, yogurt chip, carob powder, or carob chip (a cocoa substitute).
If necessary, cream cheese and a little honey or molasses may be used as sweeteners in place of sugar. They don't use any sugar in their recipes (there's sugar in the sprinkles). This dog bakery in San Diego is located in the Mira Mesa neighborhood off of Carroll Canyon Road.
Dog Bakery Information:
3. Bow Wow Dog Bakery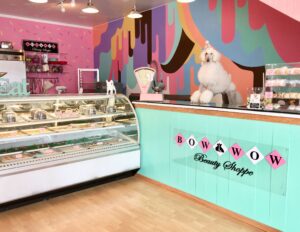 The Dog Bakery was founded to give the pet industry and pet parents a variety of high-quality dog treats and birthday cakes. Here are the top reasons why you should order your dog treats from them.
Their online dog bakery enables them to expand their product line in order to serve high-quality dog bakery products to both online retail clients and wholesale vendors. They pay special attention to every detail so you don't have to! They deliver and ship to San Diego, California.
Dog Bakery Information:
Check out for more: Best Soft Dry Dog Foods! and Best Dog Bakery in NYC!
4. Dunk'N Dogs SD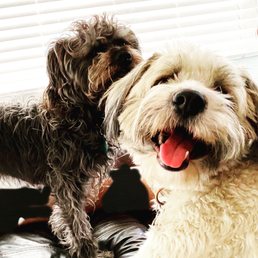 In San Diego, California, Puppy Cakes is available at Dunk'N Dogs Dog Wash. Kelly Costello, the creator and owner of Puppy Cake, was checking out a chocolate cake mix advertisement when she thought to herself, wouldn't it be fantastic if they produced this for dogs?
People adore their pets like family. After conducting a lot of research, she found that there was a gap in the market for dog-friendly cakes and treats.
Puppy Cake is made with human-grade, all-natural ingredients. The company does not use any wheat, corn, soy, or animal byproducts. Puppy Cake is also devoid of sugar, salt, and preservatives.
Puppy Cake Carob Cake Mix was developed to match the traditional chocolate cake, and Puppy Cake Banana Cake Mix was created to match the usual yellow cake. The product went on sale in November 2007 and became the #1 selling dog cake mix in the United States within a few months.
Puppy Cake's goal is to offer a nutritious and delicious treat for dogs, as well as a fun experience for their owners. They use only high-quality human grade and natural ingredients in our goods because they feel that Puppy Cake is held to a very high standard by their furry customers.
Customer care is extremely important to them, which is why they take it so seriously. They want you to be 100% satisfied with your purchase, and they are always willing to help in any way that they can.
Dog Bakery Information:
5. Okra and Molly San Diego
Okra & Molly strive to produce one-of-a-kind and delicious birthday cakes for dogs on their special days. They're also working hard to provide you with the quickest and most efficient method to commemorate that important day with your dog. Every day, O&M is baking and delivering cakes in order to spread the joys of dog birthdays to as many puppies and their parents as possible.
We firmly believe in using human-grade, fresh, and delicious ingredients in all of our cakes. We also have a range of different flavors for you to choose from so that your puppy can celebrate their birthday with an extra special cake! In addition to our regular cake flavors, we also have a rotating seasonal flavor that will keep your puppy excited for their birthday all year round!
Dog Cakes can be ordered days, weeks, or months in advance, and we will ensure that our dog cake bakery gets everything completed on our end to get your cake to your puppy exactly on time. All pre-orders will go onto our working calendar to be baked and sent on the delivery day you select, so get it out of the way now, kick back, and relax.
They'll bake a cake to her liking and decorate it with a creative and beautiful design based on the date you pick (you may order months ahead). The colors of the base are similar to those of the cake that you select, while decorations and writing will be determined by the gender and whether you choose "natural" or "elegant."
Dog Bakery Information:
6. Spotted Dog Bakery
Last on the list of the best dog bakery in San Diego is Spotted Dog. You've arrived at the correct location if you're searching for a way to commemorate your dog's birthday, adoption, or any other important occasion. Simply go through their designs, choose the one that speaks to you, and then select a cake top (or bandana, or heck, add both) to really show your dog how much you care.
That's all there is to it! They'll send you a delightful package that includes everything you've chosen, so you can jump right into the fun part…partying with your dog!
At checkout, you have the option of selecting a delivery date for any purchase. That way, you may place an order whenever it is convenient for you!
They date your order, and they don't bake it until the exact moment, so your goods stay as fresh as possible. Standard processing takes at least two weeks.
If your dog's cake is eaten within 2-3 days of delivery, it'll taste the best. Each cake will include a "feed or freeze by" date, so you can be sure. If you want to keep the cake for future feeding, wrap it securely and freeze it immediately after unwrapping. Simply wait two hours at room temperature before serving.
Dog Bakery Information:
Conclusion For Best Dog Bakery in San Diego
The research we did for dog bakeries in San Diego was really interesting! We found a lot of great places that sell treats and cakes specifically for dogs.
If you're looking for a place to get a cake or treat for your puppy, be sure to check out the list of bakeries we compiled. All of them seem to have great reviews and offer delicious-looking items on their menus.
Hopefully, this post has helped you find the perfect bakery for your furry friend's next birthday celebration (or just because)!
You will also like:
Garrett loves animals and is a huge advocate for all Doodle dog breeds. He owns his own Goldendoodle named Kona. In addition, he volunteers at the Humane Society of Silicon Valley, where he fosters dogs and helps animals. Garrett enjoys writing about Doodles and believes that dogs can teach humans more about how to live than humans can teach a dog.
Why Trust We Love Doodles?
At We Love Doodles, we're a team of writers, veterinarians, and puppy trainers that love dogs. Our team of qualified experts researches and provides reliable information on a wide range of dog topics. Our reviews are based on customer feedback, hands-on testing, and in-depth analysis. We are fully transparent and honest to our community of dog owners and future owners.