Accidents happen, and our beloved pets sometimes get into things they shouldn't. If your dog ate a small piece of plastic squeaker, it could be a problematic experience.
Knowing what to do if your dog ingests a foreign object can be confusing, but understanding the potential risks and possible treatments can help you take the proper steps to ensure your dog's safety.
So, if your dog ate a small piece of a plastic squeaker and you're wondering what you should do, keep reading to learn the steps to take.
Before read this guide, "Dog Ate a Small Piece of Plastic Squeaker: What You Need To Know," check out: Dog Ate a Sponge: What Do I Do? (2023) and My Dog Ate Fish Bones: What Should I Do? (2023).
What Happens if Your Dog Eats a Small Piece of Plastic?
If your dog eats a small piece of plastic, it could cause blockage in the intestines. The blockage may be complete or partial, depending on the squeaker's size and shape.
In either case, the symptoms will include vomiting, loss of appetite, abdominal discomfort, and lethargy. If your dog shows any of these signs, you should seek veterinary care immediately.
In some cases, the plastic may pass through the digestive system without issue. However, your dog may require surgery to remove the squeaker if it gets stuck in the intestines or stomach. The risk of complications increases with larger pieces or sharp edges. So, it's essential to monitor your dog closely.
What Do if My Dog Ate a Small Piece of Plastic Squeaker
The sight of a dog consuming a plastic squeaker is a common one for ardent dog owners. Nevertheless, if it's your first time caring for a dog and you've never faced a similar situation, you're likely to become disoriented. Here's what you should do next.
Be Calm
Irrespective of how challenging it is, try to keep your cool. Dogs have an uncanny ability to absorb and internalize the feelings of those around them. Thus, if you're freaking out, your dog will sense your anxiety and become even more distressed, exacerbating an already dire scenario.
Furthermore, being sensible and calm can be lifesaving in certain situations, whereas panicking might make it difficult to reason. That's especially important if your dog begins to choke on the squeaker and you have to execute the Heimlich maneuver.
Being a dog owner is a big responsibility, rendering it essential to learn the Heimlich maneuver. Having difficulty breathing is a medical emergency that necessitates immediate assistance. Generally, the maneuver is similar, with a few exceptions depending on the dog's size.
Inspect Your Dog's Mouth
When you witness your dog ingesting the squeaker, you'll need to examine its mouth to ascertain whether they have already swallowed it. You can't perform this procedure on all dogs.
Your dog ought to be comfortable with you touching its mouth, allowing you to perform a quick examination. You can use your fingers to grab the squeaker if they haven't swallowed it yet.
Nevertheless, if you can see the squeaker at the tongue's base, you should not try to get rid of it. Attempting to pull out the squeaker physically can create more problems. You either risk pushing the squeaker deeper or, in the worst-case situation, having it stuck in the wrong pipe, which may induce choking.
Don't Induce Vomiting
It would be best if you refrained from inducing vomiting unless specifically told to do so by your veterinarian. For vomiting to be effective, your dog should have ingested the squeaker within two hours.
Furthermore, the squeaker might end up doing more harm on its way back from the stomach to the mouth than it did in the first place. Although squeakers are usually harmless because they're round or cylindrical and smooth, you will find others with different shapes.
Diet and Exercise Routines
Suppose your dog isn't exhibiting any clinical symptoms, and the veterinarian suggests a "wait and see" strategy. In that case, you can aid the squeaker's journey through the digestive tract through diet and exercise routines.
Consider feeding your dog a bland diet to bulk their stool. The most common option is a combination of seventy-five percent white rice and twenty-five percent chicken, turkey, or beef.
Theoretically, the more rapidly the intestines function or move, your dog might expel the squeaker through the stool. Engaging in physical activity can have a beneficial effect on the intestine's movement. Instead of committing your dog to challenging exercises, it's best to consider more casual activities such as going for frequent walks.
Take Them to a Vet
If you're not successful in removing the squeaker at home, it's time to make an appointment with the vet. Usually, the vet will ask you to keep an eye on your dog for a set period and report anything out of the ordinary.
Furthermore, your dog needs instant vet care if they have the following signs:
Signs of discomfort in their posture
Difficulty breathing
The vet may administer an injection drug to cause vomiting. They often do that if you're within a two-hour time frame since the squeaker's ingestion. It's also dependent on the kind of squeaker your dog ate.
Alternatively, the veterinarian may suggest taking radiographs to identify the squeaker's exact location. Further radiographic monitoring may be necessary if the squeaker is in a potentially dangerous location. That would help track its movement and look for any symptoms of a blockage.
In certain instances, the vet may opt to perform a surgical removal. They'll also need to fix whatever harm the plastic has done. After removing the squeaker, the vet will recommend medications to assist in controlling any infection that may arise.
How Can I Tell if My Dog Has a Blockage?
If you think your dog has eaten a plastic squeaker, you'll need to watch for any signs indicating a blockage. Common blockage symptoms include decreased appetite, vomiting, straining or difficulty when defecating, abdominal pain, and sudden loss of energy.
In severe cases, the blockage can cause a serious intestinal infection.
How Can I Prevent My Dog From Swallowing a Plastic Squeaker?
You should avoid leaving your dog unattended with any toy they can access. It's best to check the toys frequently for any signs of wear and tear. If you find any loose parts or small pieces, it is best to discard the toy immediately.
Because swallowing a squeaker may have been an isolated incident, you should use your best judgment in deciding whether or not to continue letting your dog play with squeaky toys. Avoiding buying toys with squeakers is the simplest solution.
Toys entertain your dogs, but it is vital for you to always be on guard, worrying that they'll swallow a squeaker.
Fortunately, plenty of dog toys are available in today's pet market. It's crucial to purchase multiple high-quality and unbreakable toys. It's also preferable to have a few high-quality, reliable toys rather than many questionable ones.
Furthermore, don't forget to teach your dog basic obedience commands. Control over your dog's behavior will help you intervene if they start chewing on something inappropriate.
Naturally, some dogs grow out of their destructive phase. But it's best not to take any chances until you're confident that your pet understands the limits of appropriate behavior when playing with toys.
How Long Does It Take for Plastic to Pass Through a Dog?
If the plastic squeaker is small enough, it may pass naturally through the digestive system without causing harm. Factors such as the dog's and the squeaker's size affect how long it takes for a plastic squeaker to go through its digestive tract.
For instance, if a big dog consumes a little squeaker, it'll take 10 to 24 hours to pass through the digestive tract.
Although many dogs will eliminate the squeaker through their feces, this is not always the case. A small dog has a high risk of developing a bowel obstruction if they swallow a squeaker too large for its stomach. If your dog consumes the squeaker and other toy components, it could cause major health issues.
Why Does My Dog Take the Squeaker Out of Toys?
Your dog may take the squeaker from the toy because of extreme excitement. That happens as your dog attempts to destroy the toy. In most cases, hunting instincts drive your canine to prey on the toys.
Are Dogs Toys With Squeakers Safe?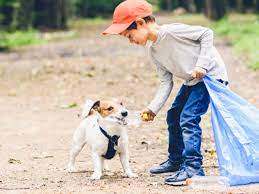 No, most dogs will attempt to consume the squeakers occasionally. In addition, dog toys with squeakers may trigger aggressive and dangerous behaviors, especially in young dogs.
Frequently Asked Questions
Can a dog pass a small piece of plastic?
A small piece of plastic, like a speaker from a toy, may successfully pass through a dog without intervention, but it depends on the dog's size and other factors. It's crucial to watch for symptoms of a blockage.
How long does it take for a dog to pass a piece of plastic?
Two hours after eating a piece of plastic, your dog will no longer be able to vomit it back up and it will need to pass naturally or be removed surgically. Your dog may be able to pass the plastic in 10 to 24 hours if it's small enough.
How do you remove plastic from a dog's stomach?
Your dog's veterinarian may be able to remove plastic using endoscopy. Otherwise, if it's too stuck or is otherwise unreachable, they will need to put your dog under and perform invasive surgery.
Conclusion for "Dog Ate a Small Piece of Plastic Squeaker: What You Need to Know"
Many dogs will unintentionally consume plastic squeakers when playing with toys. That isn't always a significant issue because your dog's digestive system can allow small foreign objects. In other circumstances, it can result in severe health issues. Some dogs might even die after ingesting plastic.
If your dog ate a small piece of plastic squeaker, the most important thing to do is to watch closely for any signs of distress, such as vomiting or lack of energy. If you notice any of them, take your dog to the veterinarian for further evaluation.
It's also advisable to dispose of any squeaker toys and avoid leaving your dog unattended.
If you find this guide, "Dog Ate a Small Piece of Plastic Squeaker: What You Need to Know," helpful, check out:
Learn more by watching "My Dog Ate a Foreign Body! Now What?" down below:
Garrett loves animals and is a huge advocate for all Doodle dog breeds. He owns his own Goldendoodle named Kona. In addition, he volunteers at the Humane Society of Silicon Valley, where he fosters dogs and helps animals. Garrett enjoys writing about Doodles and believes that dogs can teach humans more about how to live than humans can teach a dog.
Why Trust We Love Doodles?
At We Love Doodles, we're a team of writers, veterinarians, and puppy trainers that love dogs. Our team of qualified experts researches and provides reliable information on a wide range of dog topics. Our reviews are based on customer feedback, hands-on testing, and in-depth analysis. We are fully transparent and honest to our community of dog owners and future owners.