Although it may be comforting to know that diaper-eating behavior is not uncommon among dogs and is not necessarily more repulsive than other things they consume, such as tampons, there is no reason to feel bad about it. So, what can you do if your dog ate a diaper, and are diapers dangerous to dogs?
It's essential to recognize that this behavior can cause severe and even fatal health problems for dogs. You can do various things if your dog eats a diaper, like calling your vet or inducing vomiting in your dog. You can also take many preventive measures to prevent this situation from repeating itself.
Read on to learn how to handle this stressful situation.
Before reading an in-depth answer to this question, "What Should I Do If My Dog Ate a Diaper," check out: Dog Diaper Rash. What Should I Do? (2023) and My Dog Ate a 500mg Tylenol – What Should I Do? (2023).
Why Does Your Dog Eat Diapers?
Dogs are known for their strange eating habits, including unappetizing items like tampons, dead animals, and even cat litter box "treats." However, diapers may be the most repulsive of all the disgusting things they eat.
So, why do they do it? As with many other aspects of dog behavior, no one is entirely sure.
On the one hand, dogs are generally intelligent creatures that act sensibly. They take action when they have a problem, even if their actions seem peculiar to humans. For example, they may scavenge in the trash can if they're hungry. If they're thirsty, they may drink from the toilet.
However, dogs also have unusual behaviors. They roll in animal carcasses, chew on toilet paper, and are often scared of vacuum cleaners. Other dogs will try to eat anything they can find! Although dogs have reasons for doing these things, their logic is absent from their owners.
Diaper-eating behavior falls into this category, but there are some logical reasons why diapers attract dogs.
Firstly, as repulsive as it may seem, dogs occasionally eat feces, which is likely an evolutionary holdover from when they and their wolf ancestors had to scavenge food wherever they could find it. Furthermore, feces usually contain undigested material, which means it provides a source of calories.
Additionally, dogs frequently enjoy chewing on items with unique textures, particularly when bored, frustrated, or teething. They usually choose items like shoes, TV remotes, and couch cushions, but almost anything within reach is fair game, including diapers.
It is also possible that the arrival of a new baby can cause feelings of jealousy or anxiety, which may trigger diaper eating. Dogs may chew on items associated with anxiety or stress, and chewing on the baby's diapers may help to alleviate these feelings.
Take Immediate Action
If you suspect or observe that your dog has consumed a diaper, in part or whole, it's crucial to call your vet immediately. Diapers pose several dangers, and immediate veterinary attention is necessary to give your dog the best chance to recover fully.
Your vet may advise you to induce vomiting by administering a mixture of hydrogen peroxide and water. However, vomiting can occasionally exacerbate the problem, so it's advisable not to force your dog to vomit without consulting your vet first. This also applies to any instance where your dog ingests something dangerous or toxic.
Sometimes, your vet may recommend bringing your dog in for prompt treatment. It could involve making your dog vomit or performing a procedure known as gastric lavage to rinse your pet's stomach.
However, your vet may suggest monitoring your dog and taking appropriate action. If you cannot contact your vet for any reason, you can get the Pet Poison Helpline, which allows you to chat with a staff veterinarian and share images or videos for further guidance.
If your dog appears to be experiencing difficulty breathing, looks panicked, or loses consciousness, immediately transport your dog to the nearest veterinary hospital without delay.
Are Diapers Dangerous to Dogs?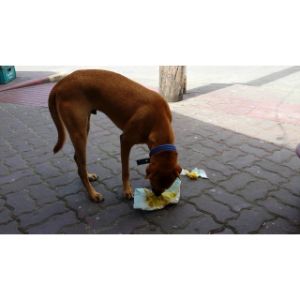 Dogs that consume diapers can suffer various health issues, but the primary and most serious concern is that the diaper may cause choking or blockage in the digestive tract.
Diapers are usually composed of three primary layers, which vary based on the manufacturer:
A thin, waterproof outer layer that prevents leaks.
An absorbent middle layer that collects and contains fluids.
A breathable and absorbent inner layer that keeps the wearer's skin dry.
The outer and inner layers can cause problems, particularly in small dogs, but the absorbent middle layer is the most concerning. This layer has different materials, but paper products and superabsorbent polymers are the most commonly used options.
When a dog eats a diaper, the absorbent layer begins to soak up moisture from its surroundings, including stomach acid, water, and other fluids in the digestive tract. As a result, it can lead to dehydration and intestinal issues, as liquids are essential to maintain smooth digestive system operations.
Furthermore, the absorbent material can swell as it absorbs fluids, causing a complete blockage in the dog's digestive tract and a medical emergency.
Partial intestinal blockages may be fatal, and total blockages are extremely dangerous. Therefore, seeking immediate medical attention is imperative if you suspect your dog has consumed a diaper.
Other Harms Your Dog Can Experience By Eating a Diaper
While the absorbent material in diapers poses the greatest threat to your dog's health, there are additional ways diapers can cause problems. For instance, the adhesive closures on most diapers can also become lodged in your dog's digestive tract or get stuck in their fur.
However, the latter is usually not a serious issue, and you can fix that with soap and warm water.
Moreover, the feces contained in diapers can also pose a potential problem. Human feces contains a high concentration of bacteria, some of which can make your dog sick.
While adult dogs have robust immune systems, they may still experience symptoms such as vomiting, diarrhea, and other health issues. In some cases, antibiotics may be necessary to treat any bacterial infections caused by poop.
Will Eating a Diaper Kill My Dog?
Eating a diaper can kill your dog if the absorbent material causes a complete blockage in its digestive tract. Partial blockages can also be fatal if not treated promptly.
Additionally, the fluids in the digestive tract can be absorbed by the diaper's absorbent layer, leading to dehydration and other health issues. Therefore, it is crucial to seek immediate medical attention if you suspect or observe that your dog has consumed a diaper.
How Will the Vet Handle the Situation?
After your dog eats a diaper, most veterinarians will recommend an examination to ensure your dog's stable condition. The vet will conduct a physical exam to assess for symptoms like abdominal swelling, tenderness, or pain. To prevent dehydration, the vet may administer intravenous fluids.
Your vet will ask about your dog's general health and the diaper, including its size and quantity. It's helpful to bring an unused diaper and to try to recreate the situation to determine how much of the diaper your dog consumed.
The vet will determine the diaper's location in your dog's digestive tract using the following:
Visual examination
Oral examination
Rectal examination
Palpation
Endoscopy
Ultrasound
X-rays
With this information, your veterinarian can design a treatment plan.
The vet may attempt to induce vomiting, prescribe a laxative or enema, or recommend waiting for your dog to pass the diaper. If these approaches are not feasible, the vet may need to remove the diaper manually using long, flexible tools or resort to surgery in severe cases.
What Should I Do If My Dog Ate a Diaper?
To keep your dog safe from the dangers of eating diapers, take action with the tips and strategies provided below:
Use a pet-proof or locking trashcan for soiled diapers, and refer to a comprehensive guide for the best options.
Keep unused diapers out of your dog's reach by storing them in a high place.
Dispose of adult or used doggie diapers safely in a pet-proof container.
Seal used diapers in plastic bags before throwing them away to reduce your dog's interest.
Ensure your dog doesn't chew on or wiggle free from diapers while wearing them.
Consider using a dog-deterring spray like Grannick's Bitter Apple on used diapers or the trashcan.
Protecting your dog from eating diapers is crucial to avoid serious harm. If you notice your dog has eaten a diaper, promptly contact your vet and take swift action to increase the chances of a full recovery.
Frequently Asked Questions
Are diapers toxic if ingested?
While diapers aren't toxic, the biggest concern is that they can't be digested and will cause a blockage when ingested.
Are humans diapers safe for dogs?
If you can find a human diaper that fits your dog, it will be safe for them to wear it with supervision.
Can my dog sleep in a diaper?
Dogs should not wear diapers permanently — or overnight — unless it's an emergency. If the diaper slips off your dog, it can pose a choking hazard.
Conclusion for "What Should I Do If My Dog Ate a Diaper"
In conclusion, while it's common for dogs to eat strange and unappetizing items like diapers, it is crucial to recognize that this behavior can cause severe and even fatal health problems for dogs. Diapers pose several potential dangers, including choking or blockage in the digestive tract, dehydration, and intestinal issues.
Therefore, immediately calling your vet if you suspect or observe that your dog has consumed a diaper, in part or whole, is crucial. In addition, vomiting can occasionally exacerbate the problem, so you should not force your dog to vomit without consulting your vet first.
Finally, while adult dogs have robust immune systems, they may still experience symptoms such as vomiting, diarrhea, and other health issues if they consume human feces.
If you find this guide, "What Should I Do If My Dog Ate a Diaper," helpful, check out:
Learn more by watching "My Dog Ate a Diaper, What Should I Do? | Wag!" down below:
Garrett loves animals and is a huge advocate for all Doodle dog breeds. He owns his own Goldendoodle named Kona. In addition, he volunteers at the Humane Society of Silicon Valley, where he fosters dogs and helps animals. Garrett enjoys writing about Doodles and believes that dogs can teach humans more about how to live than humans can teach a dog.
Why Trust We Love Doodles?
At We Love Doodles, we're a team of writers, veterinarians, and puppy trainers that love dogs. Our team of qualified experts researches and provides reliable information on a wide range of dog topics. Our reviews are based on customer feedback, hands-on testing, and in-depth analysis. We are fully transparent and honest to our community of dog owners and future owners.