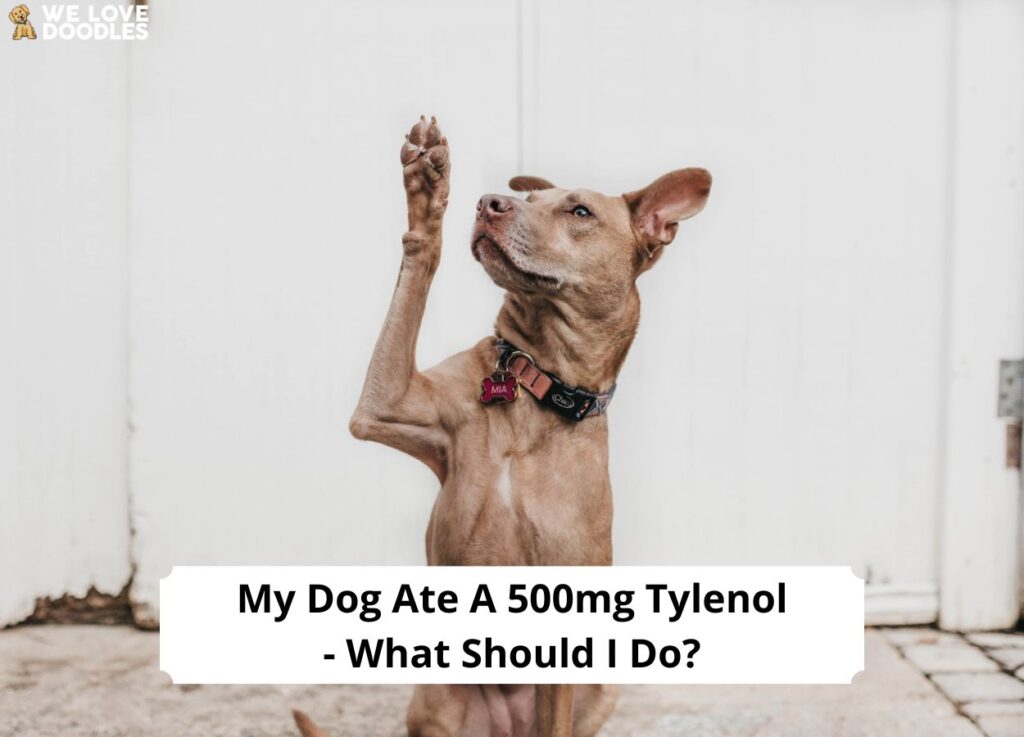 If your dog just ate 500mg of Tylenol, you should monitor it closely and immediately contact your veterinarian for further advice. Tylenol is not good for pets, but just because your dog has swallowed a pill, it doesn't necessarily mean its life is in danger.
Dropping a pill without seeing where it rolls can be an easy accident. If the bottle is placed somewhere that your pet can reach, he might reach for it. A dog may consider the bottle a toy and chew on it and eat pills out of it while playing. Tylenol should not be given to dogs, regardless of how they get access to it.
When acetaminophen is ingested by dogs, it damages their livers in a way that cannot be repaired. Dogs with Tylenol poisoning commonly exhibit the following symptoms:
Breathing problems
Face, limbs, and neck swelling
Hypothermia
Nausea
Yellow skin
Discolored gums
Cramping
Drooling excessively
Loss of appetite
An unconscious state
Before scrolling down this article "My Dog Ate a 500mg Tylenol – What Should I Do," check out: My Dog Ate Melatonin: What Should I Do? (2023) and My Dog Ate a Condom. What should I do? (2023).
My Vet Told Me to Give My Dog Tylenol
There is limited information about acetaminophen's safety in animals since it is rarely used. Before you give Tylenol to your pet, consult your veterinarian to discuss the best possible treatment options. You should check the packaging of your medicine before using it to see if it only contains acetaminophen.
Dogs can also be treated with certain products containing extra ingredients, such as codeine, but the dosage may be different. It is recommended that a dose of 6.8 mg/lb (15 mg/kg) be given every eight hours when using medicines with acetaminophen as the only active ingredient.
How Much Tylenol Is Toxic to Dogs?
Taking too much acetaminophen can lead to serious liver damage that cannot be repaired. When the dosage of acetaminophen exceeds 75 mg per kilogram body weight, dogs will experience acetaminophen toxicity.
Typically, acetaminophen poisoning is treated as an emergency situation if your pet has consumed it. You should consult a medical professional as soon as possible — treatment may be required. In order to determine the level of toxicity, your veterinarian will run a blood test, complete a blood count, and perform a urinalysis.
It is typically necessary to administer supplemental oxygen, intravenous fluids, or intravenous drugs such as vitamin C, chloromycetin, and cimetidine to your pet if it requires treatment.
It is also possible to use the amino acid cysteine, which is essential for repairing any liver damage caused by this treatment regimen. Cysteine is also capable of reducing toxicity overall in the body. Your animal's recovery and survival will be greatly enhanced if you treat it in a timely manner.
What If My 20 Pound Dog Ate a 500mg Tylenol?
Ingesting 34mg of acetaminophen per pound is enough to cause liver or hemoglobin damage.
In poisoned dogs, the following symptoms may be observed: lethargy, depression, chocolate-colored mucous membranes, edema of the face or paws, higher respiratory rates, difficulty breathing, elevated heart rates, jaundice, and vomiting.
Because acetaminophen is so quickly absorbed, it may not be beneficial to induce vomiting more than 10 minutes after ingestion. It may also be beneficial to administer activated charcoal within 30 minutes of consuming it.
Dog Tylenol Dosage Chart
There is very little information available regarding the safety of acetaminophen in animals due to its infrequent use. There is no actual dosage chart because there is no recommended dosage that is safe. It is therefore advisable to consult your veterinarian before giving your pet Tylenol because it is not suitable for all pets.
To ensure that acetaminophen is the only active ingredient in a medicine, it is important to check the packaging before using it. Dogs can also be treated with medications that contain additional chemicals like codeine, though the dose may vary depending on the medication.
My Dog Ate 1000mg of Tylenol
Taking 1000mg is not toxic for a dog over 50 pounds, but you may notice some decreased tear production. If your dog is experiencing acetaminophen toxicity, you may notice discolored gums, trouble breathing, swelling in the limbs or around the face, nausea, jaundice, and, in extreme cases, loss of consciousness.
The dose it ate should be fine, but if it is rubbing her eyes or squinting, her tear production may be reduced. It's recommended that your dog drink plenty of water.
Do not administer medication to your dog without consulting a veterinarian. If your pet suffers from any medical ailments, inform your veterinarian. The dose and frequency of dosing should be followed according to your vet's recommendations. Any medication or supplement your pet is taking should be disclosed.
Long-term treatment should be monitored for kidney, liver, and blood function. Containers should not be shared with pets, particularly cats and ferrets. Always get your veterinarian's approval before medicating your dog.
Options for Treating Pain in Dogs
If you have a dog that suffers from pain, you may want to consult a veterinarian for help. There are some other things you can do to treat your dog's pain.
There are plenty of medications on the market designed for dogs and your vet may be able to diagnose the cause of the pain and come up with a treatment method that is safe and effective for your pet. Some other options to consider for pain treatment include:
Heat Treatment
Often, a vet will recommend heat therapy as one of the first treatments in the management of pain in dogs after an injury that has been lasting more than 48 hours. It is possible to use heat to relieve pain caused by arthritis and injuries.
As a result of applying heat to an injured area, blood flow increases, promoting healing. In addition to reducing stiffness and spasms, heat also helps stop muscle spasms. In addition to loosening up muscles and joints before exercise, heat can help prevent injury.
A veterinarian should be consulted when applying heat to wounds to remove the infection. An area that is inflamed or painful after exercise should not be heated.
Ice Therapy
Inflammation is the source of pain in dogs, so ice therapy is recommended for pain management. Swelling tissues are dulled by cool contact. Muscle pain and sensitive painful areas should not be treated with ice therapy.
Ice should be applied for 10 minutes at a time as the first method of managing pain in dogs. It should be given at least 20 minutes of rest between applications. You should periodically inspect the skin of your dog for burns or damage caused by ice contact.
Medications
Dog pain meds come in a variety of classes and are frequently used in veterinary medicine. Various pharmacological and non-pharmacologic modalities have been studied for their effectiveness in managing dog pain.
NSAIDs
Pain and inflammation in dogs are most commonly treated with NSAIDs. Pain management with NSAIDs is less common than with other types of treatments, but they often cause stomach upset.
Opiates
Pain management for dogs is dominated by opiates. Pain that needs short-term treatment should be treated with these drugs sparingly. A wide variety of drugs can be used to treat post-surgery pain, including morphine, codeine, buprenorphine, and paregoric.
There is an addiction to opioids. If taken for a long time, they can damage the body because they are very strong and come with a variety of side effects.
Supplements or Nutraceuticals
Several over-the-counter pain relievers are available online to treat dogs. It's best to consult your veterinarian before using them since they differ depending on their purpose.
There are many nutraceuticals and supplements available which can help relieve joint pain in dogs, for example, glucosamine chondroitin, omega fatty acids, and MSM. Treatment for chronic conditions like arthritis often involves combining this treatment with prescription medications.
Steroids
Various steroids are used to treat the inflammation that leads to pain, such as prednisone, corticosteroids, and dexamethasone. The immune system is suppressed by steroids, which is why they aren't used as much as they once were. Cushing's disease, for example, can result from this condition.
Antidepressants
Antidepressants may be recommended when other medications are ineffective or cannot be tolerated well. Elavil, Tofranil, or Prozac are antidepressants that effectively treat pain.
Alternative Treatments
For dogs suffering from pain, the most effective treatment is pharmacological.
In addition, herbal and holistic treatments are also available. There is no evidence to support the efficacy or safety of massage, acupuncture, thermotherapy, and laser therapy.
To find an alternative veterinarian in your area with a good reputation and reviews who can guide you through these less traditional treatments, find a licensed holistic or alternative veterinarian nearby.
Never give your dog any medications that you aren't sure about and don't offer Tylenol to your dog.
Frequently Asked Questions
Can dogs survive Tylenol poisoning?
Depending on the dog's weight, how quickly you're able to see a vet, and other factors, it is possible to reverse methemoglobin and prevent liver damage.
Will it hurt my dog to give it Tylenol?
Even though consumption may be safe for humans, pain medications like Tylenol are often toxic or potentially fatal for dogs. Always consult your veterinarian about medication.
What are the symptoms of Tyelon poisoning in dogs?
Symptoms include vomiting, trouble breathing, excessive drooling, discolored gums, and decreased appetite.
Conclusion for "My Dog Ate a 500mg Tylenol – What Should I Do?"
If your dog just ate 500mg of Tylenol, you should monitor their behavior closely and immediately contact your veterinarian or an emergency clinic for further advice.
For more helpful content similar to this guide, "My Dog Ate a 500mg Tylenol – What Should I Do," check out:
You can learn more about giving your dog Tylenol by watching "Can you give your dog Tylenol?" down below:
Garrett loves animals and is a huge advocate for all Doodle dog breeds. He owns his own Goldendoodle named Kona. In addition, he volunteers at the Humane Society of Silicon Valley, where he fosters dogs and helps animals. Garrett enjoys writing about Doodles and believes that dogs can teach humans more about how to live than humans can teach a dog.
Why Trust We Love Doodles?
At We Love Doodles, we're a team of writers, veterinarians, and puppy trainers that love dogs. Our team of qualified experts researches and provides reliable information on a wide range of dog topics. Our reviews are based on customer feedback, hands-on testing, and in-depth analysis. We are fully transparent and honest to our community of dog owners and future owners.