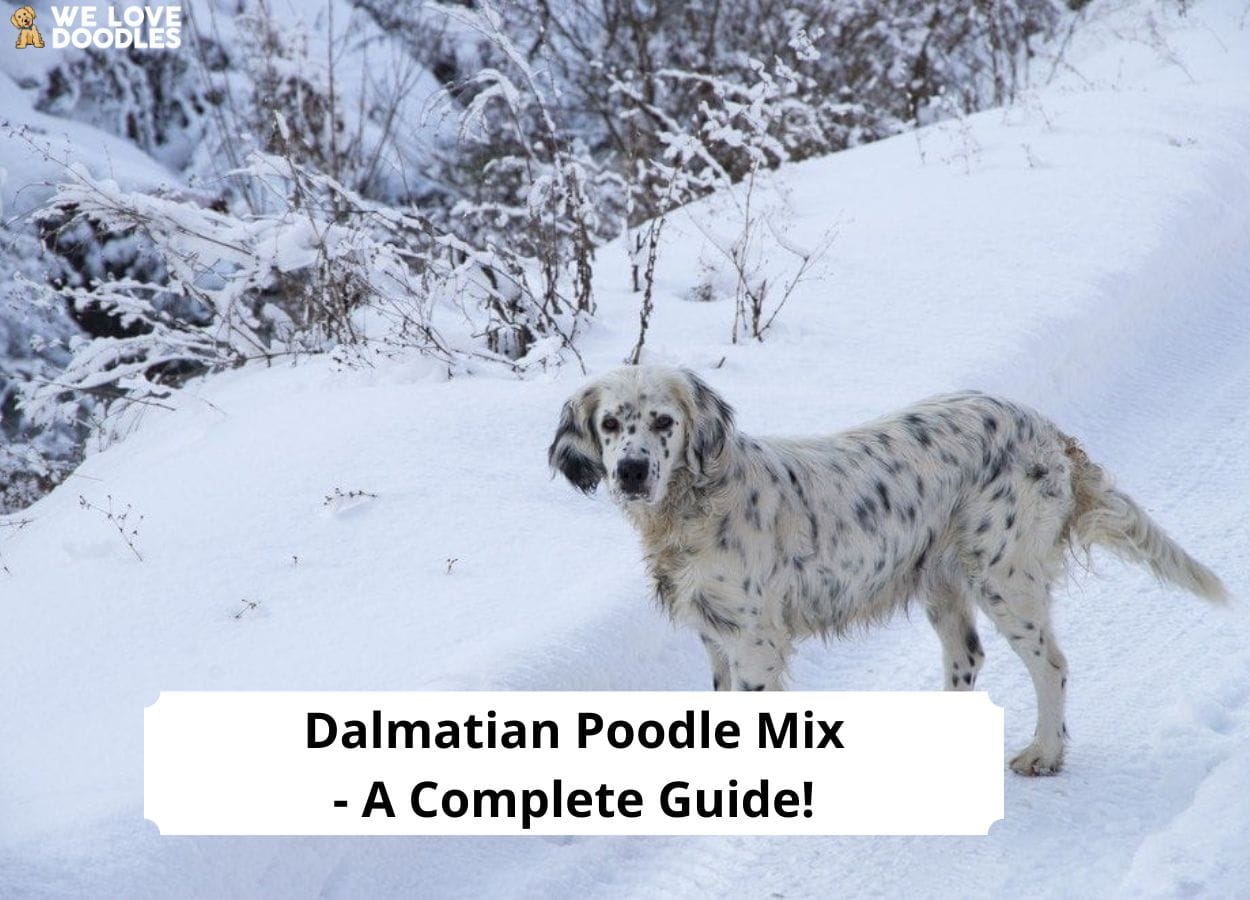 There are more choices for hybrid dog breeds every year, making the selection process for a lovable pet even more difficult for dog lovers. The Dalmatian Poodle mix is just one of the many sought-after hybrids, and it's got a ton to offer!
So, what makes the Dalmatian Poodle mix – often referred to as a "Dalmadoodle" – so special? This comprehensive guide will dive into the characteristics and lovable attributes of this breed.
Before you scroll down this Dalmatian and Poodle mix dog breed guide, you can check out these other mixed dog breeds from our team at We Love Doodles: Blue Heeler Poodle Mix and Bichon Poodle Mix.
The Hybrid Dalmatian Poodle Mix: An Overview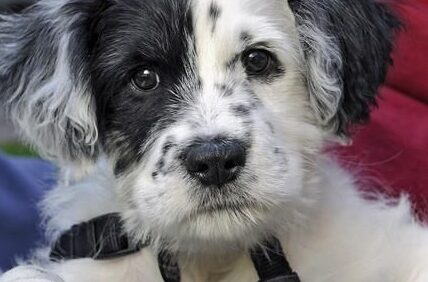 Puppies naturally retain 50% of each parent's genetics, giving them a unique appearance and personality. However, even with half of the DNA from each contributing parent, a resulting puppy could look more like one parent or display characteristics that are not common to both.
Hybrid dog breeds are not an exact science, and many breeders are unsure how puppies will look until they are born. While one can guess sizes and colors, some Dalmatian Poodle mix puppies will possess recessive genes that show up in later generations, resulting in offspring that are distinctively different from their parents.
Many reputable dog breeders research genetic lineages and carefully select breeding parents with healthy genes and no potential issues. That way, further generations will have fewer variances than 1st generation puppies.
These breeding methods help cultivate popular attributes and recreate desirable litters more successfully. Nevertheless, some animals may carry recessive genes, regardless of the breeding parents' health or appearance.
Let's explore the common attributes of the Dalmatian Poodle mix so you can decide if this hybrid dog is right for you.
Size and Appearance
Genetics significantly determine how large your full-grown Dalmatian Poodle mix dog will grow. A thorough examination of its parents and lineage will help indicate possible sizes.
The Poodle is available in many sizes, adding variances to hybrid breeds like the Dalmadoodle. Generally, standard and miniature Poodles are the sizes commonly bred with Dalmatians.
Standard Poodles and Dalmatians
A standard Dalmatian comes in only one size, grows between 19 and 24 inches tall, and weighs 45 to 70 pounds. As a result, you can expect this breed to be a medium- or large-sized dog.
The size of the standard Poodle closely matches the Dalmatian. Typically, it grows to be 15 inches or more and weighs 40 to 70 pounds. Mixing the standard size of both breeds would provide a litter of puppies that are relatively identical when fully grown.
Miniature Poodles and Dalmatians
Alternatively, a mini Poodle typically reaches between 10 and 15 inches tall and only weighs 10 to 15 pounds. As a result, the Dalmatian mini Poodle mix will be slightly smaller than the Dalmadoodles bred using a standard Poodle.
A mini Dalmatian Poodle mix will grow to be around 15 to 19 inches tall and weigh approximately 15 to 20 pounds. This smaller Dalmadoodle is becoming more common among pet owners who don't want a larger dog.
Appearance
When looking for a Dalmatian Poodle mix for sale, there is no guarantee on what it will look like. Puppies receive attributes from both parents, and each one is unique.
Dalmatians and Poodles both have floppy ears that hang down, although a Dalmatian's are slightly larger. Therefore, you can expect your Dalmatian Poodle mix to inherit this trait without much variance.
The Dalmatian Poodle mix also tends to have a long snout and tail, with dark eyes, as both parents possess these qualities. In addition, Dalmadoodles have an athletic build since their parents are active working breeds.
Health and Lifespan
When choosing a new pet, potential owners should research any possible health problems and the lifespan of the breed they're interested in. This allows them to prepare and watch for any possible genetic disorders so that they can seek treatment as soon as possible. Remember that a Dalmadoodle that receives regular vet visits will typically live a longer, healthier life than one that doesn't!
Because hybrid dogs are not immune to health issues, dog owners should know what to expect and look for when bringing home a Dalmatian Poodle mix.
Unfortunately, even litters of puppies from healthy parents can develop one or more of these conditions. Knowing the possible symptoms of these disorders helps ensure that your pet receives veterinary care as soon as possible.
Some common disorders you may find in Dalmadoodles include:
Addison's Disease
Blindness
Cushing's Disease
Deafness
Epilepsy
Hip Dysplasia
Skin allergies
Urinary stones
Addison's Disease
This common ailment in dogs happens when their adrenal gland fails to produce high enough levels of corticosteroid hormones. Luckily, Addison's Disease is treatable with medication, and a dog that has it can still live a long, happy life.
Blindness
Dalmadoodles get their prevalence for blindness from their Poodle parents. Poodles are prone to developing cataracts and other eye issues that lead to blindness if left untreated.
Cushing's Disease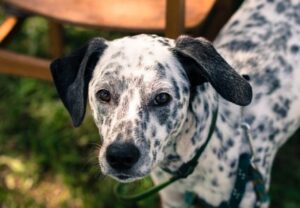 Dogs that experience Cushing's Disease have an overabundance of cortisol production from the adrenal gland. This excess hormone production can cause diabetes and other severe health problems.
Deafness
Between 18 and 30% of Dalmatians will go deaf or experience some level of deafness in their lifetime. Therefore, this genetic trait often carries over to offspring, even when mixed with the Poodle.
Epilepsy
Unfortunately, both Poodles and Dalmatians are prone to developing canine epilepsy. This means the chances for a Dalmatian Poodle mix puppy to carry this health condition are higher than average.
Hip Dysplasia
Hip dysplasia is a common condition in large-breed dogs that occurs when the hips do not form correctly, causing pain in the hip joint. Although you cannot prevent it, there are ways to make living with hip dysplasia more comfortable for your dog.
Skin Allergies
Poodles and Dalmatians are notorious for developing skin allergies from environmental triggers or foods. As a result, Dalmadoodles are more at risk for this uncomfortable condition.
Urinary Stones
Urinary stones tend to be more prevalent in smaller breed dogs. But the male Dalmatian is the exception to this rule. Males Dalmatians are more likely to carry the trait for urinary stones. Because of this, many breeders opt to breed male Poodles with female Dalmatians to minimize the risk of urinary stones.
Temperament and Trainability
A dog's temperament and trainability are significant factors to consider when deciding on a new pet. Some first-time dog owners want an animal they can quickly train and easily settle into their lifestyle.
Temperament
Poodles and Dalmatians are both extremely loyal and lovable dogs. When bred together, the resulting Dalmadoodle is playful, energetic, and enjoys spending time with its owners.
Dalmatians are not predominantly aggressive but can be nervous in stressful situations. Sometimes, they can be cautious when meeting new people or other animals, which can affect a Dalmadoodle's personality. Thankfully, the Poodle parent genes help to offset this uneasiness, giving the Dalmadoodle a more well-rounded temperament.
Trainability
The Dalmatian is very different from the Poodle concerning trainability. Where Poodles have high intelligence and are eager to please, Dalmatians are similarly smart but stubborn, making it critical they receive consistent training and regulated boundaries.
While Poodles make an excellent choice for first-time dog owners, the Dalmatian is better suited for individuals who have training experience and are willing to spend additional time training their new pet. Early socialization and training are vital if you want a pet that behaves appropriately with other animals and people.
Of course, with any hybrid dog breed, it can be challenging to guess what your new Dalmatian Poodle mix will be like. Therefore, it's best to keep an open mind and be ready to spend the time necessary to train your new pet right from the start. This way, you are sure to have an obedient and well-natured dog.
Energy Level and Exercise Needs
Dalmatians and Poodles are high-energy dogs that need regular physical and mental stimulation. Therefore, combining these breeds will likely result in a Dalmadoodle that is highly active with significant exercise needs.
Unlike other breeds that slow down with age, a Poodle Dalmatian mix may remain active even in its senior years.
Physical Activity
The Dalmatian is known as a working dog, while the Poodle is a hunting and retrieving breed. Together, their hybrid puppies are incredibly active. The Poodle Dalmatian mix requires at least 60 minutes of strenuous daily exercise.
You can break up your dog's physical activity between two or three walks each day, plus playing games at home and interacting with them.
Mental Stimulation
Not only does a Dalmatian Poodle mix need lots of exercise from walking, running, or swimming, but it also requires activities to keep its mind engaged. There are several things you can provide these hybrid dogs to help tire them out physically and mentally, including:
Treat puzzles
Snuffle or Lick mats
Play nose-work games
Create an obstacle course
Teach them new tricks
Combining physical and mental exercise is the best way to provide your Dalmadoodle with the stimulation it needs for an active and healthy life.
Coat and Grooming Requirements
Due to the extreme difference between each breed, the coat of a Dalmatian Poodle mix can be difficult to determine until the dog starts to mature.
Dalmatians have a short, smooth, white coat with black or liver spots throughout. Alternatively, Poodles have a soft, curly coat that resembles wool and comes in several different colors, which can add to the diversity of the offspring. In addition, many people consider Poodles hypoallergenic, while Dalmatians are not.
Consequently, breeders will regularly produce Dalmadoodles that sport a white coat with black spots when possible. This combination provides the Dalmatian coloring with the Poodle coat that potential dog owners want.
A full-grown Dalmatian Poodle mix can have medium to long hair that is wavy or curly. This hybrid dog requires brushing daily or every other day to keep its coat tangle-free and remove dirt or debris. In addition, regular grooming will help distribute the dog's natural oils throughout the skin, helping to keep them healthy.
Although this Poodle Dalmatian mix will not shed a lot, you may still find hair around the home, especially if you don't keep up with their brushing routine.
Depending on how much Poodle genetics your Dalmadoodle inherits, it may be suitable as a hypo-allergenic pet. While some Dalmatian Poodle puppies will be fine in homes with allergy sufferers, others could trigger dander allergies in some sensitive individuals.
Disadvantages of Owning a Dalmatian Poodle Mix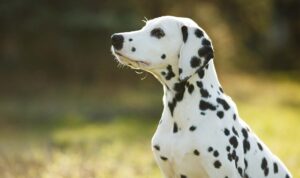 Potential owners should know about some disadvantages of owning a Dalmadoodle. This way, they can make an informed decision about whether this hybrid dog is for them.
They Prefer Moderate Climates
A Dalmatian Poodle mix is not the ideal pet for hot climates. These dogs do not handle the heat well and will require an air-conditioned home or frequent trips to swim if they live somewhere with frequent high temperatures.
If you live in an area with heat, it's best to take your Dalmadoodle out for exercise early in the morning and later in the evening when the weather is milder.
They are High Energy
Due to their high energy levels and impressive intelligence, a Poodle Dalmatian mix will not lie around all day being lazy. If they don't receive enough physical exercise and mental stimulation, their excess energy can become destructive.
For example, you may find your favorite shoes have chew marks, or other parts of your home have been damaged by your four-legged friend needing to burn off energy.
Frequently Asked Questions
If you still have questions about the beloved Dalmadoodle, check out these frequently asked questions for more information!
Can you breed a Dalmatian and a Poodle?
Yes, you can mix several other dog breeds, like the Dalmatian, with a Poodle. The resulting Dalmadoodle is intelligent, friendly, and affectionate.
How much does a Dalmadoodle cost?
The cost of a Dalmatian Poodle mix varies depending on your location, the breeder, and the dog's size or appearance. Potential pet owners should expect to pay between $800 and $2,000 to obtain a Dalmadoodle.

Of course, if you find one of these hybrid dogs at a surprisingly low cost, it's best to research the breeding parents and where the animal comes from. You do not want to bring home a new pet only to realize that it has many expensive health issues.
Are Dalmadoodles good with kids?
This hybrid breed is one of the best choices for families with children. A Dalmatian mixed with a Poodle will give you a pet with a playful nature and spunky energy. They enjoy playing games and interacting with children and adults, as they are naturally curious and intelligent.
What do you call a Dalmatian Poodle mix?
When you mix a Dalmatian with a Poodle, they are commonly referred to as Dalmadoodles or Dalmapoos. An easily identifiable hybrid name like this ensures that dog lovers can precisely tell the parent lineage without seeing the animal.
Are Dalmadoodles good dogs?
The Dalmatian Poodle mix is an excellent addition to any household. They are friendly and attentive, making them terrific companions that easily get along with children and other pets. They are also highly intelligent, enabling them to pick up on their training quickly and learn the rules of the house. With adequate exercise, proper training, and a healthy diet, a Dalmadoodle will live a long, happy life and be a terrific member of your family.
Should I Get a Dalmatian Poodle Mix?
Hybrid dog breeds can provide a wonderful mix of two types of canines in one attractive package. If you're looking for an energetic medium or large dog that is a loyal and lovable companion, the Dalmatian Poodle mix could be your answer!
For more Poodle mixed guides similar to this Dalmatian Poodle mix dog breed, you can check out:
You can learn more about other Poodle mixes similar to the Dalmatian Poodle mix by watching "Top 10 Poodle Mix Breeds for Singles | Dog World" down below:
Garrett loves animals and is a huge advocate for all Doodle dog breeds. He owns his own Goldendoodle named Kona. In addition, he volunteers at the Humane Society of Silicon Valley, where he fosters dogs and helps animals. Garrett enjoys writing about Doodles and believes that dogs can teach humans more about how to live than humans can teach a dog.
Why Trust We Love Doodles?
At We Love Doodles, we're a team of writers, veterinarians, and puppy trainers that love dogs. Our team of qualified experts researches and provides reliable information on a wide range of dog topics. Our reviews are based on customer feedback, hands-on testing, and in-depth analysis. We are fully transparent and honest to our community of dog owners and future owners.