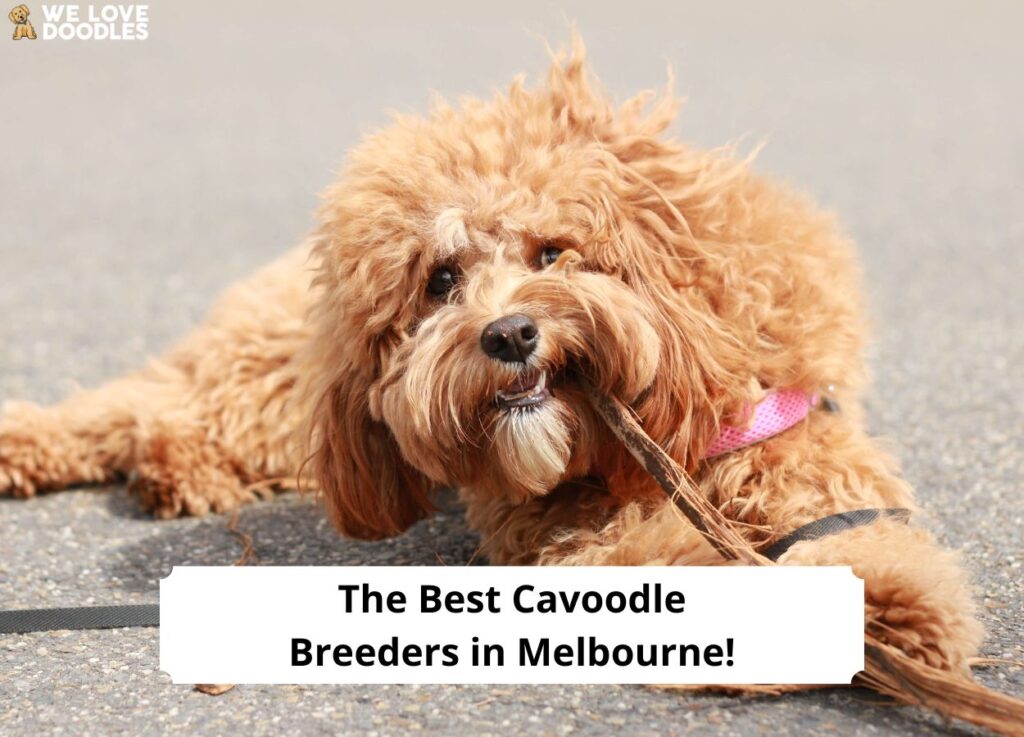 Are you trying to find reputable Cavoodle breeders in Melbourne? If the answer is yes, you have come to the right place.
Finding reliable dog breeders in Melbourne can be difficult as there aren't many in the city, but we are here to help you. Listed below are all breeders where you can find your new four-legged companion.
A Cavoodle, also known as Cavapoo, is a cross between a Poodle and a Cavalier King Charles Spaniel. In addition, it is the most popular dog breed in Australia, and it's no surprise. These dogs are intelligent, friendly, hypoallergenic, and low-shedding despite their beautiful coats.
A Cavoodle can make the perfect family dog as they are gentle, affectionate, and well-tempered. They also have a long lifespan, so your furry friend will spend a long time with you. However, this also means that your dog will require long-term responsibility.
If you have decided that the Cavoodle is the right breed for you, then the next step is to find a trusted and ethical breeder. We have created this guide of all the places you can find Cavoodle puppies in Melbourne to help you start your search for the perfect furry friend.
Before scrolling down this list of Cavoodle breeders in Melbourne, check out these other guides from our team at We Love Doodles: Best Dog Breeders in Melbourne and Best Dog Rescues in Melbourne.
1. Cavoodeled by Enza
Cavoodled by Enza has been breeding first-generation Cavoodles puppies in Melbourne since 2019. The breeder raises their puppies according to the Empowered Breeders Program and aims to help you find unique puppies that perfectly fit your lifestyle and personality. The breeder uses temperament testing to match puppies to their perfect forever homes.
The dogs' health is the breeder's priority. Every dog is DNA tested and thoroughly vetted for any illnesses. Each puppy also receives temperament testing and is raised on a high-quality diet.
In addition, all puppies are whelped and raised by the breeder at home. They are raised with lots of love and are used to the daily happenings of a household. The breeder's accreditations, certifications, and other important information can be found on their website.
The puppy you get will also come along with a puppy pack. This pack includes food, a crate, a leash, grooming supplies, health records, and more. So, if you are interested in this breeder, you can visit their website and apply to adopt a puppy.
Cavoodle Puppy Details:
Cavoodeled by Enza Details:
2. Urban Puppies
Next on the list of places, you can find red Cavoodle puppies for sale in Melbourne is Urban Puppies. This breeder is located only 15 minutes away from Melbourne CBD in Braybrook. The breeder has three simple yet crucial goals.
First, they aim to ensure the well-being of the mothers and only use the healthiest dogs for breeding. Second, they focus on raising healthy but well-adjusted puppies that can quickly become a part of any family. Finally, they ensure that every dog undergoes DNA testing before it is paired for breeding to ensure healthy puppies.
All puppies at Urban Puppies are spayed/neutered, microchipped, and vaccinated. The puppies receive a full vet check and have also started toilet training before they leave for their new homes.
Urban Puppies believes early socialization is the key to a well-tempered and well-adjusted puppy. So, all their puppies socialize with children, people, and pets at an early stage. This helps them adjust to their new life easily.
You can visit the Urban Puppies website and learn more about their available or upcoming litters. They primarily have red Cavoodle puppies for sale. If you find a puppy you like, you can contact the breeder to start the adoption process.
The total price of each puppy is $6000. However, this does not include the cost of spaying/neutering the puppies, as that is optional.
Cavoodle Puppy Details:
Generation: F1 generation Cavoodles
Size: Toy Cavoodles
Urban Puppies Details:
3. Tawoodles Cavoodle Breeder
Tawoodles Cavoodle Breeder is a family-owned breeding program based in Braybrook. The breeder has been breeding high-quality Toy Cavoodles since 2012.
This breeder offers non-shedding, hypoallergenic, and well-tempered puppies in various colours. They have black, tan, cappuccino, chocolate, white, and red Cavoodle puppies near Melbourne.
Tawoodles raise their puppies in an indoor breeding room, and when the puppies are four weeks old, they start weaning them off and take them outside to play. This routine continues until they are eight weeks old and ready to go to their new homes. It ensures that the puppies have been well-socialized and introduced to rewards and obedience before leaving for their new homes.
Every puppy at Tawoodles is thoroughly tested for any genetic diseases. The puppies are vaccinated, dewormed, and microchipped before leaving for their new home. The breeder also offers a three-year health guarantee and ensures that the puppies have started their obedience and toilet training.
You can head over to Tawoodle's website to learn more about the breeder. All available puppies are listed on the website, and the dates for upcoming litters are also mentioned. In addition, the price of the puppy differs based on colour. The prices of the puppies are:
$5000 for black and black and white puppies
$5500 for black and tan, tricolour, and Blenheim puppies
$6000 for red and cappuccino puppies
$7000 for chocolate-coloured puppies
Cavoodle Puppy Details:
Generation: F1b generation Cavoodles
Size: Toy Cavoodles
Tawoodles Cavoodle Breeder Details:
4. Charming Cavoodles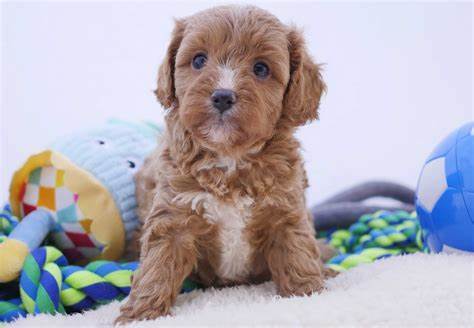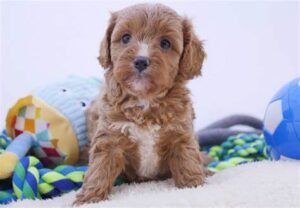 Charming Cavoodles is a small kennel based in northern Melbourne. They only breed first-generation Cavoodles and have a few litters each year. The breeder is dedicated to producing healthy, happy, and well-socialized Cavoodles.
All puppies are raised in a loving and safe environment. They are exposed to different stimuli, which helps them quickly adjust to life in their new homes. Your puppy will also have been vet checked, dewormed, and vaccinated before going home with you.
The breeder aims to provide you with the healthiest of puppies. So, every parent dog is thoroughly tested for various genetic diseases before it is used for breeding. In addition, the breeder offers a lifelong health guarantee for your puppy. However, this guarantee only covers genetic diseases.
Charming Cavoodles also ask clients to return their puppies back to them if they are unable to take care of the puppy for any reason.
The breeder has a planned litter available in 2023. So, you can visit their website and learn more about their Cavoodle puppies for sale in Melbourne and breeding practices.
Cavoodle Puppy Details:
Generation: F1 generation Cavoodles
Size: Toy Cavoodles
Charming Cavoodles Details:
5. Homestead Puppies
Last on the list of Cavoodle breeders in Melbourne is Homestead Puppies. They are located in Melton South which is about 40 minutes from Melbourne.
This breeder specializes in breeding Moodles and Cavoodles. And they raise high-quality first-generation Cavoodles only. The breeder also offers Cavoodles in several colours, including black, lattes, red, black and tan, black and white, tricolour, and Blenheim.
Visit Homestead Puppies' website to learn more about their available puppies. You can start the adoption process if you find a puppy you like. To begin the process, you need to download three forms: puppy care information, a three-year health guarantee, and a deposit form.
These forms are available on their website. All you have to do is print them, fill them out and mail them to the breeder. The breeder will contact you after receiving your forms.
You will have to deposit $1000 to reserve a puppy of your choice. The total price of a female puppy is $6500, and male puppies are available for $6000. In addition, the breeder also offers a nationwide delivery. So, you can contact the breeder and arrange for your puppy to be delivered to your doorstep.
Cavoodle Puppy Details:
Generation: F1 generation Cavoodles
Homestead Puppies Details:
FAQs
Where can I buy Cavoodles in Melbourne?
There are many reputable Cavoodle breeders in or near Melbourne. The following are some of the most reputable breeders in the area and a great place to start your search: Cavoodled by Enza, Urban Puppies, Tawoodles Cavoodle Breeder, Charming Cavoodles, and Homestead Puppies. When searching for breeders that can be trusted, ask about health testing of the parents, puppy care, purchase details, the living situation of the dogs, socialization, and more.

Another great place to search for Cavoodles in your area is local rescues. Some rescues may be for all breeds, breed-specific, or even small breed rescues.
How much does a Cavoodle cost in Australia?
Cavoodle puppies cost an average of $5,000-$7,000 from a reputable breeder. These costs are sometimes a flat rate, and others will depend on the colour or gender of the puppy. Costs should include vaccinations, vet care, and deworming at the very least. Cavoodles have become the most popular dogs in Australia, putting them in high demand, which may have driven up the cost. At this price, most puppies will come with a health guarantee. Ask each breeder individually for this information.
What colour Cavoodle is most expensive?
Tricoloured Cavoodles are typically the most expensive Cavoodle colour. However, red, chocolate, and cappuccino coloured are next in line for most expensive. Red is one of the most popular Cavoodle colours, which may drive up the cost.
Conclusion For "The Best Cavoodle Breeders in Melbourne"
Cavoodles are one of the perfect family dogs. With their adorable looks and curly coats, they can win over anyone's heart. These dogs do not shed a lot and are hypoallergenic, making them perfect for people with allergies. In addition, they are easy-going and small in size, and great for urban dwellers or novice dog owners.
Overall, the Cavoodle is a fantastic breed. And owning a Cavoodle can be one of the most amazing experiences of your life. Start by checking out all the Cavoodle breeders in Melbourne we have mentioned above before expanding your search to the best Cavoodle Breeders in Australia. This list will help you jump-start the process of finding your perfect Cavoodle.
For more guides similar to this list of Cavoodle breeders in Melbourne, you can check out:
Before you bring home a Cavoodle from a breeder in Melbourne, you can learn more about the breed by watching "Every Thing You Need To Know Before Buying (Cavoodle Pros And Cons)" down below:
Garrett loves animals and is a huge advocate for all Doodle dog breeds. He owns his own Goldendoodle named Kona. In addition, he volunteers at the Humane Society of Silicon Valley, where he fosters dogs and helps animals. Garrett enjoys writing about Doodles and believes that dogs can teach humans more about how to live than humans can teach a dog.
Why Trust We Love Doodles?
At We Love Doodles, we're a team of writers, veterinarians, and puppy trainers that love dogs. Our team of qualified experts researches and provides reliable information on a wide range of dog topics. Our reviews are based on customer feedback, hands-on testing, and in-depth analysis. We are fully transparent and honest to our community of dog owners and future owners.