Interested in bringing a German Shepherd into your family? You may wonder where to buy German Shepherd puppies nearby for under $200. If you'd love this breed as a companion but would like to avoid paying thousands, you've come to the right place.
Across the United States, there are breeders, individuals, and rescues looking to rehome German Shepherd puppies. The price will vary depending on the seller, the dog's characteristics, and other factors — but the resources on our list will give you a starting place to find an affordable German Shepherd.
Before you scroll down this list of places with German Shepherd puppies under $200, check out: 6 Best German Shepherd Rescues in the United States! (2023) and Black German Shepherd Puppies for Sale – Top 4 Breeders! (2023).
1. Craigslist
Craigslist is a California-based website that features listings from all over. What was once a small online classified site is now an international resource, one where you can find German Shepherd puppies for under $200.
Craigslist allows anyone to post. The person on the other side of your dog's listing could be a breeder, a neighbor, or a shelter. Be sure you screen the seller to ensure you're not purchasing from a puppy mill — an unhealthy and unsafe environment for dogs.
To use Craigslist, you can choose the "pets" category in the community section of your local site, or you can simply search for "German Shepherd puppies." View a list, a grid with pictures, or a map with the available puppies, then read through the listings.
Your dog should be taken care of by a veterinarian while in the care of its previous owner. Ask the seller for veterinary records, and call the vet to verify them. For your safety, we recommend you do not travel alone to pick up your puppy. Bring a friend along with you and keep your GPS location enabled.
Craigslist Details:
2. Facebook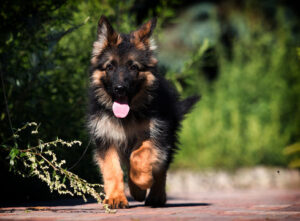 Craigslist is the largest classifieds site on the internet, while Facebook is the largest social media platform. You're probably already familiar with the site, but did you know you can find German Shepherd puppies for sale for under $200?
To find your dog, first search "German Shepherd puppies" in the Facebook search box. You'll be presented with a list of groups to join, friends to add, and businesses to follow. Keep in mind that not all small-scale breeders have the time or interest to set up a website. They use Facebook as their platform to tell the community about available and upcoming litters.
In the same way that Craigslist does not vet their sellers, Facebook doesn't monitor breeders closely. You'll need to do your own research to determine whether your breeder or seller is responsible. Check reviews, interview the seller, and use your intuition when choosing where you'll purchase your dog.
Local buy/sell/trade groups exist on Facebook, as do general community information groups. Consider joining one local to your area to ask your neighbors about their experiences with breeders.
Facebook Details:
3. Nextdoor
Nextdoor is a younger social media platform. It was launched in 2008 but has grown considerably in the years since. Today they boast somewhere in the ballpark of 60 million users. While they're not a pet sales platform, you can certainly buy German Shepherd puppies for under $200 using the platform.
Nextdoor is divided into neighborhoods. For example, you may be a part of the "Old Town" neighborhood which includes several housing developments. Most of the posts that will appear on your feed will be from your neighborhood, which is a wonderful way to hear about community events and even crimes.
To look for German Shepherd puppies outside of your neighborhood, search by city, keyword, or both. For instance, you might enter "German Shepherd puppy Boston." Results will appear in your feed as well as in the classifieds area of the app.
Once again, do your research. Meet the seller in person and arrange a meet-and-greet with your dog before you bring him home. Most sellers are honest individuals who are simply looking to rehome a puppy, but there's nothing to prevent puppy mills from advertising on Nextdoor.
Nextdoor Details:
4. AKC Marketplace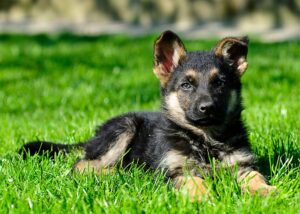 The American Kennel Club sets breeding and showing standards for 200 dog breeds. Members of the AKC have committed to raising their dams, sires, and puppies in accordance with those standards and regulations. As you're searching for your German Shepherd puppy, be sure to check out the AKC Marketplace.
Sellers who list dogs for sale on the AKC Marketplace are members. They are periodically inspected by the organization and you can expect a puppy purchased from one of these member breeders to be healthy and well-socialized.
Because many AKC puppies come with registration papers and are deemed suitable for breeding, they can sometimes carry a speedy price tag. To find a German Shepherd puppy for sale under $200, you'll need to do some research.
First, search for German Shepherd breeders. Many will ship or deliver dogs, so don't be afraid to expand your search area beyond the local vicinity. Then, visit each breeder's page to contact them and discuss pricing.
You will find that, in many instances, breeders have puppies for sale that are priced lower than their littermates. The dogs may have markings or other characteristics that make them ineligible to show or breed. In other instances, the breeders retire their dams and sires, choosing to place them in a forever home for a low price.
It'll take several phone calls, but you can find German shepherd puppies under $200 on the AKC Marketplace.
AKC Marketplace Details:
5. Greenfield Puppies
Greenfield Puppies is next on our list of places to buy German Shepherds for under $200. They offer German Shepherds and German mixes, and the puppies range in price. You can just as easily find a puppy for $200 as you can for $2,000, so you'll just need to check. Unfortunately, Greenfield has chosen not to implement a "sort by price" function so you'll need to scroll a bit.
Puppy prices are listed below each dog's picture. When you find a dog that fits the description of the pup you're looking for, click through to view a biography of that dog. You'll also have access to information about the breeder. Greenfield Puppies uses a large network of breeders across Pennsylvania, so you'll want to learn more about the breeder before you place a deposit.
Dogs come with, at minimum, a 30-day health guarantee. You can choose to have your dog shipped or delivered to you, which may be important if you don't live in Pennsylvania. Before you arrange for shipping, you'll need to fill out an application and gain approval to purchase. At the time of sale, you can pay for your dog and for the shipping expenses, too.
Greenfield Puppies Details:
6. Mission K9
Mission K9 is a Texas-based non-profit, and they're a little different from the other resources on this list. You won't find many puppies available to purchase from this group. Instead, you can choose to make a difference in the life of a retired working dog.
Mission K9 takes in dogs that have had a career in the military or in law enforcement. German Shepherds are rehabilitated and observed closely by a vet while they're in the care of Mission K9. Dogs in this field of work are often injured on the job, so the volunteers will do everything in their power to rehabilitate the dogs before rehoming them.
Pictures of adoptable dogs are not posted on the Mission K9 website. In fact, you won't see pictures at all until you've been approved to adopt. The goal is not to adopt the "cutest" dog, but to match you with a dog that will fit in with your lifestyle and your personality.
Please contact the non-profit to determine the cost of adopting a dog. Fees are set based on the dog's age, health, and other considerations. Note also that homes with children may not be suitable for these high-energy dogs.
Mission K9 Details:
7. Adopt A Pet
Adopt A Pet is next on our list of places to find $200 German Shepherd puppies. It's a nationwide directory of breeders, shelters, and individuals looking to rehome animals for a number of reasons.
Your German Shepherd could be posted on the site because of a divorce or a death in the family. Your puppy's mother could've had an "accidental" litter. Or your dog may have been rescued from a puppy mill or a high-kill shelter.
Search for German Shepherds, then filter by age to find a puppy. (Of course, adults are available, too.) You can also choose to filter by search radius, color, and more. Once you find a dog you're interested in, you'll be given information about how to contact the seller or the shelter.
Individual sellers who opt to list with Adopt A Pet undergo a brief screening process, but you'll want to interview your dog's owner before exchanging money. Most are responsible pet owners who are simply looking to place their dog in a better situation, but just about anyone can post, so use your sense.
The adoption fees will vary from seller to seller and shelter to shelter. More information is available in each pet's biography.
Adopt A Pet Details:
8. Lancaster Puppies
Finally, Lancaster Puppies offers German Shepherd puppies for sale for under $200. You can quickly search by breed, then sort by price. Dogs for as little as a $50 adoption fee are available through Lancaster Puppies, a Pennsylvania-based organization.
If you're willing to spend more on a dog you've fallen in love with, you can rest assured that your puppy comes from a friendly, reputable breeder. Lancaster Puppies enlists a team of responsible breeders across Pennsylvania and the surrounding area to produce quality puppies. Your dog will be well-socialized and thoroughly vet-checked before being placed for sale.
Pennsylvania law requires that dogs come with at least a 30-day health guarantee. You will need to speak with the breeder about your dog's health warranty, vet records, and whether you'll be required to sign a spay or neuter agreement.
This breeder does not ship, but the team at Lancaster Puppies will help connect you with a company that can. Shipping costs will vary with the method of travel and with the shipping company, so shop around for the best price.
Lancaster Puppies Details:
Frequently Asked Questions
How much is a German Shepherd puppy?
A healthy German Shepherd puppy from a reputable breeder can cost as much as $3,500.
Are German Shepherds easy to train?
German Shepherds are intelligent dogs that are quick to learn, making training easier.
When does a German Shepherd start guarding?
A German Shepherd puppy may become more protective between six and 12 months.
How long do German Shepherds live?
German Shepherds should live for at least seven to 10 years.
Conclusion for "Where Can You Buy German Shepherd Puppies Under $200"
Do you want a loyal, active, and strong canine companion? Fantastic! A German Shepherd may be perfect. Unfortunately, the dogs are quite popular, and, as such, they can command a pretty high asking price.
Where can you buy German Shepherd puppies under $200? There are many options. Take a look through the ideas in our guide, then do a bit of research of your own to find a healthy and well-socialized German Shepherd puppy near you.
If you find this guide, "Where Can You Buy German Shepherd Puppies Under $200," helpful, check out:
Before you bring home a German Shepherd puppy, learn more by watching "Owning a German Shepherd: The Good, The Bad, The Ugly" down below:
Garrett loves animals and is a huge advocate for all Doodle dog breeds. He owns his own Goldendoodle named Kona. In addition, he volunteers at the Humane Society of Silicon Valley, where he fosters dogs and helps animals. Garrett enjoys writing about Doodles and believes that dogs can teach humans more about how to live than humans can teach a dog.
Why Trust We Love Doodles?
At We Love Doodles, we're a team of writers, veterinarians, and puppy trainers that love dogs. Our team of qualified experts researches and provides reliable information on a wide range of dog topics. Our reviews are based on customer feedback, hands-on testing, and in-depth analysis. We are fully transparent and honest to our community of dog owners and future owners.