Everyone is familiar with the German Shepherd. Many associate it with its other moniker, a "Police Dog." This breed was the second most popular dog in the US from 2013 up until 2019. And it has rightfully earned its place.
While the German Shepherd is wildly popular, many people often confuse it with the King Shepherd. Some people would be a little surprised to learn that the King Shepherd exists. Most assume that it's the giant version of a German Shepherd. While there is some truth to this statement, there's more to it than just appearance.
One thing is for sure: the King Shepherd and German Shepherd are far from identical.
Before scrolling down, check out these similar articles: Australian Labradoodle vs. Aussiedoodle! and Sheepadoodle vs. Labradoodle!
King Shepherd vs. German Shepherd: A Brief History
German Shepherd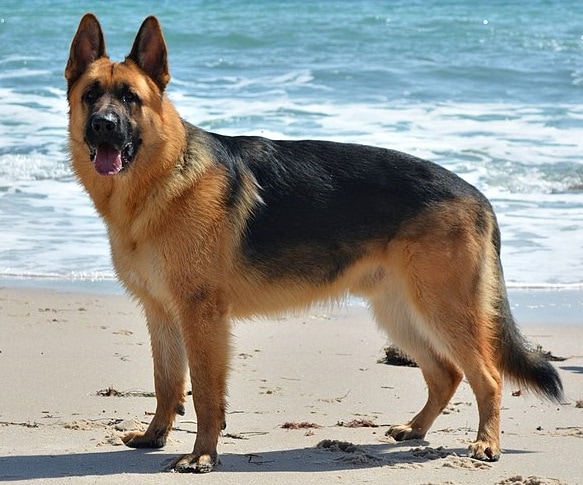 As the name suggests, the German Shepherd first came from Germany in the 1800s. It is considered the most responsive, intelligent, and obedient local shepherd dog in the country, which is why many police departments use German Shepherds to support their work.
This breed is usually responsible for herding livestock and sheep – hence the name "shepherd." It's also a good flock protector against predators. Today, German Shepherds are indispensable members of law enforcement. They are used in search and rescue operations, narcotics detection, explosives detection, and cadaver searches.
German Shepherd dogs are purebreds and are well-known for their intelligence and trainability.
King Shepherd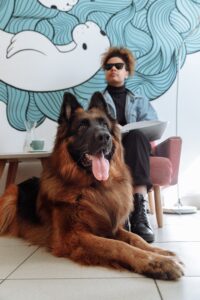 Relatively new, this crossbreed is often referred to as the "Gentle Giant." King Shepherds are the impressive result of a German Shepherd mating with dog breeds like the Alaskan Malamute, Shiloh Shepherd, or the Great Pyrenees. As you can see, it's pretty obvious where their gigantic build comes from!
The King Shepherd was first bred in 1995 in the United States. Breeders hoped to resolve the physical deformities that have been bred into German Shepherds over the years. However, the King Shepherd is still in development. The American Kennel Club has not yet formally recognized this hybrid breed.
Physical Appearance
The King Shepherd and German Shepherd are both striking canines, and they have a powerful aura that intimidates others. They also share the same wolf-like looks that can be menacing and, at the same time, adorable.
German Shepherd
Physically, the German Shepherd exhibits strength and power. These characteristics might not be apparent because of its graceful trot and sloped build, but with its tapered snout and wolf-like eyes, this dog is 100% predator.
These multi-purpose working dogs are bi-colored with the most distinct coat pattern colors of black and brown. German Shepherds are non-hypoallergenic and typically medium to large in size. Known to be the lean, tall, and muscular working dogs, male German Shepherds can grow up to be 26 inches long and weigh up to 90 pounds.
King Shepherd
One word to describe the physical appearance of the King Shepherd is imposing. It has a regal appearance that is both intimidating and beautiful. Their bodies are slightly muscular and squared off. They also have a more prominent and less pointed snout than the German Shepherd.
King Shepherds have more balanced hip angulation and a more upright stance compared to the German Shepherd. They share the same coat patterns and colors as the German Shepherd, although their furs are shaggier and longer courtesy of their Alaskan Malamute blood. Both dog breeds are double-coated.
Generally, King Shepherds grow to a minimum of 27-inches, where the males are bigger than the females. Male King Shepherds weigh between 130 to 150 pounds, while the females weigh about 90 to 110 pounds.
Behavior and Overall Temperament
King Shepherds borrow plenty of traits from the German Shepherd. But despite its imposing size, this gentle giant is more mellow than its smaller counterpart. Both breeds are trainable and ideal for people looking for their first dog. German Shepherds and King Shepherds thrive equally well with families and even little children.
German Shepherd
One of the most prominent traits of the German Shepherd is that they love to please their humans. Protecting the pack, including humans, comes naturally to these dogs, making them the perfect buddy and watchdog!
German Shepherds love having responsibilities. They enjoy being involved in the human world by having a job to do. If you get your German Shepherd while it's still a puppy, get ready for a tight bond.
Highly energized, this breed needs a lot of physical exercise – at least two hours every day to keep themselves in shape physically and mentally. A German Shepherd is the perfect companion to take on hikes, walks, and off-leash runs. They also love playing catch, fetch, and other agility games.
German Shepherds are generally outgoing, confident, and always alert. They are one of the most adaptable dog breeds. While many people see the German Shepherd as an aggressive breed, this tendency only shows itself if a dog isn't properly trained or is locked up for long amounts of time.
King Shepherd
Unlike their overly active and stubborn ancestral predecessors, King Shepherds are more sweet-natured and tender. They are best described as being loving and kind, not overly aggressive, and not hyperactive.
The King Shepherd is strictly bred to have a sound, consistent, and more predictable temperament. Like German Shepherds, they are also highly intelligent and trainable. With their size alone, they can deter any threat with less effort. They are also loyal, brave, strong, and fearless to a fault.
These gentle giants love being with children. You don't need to worry about their playful nature because they are very sensitive. They are also greedy to please their humans, and they crave getting praise.
Like German Shepherds, the King Shepherd breed is easy to train and can learn new tricks and commands well. They are good therapy dogs and also work in law enforcement. Due to their strong herding blood, they too need to be physically and mentally stimulated.
King Shepherds don't like being away from their humans and can be a little clingy. However, they love being part of human activities and are always ready for any dog game or other physical activity.
Health and Wellness
One of the King Shepherd breeders' goals is to reduce the health problems apparent and typical to German Shepherds. Although both breeds are prone to diseases common to all dogs, King Shepherds are overall healthier than German Shepherds.
German Shepherd
With proper health and exercise, a German Shepherd can be part of your family for about 10 years. Elbow and hip dysplasia are common health issues for this breed.
German Shepherds are also prone to developing degenerative myelopathy, a disease that affects the spinal cord. One of the most serious health problems this breed can face is bloat, a combined stomach and spinal cord disorder.
King Shepherd
Despite their large size, King Shepherds have a surprisingly long life expectancy. This hybrid can live up to 14 years!
The most common health challenges facing King Shepherds are hypothyroidism, elbow and hip dysplasia, and Von Willebrand's disease – a type of bleeding disorder.
Grooming
Dog parents should expect to perform routine maintenance and care on their dog regardless of its breed. Ear cleaning, brushing, and visits to the vet are necessary responsibilities that every owner has. Still, every breed is different, and the way you care for each one will depend on its specific characteristics.
German Shepherd
With its short but dense coat, you can settle for a minimalist grooming style if you have a German Shepherd. Brushing its coat once per week should suffice to remove the debris and tangles from its fur.
As expected from a double-coated breed, this doggo will experience seasonal shedding. So, while the shedding is happening, you can transition to more frequent grooming of up to three times per week to keep its coat clean. Consistently brushing your dog will ensure that fur clean-up in your home isn't a massive chore.
King Shepherd
King Shepherds have a thick, long, double-layered coat, which makes regular grooming a must. You need to do intensive combing and brushing at least every other day, if not daily.
If it gets to the point where a King Shepherd has several knots or matted hair, you'll have a huge problem. Like a German Shepherd, heavy seasonal shedding is expected in this breed.
Price
The average German Shepherd costs about $2,000. However, this price can go up to $4,500 depending on the lineage of the German Shepherd you choose. Top-breed lineages tend to cost more.
King Shepherd costs less despite being the larger breed. You can purchase one for as low as $1,600. However, the challenge of buying King Shepherds is that they're hard to find. There are fewer King Shepherd breeders, so finding one may be difficult.
Similarities: German Shepherd and King Shepherd
Now that you know the differences between a German Shepherd and a King Shepherd, learning the their similarities is equally essential. It can help you further assess which breed is best for you and your family.
Ancestry
These two breeds share the same parentage. Although the King Shepherd is a crossbreed, it is still very close to the German Shepherd.
Intelligence and Trainability
Both breeds are remarkably perfect to be working dogs. They are easy to train and will reliably obey new tricks and commands. This shared characteristic may come from their eagerness to please their owners and be consistently involved with their humans. Without training, both breeds can become aggressive.
Devoted and Protective
Pegged as loyal dogs that would do everything to secure their families, both breeds are ideal for families, even ones with kids. Although the King Shepherd is slightly needier for affection, both can be counted on to protect their territory and family at all costs.
German Shepherd vs. King Shepherd: Which Dog is for You?
Only you can answer this question. First, you have to assess yourself, your home dynamics, your time, and your capability to have a canine join your pack.
German Shepherd or King Shepherd, the dog you choose should fit your lifestyle. No matter which you choose, you will get a trustworthy, confident, and protective watchdog in either breed.
If you are leaning towards a dog that will provide protection to your family, the faithful German Shepherd is probably the better option. It has a more aggressive nature when compared to the King Shepherd, meaning it will do more to protect your property and family.
However, if you want a less intense and more gentle canine that still has intimidating looks to deceive any threats, we recommend choosing a King Shepherd.
Frequently Asked Questions
Is a King Shepherd a German Shepherd?
A King Shepherd is typically 50% German Shepherd and bred with other, larger dogs like Alaskan Malamutes or Shiloh Shepherds. They are direct relatives of German Shepherds but aren't German Shepherds themselves.
What are the 5 types of German Shepherds?
The five types of German Shepherds are: East German Working, West German Working, American/Canadian Show, West German (European) Show, and Czech.
Who is stronger King Shepherd or German Shepherd?
King Shepherds are both stronger and bigger than German Shepherds.
How to Choose
The German Shepherd and King Shepherd may have similar features and traits, but they are still unique in their own ways. Like all dogs, each has something unique to offer as a fur member of your family.
Choosing between the two is, ultimately, your decision to make. No matter what you choose, you can be sure you'll be adding a loving and loyal member to your family!
Want to learn more about these two breeds? Check out these articles from our team at We Love Doodles!
If you loved this article and want to know more about the rare and new King Shepherd, watch this video: "Top 10 Facts About the Might King Shepherd"
Garrett loves animals and is a huge advocate for all Doodle dog breeds. He owns his own Goldendoodle named Kona. In addition, he volunteers at the Humane Society of Silicon Valley, where he fosters dogs and helps animals. Garrett enjoys writing about Doodles and believes that dogs can teach humans more about how to live than humans can teach a dog.
Why Trust We Love Doodles?
At We Love Doodles, we're a team of writers, veterinarians, and puppy trainers that love dogs. Our team of qualified experts researches and provides reliable information on a wide range of dog topics. Our reviews are based on customer feedback, hands-on testing, and in-depth analysis. We are fully transparent and honest to our community of dog owners and future owners.