If you're ready to bring home a Bichon Frise puppy, it is a wonderful decision! Your life is going to change for the better!
If you're looking for affordable Bichon Frise puppies for sale under $500, then this is the right place to begin your search! Below, we have enlisted several resources that have affordable, healthy, and happy Bichon Frise puppies.
Check out the links below to begin your search for cute, healthy, and temperamentally sound Bichon Frise puppies for sale under $500.
Before you scroll further down this guide, check out these other Bichon Frise-related articles from our team at We Love Doodles: Bichon Frise Breeders in the USA and Bichon Frise Rescues in the USA.
Where to Find Bichon Frise Puppies for Sale Under $500?
Here are the places to start your search for Bichon Frise puppies for sale for under $500.
1. Breeders
Reputed breeders of the Bichon Frise breed usually sell their pups for $1000-$3000. These breeders conduct health checks and genetic tests such as EMBARK panel testing, OFA, and CERF tests. They only breed Bichon Frise dogs that have been cleared for their hips, joints, eyes, and heart as shown by these tests.
Good breeders also socialize their Bichon puppies and raise them at home with their kids. Their dogs are also exposed to various experiences like handling, car rides, trips to the mall or beach, loud noises, etc. This ensures that the Bichon Frise puppy is confident, bold, and ready for its forever home.
Since breeders spend time and effort on these things, they tend to charge more for their Bichon Frise pups. However, in some cases, you could find breeders selling Bichon Frise puppies for sale under $500 if they have excess dogs or if their dogs are not show-quality.
Always look for breeders that belong to different Bichon Frise Clubs. This ensures that they follow the club guidelines which, in turn, ensures the breed's welfare.
The best way to find breeders for Bichon Frise dogs is by going through breeder publications. You could also check on AKC or American Kennel Club's listing of Bichon breeders. Alternatively, you can search online for top-rated Bichon Frise breeders near you.
2. Pet Shops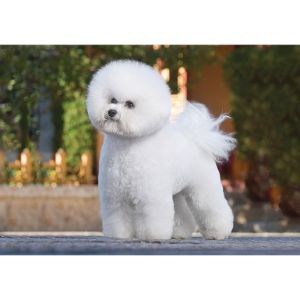 Pet shops or pet stores often keep Bichon Frise puppies for sale under $500. However, you must be very cautious when you buy a puppy from a pet store. This is because pet shop puppies are often inbred. They also do not come with vet records. Many pet shop puppies have temperament or behavioral issues due to poor breeding.
It is also a sad fact that most pet stores source their Bichon Frise puppies from puppy mills. Puppy mills are run by unethical breeders who indiscriminately breed pups without any thought to the dogs' welfare.
3. Online Marketplaces
AKC Marketplace
The AKC marketplace lists dogs of various breeds along with their photos and their breeder's details. You can read the puppy's description, vaccination status, age, etc., and select one that is to your liking.
You can then contact the breeder through AKC, visit the breeder, make the payment, and get your dog. The advantage of buying your Bichon Frise puppy from the AKC marketplace is that the breeders are also registered with them. They are reputed breeders and won't cheat or scam you. These breeders also offer health guarantees of 1 or 2 years on genetic issues.
Puppy Finder
On the Puppy Finder website, we found some Bichon Frise puppies for sale ranging from $1800-$3000. They also had some older Bichon Frise puppies for sale for $300. The site also had mixed breed Bichon Frise like Bichoodles, Yorkie Chon, Zuchon, etc.
All these dogs are vaccinated, ACA-registered, and dewormed, and some were even spayed or neutered. Puppy Finder lets you search for puppies based on the puppy's gender, location, and also the pup's age.
Puppy Spot
This is another excellent resource to help you find Bichon Frise puppies for sale under $500 in the USA. They have a wide selection of purebred and mixed-breed Bichon Frise dogs.
Puppy Spot has been operating for over 2 decades. They only list top-rated breeder's puppies on their site. All breeders are vetted and screened by Puppy Spot in accordance with USDA.
This is why their purebred pups come with AKC certification and registration. You will feel 100% safe and secure when you buy your Bichon puppy from Puppy Spot.
This website also offers a unique 10-year puppy health commitment so you are guaranteed to get healthy and happy Bichon Frise puppies for sale under $500. They also fly your puppy to you through their private travel network, ensuring that your pup arrives safely at your doorstep.
4. Adoption and Rescue Homes and Shelters
There are many Bichon Frise dogs awaiting loving homes and second chances after having had a bad experience of being neglected, abandoned, or abused. Of course, there are some Bichon Frise that come from owners who have to relocate to another country and cannot take their dogs with them. Or they are Bichons belonging to elderly owners who aren't able to care for them anymore due to illness or death.
Rescue shelters take these dogs in, provide them with food, shelter, and medical care, and also train them to help overcome behavioral issues. They rehome these Bichons for a small fee of $50-$500 – often covering the dog's vaccinations, spay/neuter surgery, etc.
Here are some rescue sites where you can find Bichon Frise dogs under $500:
Pet Finder
Pet Finder has partnered with Purina to provide shelter to rescued dogs. They work in the USA and Canada and have helped rehome thousands of dogs since their inception. You can search for Bichon Frise for adoption on Pet Finder based on your Zip code, the dog's age, gender, how recently it was added, and also appearance, health, behavior, and the shelter name.
Bichon Frise Breed-Specific Rescues in America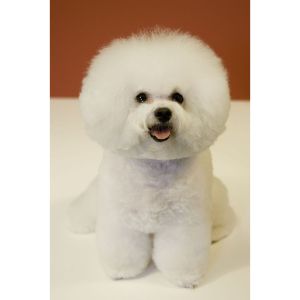 We highly recommend using the following links to get in touch with top Bichon Frise rescue shelters in the United States. The best rescue homes for this breed in the USA are:
These organizations are striving hard for the breed's welfare. They want every Bichon to get the second chance it deserves. You will do a world of good by adopting a Bichon instead of looking for Bichon Frise puppies for sale for under $500. Moreover, these shelters only charge a small fee between $50-$500 for rehoming their dogs.
There are several other non-breed-specific rescues as well where you can surely find Bichon Frise puppies for sale under $500.
5. Craigslist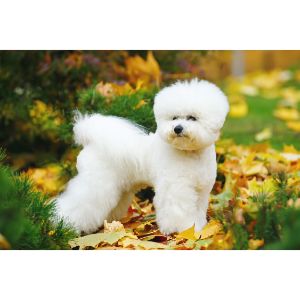 Craigslist is an online marketplace where buyers and sellers can connect directly. You will find many breeders and individuals looking to sell their Bichon Frise here. Some are genuinely good breeders or individuals who cannot take care of their Bichon Frise anymore.
However, the site also has a lot of scammers, hobby breeders, and backyard breeders. They often breed dogs indiscriminately just to make profits. Many of these dogs end up with health issues and temperamental problems.
So, if you find Bichon Frise puppies for sale under $500 on Craigslist, please follow basic precautions first. Do not send the money before seeing the dog. If possible, get the dog's health checked by your vet. Ask the seller for the pup's records. If the seller hesitates to give you any information about the dog's background, steer clear of them.
Note that there have been several cases on this site where the dogs have been stolen and resold. So, always check if the puppy has a microchip.
More About the Bichon Frise Breed
The Bichon Frise is a small, cute, affectionate, loyal, and friendly dog breed. These dogs weigh between 10-18 lb. or less than 8 kg. They are characterized by a soft, fluffy white coat that needs plenty of grooming and brushing.
Bichon Frise is a highly trainable dog. They usually get along well with other dogs and children but may need some early socialization and training. You must also take the time to train your Bichon in some basic obedience. This is very important to prevent behavioral issues.
Bichons may be small but they are alert, active, and energetic dogs. They need plenty of exercise and playtime and can get bored and destructive if left to lounge on the couch all day.
Bichons also make great pets for the elderly and for people with limited mobility. However, they do need someone to walk and play with them every day. With training, Bichons can also be great therapy dogs for people with anxiety-related issues.
Can You Find Bichon Frise Puppies for Sale Under $500?
Finding Bichon Frise puppies for sale under $500 from top breeders may not always be feasible. Good breeders usually don't sell their dogs for less than $1000-$3000. Some show-quality Bichons may cost even more – up to $5000.
Also, buying cheap puppies may seem like a good idea at first. However, this could cause several problems later.
First of all, many cheap Bichon Frise puppies for sale under $500 might not have received adequate veterinary care. Some of them aren't vaccinated or dewormed and this makes them susceptible to health issues.
Secondly, these cheap Bichon pups may not be adequately socialized. This lead to behavioral problems in them. Moreover, cheap pups do not come with health guarantees so you might not be able to return the puppy back to the seller if your dog develops any genetic health issues.
Therefore, you must always buy your dog from a reputed breeder even if it means shelling out more money in the process.
Conclusion For "Where to Find Bichon Frise Puppies for Sale Under $500"
There are a number of websites, breeders, and online marketplaces selling cheap Bichon Frise puppies for sale under $500. But always buy your dog from a reputed breeder because you get health guarantees and the assurance of getting a healthy and happy dog.
If not, you could always consider adopting a slightly older, rescued Bichon from an animal shelter.
If you find this guide, "Where to Find Bichon Frise Puppies for Sale Under $500," informative and helpful, you can check out these other dog-related articles from our team:
Before you find a Bichon Frise puppy for sale under $500, you can learn more about this dog breed by watching "Bichon Frise Pros And Cons | The Good AND The Bad!!" down below:
Garrett loves animals and is a huge advocate for all Doodle dog breeds. He owns his own Goldendoodle named Kona. In addition, he volunteers at the Humane Society of Silicon Valley, where he fosters dogs and helps animals. Garrett enjoys writing about Doodles and believes that dogs can teach humans more about how to live than humans can teach a dog.
Why Trust We Love Doodles?
At We Love Doodles, we're a team of writers, veterinarians, and puppy trainers that love dogs. Our team of qualified experts researches and provides reliable information on a wide range of dog topics. Our reviews are based on customer feedback, hands-on testing, and in-depth analysis. We are fully transparent and honest to our community of dog owners and future owners.