Are you looking for breeders with Bichon Frise puppies in Florida for sale? We've got your back. The Bichon Frise, a mischievous small dog breed guaranteed to brighten up your every day with its cheerful and affectionate temperament, has recently risen to popularity in the United States.
With its black, button-like eyes and a fluffy smooth white coat, you may mistake it for a child's toy. If you're a first-time pet parent or even reside in a small-sized apartment, a Bichon Frise will happily accompany you for a lifetime. Bichon Frises also enjoys spending some alone time with themselves, so if you're someone who often works overtime, they may be the breed for you.
However, it is an active breed that requires ample exercise and some fun playtime with its parent. So, if you're a couch potato that does not prefer taking your dog out for a long jog or playtime, you may have to rethink your choice of a breed. Overall, they are an intelligent breed that is relatively easy to train. Therefore, it's safe to say that you'll never get bored with this extremely playful and mischievous breed.
Before scrolling down this list of breeders with Bichon Frise puppies in Florida for sale, you can check out these other recommendations from our team at We Love Doodles: Bull Terrier Puppies For Sale in Florida and Best Italian Greyhound Breeders in Florida.
Bichon Frise Breeders in Florida
You've come to the right place if you're looking for Bichon Frise puppies for sale in Florida. In this guide, we have compiled a list of trustworthy and renowned breeders you can purchase a Bichon Frise from in Florida and nearby states. So, without further ado, let's get started.
Bichon Frise Product Recommendations: Best No Spill Dog Water Bowls and Best Dog Cologne That Groomers Use.
1. PuppySpot's Bichon Frise For Florida
PuppySpot is a brilliant online platform that matches future Bichon Frise puppy parents with breeders and the right puppies. With over 200,000 puppies sold and 10,000 five-star reviews from verified buyers, they guarantee no puppy mills or scammers with their incredibly strict screening process.
This process includes over 100 different points of emphasis, of which less than 10% of applicants pass. They also have partnerships with the AKC and the American Humane Society, and they provide a 10-year health warranty on all of their puppies and a full health check before sending them home to you.
PuppySpot only lists puppies that have been born on their website, so you know exactly what you're getting when you make a purchase. There are no waitlists, and their website is incredibly easy to use, scoring an A+ with Better Business Bureau. They can even deliver straight to you via their private airline that flies everywhere in Florida.
PuppySpot Details
2. The Blessed Bichons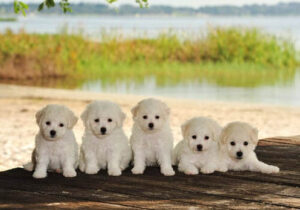 The Blessed Bichons should be on the top of your list for reliable breeders in Florida. At the Blessed Bichons, one of the best Bichon Frise breeders located in Clermont, Florida, the Bichons and their puppies are bred and raised in the breeder's home with close supervision and lots of playtimes every day.
The puppies under the care of the Blessed Bichons are also used to being around children and adults. So, you'll be getting a well-socialized and happy little chap. All Bichons at this breeder are registered and come with a one-year health guarantee. Remember, a health guarantee is important as it ensures a breeder's confidence in their puppies' breeding and raising abilities.
All the puppies at The Blessed Bichons come with:
A Florida Health Certificate (1st set of vaccination shots done, dewormed, and vet checked)
Puppy Take Home Pack (crate, stainless steel food & water set, leash, harness, panels to make a puppy playpen, and more)
1-year health guarantee
A $1,000 non-refundable deposit is also requested to reserve your puppy if it is younger than eight weeks. To view upcoming litters and other announcements, click the link to the website below.
The Blessed Bichons Details
3. My Pretty Bichons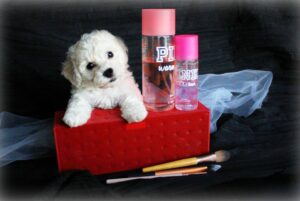 My Pretty Bichons is owned by a small family breeder who adores Bichons. You can view the available puppies by clicking the link to the website below. Please note that My Pretty Bichons does not ship puppies. You can, however, contact the breeder through their contact number for some adorable pictures and videos of their Bichon Puppies.
Moreover, their website does not detail how their puppies are raised or if they are up-to-date with their shots and dewormed. So, do not forget to check with the breeder regarding these important factors and conduct your research.
We also recommend asking the breeder whether their puppies come with a health guarantee. And if you're serious about purchasing some adorable Bichon puppies from My Pretty Bichons, you can reach out to them through the following contact details:
My Pretty Bichons Details
4. Cambeas Bichon Frise Puppy Breeder
It would be best to visit Cambeas when searching for Bichon Frise puppies in Florida. Cambeas has been a proud Bichon Frise Puppy Breeder for three decades. They raise their puppies with the utmost care and believe that healthy parents, clean surroundings, and a balanced diet are necessary for the good health of a puppy.
Cambeas Bichon Frise proudly claims that all their pet parents are purebred dogs registered with the AKC. To purchase a puppy, you need to get in touch with the breeder immediately, after which you will be emailed an online deposit contract and a PayPal link for you to submit your deposit.
Then, your deposit contract will mention a puppy's vet check health exam and a go-home date; as soon as your puppy is vaccinated and vet-checked, a date for you to pick up your adorable Bichon Frise be scheduled.
Please note that any puppy will not be put on hold without a $300 non-refundable deposit and a signed non-refundable deposit. So, if you're looking for Bichon Frise puppies for sale in Florida, get in touch with Cambeas immediately. You can view the available puppies on the website.
Cambeas Bichon Frise Puppy Breeder Details
5. Myra's Bichon Frise Puppies
A breeder since 1974, Myra has ample experience in breeding healthy and happy Bichon Frise puppies. The dogs she breeds do not have a bad body odor and are non-shedding. So, if you're someone who suffers from allergies, you should consider getting a Bichon from Myra.
Myra is also registered with the American Dog Owners Association, America's Pet Registry, AKC, and the National Associate Breeder program. Myra's Bichons are raised inside her home alongside children and other pets. Therefore, they are desensitized to the daily hustle-bustle of life from a young age, which makes it easier for them to adjust to any environment.
Growing up with humans and animals also makes these dogs very friendly. Then you go to pick up a puppy from Myra's; you will get a puppy that has been vaccinated, dewormed, and given preliminary training. Myra is also an experienced breeder with years of shipping experience.
She knows how to safely ship Bichon Frises and other toy dogs to other states and even countries. If you are outside Florida and want to adopt one of her beautiful puppies, call Myra on the number below, discuss the details, and get your puppy home.
Myra's Bichon Frise Puppies Details
6. Georgia Dog Club
Unable to find Bichon Frise breeders in Florida? You can find equally competent and responsible breeders in nearby states. All you have to do is take a little drive to Georgia.
Georgia Dog Club is a tight-knit family breeder you can trust when purchasing your Bichon Frise puppy. As a breeding organization, they aim to do everything to breed the healthiest puppies possible, which is also why they extend their guarantee up to 10 years.
Your puppy from the Georgia Dog Club will come with an initial health guarantee that your puppy is in sound health and free from the following health conditions: Parvo Virus, Hepatitis, Corona Virus, and Distemper for ten days from the date of adoption.
Moreover, there is also a 10-year congenital warranty. This warranty requires you to have your puppy checked by a licensed vet within the first ten days of taking your puppy home.
You can read further details about it on the website. Apart from a personal puppy pick-up, Georgia Dog Club also offers to deliver your puppy by a personal nanny flight (costing $999 to $1,250) and a driving delivery option (costing $1.50 per mile round trip).
Georgia Dog Club Details
7. Pecks Pup
The last breeder recommended for Bichon Frise puppies in Florida for sale is Pecks Pup. It is one of the most reliable Bichon Frise breeders in the United States. They raise happy and healthy AKC registered Bichon Frises. Although Pecks Pup is located in Arkansas, they ship all over the United States. So, you can get your adorable Bichon from Florida.
All puppies under the care of Pecks Pup are up-to-date on their vaccine shots and micro-chipped, along with dew claws removed. Their Bichon Frise puppies also come with one year guarantee against genetic health conditions. You can view their farm on the website. To know more details about the available puppies and shipping, you can contact the breeder through the contact information.
Pecks Pup Details
More Information About Bichon Frise Puppies in Florida
Purchasing a dog can be an overwhelming process. There is plenty to do and also plenty at risk. However, your utmost priority as a dog parent should be choosing a reliable breeder. Remember, a healthy puppy is happy, and only reliable and trustworthy breeders who follow strict guidelines and ethical codes breed healthy puppies.
A trustworthy and reliable breeder will always:
Provide a health guarantee
Vaccinate & deworm their puppies
Be open to visits
Provide veterinary records
Ensure your puppy is vet-checked before sending it home
Ensure overbreeding is prevented
Conclusion For "Bichon Frise Puppies in Florida"
Bichon Frise puppies are adorable, friendly, and hypoallergenic. If you want to get one, you must choose a reliable breeder. Spending time on research can save you from scams and puppy mills that will take your money and hand over an unhealthy and ill-adjusted puppy.
The breeders listed here are all AKC registered; however, we strongly encourage you to validate the information. You can do this by contacting the breeders and asking the right questions. We wish you the best of luck finding the right breeder for your Bichon Frises in Florida.
For more guides similar to this list of breeders with Bichon Frise puppies in Florida for sale, you can check out:
Before you bring home a Bichon Frise puppy from a breeder in Florida, you can learn more about this dog breed by watching "The Ultimate Guide to Caring For a Bichon Frise" down below: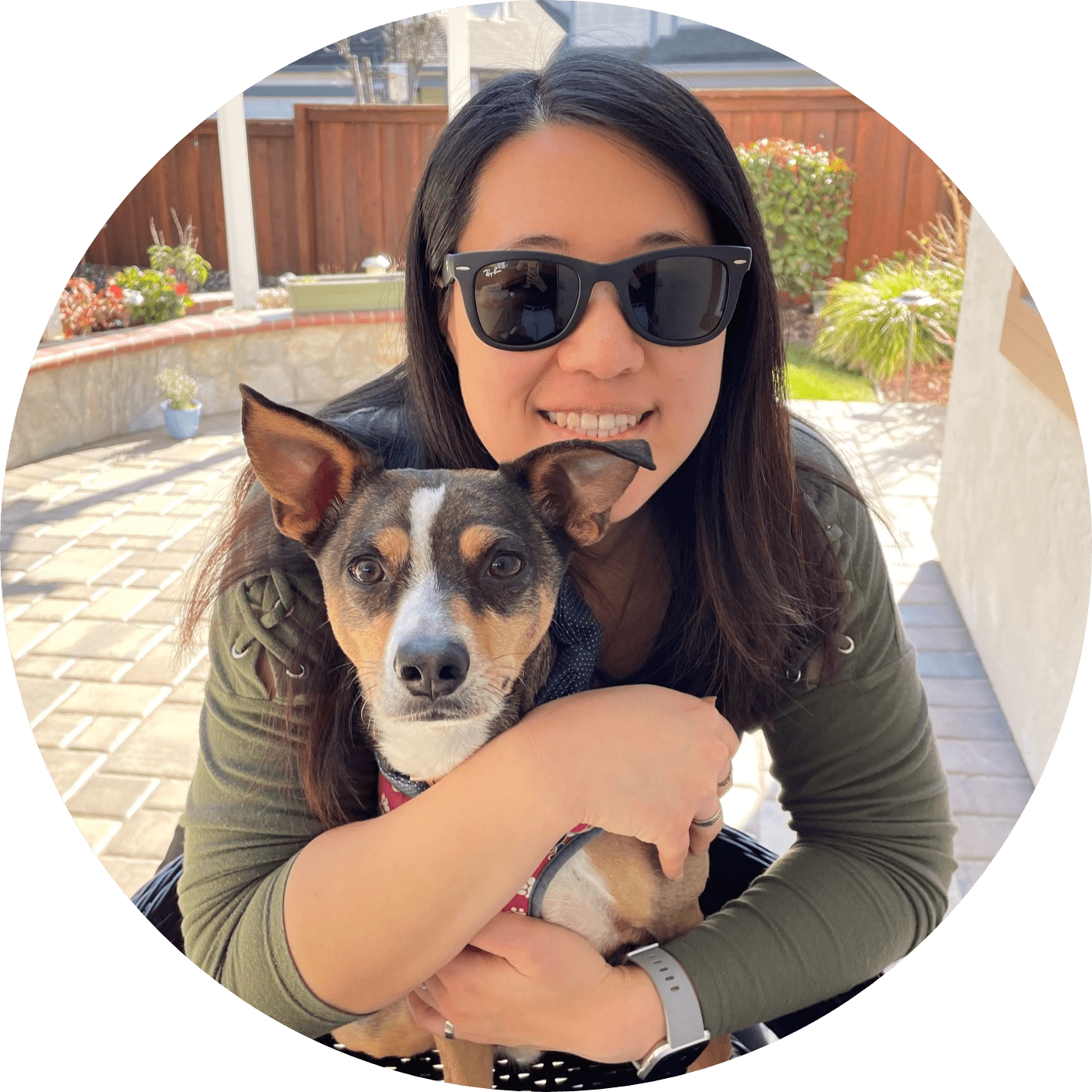 Dr. Sabrina Kong graduated from the Royal Veterinary College in England in 2016 and has been working at a small animal clinic in Northern California since then. She grew up in the Bay Area and got her bachelor's degree from Cal Poly San Luis Obispo. She also became a Certified Canine Rehabilitation Practitioner through a program at the University of Tennessee.
When she isn't in the clinic taking care of her four-legged patients, she enjoys traveling and trying new foods with her friends and her three-legged dog, Apollo. She adopted Apollo from her clinic when he was a puppy with numerous health issues. Dr. Kong truly cares about taking care of animals.