Between Snoopy, Brains from Inspector Gadget, and Underdog, you know that Beagles are funny little dogs. We've put together some of the best Beagle jokes, puns, and memes to provide even more proof.
Whether you like one-liners, puns, or dad jokes, you'll love the dog jokes on our list! Read the list through, laugh so hard you cry, then share these jokes with a friend. Ready? Let's go!
Before you read this list of Beagle jokes, puns, and memes, check out: Best 48 Dog Birthday Puns and Jokes! (2023) and 15 Best Laughing Dog Memes! (2023).
The Best Beagle Jokes on the Internet!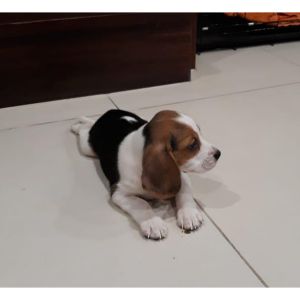 Here are a few cheesy question/answer jokes to pull out at the next family get-together.
Question: What's large and gray and makes no difference to Beagles?
Answer: Nothing, it's irrelephant.
Question: What did the Beagle call the empty jar of cheese sauce?
Answer: Cheez Was!
Question: What happened when the cat won the Beagle dog show?
Answer: It was a cat-astrophe!
Question: Did you hear about the little Beagle who told the first knock-knock joke?
Answer: He won the no-bell prize!
Question: Why did the Beagle cross the road?
Answer: To get to the barking lot!
Question: What do you call a Beagle at the beach?
Answer: A hot dog!
Question: Why do Beagles run in circles?
Answer: Because it's hard to run in squares!
Question: What do you call a great Beagle detective?
Answer: Sherlock Bones!
Question: Why didn't the Beagle want to play football?
Answer: Because it was really a Boxer!
Question: What smells better than it tastes?
Answer: A Beagle's nose!
Beagle Dad Jokes, Puns, and One-Liners
If those jokes didn't land, you can lay on a couple of these puns and one-liners.
My Beagle passed gas on the elevator. It was stinky on so many levels.
I told a joke about Beagle Pizza, but my mom said it was too cheesy.
My DNA results came back 13 percent Beagle, 27 percent Pug, 30 percent Golden Retriever, and 30 percent Poodle. Turns out my dog licked my sample.
I didn't know what to tell my kid when the Beagle ran away, so I just said, "doggone."
My Beagle is above average. If he wasn't, he'd be a seagull.
I crossbred every type of dog, and now I'm the proud owner of an everything Beagle!
Everyone thinks my Beagle plays the bugle, but his favorite instrument is the trom-bone.
I came so close to kicking my Beagle out, but we renegotiated the terms of his leash.
My Beagle and his girlfriend broke up. Howl he ever live without her?
My Beagle got rich fast because he was always picking up scents!
The Best Funny Beagle Stories
You can use these jokes as a way to break the ice at your next meeting, or just read through them in bed while your wife's trying to sleep. She won't mind if you wake her up to tell her your favorite!
A Trip to the Library
A Beagle walks into the library and starts looking around. He's been there for about an hour when the librarian asks him, "Can I help you find something?"
The Beagle replies, "I'm looking for a book about Pavlov's Dog and Schrödinger's Cat."
To which the librarian responds, "Yes, that rings a bell but I'm not sure if it's here or not."
Beagle vs Wife
I told my wife that dogs were a man's best friend. She argued and we got into a huge fight! She said that a man's wife should be a man's best friend.
To prove my point, I put my Beagle and my wife both in the backyard with a water bowl.
Guess which one was happier to see me when I let them both back in?
Knock Knock
6-year-old: Daddy, tell me a joke!
Me: Okay… Knock knock!
My beagle: Arooooooooooooooooo!
Oops
A woman walked into a shelter to adopt a dog. The volunteer showed her a Beagle and said, "You would love this dog… he can fly!"
The woman didn't believe him, so they went outside and the volunteer demonstrated. The little Beagle flew above their heads, then landed gently.
"I'll take him!"
"Well," said the shelter volunteer, "there's one more thing you should know. If you tell him something is yours, the dog will eat it."
To show her, the man held up a treat and said, "My treat!" The Beagle ate the treat.
The woman was sold, and she brought the dog home. Upon telling her husband the dog could fly, he exclaimed, "Fly? Nonsense! My foot!"
Beagle Memes to Save and Share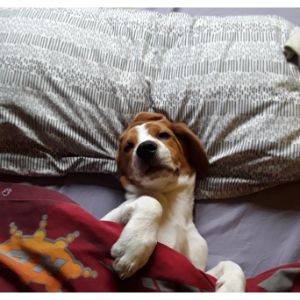 You've read the best Beagle jokes, now take a look at the best Beagle memes on the internet. Look at them, save them, share them — do whatever you want as long as you enjoy them!
Your Beagle doesn't want to take a bath, we know this for a fact. But don't let those puppy dog eyes keep you from getting him squeaky clean.
From: A Dogs Love
We know Mondays can give you the whimpers. Maybe this little Beagle puppy will cheer you up when the new work week begins. Heck, you can look at it on Tuesday, Wednesday, or Thursday, too!
From: Memes Monkey
Beagles don't make the best watchdogs, and they certainly aren't very good at looking after your stuff. Make sure your pup has plenty to play with while you're away for the day! Otherwise, your dog will invent his own little toys and games.
From: Dog And Pup Town
Well, would you look at that! Snoopy really is a Beagle. This little dog's shadow proves it!
From: 9GAG
Your Beagle puppy doesn't like being left alone! Your neighbors probably don't like your puppy being left alone, either. If your pup is a stay-at-home dog, be sure you provide him with entertainment to keep him out of trouble all day.
From: Dog And Pup Town
This Beagle meme speaks for itself. Isn't this just the cutest little costume for everyone's favorite dog breed?
From: Memedroid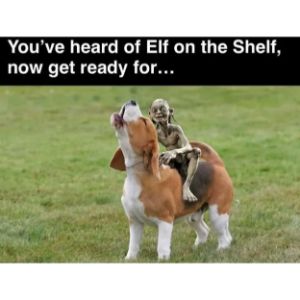 These Elf on a Shelf jokes never get old. C'mon… Smeagol on a Beagle! Get it?
From: 9GAG
Make no bones about it: Beagles love yummy snacks! (But really, if your dog struggles with maintaining a healthy weight like this dog, please seek your vet's advice.)
From: Instagram
Oh noes! Not the loud sucky thing! If you have a Beagle, he'll likely react to the vacuum like this one.
From: RD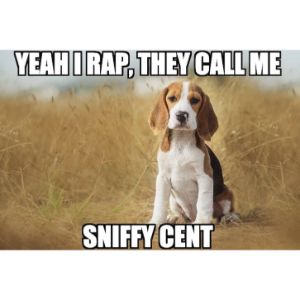 Sniffy Cent, Kanye Woof, and Smelly are all good rapper names for dogs. However, we think this meme missed an opportunity with "Sniffy Scent."
From: Img Flip
Frequently Asked Questions
Do Beagles like to cuddle?
Beagles tend to love being close to their owners — and yes, that includes lots of cuddles.
Why are Beagles so goofy?
Beagles can end up looking goofy due to their curious nature. They tend to get into mischief.
Why are Beagles so dramatic?
Due to their nature as hunting dogs, Beagles are very driven and persistent, so they can be dramatic when they don't get their way.
Conclusion for "Best Beagle Jokes, Puns, and Memes"
Now that you've got a taste for the best Beagle jokes on the web, we know you'll be sniffing around for more! Be sure you check out our other dog jokes — we've got Huskies, German Shepherds, and other breeds covered.
If you enjoyed these Beagle jokes, puns, and memes, you should also check out:
See more by watching "Dog Memes That Make You Want A Dog Immediately 🥰" down below:
Garrett loves animals and is a huge advocate for all Doodle dog breeds. He owns his own Goldendoodle named Kona. In addition, he volunteers at the Humane Society of Silicon Valley, where he fosters dogs and helps animals. Garrett enjoys writing about Doodles and believes that dogs can teach humans more about how to live than humans can teach a dog.
Why Trust We Love Doodles?
At We Love Doodles, we're a team of writers, veterinarians, and puppy trainers that love dogs. Our team of qualified experts researches and provides reliable information on a wide range of dog topics. Our reviews are based on customer feedback, hands-on testing, and in-depth analysis. We are fully transparent and honest to our community of dog owners and future owners.