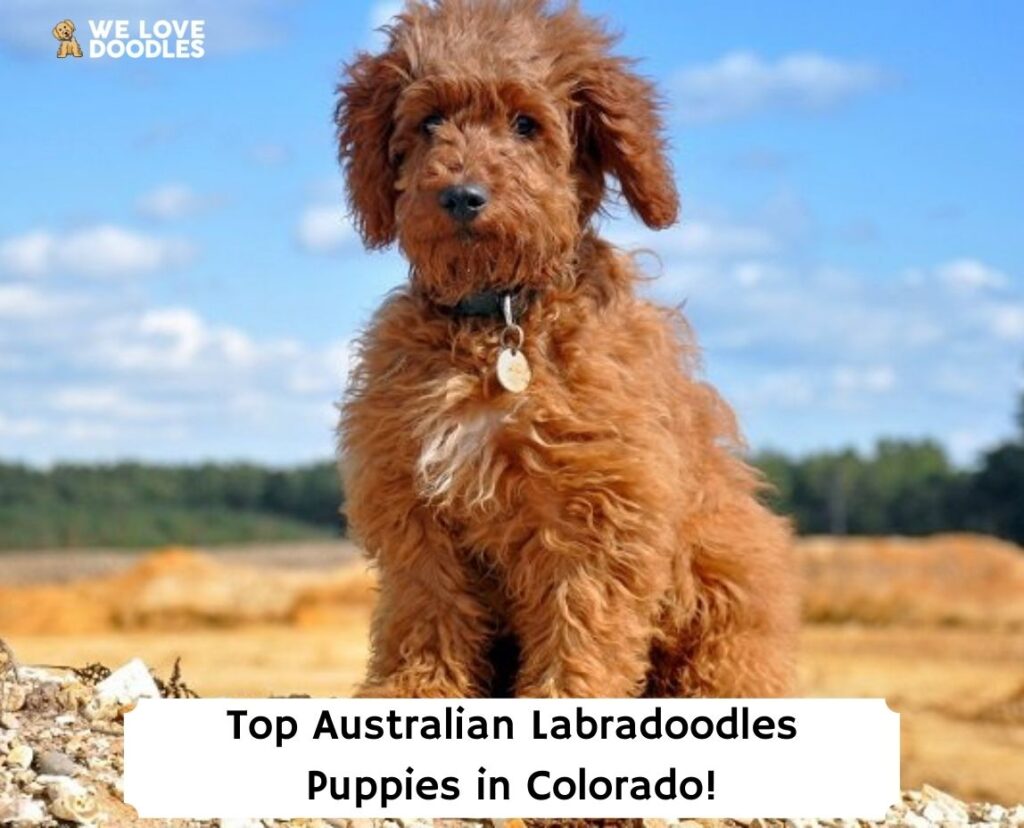 Australian Labradoodle puppies in Colorado are easy-going and energetic dogs that are a top choice for first-time owners. Australian Labradoodles are the product of a cross between the nation's most popular dogs, the Labrador Retriever, Poodle, and the English or American Cocker Spaniel.
These dogs are affectionate, lively, and playful, making them the perfect family dog. Due to their high energy, Australian Labradoodles are best suited to families who can take them on long, exciting walks every day for up to an hour. In addition, the Labradoodle is very playful and can remain puppy-like well into their senior years.
We carefully selected seven Australian Labradoodle breeders in Colorado that are high-quality breeders who can breed healthy, well-tempered puppies.
Other articles you would like: Australian Labradoodle Guide and Mini Australian Labradoodle Breeders.
1. Mountain Sun Labradoodles
First on our list of Australian Labradoodle breeders in Colorado is Mountain Sun Labradoodles. The Mountain Sun Labradoodles adore their Australian Labradoodles because they enhance their lives and family home. Having a second son with many challenges: physically, emotionally, sensually, and a love of all animals, they knew they needed a pet that could take special care of them.
So, in search of a pup that would be highly trainable and would have an added element of devotion to their children, they began their investigation. They knew they would spend the rest of their lives with this breed as soon as they found their first Australian Labradoodle.
Their first Doodle, Louie, passed away, so they decided to share this loyal pedigree with other families to experience this love with their dogs. Louie was not only loved by them but by everyone who met him.
They are a small family-owned business, breeding mini to medium-sized multi-generational Australian Labradoodles. Australian Labradoodles have been their family's favorite breed since they found their first pup over a decade ago.
Their Australian Labradoodles puppies for sale in Colorado are bred for their excellent temperament, their soft, non-shedding, allergy-friendly coats~ as well as their unwavering devotion to their family. We love them for so many reasons, and we invite you to take a look at their website or schedule a visit to find the perfect canine companion for your family.
Australian Labradoodles Information:
2. Colorado Australian Labradoodles
Colorado Australian Labradoodles is so happy and excited to provide you with the dog you have always wanted. One of their Australian Labradoodle puppies in Colorado costs $3,000.00. As you have read, an Australian Labradoodle is an exceptional dog, so puppies are more expensive than some might expect.
As you will see under their guarantee, their puppies come with what they call a "puppy package." They want to provide the best experience for adopting such a particular puppy.
Their Australian Labradoodle puppies in Colorado are priced higher than "normal" Labradoodle puppies? It depends on a few factors. The price of puppies can vary due to the cost of breeding, the breed, and the certainty of the puppy you will receive. Many people don't realize the costs of breeding an Australian Labradoodle, especially if they do it right.
Adopting a puppy from a shelter or puppy shop can come with uncertainties. A breeder who knows the parents' health decreases the risk of health issues arising in the puppies, as well as the care that goes into taking care of the mother throughout her pregnancy.
Overall, prices "just depend" on these things, and customers will get what they pay for. The "normal" Labradoodle is not its breed, has no association, nor does it track its lineage to ensure the health and safety of the dog.
Australian Labradoodles Information:
3. Rocky Mountain Labradoodles
Rocky Mountain Labradoodles are dedicated to producing happy, healthy Australian Labradoodles that are exceptional breed examples. All breeding Labradoodles are selected for their excellent disposition, intelligence, low shed coat quality, and overall composition.
In addition, their Labradoodles undergo extensive health testing for genetic defects and general well-being. The family's Labradoodles live as pets in a loving home. They love their Labradoodles and are proud to be one of the most popular Australian Labradoodle breeders in Colorado.
Their mothers' health and emotional state is the first thing of importance for ensuring healthy and happy puppies. All their mothers live in a lifetime home as family members. Like many family dogs, they live a stress-free life surrounded by love.
This is great for their health and the health of their developing, unborn puppies. In addition, they are fed high-quality dog food from Life's Abundance at all times, providing the best nutrition for them and their puppies.
Before mothers give birth, they come home to set up the nursery. The room is a quiet one, primarily for their mothers and puppies. It is peaceful and relaxing. The mother's private quarters have radiant floor heat, dim-able lighting, a doggy door, and a yard area.
They have a comfortable futon couch for themselves. They are there during birth to help out and encourage her. They then spend the next five nights with her to lend a hand if she or the puppies need it. They breed medium and standard sized Australian Labradoodle puppies in Colorado.
Australian Labradoodles Information:
Check out for more: Labradoodle Puppies In North Carolina  and Best Labradoodle Breeders in Colorado
4. Agape Labradoodles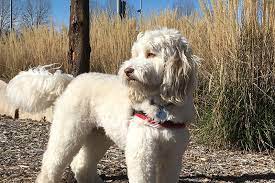 In the Foothills west of Denver, Colorado, Agape Labradoodles are a home-based breeder of Mini and Medium Multigen Australian Labradoodles as well as standard Labradoodles. Their dogs are raised as part of the family or in a guardian home as part of a unique family, never in a kennel.
Fourteen years ago, when they first laid eyes on their eight-week-old Chocolate Lab, they were taught about health testing, DNA analysis, and temperament by a California breeder. This dark chocolate eight-week-old puppy won his heart from the moment he looked into its amber eyes.
Jessie has learned the passion that her husband and she have for these beautiful animals, the desire to pass on the perfect companion with a gentle temperament, and the unconditional love they found with Jessie. One problem: a couple of their 13 grandchildren have extremely severe allergies, and after living in a home without shedding, they now have beautiful chocolate hair everywhere.
As a result, they started looking for the perfect "DOG." Due to their love for Jessie, they started studying Labradoodles. Eventually, she discovered the Australian Labradoodle. Two years of research led them to create their dream: Agape Labradoodles.
Agape means unconditional love, and that is what they have felt since the moment Roxy and Kassi became part of their family. Denver Nugget has now joined their family, and they are looking forward to sharing the exceptional puppies they will have with their forever homes.
The breeders of quality animals invest thousands of dollars and years to make sure you, the ultimate family, receive a healthy, happy, new family member that has been raised to the best of their abilities. Breeders of quality animals invest thousands of dollars and invest years to ensure that you, the ultimate family, receive a healthy, happy animal that has been raised to the best of its abilities.
Australian Labradoodles Information:
5. Desert Winds Labradoodles
Last on our list of Australian Labradoodle breeders in Colorado is Desert Winds Labradoodles. Desert Winds Labradoodles are a small in-home breeder of allergy-friendly Multi-Generational Australian Labradoodles. They are non-shedding, odor-free, brilliant, easy to train, and have a friendly temperament, making them excellent pets and service and therapy dogs.
Their breeding dogs are beloved pets spoiled with affection and attention as house pets, not kept in kennels!
Through the help of their seven grandchildren, neighborhood children, and children in their Guardian homes, their Australian Labradoodle puppies in Colorado are well socialized with people of all ages.
They live near the Rocky Mountains, their dogs' favorite playground!
Australian Labradoodles Information:
Australian Labradoodles Puppies in Colorado
When bred and raised correctly, Australian Labradoodle puppies in Colorado have excellent temperaments. The puppies are curious, playful, and friendly. However, they are happiest when surrounded by their favorite person or family.
Besides being a popular and wonderful family dog, the energetic Poodle and Lab mix also makes a good companion for active owners.
Labradoodle owners need to know one trick. If your dog gets muddy, just let it dry and brush its coat. You'd be surprised to see how clean it is while the debris is falling off your Doodle with every stroke of the dematting rake!
You will need to brush your Australian Labradodoodle pup regularly once they are around eight months old to remove all the puppy fur and prevent it from getting tangled and matted with the adult fur.
Labradoodles tend to have a moderate to a high level of activity. They need 30 minutes to an hour of exercise a day.
As with their Poodle parent, Labradoodles enjoy the great outdoors and love the water. They can even participate in dog sports like obedience, agility, and rally if they're athletic enough!
How to Choose an Australian Labradoodles breeder in Colorado?
The decision to add a Labradoodle puppy to your family is a big one. Raising and caring for a dog is a long-term commitment. Choosing the right puppy for your family can be a challenge. There are many breeders of Labradoodles with different ethics and varying qualities.
Talk to various breeders and Labradoodle owners to get a sense of the breed. It will help you determine what breeder you can trust and rely on for the kind of Labradoodle you want.
Where do you find an Australian Labradoodles breeder?
Australian Labradoodle puppies in Colorado have become extremely popular. Ask your local veterinarian, neighbor, or even check out local dog shows. Breeders with nothing to hide are proud of their dogs and facilities.
You can assume that their dogs are well cared for and are in a healthy environment if their environment is clean, safe, and comfortable.
Make sure they are testing their breeding dogs for genetic diseases to ensure that no conditions will be passed on to their puppies and show you documents, such as health clearances, to verify their legitimacy.
You can also observe the dogs' temperament by meeting the parents and their litter. Your dog should be curious and welcome you with a wagging tail.
The parents' behavior and their litter can indicate that the pups will act and grow up fearful or hostile if they seem aggressive or cowering.
Be sure to tell the breeder what you are looking for in a dog. They are more familiar with canines, so they can help you choose the right puppy for you and your family.
Conclusion for Australian Labradoodle Breeders in Colorado
WeLoveDoodles is dedicated to the well-being of Australian Labradoodles and Labradoodles. Educated owners are the best owners, which is why we are committed to being the breed's leaders in education. In addition to cataloging helpful information about the breed and offering networking services, we encourage responsible dog companionship and work to make a positive difference in the Australian Labradoodle and Labradoodle community.
You will also like:
Garrett loves animals and is a huge advocate for all Doodle dog breeds. He owns his own Goldendoodle named Kona. In addition, he volunteers at the Humane Society of Silicon Valley, where he fosters dogs and helps animals. Garrett enjoys writing about Doodles and believes that dogs can teach humans more about how to live than humans can teach a dog.
Why Trust We Love Doodles?
At We Love Doodles, we're a team of writers, veterinarians, and puppy trainers that love dogs. Our team of qualified experts researches and provides reliable information on a wide range of dog topics. Our reviews are based on customer feedback, hands-on testing, and in-depth analysis. We are fully transparent and honest to our community of dog owners and future owners.