An Australian Labradoodle (not to be confused with the lively Aussiedoodle or Labradoodle) is a mix of the Poodle, Labrador, English Cocker Spaniel, and American Cocker Spaniel. The Australian Labradoodle, a living teddy bear, will make anyone smile with its soft fur. Since Australian Labradoodle puppies are typically multi-gen and mixed with multiple dog breeds, they generally have a more predictable coat type that will be hypoallergenic and nonshedding.
We absolutely love Australian Labradoodle puppies and they are becoming popular in the state of Washington. Like guide dogs, Australian Labradoodles are eager to please and ready to befriend everyone. In this blog, we'll discuss where to find Australian Labradoodle breeders in Washington and how to care for a growing puppy.
Other articles you would like: In-Depth Australian Labradoodle Guide and Best Australian Labradoodle Breeders in the U.S.
1. Barberry Brook Australian Labradoodles
Barberry Brook Australian Labradoodles are active members in 4-H and the American Kennel Club (AKC) events. For over a decade, the couple has been breeding and showing Bichon Frises, a descendant of the Poodle, and they have an adorable Labrador Retriever named Murphy. These two breeds and their unique characteristics inspired them to breed the finest authentic Australian Multigenerational Labradoodle puppies.
Their primary focus is to breed healthy Labradoodle puppies that will become cherished family members, service dogs, or therapy and companion dogs. There is no comparison to the intelligence and adaptability of Labradoodles. They are extraordinary assistance, therapy, support, and med-alert dogs, as well as fantastic companion dogs for wonderful, loving families.
Their Labradoodles live with their family in the beautiful Pacific Northwest, and their puppies are born and raised there. Additionally, their Labradoodle puppies for sale in Washington are nurtured with the utmost love and attention, along with socialization and the best care available.
Australian Labradoodle Breeder Information:
2. Discovery Tails Labradoodles – Australian Labradoodle Puppies
Discovery Tails Labradoodles is a small and personal breeder. They plan on having 4 breeding dogs at one time to give them the care and attention they need. Their dogs live in their home and enjoy their fully fenced-acre property. Their dogs spend most of their time playing with one another and enjoying their "tunnel ."They walk them almost every day and love car rides. When they want to hide out, they go into their kennels. They are not kennel breeders.
They have been training dogs using positive methods for many years. As a result, all their Australian Labradoodle puppies in Washington have never been unruly after some training. Positive techniques such as treats and praise have always worked for them. Socialization is crucial to them, so they visit friends and offices to meet as many humans as possible.
Australian Labradoodle Breeder Information:
3. Manor Lake Australian Labradoodles
Manor Lake Australian Labradoodles has been breeding quality Australian Labradoodles since 2003. The breeders offer miniature, medium, and standard sized Australian Labradoodles that are allergy and asthma-friendly, non-shedding, and available in apricot, black, caramel, chocolate cafe, cream, parti, and red. Their intuitive, expressive eyes will reveal why they have dedicated over fifteen years to this magnificent breed.
By partnering with BAXTER and Bella, they are bringing you the latest and greatest in puppy training, all from the convenience of your own home. You can get access to online puppy school, training tips, and lifetime trainer support with a unique Manor Lake discount code.
Australian Labradoodle Breeder Information:
Check out for more: Best Australian Labradoodle Breeders In Texas! and Best Australian Labradoodle Breeders in California!
4. Whispering Winds Washington
Whispering Winds Australian Labradoodles is dedicated to developing the Australian Labradoodle, breeding Miniatures and small Mediums.
They strive to produce the best quality pets by carefully researching and selecting only the best dogs for their Australian Labradoodle breeding program, producing Labradoodles that are true to type, with predictable size, temperament, and coat.
Many of their puppies have completed the Delta Society's Pet Partners program, Reading With Rover, and Therapy Dog programs.
The Australian Labradoodle Club of America was founded by Gail Widman, owner of Whispering Winds Australian Labradoodles. This organization was formed to provide information and advice to current and future owners of the Australian Labradoodle and fellowship and support to other Australian Labradoodle breeders. In addition, for the well-being of the Australian Labradoodle and its continued interest in America.
Australian Labradoodle Breeder Information:
5. Ever After Australian Labradoodles
With their three family rescue dogs, Ever After Australian Labradoodles has become one of the most sought-after pet sitters in the area. Their love for dogs is evident. They fell in love with the Australian Labradoodle when their names were passed along to help a local breeder. This silly, lighthearted, energetic, loving, intelligent, allergy-friendly, loyal, therapy-tempered family dog encompassed many beautiful adjectives.
Intoxicating for their family was the process of mating only top-quality couples, healthy whelping litters, caring for nursing mothers and newborn pups, and then passing on crate-trained puppies to happy families. It was a humbling experience to be part of something so meaningful. After many months of observation, apprenticeship, and study, Ever After Multigenerational Australian Labradoodles was born.
Their carefully selected breeder dogs are raised in homes instead of kennels for the best life experiences. So it's now up to them to find "happily ever after" for every new pup and their family. This is the beginning of their effort to provide the best of this beautiful breed, the original Doodles. The Dogfolk breeds were evaluated by Pat Hastings for temperament and structure and were rated top breeds.
With the assistance of dog expert Pat Hastings from Dogfolk, nothing can match the 60 years of experience she brings to the table regarding quality breeding. Pat and her husband bred 28 different dog breeds across all groups. Besides being an expert handler, an AKC judge, an international speaker, and an author, she is also a private consultant evaluating 100's of litters every year for temperament and structure.
By hiring her, they ensure that they are choosing the best breeder dogs for their program based on the standards set in place by the Australian Labradoodle Association of America (ALAA). Their mission is to nurture this beautiful breed's development and strive for the healthiest of pets – emotionally and physically.
Australian Labradoodle Breeder Information:
6. Annie's Doodles Washington
Over the years, many people have shared how their Annie's Doodle was the best dog they ever had. It has been their family's pleasure to bring so much joy to so many for the past 15 years!
Here is what you can expect once your application has been approved:
The first week after their Australian Labradoodle puppies are born, a picture or video will be posted on the homepage.
Approximately three and five weeks after the puppies are born, Annie will post videos of the litter on their BLOG. Now is an excellent time to visit their store page and order dog food, supplements, and supplies for your Australian Labradoodle puppy.
A snapshot of each puppy and a video of the litter will be posted on the BLOG page between 7 and 8 weeks old. In addition, each puppy will be wearing a different colored collar.
Approximately five weeks after the puppies are born, Alisha, Annie's assistant, will email you a puppy pack. You'll find information on how to make your final payment, their address, and other useful information!
Australian Labradoodle Breeder Information:
Australian Labradoodles Puppies for Sale in Washington
The Australian Labradoodle is gentle, loyal, and friendly. These dogs are excellent with children and do not exhibit any aggression. They are also intelligent and quick to learn. Many people use them as therapy dogs and service dogs due to their universal friendliness, gentleness, and ease of training.
Playful by nature, they enjoy spending time with their human families. Nevertheless, they should not be left alone or in crates for too long. Australian Labradoodles are also very active dogs that need daily exercise.
Labradoodles are often described as 'born to serve' because they're naturally quick to learn. As a result, they're relatively easy to train. However, you should begin training and socializing your puppy as soon as possible.
Your puppy's development can be significantly impacted by socialization. Socialized puppies are less likely to exhibit behavioral problems later in life.
How to Choose an Australian Labradoodle breeder in Washington?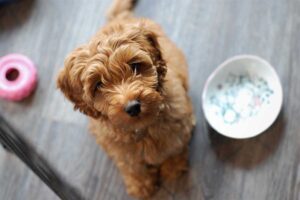 Breeders should have the quality of wanting the best for their animals. A good Australian Labradoodle breeder in Washington will ask a lot of questions about you. Where do you live? Do you have pets? What is your lifestyle like? Will you be committed to your new pet? These are legitimate questions. They worry about their pets just as much as you do, and that's great! After the purchase, a good breeder will keep in touch and be glad to offer support.
A breeder should be carefully chosen, and a pet shop should never be used. A pet is for life, so think carefully before getting one. Do not rush into buying one if you have any doubts.
Where do you find an Australian Labradoodle breeder?
A breeder with a reputation for caring for their dogs is a great place to start. Look for recommendations from friends, family, breed clubs, training clubs, or your local veterinarian. Make sure you verify that the breeder is registered if they claim their puppies are.
Conclusion For The Best Australian Labradoodle Breeders in Washington
Australian Labradoodle puppies in Washington make great house pets and wonderful companions for adults and children. They love playing and can adapt to any home quickly. Additionally, they are easy to train, making them even more appealing. Should you ever consider getting this beautiful pet, be sure that you're buying it from a reputable and trusted seller.
In this article, we have outlined six Australian Labradoodle breeders in Washington. We have also provided their contact information to get in touch with them directly. Australian Labradoodles are wonderful pets, and you will not regret having one.
You will also like:
Still curious about what it's like to have an Australian Labradoodle? Check out this 10 week old Australian Labradoodle puppy:
Garrett loves animals and is a huge advocate for all Doodle dog breeds. He owns his own Goldendoodle named Kona. In addition, he volunteers at the Humane Society of Silicon Valley, where he fosters dogs and helps animals. Garrett enjoys writing about Doodles and believes that dogs can teach humans more about how to live than humans can teach a dog.
Why Trust We Love Doodles?
At We Love Doodles, we're a team of writers, veterinarians, and puppy trainers that love dogs. Our team of qualified experts researches and provides reliable information on a wide range of dog topics. Our reviews are based on customer feedback, hands-on testing, and in-depth analysis. We are fully transparent and honest to our community of dog owners and future owners.