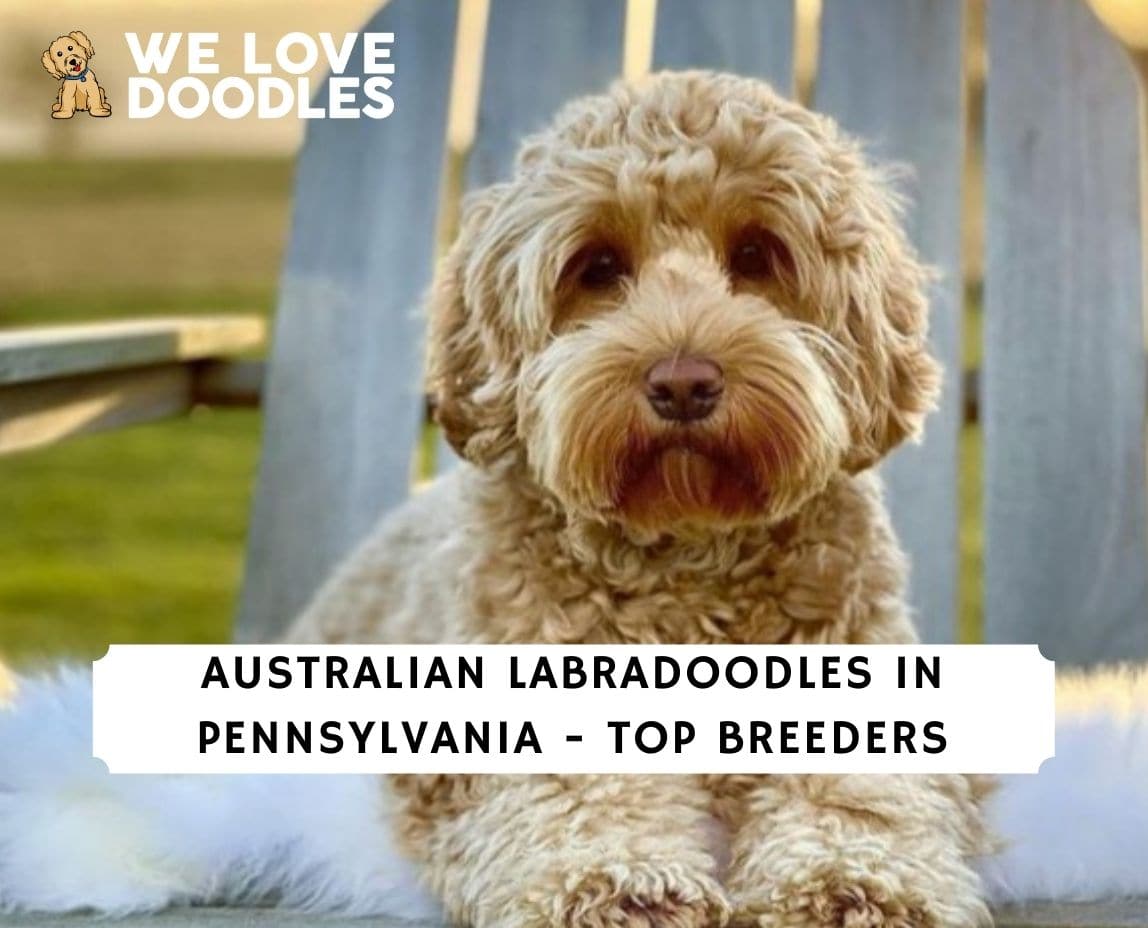 Here's what you need to know if you're searching for Australian Labradoodles in Pennsylvania for sale. A designer dog from Australia, the Australian Labradoodle, was developed in the 1980s to create a new breed.
Initially, it was a mix of the Standard or Miniature Poodle and the Labrador Retriever. Still, this multi-generational breed now includes the English Cocker Spaniel, the American Cocker Spaniel, the Curly Coated Retriever, and the Irish Water Spaniel.
Australian Labradoodles are gentle, loyal, and friendly dogs. Children enjoy their company and they are not aggressive. In addition, they are intelligent and quick learners. Often, they are used as therapy dogs and service dogs.
Before scrolling down this list of Australian Labradoodles in Pennsylvania for sale, check out these other breeder recommendations: Best Double Doodle Breeders in Pennsylvania and Best Cockapoo Breeders in Pennsylvania.
Australian Labradoodle Breeders in Pennsylvania
If you're looking for Australian Labradoodles in Pennsylvania, here are the top breeders.
Australian Labradoodle Product Recommendations: Best Dog Crate Alternatives and Strongest Shock Collars For Dogs.
1. PuppySpot's Australian Labradoodles For Pennsylvania
Since you're searching for Australian Labradoodles in Pennsylvania for sale from breeders, we highly recommend checking out PuppySpot's marketplace.
PuppySpot is trusted by many people across the country, and you can even browse for available Australian Labradoodle puppies from the comfort of your home in Pennsylvania.
All Australian Labradoodle breeders on PuppySpot have to go through a screening process, so you won't have to worry too much about your companion being safely shipped to your home in Pennsylvania.
Before you continue on your search for an Australian Labradoodle puppy for sale in Pennsylvania, check out the link to the marketplace below.
PuppySpot Details
2. Maple Lane Australian Labradoodles Pennsylvania
Maple Lane Australian Labradoodles first became interested in breeding over 9 years ago when they helped care for and socialize their neighbors' puppies. When they were ready to begin their breeding program, they began researching, leading them to the Australian Labradoodle.
Having a non-shedding coat and many of the traits of their labradoodle, the Australian Labradoodle, was a clear winner. However, they didn't like the dog hair. Even after brushing him, they could sweep up enough fur to make a puppy every day.
Due to exercise-induced Asthma and allergies in their family, they knew they needed an allergy-friendly, non-shedding breed. They adore this breed.
Their goal is to ensure that your new puppy is a perfect fit for your family. They raise exceptional Australian Labradoodles whether you're looking for a therapy dog, a scent alert dog, or an allergy and asthma-friendly dog.​
Every puppy born in their home is loved, touched, and talked to every day, all day. Each puppy is raised to be confident and people-oriented, accustomed to all kinds of noises and new experiences.
As part of their commitment to you, they will raise a well-socialized dog, have started crate and potty training, and will confidently take up residence in your home and your heart as much as they have.
Maple Lane Australian Labradoodles Pennsylvania Details
3. Spring Valley Australian Labradoodles
In 2012, Spring Valley Australian Labradoodles began looking for the perfect family dog. This wasn't easy because they needed something that would do well with kids, wouldn't shed, would not drool, and wouldn't be too energetic or challenging to train.
Finally, a friend suggested the Australian Labradoodle after months of searching. The moment they read about them and saw that they looked like living teddy bears, they were hooked and went on a quest to find the perfect one.
They now have amazing furry friends of their own. They are a small Australian Labradoodle breeder in Chester County, Pennsylvania. Their dogs are exceptional due to their excellent temperaments and great conformation. At 13 months, their foundation female became a pet therapy dog.
They would be happy to hand deliver puppies to families, not within driving distance. They're a short and inexpensive flight away from Florida and Puerto Rico and anywhere on the east coast. They will also hand deliver puppies internationally.
Spring Valley Australian Labradoodles Details
4. Wickersham Farm Labradoodles PA
Ten years ago, this family of breeders was diagnosed with Asthma. As they were thinking of getting the kids a puppy simultaneously, they were disappointed to learn that pets trigger Asthma. But, due to how great Labradors are with kids and families, they planned to get another one.
Unfortunately, their Asthma ruled this option out for them because of how much they shed. Fast forward today, Genuine Multi-Generational Australian Labradoodles are exclusively available at Wickersham Farm.
The selection of their high-quality doodles is based primarily on temperament, coat consistency, excellent health, and therapy/service potential, giving them the ability to best serve the needs of their most discerning clients.
Wickersham Farm continues to breed, find and carefully select only the most delicate doodles. Whether you are an active family or a retired person, their variety allows them to choose the right dog to meet your needs.
Wickersham Farm Labradoodles PA Details
5. Australian Labradoodles of Slate Ridge
Their goal at Australian Labradoodles of Slate Ridge is to breed quality, authentic, multi-generational Australian Labradoodles. Using bloodlines from the originators of the breed, Tegan Park and Rutland Manor, they are a small in-home breeder of miniature and medium Labradoodles.
Located in southeast Pennsylvania, they are within easy driving distance of Maryland, Delaware, New Jersey, New York, and Virginia. Their dogs live in their home with them as cherished pets and family members, where they strive for them to be healthy, happy, and loved so that they may pass these qualities on to their puppies.
For the purpose of providing the best Labradoodle puppies to families, they follow the Australian Labradoodle Association of America (ALAA). Labradoodles that are low to non-shedding, allergy-friendly, and healthy are what they strive for.
Australian Labradoodles of Slate Ridge Details
6. Bolingo Labradoodles PA
What is the significance of the name Bolingo? Half of Heidi's heart lives in Africa. The language of two of her children, Lingala, "Bolingo" means love. Perfect for describing an Australian Labradoodle.
They value their dogs in many ways. To make them the best they can, they work hard and invest a lot financially and emotionally. They love them dearly.
Bolingo Labradoodles PA Details
7. Windsor Creek Labradoodles
Windsor Creek Labradoodles are not a kennel but raise their puppies as family members in their meticulously clean homes. The environment is fun, bright, and happy. Puppies have a lot to learn, and they do their best to raise them to achieve success right from the start.
When possible, Mother Nature cooperates with them in raising one litter at a time to provide the puppies with good health, well-being, socialization, and happiness. Along with them, they have a lot of puppy cuddlers.
Housetraining begins at 3 weeks of age, and the process continues as they raise the child. Since these puppies have such an early start, they are easily trained in their new homes. Moreover, they desensitize them to noises, expose them to different surfaces, and teach them how to use steps.
As they continue to work on puppy manners and basic commands, they introduce them to crate training, collars, and leashes. The puppies they raise are indeed a labor of love, and they put their hearts and souls into raising them. They feel blessed to have such a fantastic job.
Windsor Creek Labradoodles Details
8. Ivy Lane Labradoodles of Pennsylvania
Last on the list of breeders with Australian Labradoodles in Pennsylvania for sale is "Ivy Lane Labradoodles of Pennsylvania." Ivy Lane Labradoodles is a breeder of exceptionally high-quality Australian Labradoodles.
Their labradoodle Dams and Sires are extensively tested for genetic diseases, including hip dysplasia, cardiac defects, exercise-induced collapse, degenerative myelopathy, and von Willebrand's disease.
Aside from being wholly vetted regarding their health, they must also possess the right temperament: friendly, outgoing, athletic, confident, and easy to train.​​​​​ Breeding is enjoyable and rewarding, but it is not for the faint of heart.
Getting it right is costly, labor-intensive (24/7), and time-consuming. Now they are licensed by the state of Pennsylvania and have two full-time employees. From a whim came a high-quality breeding program that is known nationwide.
Over 1400 puppies have been bred, born, and placed on the East Coast mostly. It makes them feel good to see that they have made a significant contribution to the health and happiness of their families, and for this, they are ever grateful.
Ivy Lane Labradoodles of Pennsylvania Details
Australian Labradoodles in Pennsylvania For Sale
Labradoodles are a unique hybrid breed known for their loyal and loving nature. As with any hybrid breed, the Australian Labradoodle may inherit the health problems most commonly associated with its parent breeds.
Despite that, crossbreeds tend to be very healthy and hardy, and there is no guarantee that your pet will inherit any health problems from its parents.
In addition, it is impossible to determine a dog's long-term health, so the best thing you can do is simply be aware of the potential problems that can arise and work with your veterinarian to keep your companion as healthy as possible.
Patellar luxation, hip and elbow dysplasia, Von Willebrand's disease, and progressive retinal atrophy may affect Australian Labradoodles.
How to Choose an Australian Labradoodle Breeder in Pennsylvania
Professional breeders work closely with a veterinarian who examines each pup and provides immunizations and parasite control according to medical standards. Each puppy should have a complete medical record available upon request.
The breeder who cares for their animals will want to ensure their puppies go to a home that can take good care of them. Therefore, breeders may ask about your lifestyle, family situation, as well as what you plan to do with the dog.
For example, you may be asked by the breeder whether the puppy will live inside or outside or whether you can afford the food and special care the breed may require.
Asking questions like these helps your breeder determine if you and your home are a good fit for the dog based on the dog's unique needs.
Related: Australian Labradoodle vs. Labradoodle – Dog Breed Comparison.
Where Do You Find an Australian Labradoodle Breeder in Pennsylvania?
Visit the national or regional breed club or your local kennel club to find a reputable breeder. Breed clubs should have a code of ethics that members must follow to join. Rescue dogs are also available through breed clubs.
Breeding dogs is a big responsibility. Breeders who lack the knowledge, time, space, love, and money to breed and care for dogs at a high standard shouldn't do so. But unfortunately, many people do it anyway because they can make a lot of money in the breeding business.
Conclusion For "Australian Labradoodles in Pennsylvania"
There are many Australian Labradoodle breeders in the United States, but not all are reputable. When purchasing a Labradoodle, finding a reputable breeder who sells a healthy puppy free of health issues or genetic diseases is among the most challenging tasks.
Therefore, it is advised that you also research the ever-evolving breeding practices. Finally, always inquire about health tests, genetic testing, and puppies warranties from any Australian Labradoodle breeder.
You should also research ever-evolving breeding practices. I can assure you that you will need a reputable breeder to sell you a healthy puppy.
For more guides similar to this list of breeders with Australian Labradoodles in Pennsylvania for sale, you can check out:
Before you purchase an Australian Labradoodle puppy from a breeder in Pennsylvania, you can learn more about the breed by watching "Australian Labradoodle Dog Breed Information" down below: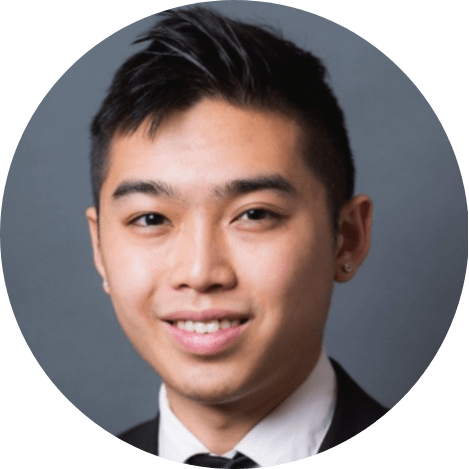 Andy is a full-time animal rescuer and owner of a toy doodle. When he's not saving dogs, Andy is one of our core writers and editors. He has been writing about dogs for over a decade. Andy joined our team because he believes that words are powerful tools that can change a dog's life for the better.
Why Trust We Love Doodles?
At We Love Doodles, we're a team of writers, veterinarians, and puppy trainers that love dogs. Our team of qualified experts researches and provides reliable information on a wide range of dog topics. Our reviews are based on customer feedback, hands-on testing, and in-depth analysis. We are fully transparent and honest to our community of dog owners and future owners.