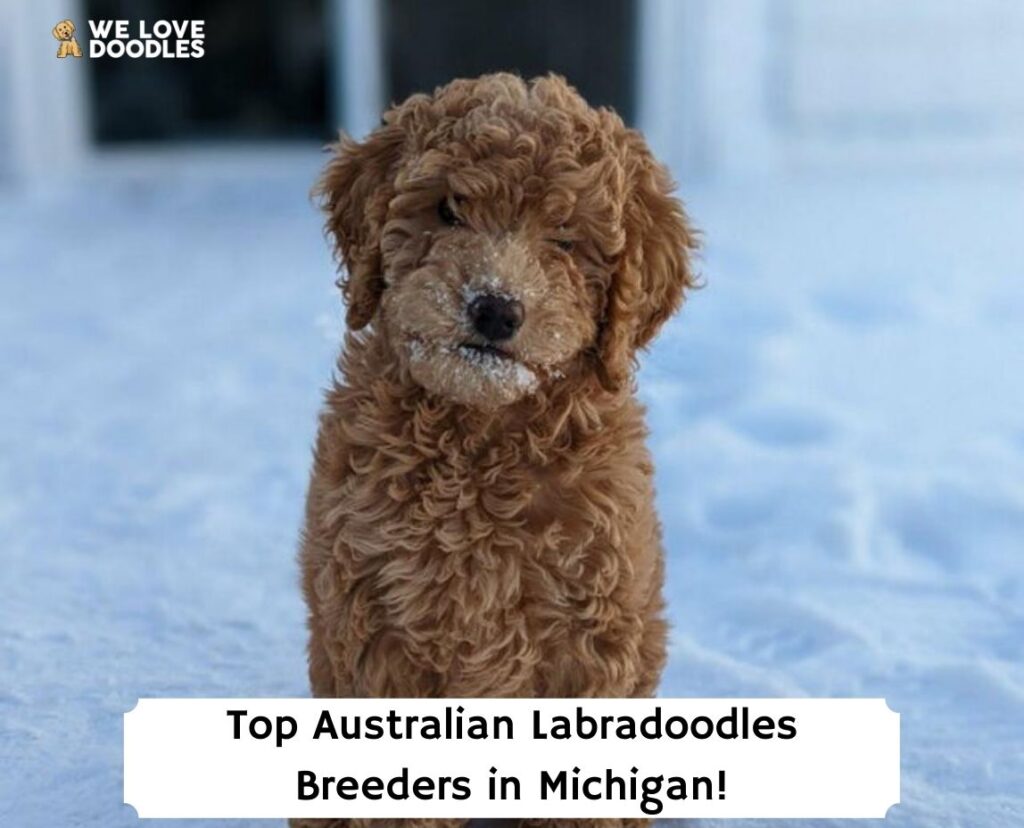 Here's what you need to know if you're searching for Australian Labradoodle breeders in Michigan. The Australian Labradoodle is a lively, energetic, friendly, and fun dog.
Their fur coats come in various colors and patterns, with long noses and curly fur. But what is an Australian Labradoodle? It is a mixed breed of dog.
The breed is a mix of Labradors, Poodles, English and American Cocker Spaniels, Curly Coated Retrievers, and Irish Water Spaniels.
Australia Labradoodles have been developed to produce a new purebred with its breed standard. In addition, its traits are more predictable than those of a first-generation Labrador Poodle cross.
Before scrolling down this list of Australian Labradoodle breeders in Michigan, check out these other breeder recommendations: Best Cavalier King Charles Breeders in Michigan and Best Shih Poo Breeders in Michigan.
Australian Labradoodle Puppies For Sale in Michigan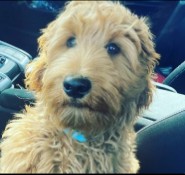 Due to their teddy bear looks, hypoallergenic coat, and non-shedding coat, Labradoodle puppies in Michigan have become extremely popular.
They also have an easy-going temperament and personality, making them an excellent choice for families with children. Finding a reputable breeder is essential when looking for Labradoodle puppies in Michigan.
Australian Labradoodle Product Recommendations: Best Dog Shampoos For Urine Smell and Odor Control.
1. PuppySpot's Australian Labradoodles For Michigan
Since you're searching for Australian Labradoodle breeders in Michigan, we highly recommend checking out PuppySpot. PuppySpot is a reputable platform, where you can browse for available Australian Labradoodle puppies from the comfort of your home in Michigan.
All Australian Labradoodle breeders with puppies listed on PuppySpot have to go through a screening process, so you'll know that your companion will be safely shipped to your home in Michigan. Before you continue on your search for an Australian Labradoodle puppy for sale in Michigan, check out the link below.
PuppySpot Details
2. Bunji Australian Labradoodles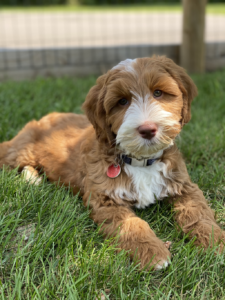 Bunji Australian Labradoodles is a breeder of Australian Labradoodles located in Midwest Michigan. To ensure that their puppies become memorable members of your family, they use state-of-the-art testing, socialization, and training techniques.
But why Bunji? In one word, they wanted to describe Australian Labradoodles. Initially, Australian Labradoodles were bred as therapy dogs in Australia. That was the key. They were born to be companions.
Upon discovering that the Australian Aboriginal word for a companion or best mate is 'bunji,' they knew they had a name! There is no better way to describe these sweet dogs than as companions, friends, and joy.
The Puppy Culture program helps them raise their puppies. Early Neurological Stimulation begins at 3 days old, and the program lasts the entire 8 weeks the puppies are with them.
Training includes crate training, clicker training, beginnings of housebreaking, noise and touch desensitization, and many other confidence builders. Once they start eating solid food, puppies go potty outside at least three times a day.
At 8 weeks of age, Puppies are going outside every 2 hours and napping in their crates. When kept on a strict schedule, they rarely have accidents.
Puppies know that outside is potty time. They begin leash training at 8 weeks old and teach "sit" for attention and introduce the "lay down" concept. Their goal is to send you home with a puppy that is well-rounded, happy, and confident.
Bunji Australian Labradoodles Details
3. South Mitten Australian Labradoodles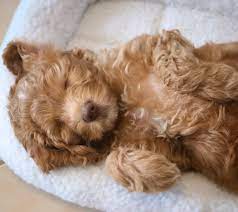 South Mitten Australian Labradoodles are a proud breeder of certified and exceptional multigenerational Australian Labradoodles. Their Labradoodles are allergy-friendly, meet rigorous health standards, and are excellent companions for families of all sizes.
Their dogs are raised as cherished family members in their home in southern Michigan! Their puppies receive the utmost attention and stimulation from the beginning based on research.
By doing this, you will get not only a puppy with impeccable bloodlines but one with an optimal start and a superior advantage. It is their family's policy not to the kennel or keep their dogs or puppies in a separate area of the house or outdoors.
This is because they are spoiled pets who are an integral part of their lives. They go everywhere they can with them and are well-socialized and used to children and a wide range of people. Therefore, a puppy's socialization and stimulation training are essential, and much attention is given to your new puppy.
At South Mitten, they take the utmost care of your new puppy for the first few weeks they are blessed with them. Then, when you take your puppy home, they will be spoiled, loved, and trained!
South Mitten Australian Labradoodles Details
4. All-Star Breeders of Labradoodles
Carl and Monique Algera founded All-Star Breeders in a small town in West Michigan. They have been breeding dogs for more than 15 years. Their farm has over 30 acres, which are fenced in for their dogs and puppies to run and play.
Their dogs are considered part of the family and live right in the house. Their number one priority is the health and wellbeing of their dogs and puppies. The puppies are born in their home to keep an eye on them closely.
They are constantly socialized and loved! Each puppy cost $3,000. The price includes a vet check, initial shots, up-to-date worming, and a microchip. Early Neurological Stimulation and Puppy Culture are introduced on day 3 after birth.
Each puppy goes home with a spay/neuter contract. They take dog food and nutrition very seriously. They would never feed their dogs anything less than top-quality food.
They are so thrilled to have found Life's Abundance! One of the freshest, most nutrient-dense kibble on the market. Developed by a holistic veterinarian, this recipe is always prepared in small batches.
All-Star Breeders of Labradoodles Details
5. Jubilee Labradoodles
Jubilee Labradoodles are in the heart of the Irish Hills in Onsted, Michigan. Over the years, they've had several different breeds of dogs, and they've always been a close family companion.
All their dogs, including breeders and their puppies, live in their home or with their adult children, who also have a great love and interest in Jubilee Labradoodles. They specialize in breeding Australian Labradoodles and Goldendoodles in Michigan, especially miniature and medium-sized dogs.
All their dogs, including puppies, will live with their adult children, who are also passionate about Jubilee Labradoodles' Australian Labradoodles and Goldendoodles. They keep all of their dogs in their home as pets.
Hand-reared, well-socialized, and loved puppies are raised to become well-balanced family pets. You become a member of the Jubilee family when you adopt one of their puppies.
Breeder support is available for life to help in every way possible. In addition, their breeding dogs are thoroughly health tested, and they offer a 3-year health guarantee against genetic issues that could affect the quality of your pet's life.
Jubilee Labradoodles Details
6. Monarch Labradoodles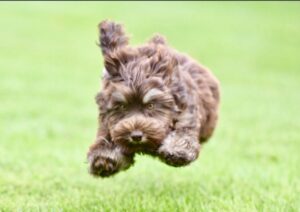 Monarch Labradoodles is a small breeder of Australian Labradoodles. Their dogs are bred for temperament, health, and allergy-friendly coats, and they are members of the ALCA, ALAA, and WALA.
The dogs are raised in their home with lots of love and affection. As family pets and lifelong companions, they make excellent pets. They specialize in mini and medium Australian Labradoodles from Michigan. The Australian Labradoodle Association of America sets high standards for breeding Australian Labradoodles.
Genetic testing is done on all of their breeding Labradoodles to ensure that they are the best of the best to continue the Australian Labradoodle's tradition of greatness. In addition, they raise their puppies as their own and socialize them as much as possible.
Monarch Labradoodles Details
7. Bainbridge Labradoodles
 Bainbridge Labradoodles breed Multigenerational Australian Labradoodles. These dogs make wonderful, non-shedding family pets. They have been committed to providing families with a well-socialized, well-loved, happy, healthy puppy for the past six years!
Their breeding dogs live with them or in guardian homes nearby and are part of the family. They are hand-delivered to their forever homes after being born and raised in their own homes.
Their puppies are introduced to the sounds of the house and receive lots of human interaction and love to become the perfect addition to any family. They also use the Puppy Culture rearing method to get an early start in raising a happy, confident puppy!
Bainbridge Labradoodles Details
8. Labradoodle Dreams Michigan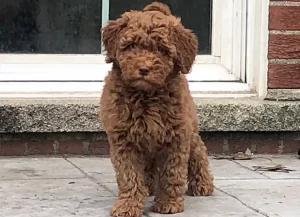 Located in Michigan, Labradoodle Dreams Michigan is a premier breeder of Australian Labradoodles. All of their dogs live as cherished pets in different homes – they are NOT a kennel! Your Labradoodle Dreams Puppy will grow up to be a wonderful and loving companion.
This breed has a lot to offer! To ensure all of their Labradoodles and puppies get all the love, attention, and experience as much as possible from the day they are born, they typically raise one litter at a time.
At Labradoodle Dreams, their main goal is to carry therapy lines in at least one litter per year. This will also help reaffirm that these happy, intuitive doodles go on to become Canine Good Citizens, Therapy dogs, or, of course, wonderful family companions for life.
Labradoodle Dreams Michigan Details
9. Our Little Castle of Labradoodles
Last on the list of Australian Labradoodle breeders in Michigan is "Our Little Castle of Labradoodles." Our Little Castle of Labradoodles is a family of dog lovers with a small breeding program.
They have been breeding Labradoodles for more than 13 years. Having pets is their number one priority. The dogs never live in kennels outside their homes. They only have one litter of puppies since they are a small breeder.
By doing this, they will spend time with each puppy and give them a good start in life. Paw Print Genetics has genetically tested their female, and she is CKC registered and OFA certified.
Whelping boxes are placed in a private room inside the home when delivery is near. In the whelping box, puppies are born and spend most of their first few weeks with their mother.
They are then moved to a separate area during the day and sleep in the whelping box at night until they are placed in their forever homes. Observed at all times and handled safely by adults.
Their puppies live with 2 adult dogs and 3 cats, contributing to their socialization. As a rule, they do not believe that it is in the best interest to live outside or in a kennel except for crate training as a puppy.
Once they are ready to go to their forever homes, their puppies are checked thoroughly by a licensed veterinarian and are dewormed, vaccinated, and microchipped.
Our Little Castle of Labradoodles Details
Australian Labradoodles Puppies in Michigan
Considering their high intelligence and moderate activity level, Australian Labradoodles require a decent amount of time and effort. Active families or pet parents with plenty of time to devote to physical and mental stimulation will benefit most from this mix.
Their unique coat requires professional grooming in addition to basic hygiene. Depending on their coat texture, they may need to visit a groomer regularly to trim their fur and brush their coat regularly to avoid mats. A happy and healthy puppy requires proper grooming and mental stimulation.
How to Choose an Australian Labradoodles Breeder in Michigan
We always recommend that you do your independent research. A good rule of thumb is to ask an Australian Labradoodle breeder in Michigan if they offer a health test, genetic test, a puppy warranty, and if you can come to see their Labradoodles in person. Ultimately, you want a breeder you can trust.
Where Do You Find an Australian Labradoodles Breeder in Michigan?
There are many options to choose from in Michigan. However, it is important to trust only reputable breeders when finding good Australian Labradoodle puppies in Michigan, so conducting thorough research and hearing testimonials is essential.
Conclusion For The "Best Australian Labradoodle Breeders in Michigan"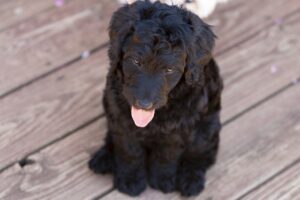 A reputable Australian Labradoodle breeder in Michigan is not easy to find. There are so many breeders – some are better than others.
Even though you may encounter breeders who offer their puppies at much lower prices, it is essential to remember that this is not a place where you can save money.
Your new puppy will play a critical role in your life. And if you're lucky, you'll spend at least 10 to 15 years with this adorable little fluff ball.
For more guides similar to this list of Australian Labradoodle breeders in Michigan, you can check out:
Before you purchase an Australian Labradoodle puppy from a breeder in Michigan, you can learn more about the breed by watching "Australian Labradoodle Dog Breed Information" down below: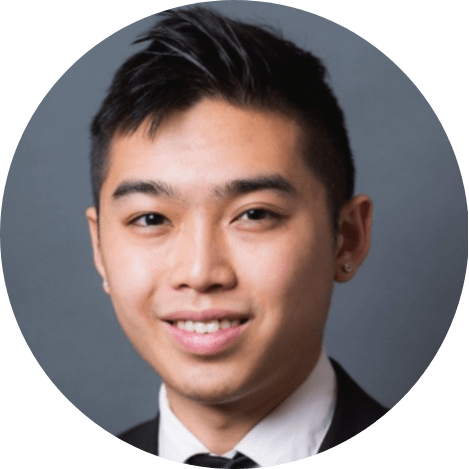 Andy is a full-time animal rescuer and owner of a toy doodle. When he's not saving dogs, Andy is one of our core writers and editors. He has been writing about dogs for over a decade. Andy joined our team because he believes that words are powerful tools that can change a dog's life for the better.
Why Trust We Love Doodles?
At We Love Doodles, we're a team of writers, veterinarians, and puppy trainers that love dogs. Our team of qualified experts researches and provides reliable information on a wide range of dog topics. Our reviews are based on customer feedback, hands-on testing, and in-depth analysis. We are fully transparent and honest to our community of dog owners and future owners.