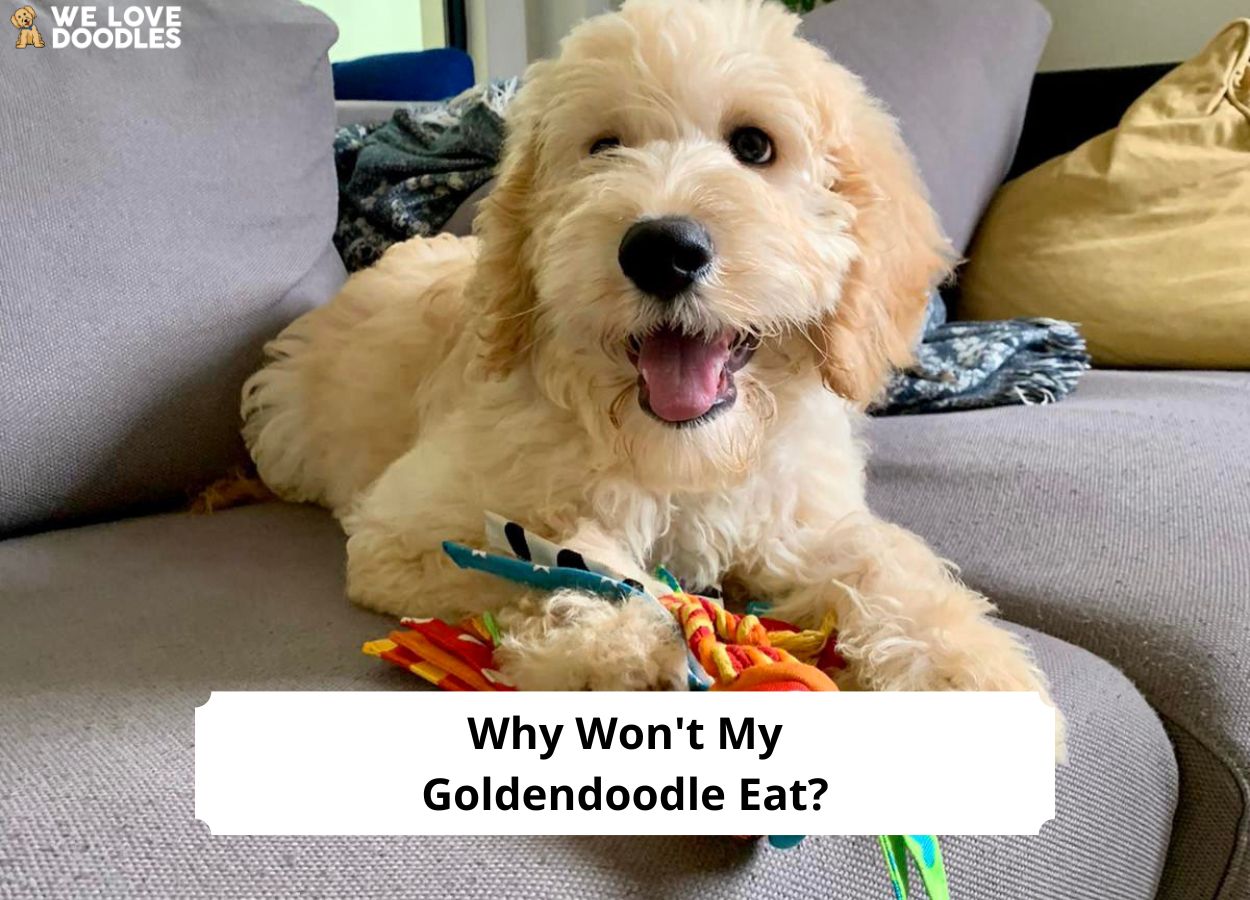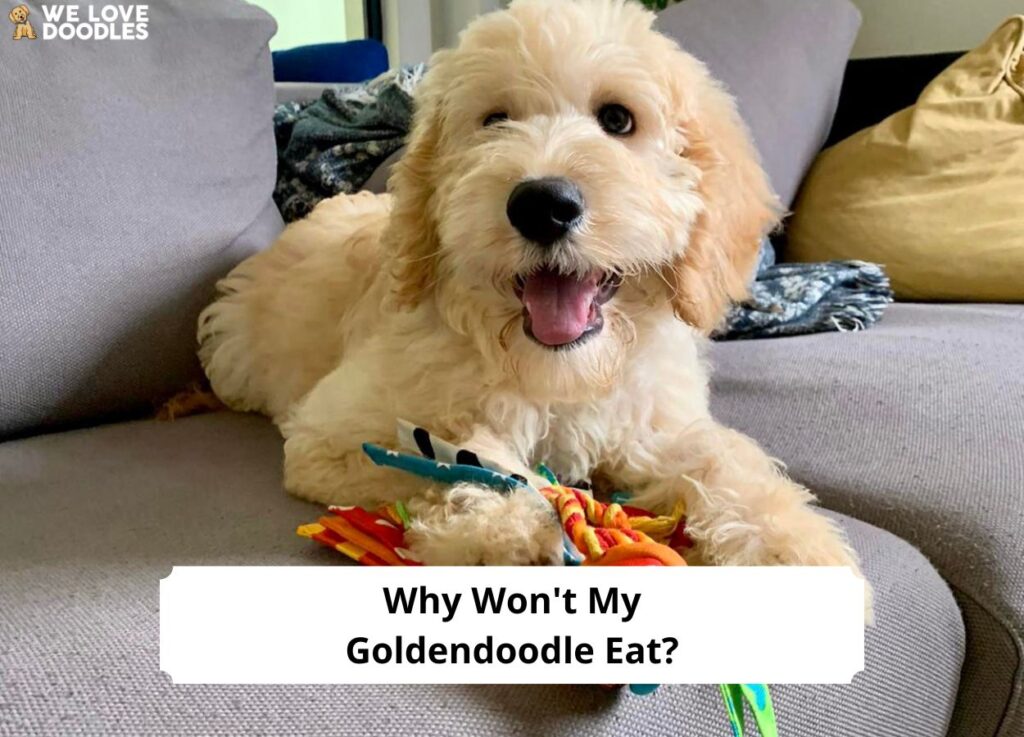 It can be very frustrating when our fur babies suddenly stop eating. And you would be right to be concerned about it. Dogs like Goldendoodles need a high-quality diet to maintain a healthy, happy life. But sometimes, your Goldendoodle just won't eat.
The reason could be because you're overfeeding them, or they could be worried and anxious. Sudden changes to the environment and diet can also make a Goldendoodle fussy. If your Goldendoodle is also showing other symptoms, then it's possible that there is an underlying medical problem.
Read below as we discuss these reasons and how to fix them.
Before reading this guide, "Why Won't My Goldendoodle Eat," check out: Are Goldendoodles Protective Dogs? (2023) and Are Goldendoodles High Maintenance? (2023).
Can Goldendoodles Be Picky?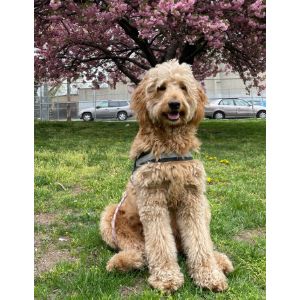 Most of us picture tiny dogs like Maltese and Yorkies when we think about fussy canine breeds. Some interesting studies have shown that tiny dog breeds are the pickiest eaters on average, but this certainly isn't the case across the board.
While Goldendoodles aren't notoriously fussy eaters, you might encounter a few that are, as is the case with every breed. Goldendoodles get their intelligence from the Poodle side of their family tree, and they quickly learn that fussy behavior can get them everything they want, even if it's not the best for them.
They may do this to get you to give them what they want by making it seem like they are picky eaters who refuse to eat anything but their favorite foods.
So, is there such a thing as a "fussy dog?" Your dog is a finicky eater if he needs longer than 20 minutes to eat all of his portions or if you find that he leaves some food uneaten on a regular basis (even when given the amount that your vet recommends).
The good news is that it's unusual to find a Goldendoodle that has trouble eating, and even if they do, it usually won't harm their health.
Reasons Why Your Goldendoodle Won't Eat
The following are some reasons why your Goldendoodle may not be eating.
Too Much Food
It's possible that the reason your pet isn't eating is because it's not hungry at all. When you overfeed your pet, they can develop more serious health problems, including troubles with their bones and joints as well as cardiac problems.
Your Goldendoodle, just like people, thrives when they have a routine laid out for them. Your pet has to be on a feeding schedule that ensures they get the exact amount of food they require each day. This routine should prevent your pet from getting more or less food than they need.
Lack of Stimulation
A lot of dogs require some sort of mental challenge or activity during the day. If you leave your Goldendoodle home alone for long periods of time, it's possible that they'll merely wind up sleeping while you're gone. Because of this, they could become sluggish at times. This will, in turn, affect their appetite.
Too Many Treats
Treating your dog occasionally is okay, but there are better ways to show affection. If you give your dog an unhealthy amount of food or give them goodies too frequently, it might lead them to lose their appetite and make them picky eaters.
It's possible they refuse to eat their regular kibble or meal because they believe it doesn't taste as wonderful as their favorite treat.
Anxiety or Stress
Your Goldendoodle can experience stress in much the same way that people do on occasion. Your pet might suffer from anxiety if you move, if someone in the family dies, if you switch to daylight savings time, or if they experience any of a number of other life-altering events.
Poor Quality Food
When purchasing food for your dog, you should make sure you are aware of the ingredients. It's common practice for dog food manufacturers to cut costs by including fillers like byproducts and additives. You may save money at the register, but a sick dog could end up costing you more in the long term.
You should avoid feeding your dog meals that contain fillers or byproducts, as they are not a healthy option for your pet. If your dog is acting picky about eating, it's possible that his stomach isn't agreeing with the food you're giving him.
Medical Issues
If your Goldendoodle has suddenly become a picky eater in addition to exhibiting other concerning symptoms such as diarrhea, vomiting, constipation, or lethargy, there may be a medical condition that is preventing them from eating.
If you watch your dog eat, but it just takes a few nibbles before it backs away from the dish, this could be another sign that something more worrying is going on.
Tired of the Same Old Food
This one presents a bit of a challenge. You don't want to keep switching the food that your Goldendoodle eats simply because they could get bored with it; doing so could really cause more difficulties than it could solve.
It is possible that boredom is the cause of your dog's progressive loss of interest in eating the food that they used to like if you have already ruled out the possibility that your dog is suffering from a medical condition.
Distractions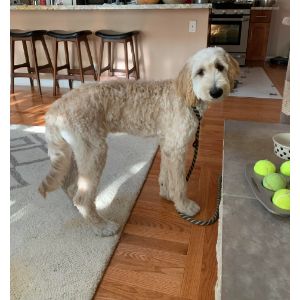 Your Goldendoodles probably won't take the time to eat if they'd rather be playing than doing so. Goldendoodles are highly intelligent and absolutely adore playing with their humans.
Playing with you and receiving attention from you is something that a lot of Goldendoodles find to be far more entertaining than almost anything else.
Changes in Environment
Your dog may be experiencing anxiety as a result of recent major life changes, such as a relocation, a change in employment that requires you to be away from home more often, the birth of a new child, or any combination of these events.
Goldendoodles are known to be one of the most sensitive dog breeds. Even relatively small changes, such as switching up the feeding schedule or giving your Goldendoodle a new food dish, can cause your dog to become anxious and stop eating.
Allergies
Goldendoodles are high-energy dogs that can go all day playing; therefore, their diet needs to be able to keep up with their level of activity. Diets for Goldendoodles should consist primarily of high-quality proteins, a lot of healthy fats, and only a little bit of complex carbohydrates.
Sensitivities and allergies can be brought on by particular foods, such as wheat, soy, or even different types of proteins, like chicken.
Dietary Changes
If you switch your dog's food too rapidly, it could lead to digestive issues, constipation, diarrhea, and other concerns. Their digestive system is sensitive, so whenever they consume a new food that they are not accustomed to, it takes them a while to acclimate to it.
How to Fix It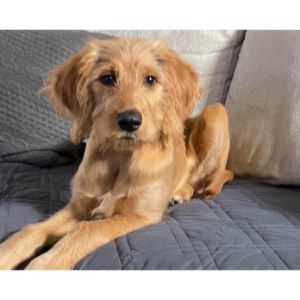 The following are solutions you can implement to make sure your Goldendoodle starts eating again.
Too Much Food
There are a lot of different dog food brands out there, and most of them will provide you with a chart that tells you how much food your dog should be consuming based on their weight.
It may also be helpful to divide this into feeding in the morning and another feeding in the afternoon in order to reduce the amount of time that they spend begging for crumbs from the table.
Lack of Stimulation
Make sure your Goldendoodle gets lots of exercise and playtime every day. You may ensure that your pet has a healthy appetite by engaging in physical activity with them on a regular basis, such as by taking them for walks or providing them with toys that are mentally stimulating.
Too Many Treats
Instead of rewarding them for any little thing they do, give them goodies when they do something you want them to do.
You shouldn't feed your dog anything that comes from your plate or table, and you shouldn't give your pet an excessive number of treats, even those that are specifically designed for pets.
Many human foods are toxic or otherwise unhealthy for pets, and if you feed them to your Goldendoodle, they may refuse their regular meal or gain weight.
Anxiety or Stress
Reassurance is key for a Goldendoodle whose behavior has suddenly changed due to anxiety or stress. To ensure that your Goldendoodle always has a secure spot to eat, you may also want to consider relocating their feeding station to a less hectic and more cornered part of the house.
Poor Quality Food
There are numerous Goldendoodle-specific dog meals on the market. Pick dog food that has a lot of protein and not a lot of carbs. Be aware of dog foods that have additional colors. It's nice to look at, but it's not required, and it might bother your dog's digestive system.
Medical Issues
If your Goldendoodle has stopped eating and is showing other symptoms, get them checked out by a vet as soon as possible. Your veterinarian will inquire as to when you first observed your dog's loss of appetite, what other symptoms he has, and his current health status.
They'll do an exam, maybe take some samples of blood, feces, or urine, and possibly even do some imaging tests like X-rays or an ultrasound.
Tired of Same Old Food
Changing up the food you feed your Goldendoodle is an easy way to combat monotony. Get a good dry kibble and work up from there. Pick two varieties of the same brand and switch them out once a month.
A second strategy for spicing up their food is to use wet food as toppings and to switch them up on a regular basis.
Distractions
When it is time to feed your dog, you should make sure he is in a calm, peaceful environment that is free from any potential distractions. Avoid interacting with your dog at mealtime.
You should try to make sure that your dog gets plenty of activity before you feed it. You might also want to try some puzzle toys in order to make the food more of a reward for their hard work.
Changes in Environment
The best way to prepare your dog for a big change in routine is to introduce it to the new routine gradually. Try to make sure that you are consistent with everything else.
Allergies
Finding out what your dog is allergic to is the first step in treating food allergies. Keep an eye out for symptoms including itching, diarrhea, stomach pain, and irritability. When you make a change to your Goldendoodle's diet, you should always pay close attention to how it affects your pet.
Dry kibble often contains grains that might cause allergies in some dogs. Grain-free dog food, such as Taste of the Wild, may help in this scenario.
Dietary Changes
If you wish to switch your dog to a different brand of food, you should do so gradually by mixing in more of the new food each day. The best transition period is five to seven days.
Frequently Asked Questions
Why are Goldendoodles such picky eaters?
Goldendoodles can be picky eaters when they are overfed, have too many treats, don't get enough exercise, or if they aren't feeling well.
How much should a Goldendoodle eat a day?
A Goldendoodle may eat anywhere from one or two to three or four cups per day depending on its size. The amount you feed your dog will depend on if it is a Miniature or Standard-sized Doodle.
Are Goldendoodles food motivated?
It's tough to generalize Goldendoodles as more or less food motivated than other dog breeds.
Conclusion

for "Why Won't My Goldendoodle Eat"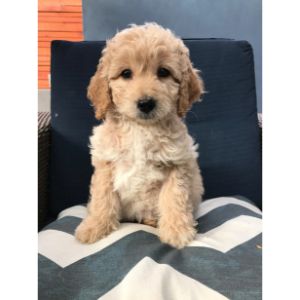 It can be concerning if your Goldendoodle suddenly stops eating. But the good thing is that most reasons are identifiable and can be easily solved. If your Goldendoodle has not eaten for more than a day, make sure to take them to a vet as soon as possible.
If you find this guide, "Why Won't My Goldendoodle Eat," helpful, check out:
Learn more by watching "Goldendoodle Pros And Cons | The Good AND The Bad!!" down below:
Garrett loves animals and is a huge advocate for all Doodle dog breeds. He owns his own Goldendoodle named Kona. In addition, he volunteers at the Humane Society of Silicon Valley, where he fosters dogs and helps animals. Garrett enjoys writing about Doodles and believes that dogs can teach humans more about how to live than humans can teach a dog.
Why Trust We Love Doodles?
At We Love Doodles, we're a team of writers, veterinarians, and puppy trainers that love dogs. Our team of qualified experts researches and provides reliable information on a wide range of dog topics. Our reviews are based on customer feedback, hands-on testing, and in-depth analysis. We are fully transparent and honest to our community of dog owners and future owners.