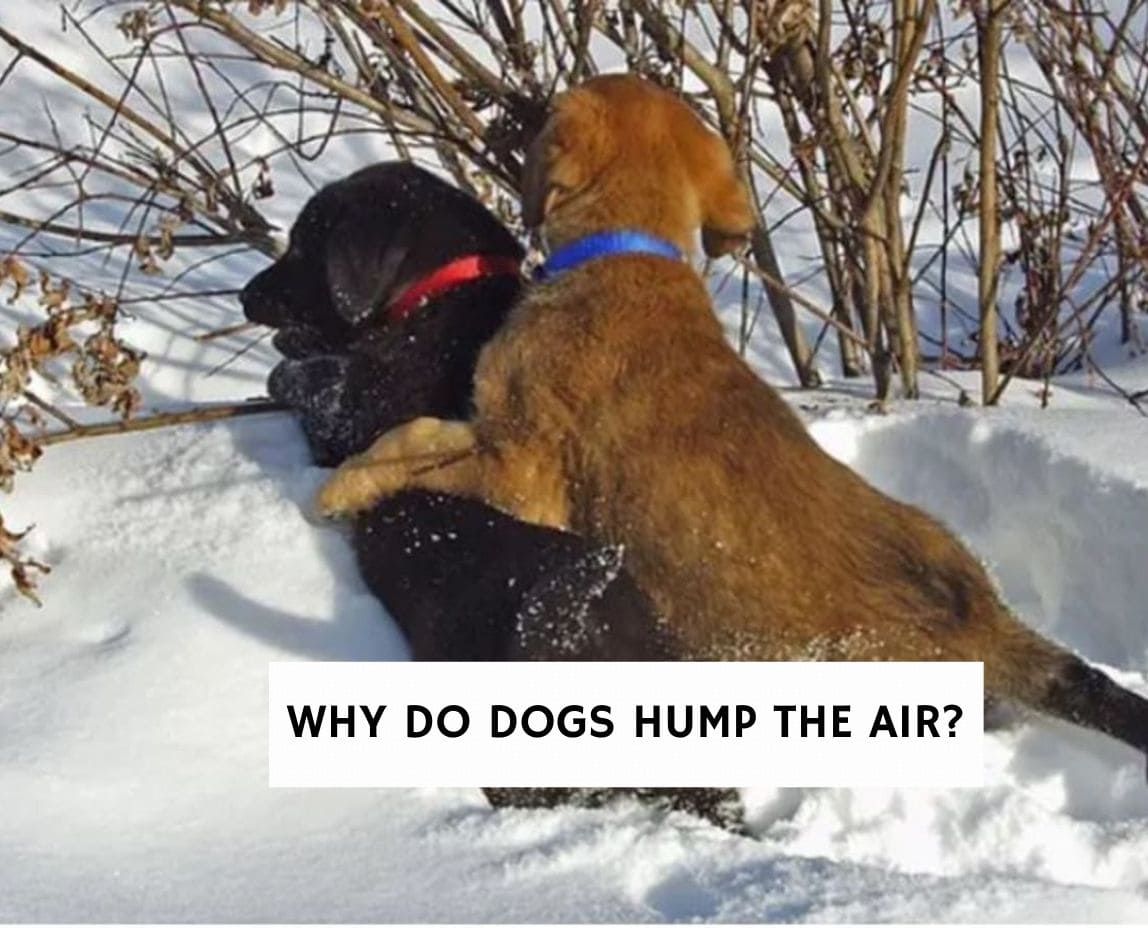 If you're wondering why dogs hump the air, then this guide will help you. Humping, also known as mounting, is a behavior commonly found among dogs. Sometimes dogs will hump people or inanimate objects, while others simply hump the air.
Although it may be embarrassing, humping is a normal behavior in dogs. Humping does not always indicate that your dog is unwell. But if it becomes excessive, it may signify a more significant problem.
But why does my dog uncontrollably hump the air? Well, there are quite a few different reasons dogs hump the air. Below you will find these reasons and what you can do to prevent this behavior from becoming a problem.
Before scrolling down this guide "Why Do Dogs Hump The Air," check out these related articles: Why Does My Dog Hump My Boyfriend and Can a Dog Mate With a Cat?
Reasons Why Dogs Hump the Air
As we mentioned, there are many reasons why your dog might be humping the air. Some of these reasons are psychological, while others are physical. Once you understand these underlying causes, you will have an easier time reducing this embarrassing behavior.
Remember, humping the air can be a sign of psychological or physical distress. So, if this problem is persistent, it may be time to take your dog to a veterinarian. This will ensure that your dog is getting medical attention.
Additionally, your veterinarian can help you find the most appropriate solution for your dog on a more individual level. Below you will find some of the most common reasons behind dogs humping the air.
1. Playfulness
Dogs have unique ways of expressing playfulness. Sometimes it is through humping the air, while other times may be expressed differently.
If your dog seems to hump the air when it gets exciting, it may be its way of expressing its desire to play. For example, if your dog humps the air when company arrives, it may mean it is exciting to play with new friends.
Related: Fun Games to Play With Your Poodle.
2. Dominance
Another common reason dogs hump the air is to assert dominance. Commonly dogs hump the air above other dogs to show the alpha. This is also a behavior often seen when strangers enter a home.
Your dog may start humping the air near your guests or may even begin humping their legs. This is your dog's way of showing your guests their spot in the house hierarchy.
3. Arousal
Arousal is a significant factor in air humping among dogs. Unneutered males and spayed females experience sexual arousal, manifest as humping the air. Often, dogs experience arousal hump inanimate objects and other dogs.
It is important to remember that this behavior is not limited to unneutered or unspayed dogs. Dogs who have been fixed also exhibit this behavior.
This may be because it was a habit they had before being fixed. It is also a behavior that comes naturally. Most people assume that this is the only factor behind dogs humping the air. However, it is only one of many reasons your dog may display this behavior.
4. Medical Problems
There are quite a few medical conditions that can lead your dog to hump the air. Dogs that perform this behavior may be experiencing pain in their genital area.
Common medical conditions that can cause this pain are urinary tract infections, allergies, prostate problems, and priapism (persistent erections).
5. Displacement Behavior
Another prevalent reason for dogs to hump the air is displacement behavior. Displacement behavior starts with an intense feeling of some kind that then manifests as an unrelated behavior.
Humping is a displacement behavior that often stems from emotions related to anxiety and unease. Dogs cannot express their feelings verbally. So, they will default to natural behaviors, humping the air being one of them.
6. Puppyhood Training
As puppies grow into puberty, they develop habits and behaviors such as humping the air. At this age, puppies are usually unfixed, which increases the sex drive and causes puppies to hump more. You need to teach your puppy at this young age that this behavior is unacceptable.
Or else, as your dog grows older, it may continue to display these behaviors out of habit. Therefore, if you let the behavior happen without discipline, it will continue into older age, even in neutered dogs.
Related: How to Use an E-Collar to Train Your Dog.
How to Stop Your Dog From Humping the Air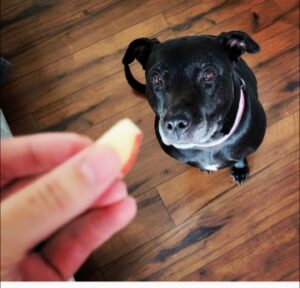 Now that you know why your dog humps the air, it is time to start looking at how to stop this behavior. Remember that if you think this behavior is happening because of an underlying health issue, you should take your dog to the vet right away. The vet will diagnose any problems and give you the best tips and tricks to stop the behavior.
1. Training
If you do not think this behavior stems from a medical problem, it is easy to stop it. The easiest way is training. Training from an early age means your dog forms good habits and knows right from wrong.
To prevent humping behavior through training, you should teach your simple dog commands such as "stop" and "sit." Then when you see your dog getting ready to hump, you can catch its attention and prevent the behavior.
In addition to these commands, you can also reinforce good behavior with treats. Therefore, if you tell your dog to stop humping and listen, give it a treat. This will cause your dog to associate not humping with getting a treat. So, you are conditioning your dog into stopping the behavior.
Related: Best Puppy Potty Training Sprays.
2. Distracting
If you believe your dog is humping out of playfulness, a simple distraction can stop the behavior. For example, if you know your dog is getting excited and looks like it might be getting ready to hump the air, you can distract it with a game of fetch or tug of war.
This way, your dog can express its playfulness in a positive way rather than an uncomfortable way. This also works for dogs that may be humping because of anxiety.
Distracting your dog with something positive can alleviate the stress, preventing the negative behavior. For example, if you see your dog becoming anxious, give it lots of love. Giving your dog lots of exercises can also help stop anxious feelings, preventing the behavior.
3. Neutering/Spaying
Another significant factor that plays into your dog's humping is whether it is fixed or not. For example, neutered male dogs are less likely to hump because testosterone levels are lower.
The same goes for female dogs who are spayed because they no longer go into heat. Again, this reduction of sex hormones results in a dog who is less likely to hump the air or other things.
However, it is essential to remember that it can become ingrained once a dog has learned a behavior. So, once you get your dog fixed, it may still hump the air because of a pattern formed in puppyhood. In this case, you should begin implementing some of the other solutions on this list.
4. Reduce-Anxiety
Displacement behavior is a common reason dogs hump the air. Notably, dogs experiencing intense emotions of anxiety may do this because they do not know how to express themselves.
If this is the case, reducing the stress your dog feels will help to eliminate the displacement behavior. There are many easy ways to reduce anxiety in dogs. First, keep your dog on a set schedule. Unpredictability can be a significant contributor to stress.
By following a specific schedule, you are eliminating the unknowns and making your dog more comfortable, reducing anxiety-related behaviors such as humping the air.
Exercise is another excellent way to prevent negative behaviors. A tired dog is less likely to hump to begin with because there is less excess energy. Exercise, however, also reduces anxiety which will, in turn, reduce the negative behavior even more.
Related: Goldendoodle Separation Anxiety Tips and Advice and Best Dog Toys For Separation Anxiety.
5. Ask For Help
Sometimes behaviors are too persistent and too much to handle. Luckily, trained professionals are here to help with all behavior problems.
As we mentioned before, professional veterinarians are always an excellent resource for dealing with any physical or behavioral issues. However, animal behaviorists are also available to help eliminate problematic behavior.
Should I Let My Dog Hump the Air?
Although humping the air is a harmless behavior, it can be a sign of more significant health problems if your dog is doing it excessively. If this behavior is typical for your dog and you know it is simply happening out of excitement or playfulness, you need not be worried. But, if you think the problem is deeper than that, you should seek medical attention.
If you know your dog is simply experiencing intense emotions and is humping to express itself, there is no need to stop the behavior. If it becomes excessive and embarrassing, it may be time to address it. However, this behavior is natural in dogs.
More Dog Questions: Why Do Dogs Wink?
Conclusion For "Why Does My Dog Hump The Air"
As you can see, there are many reasons why dogs hump the air. Some of these reasons are physical, and others are psychological. Knowing these motivating factors can help you understand your dog's behavior a little better.
If this guide "Why Do Dogs Hump The Air" is helpful to you, check out these other guides:
For additional info on this topic, watch "Why Does My Dog Hump Me" down below: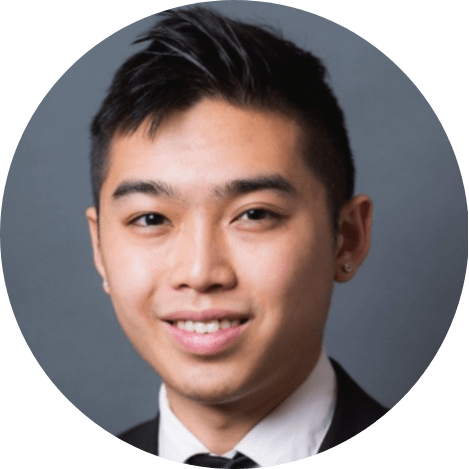 Andy is a full-time animal rescuer and owner of a toy doodle. When he's not saving dogs, Andy is one of our core writers and editors. He has been writing about dogs for over a decade. Andy joined our team because he believes that words are powerful tools that can change a dog's life for the better.
Why Trust We Love Doodles?
At We Love Doodles, we're a team of writers, veterinarians, and puppy trainers that love dogs. Our team of qualified experts researches and provides reliable information on a wide range of dog topics. Our reviews are based on customer feedback, hands-on testing, and in-depth analysis. We are fully transparent and honest to our community of dog owners and future owners.