Have you ever wondered if a dog and a cat can ever produce offspring? Is it possible – can a dog mate with a cat? The idea of blending feline and canine traits seems promising. You'll get the independence and elegance of a cat combined with the loyalty and affection of a dog. Some people even claim to have produced a cog (cat-dog) hybrid. Granted, dogs have been known to mount cats, and the reverse is also true. Is it possible biologically?
Before scrolling down this article "Can a Dog Mate with a Cat," check out these other dog questions: Can a Dog Have Down Syndrome and How Many Puppies Can a Dog Have?
Is it Possible for a Dog and a Cat to Produce Offspring?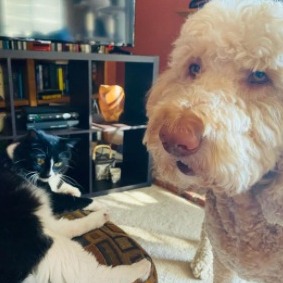 The answer is clear – "no." Cats and dogs do not belong to the same species. Since they have entirely different genetics, a cat-dog hybrid remains firmly in the realm of science fiction. A dog may mount a cat and vice versa, but don't expect any kuppies or pittens from this act. Here's a list of reasons why a dog cannot have babies with a cat.
1. Different Number Of Chromosomes
Cats have 19 pairs of chromosomes, whereas dogs possess 39 pairs of chromosomes. Therefore, they obviously would not match. This difference makes it impossible for these two species to mate under natural conditions.
2. Different Mating Rituals
When dogs are in heat, the male dog goes and sniffs a female dog's vulva. If the female dog is interested in mating, it will stand still and put its tail to the side. This position is called flagging and allows the male dog to mount the female. If the female dog is not interested in mating with the male, it will lie down, sit, or be uncooperative. It is a sign for the male dog to retreat. When cats are in heat, the female cat of the queen seeks the attention of a male cat. Once it is ready to mate, it expresses it vocally and rolls around. It is a sign that the male cat can mount the female. The female cat will only allow the male to mount for less than a minute before it attacks the male. Sometimes, the female cat might give the male cat more than one chance to mount. Due to these differences in mating rituals, dogs and cats are not attracted to each other sexually.
3. Different Reproductive Cycles
Female dogs ovulate two days after the LH surge. LH (Luteinizing Hormone) surge takes place on Day 0 of the estrus or the heat cycle. In contrast, female cats have induced ovulation. This means that they only ovulate after breeding has taken place. As you can see, these two species can't create a litter together. Cats and dogs can be great companions, but it stops there.
Dog Guides: How To Get Your Dog To Respect You and Reasons Why Dog is Wobbly and Off-Balance.
Why Do Dogs Try To Mate With Cats?
As pet owners and online videos can attest, dogs sometimes try to mount cats. Weird. Dogs are known to mount almost anything while they are in heat. You can see them mounting other dogs, furniture, people's legs, stuffed toys, trees—basically anything that stays still long enough. So what are the reasons why dogs attempt to mount cats?
1. Hormones
A dog that is not neutered or spayed will hump another dog because it is sexually attracted. If two dogs of the opposite sex live together, they will eventually mate with each other. If you want to avoid this, make sure all of your pets are neutered. Many times, dogs get into the habit of mounting because the act makes them feel good. If your dog has started to hump stuffed toys or even humans, it might be difficult for you to make it stop.
2. Asserting Dominance
Did you know that mounting is not always a sign of reproduction? Dogs also mount to assert their dominance. For example, neutered dogs usually mount other dogs or cats to show cats or other animals their place in the hierarchy.
3. Play
Sometimes, it may not even be about dominance. Less socialized dogs mount other animals, including cats, playfully. Puppies often do this while they are goofing around. Such playful mounting is not related to anything sexual or dominance. You must separate your dog if it is mounting a cat. The cat might get annoyed and attack your dog.
4. Excitement
A dog might show its excitement by approaching a cat. While many dogs run around and jump when they are excited, many other dogs choose to hump. Mounting in such cases will help the dog burn stress or excess energy.
5. Boredom
Some dogs may also try to seek attention from you by humping. They might also be bored. Try redirecting your dog's attention by providing it with mental stimulation and exercises.
6. Stress
In other cases, your dog may mount a cat when it feels stressed. Any drastic change in your pet's routine or environment can stress them out. Some pet owners observe that their puppy does this behavior after a move.
7. Medical Issues
If you notice your dog humping more than usual, you must take it to your vet for a checkup. First, find out if there's an underlying reason for your pet's behavior. This habit may be caused by physical ailments such as:
Urinary tract infection
Urinary incontinence
Kidney infections
Priapism (painful erection)
Any of these conditions can make your dog hump cats, as it provides relief from pain in the genital area.
Dog and Cat Guides: Can Cats Get Parvo From Dogs?
How to Stop Your Dog From Mounting Indiscriminately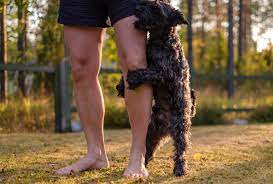 To many people, dogs humping each other or a dog mounting a cat might seem funny. There's an endless number of videos of a dog humping a cat and vice versa. However, it gets embarrassing to see it in your pets at home. You wouldn't want your dog to hump your guest's leg, do you? Do not worry. There are several ways to stop your dog from humping.
The first thing you have to do is to catch them in the act.
Watch out for pre-humping behavior like licking or pawing.
Look at your dog and say "no" or "stop."
Every time your dog stops humping when you say that, reward it with a treat.
If your dog has not started to mount but is about to, distract it with treats, games, and plenty of exercise.
Exercise is also needed to burn off any excess energy.
If you're unable to train your dogs on your own, you can always take the help of a professional.
Dog and Cat Guide: Can You Be Allergic to Dogs and Not Cats?
Reasons Why You Should Not Try Getting a Dog To Mate with a Cat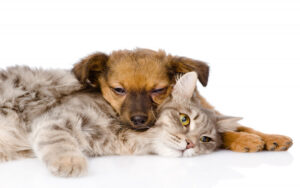 Although technically, dogs cannot mate with cats, theoretically, it is probable. Genetic manipulation might be the only way to make it possible. With recent scientific advances, this may even be achievable. However, is it ethical to try and mate a dog with a cat? If nature had intended for a dog and cat hybrid, this would have already occurred naturally. Genetically manipulating dogs and cats can be life-threatening and unnecessary.
Kuppies or pittens may look cute, but this is not enough reason to create them. Even if scientists create a hybrid, these animals may not be genetically strong. They will have the least chances of survival. A hybrid may end up with the worst characteristics and most of the health issues of its parents. It would be cruel to create a hybrid that would not survive on its own. If you do hear about a kuppy or a pitten, it's probably a hoax. People love posting about nonexistent animals on April Fool's Day.
Conclusion For "Can a Dog Mate with a Cat"
Both dogs and cats make great companions. These furry pets never fail to bring joy and laughter. However, these pets can also exhibit strange behavior that can range from hilarious to embarrassing. If you have both animals at home, it is normal to see your dog chasing or humping your cat. Do not worry too much about it. Just make sure that they don't hurt each other while doing so.
For more interesting dog questions, you can check out:
To learn more about dog breeding, watch "3 Things To Consider When Breeding Dogs" down below: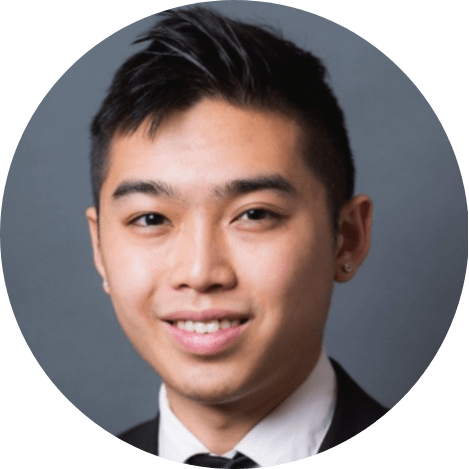 Andy is a full-time animal rescuer and owner of a toy doodle. When he's not saving dogs, Andy is one of our core writers and editors. He has been writing about dogs for over a decade. Andy joined our team because he believes that words are powerful tools that can change a dog's life for the better.
Why Trust We Love Doodles?
At We Love Doodles, we're a team of writers, veterinarians, and puppy trainers that love dogs. Our team of qualified experts researches and provides reliable information on a wide range of dog topics. Our reviews are based on customer feedback, hands-on testing, and in-depth analysis. We are fully transparent and honest to our community of dog owners and future owners.