A Kurdish Kangal is a unique dog species with a long history of guarding sheep. If you want an affectionate dog that loves to play but will protect your property at a moment's notice, this is the breed for you.
Kurdish Kangals are not native dogs, making them extremely rare in the United States. They have special needs that are crucial to their survival. You may also know these dogs as the Kangal Shepherd or the Turkish Kangal.
These dogs are massive and require open land to roam around and explore. If they do not get the opportunity to exercise, they can become challenging to manage.
This article will teach you all about this species and how to get ahold of one if you decide it is the dog for you.
Other articles you would like: Hypoallergenic Guard Dogs and Goldendoodle Dog Breed Guide.
Where Do Kurdish Kangal Dogs Originate?
Kurdish Kangal dogs are an old breed dating back to the 12th century. They originate from the Turkish town of Kangal, where they get their name. Owners bred them as sheepdogs because they made perfect guard dogs due to their size.
They migrated to our country in 1985 and received recognition from the United Kennel Club (AKC) by 1998. The American Kennel Club (AKC) only acknowledges them as a member of the Anatolian Shepherd Dog.
Are Kurdish Kangal dogs illegal in the U.S.? No, but they are rare. The country of Turkey limits its export of the breed, so getting one may be difficult. Before you decide to get one, check breeding laws in your area, as each state has its standards.
Characteristics of a Kurdish Kangal
How do you recognize a Kurdish Kangal dog? They are easy to distinguish from other breeds in several ways.
Physical Features
The Kurdish Kangals are often mistaken for the Anatolian Shepherd but have some distinctive features that tell them apart. They are large dogs with a light tan coat, black shadowing around the nose, much like a muzzle, and dark floppy ears. Their tails curl up with the tip facing their backsides.
This breed has a large, muscular build that can appear intimidating and tends to be very strong. The coats shed during spring and winter.
If you look at these dogs from the side, you will see a distinct silhouette in their pose. An average Kurdish Kangal weight is 121 to 143 pounds. These dogs can get between 29 and 33 inches tall, and males are typically larger than females. They live 12-15 years.
The Kangals are very agile, athletic dogs that need at least two hours of exercise a day. They thrive best in fenced yards with ample space for running and playing. Their massive size does not prevent them from running up to 30 miles per hour.
Keeping them active will help alleviate hip problems in the future. It will also help the dogs bond with you better.
Behavior/Demeanor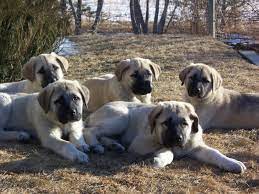 Turkish Kangals may look tough, but they have a heart of gold when it comes to family. If you train them early in life, they can learn to tolerate anyone without feeling the need to attack. Raising them around people when they are puppies can help them adapt to different personality types as adults.
They are Protectors of Their Territory
Kurdish Kangal dogs are natural-born protectors who keep a watchful eye on strangers and will independently attack if they feel a threat to their environment. These Turkish shepherds are very territorial and have the instinct to attack strangers who appear dangerous.
Kangals are independent when it comes to searching the area for trespassers. Appropriate training can help control their urges and only act on them when the situation warrants it. They are highly intelligent and know when to approach someone.
For the most part, Kangals do not like to kill predators. They will try to deter them away before becoming aggressive. Farmers may find Kurdish Kangals helpful in watching over their livestock and the other animals they keep on the farm.
They Have a Strong Bite Force
Dogs have strong teeth for chewing and protecting themselves. The Kurdish Kangal bite force is 743 pounds per square inch, the heaviest bite among all breeds. Their bites can be painful and quite destructive to intruders and predators.
They Are Leaders of the Pack
When they hang around with other dogs, the Kangals are usually in charge. When training your dog, you have to be the pack leader.
When these Turkish Kangals are unhappy, they growl and possibly bite, but you must be diligent about making the commands. The only way the Kangal will respect and obey you is to let it know who is in charge.
Training them as puppies will help them adapt to their surroundings and to know who and what is not a threat. By the time they are adults they will be able to identify predators.
They Make Great Companions
These Kangal shepherd dogs are affectionate and love spending time with family. They are very friendly to humans they know, such as family members, but will defend their homes if they feel threatened.
When they are not working as guard dogs, Kurdish Kangals are gentle and predictable. They are very loyal to their owners and will follow commands. They are very protective of their property and will fight off any perpetrators with force.
These dogs are anything but lazy. They stay aware of their surroundings and are always ready to fight when necessary. They mimic the behaviors of those around them, so if you treat your Kangal well, it will reciprocate kindness to you.
How to Care for a Kurdish Kangal
These Turkish Kangals must be active to be happy. They like walks and regular contact with familiar humans. Boredom may cause them to destroy property and display aggressive behaviors.
These dogs need a lot of attention and positive reinforcement during training. You must have patience and an understanding of disciplining them, or you may have a monster.
Diet
Nutrition is crucial for these dogs to keep up their strength, and they need durable bones and joints to stay active. A diet full of protein and carbohydrates will provide that nourishment.
They require seven cups of high-quality kibble (2,100-3,500 calories) daily. Growing puppies need 3,000-4,800 calories per day. Here is an actual breakdown of calorie count for each gender:
Male puppies – 3,900 to 4,800 calories per day
Adult males – 2,600 to 3,500 calories per day
Female puppies – 3,000 to 4,100 calories per day
Adult females – 2,100 to 2,800 calories per day
Puppies should switch to adult food at six months old. As active as these dogs are, they need specifically designated food. Human food needs to be at a minimum because it may not contain all of the essential nutrients Kangals need, possibly leading to deficiencies.
Grooming
Since they shed twice a year, they require brushing every day in the spring and winter. During their non-shedding months, twice a week is all they need.
Monthly bathing will suffice, as too much cleaning will damage the natural oils in their coats. Kurdish Kangals often drool, so experts recommend proper oral care twice a week.
The Health of Kurdish Kangals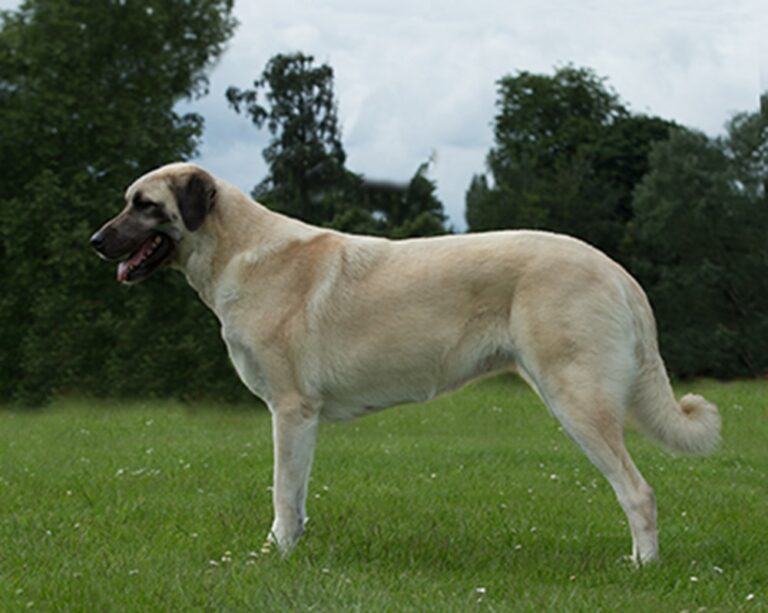 Kurdish Kangals are one of the healthiest breeds of dogs. Some health problems, primarily hip and elbow dysplasia, can affect them. This condition happens when the joint becomes out of place, causing pain and stiffness.
If the condition worsens, it could lead to gait disabilities. The way to correct this problem is through anti-inflammatories and surgery.
Another condition that Kangals can develop is a lipoma, a fatty lump on the chest and abdomen. The elevations are usually benign and painless but can become large and annoying. If necessary, a veterinarian can remove those growths.
Turkish Kangals can also develop ligament injuries, arthritis, and heart disease. As they age, they can also become overweight.
Kurdish Kangal Price
In the United States, you can expect to pay from $1200-$2500 per pup. The reason for the high cost is the rarity of the species. To consider owning a Kurdish Kangal, you can contact your local breeders or the United Kennel Club (UKC) for more information.
Conclusion For What is a Kurdish Kangal?
Kurdish Kangal dogs are rare breeds in the United States and may be challenging to get. They originate from Turkey as guard dogs for sheep. They are massive and need a lot of space to run and explore.
They can live 12-15 years and weigh up to 143 pounds. Their size makes them look intimidating, but they can be sweet as pie to people and pets they know.
These dogs are loyal to their owners and can be perfect family pets if they receive proper training. They are always alert and extremely territorial and will ward off any predators at a moment's notice.
Kangals require a diet full of protein with moderate carbs to keep them strong and energetic. Appropriate nutrition and good care will keep them healthy for many years.
Other articles you would like:
Still interested in learning more? Watch the Kurdish Kangal video below!
Garrett loves animals and is a huge advocate for all Doodle dog breeds. He owns his own Goldendoodle named Kona. In addition, he volunteers at the Humane Society of Silicon Valley, where he fosters dogs and helps animals. Garrett enjoys writing about Doodles and believes that dogs can teach humans more about how to live than humans can teach a dog.
Why Trust We Love Doodles?
At We Love Doodles, we're a team of writers, veterinarians, and puppy trainers that love dogs. Our team of qualified experts researches and provides reliable information on a wide range of dog topics. Our reviews are based on customer feedback, hands-on testing, and in-depth analysis. We are fully transparent and honest to our community of dog owners and future owners.