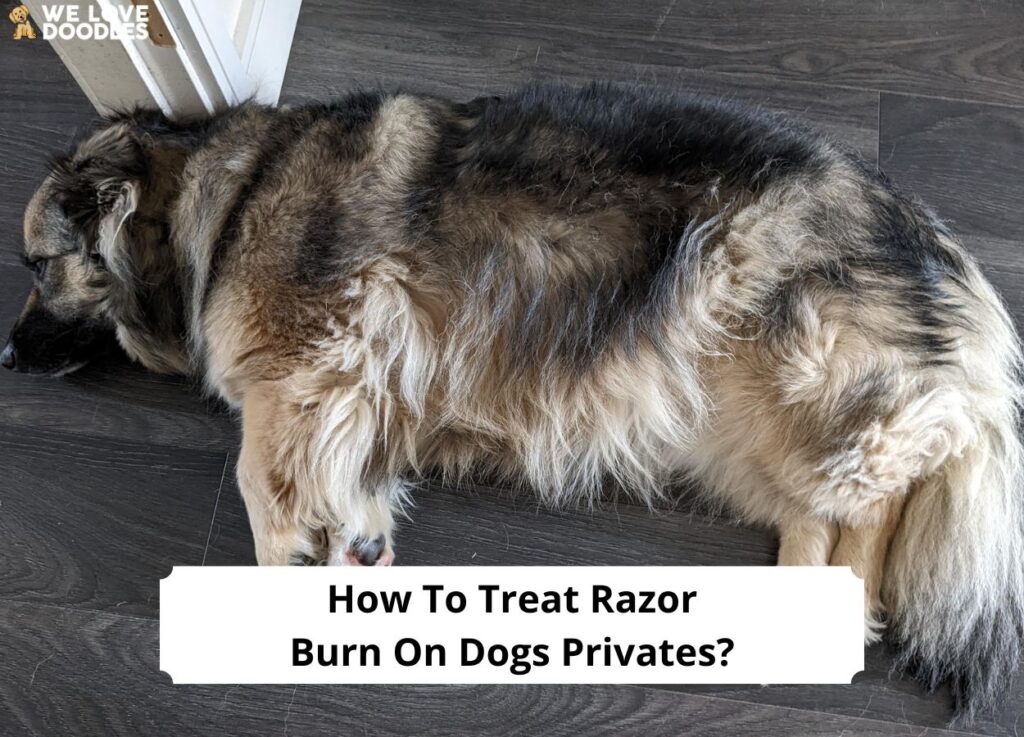 Razor burn is a common problem for dogs that get groomed often. If you are worried that your dog may be suffering from razor burn, there are a few things to keep in mind. Below, we'll cover the best aftercare tips so you can effectively treat razor burn on dogs' privates.
Before you read this in-depth guide, "How to Treat Razor Burn on Dogs' Privates," check out: Best Dog Grooming Shears (2023) – Groom Your Dog with Ease! and Best Grooming Brushes for Dogs! (2023).
What Can I Put on My Dog's Razor Burn?
There are a number of ways to soothe dogs with razor burn. Some vets recommend aloe vera or hydrocortisone creams as topical treatments, while others prefer cold compresses and cool water. Aspirin or ibuprofen may also reduce inflammation in some cases.
Dogs' skin types and razor burn severity influence the best method of soothing razor burn, so there is no one-size-fits-all solution to this question.
The area can be gently washed with warm water and mild soap while using a cool compress, aloe vera gel, or lotion. There may also be a need to seek veterinary care if the razor burn is severe.
What Does Dog Clipper Burn Look Like?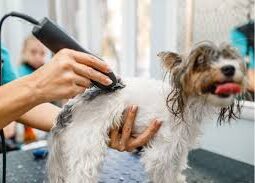 There are usually red marks on a dog's skin caused by clipper burn, especially in sensitive areas like the stomach or groin. In addition to overly hot or dull blades, burning can occur for several reasons.
An area of bright pink or red without bumps might also appear as a razor burn. It can be itchy as well as sensitive to touch. Depending on how severe the burn is, it may not appear right away or may take several hours, or even days, to appear.
The affected area will likely be licked, scratched, or rubbed constantly by your fur baby. Usually, their behavior will make it worse, so keep an eye on your dog for a few days after being groomed.
How to Treat Clipper Burn
In the event that your dog develops clipper burn after coming home from the vet or groomer, you should call them immediately to see what, if anything, can be done to address the issue. To avoid infecting a surgical site or causing a reaction to medication, do not put anything on it.
In this case, you can have your dog examined to determine the cause. Clipper burn can simply be treated as if it were any other rash if you tell your groomer about it so that they can note it in the chart.
In order to relieve the irritation, the dog should not rub, scratch, or lick the skin anymore. In addition, further irritation from your dog can lead to bleeding and scabs, which can lead to infection.
Neosporin, an antibiotic ointment, can be helpful in this situation. To avoid allergic reactions, only your personal vet should prescribe anything for your dog. Ask them for recommendations.
How Long Does Brush Burn Last on a Dog?
Depending on your dog's skin and the severity of the brush burn, it can last between one and two weeks. The best way to relieve your dog's itchy skin is to give him a medicated bath or cream.
Additionally, you can administer medicine at home using medicated shampoos and sprays designed for dogs, both of which are easily found in pet supply stores and online.
It is also possible to prevent brush burns. Be sure not to brush your dog too frequently or vigorously.
What Do You Do if Your Dog Gets Cut at the Groomer?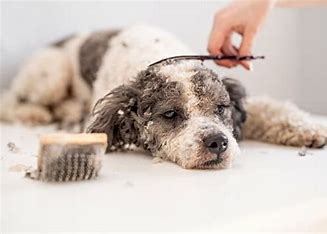 If your dog got a cut at the groomer, apply a compress to the wound to stop the bleeding after washing the area with saline. Apply antibiotic ointment to the wound after the bleeding has stopped.
First, stop the bleeding and allow a scab to form if your pet has re-commenced bleeding. A dog's nail can be stopped from bleeding with styptic powder, which is the most common and effective method. In veterinary and grooming clinics, it's used to stop bleeding and treat minor cuts and clipper nicks
In the event that your dog's injuries resulted in hospitalization or a visit to a veterinarian, you may want to consider filing a small claims lawsuit against the grooming salon.
You should keep in mind that groomers are not required to adhere to these common practices or even be aware of them, so good communication is vital. Your groomer may not know about clipper burn until you take your dog home, so if you find it, call them immediately.
If you wait until next time, your groomer may not remember what blade she used on your dog in that specific spot and she could miss out on making a note in your chart. There may be a reason for her to change blades on that particular day even though she uses the same blade on each dog.
You can rely on her to make the adjustments for your dog if you call as soon as you find the problem, and then remind her when you return to check the notes next time.
How Long Do Razor Burns Take to Heal?
Depending on the severity of your dog's razor burn and its health, razor burn typically heals in five to seven days. You can help soothe your dog's pain and speed up the healing process.
Make sure your dog is in good health. Check your skin for red patches or splotches that could indicate razor burn. After the grooming session, keep an eye out for behavioral signs.
There may be an infection if there are cracks in the skin, blood, or even pus oozing from the area. Take your pet to the vet as soon as possible to keep it from getting worse by letting it linger.
In order to help razor burn heal, it's important to keep it dry. As a result of dampness, hotspots can develop. In addition, your pup should be discouraged from licking, scratching, or biting the affected area.
Getting your pup used to the area will be easier once you begin soothing the burning and itching. Soothe sore muscles with medicated baths, topical creams, or even a cool patch.
Preventing Razor Burn in Dogs
Choosing clippers can be difficult if you have never shaved a dog before. Ask your dog-loving friends or a trusted groomer for recommendations. Make sure to ask about the blades' lifespan and whether they tend to overheat. If your pup is shy around loud noises, knowing how loud the clippers are is also helpful.
Once you have your new clippers, start with a longer blade if you eventually want a shorter cut. Watching your pup's reaction after the clipping will help you determine if he has sensitive skin.
The more pressure you apply, the more chances you'll have to make errors as you learn how much to use. Your clipper blades might need to be sharpened or replaced if you accidentally give your dog razor burn.
Besides checking the clippers' temperature, it's also a good idea to ensure they don't burn the skin. Cool them down before proceeding. Keep grooming small amounts more frequently to prevent mats from forming, and avoid brushing too much in one area.
Frequently Asked Questions
Can you put Neosporin on a dog for razor burn?
If you apply Neosporin to a dog with razor burn in an area it cannot lick, there's little risk. That said, some dogs may have an allergic reaction to Neosporin, so before you apply a lot of it, do a test.
What cream is good for dog razor burn?
To help soothe razor burn, you can use Sulfodene or aloe vera. Try your best to stop your dog from licking or pawing at the affected area.
Can I use Vaseline on my dog's razor burn?
Petroleum jelly products like Vaseline aren't ideal for treating a dog's razor burn since they were originally created with people, not dogs, in mind.
Conclusion for "How to Treat Razor Burn on Dogs' Privates"
You can soothe your dog's irritation at home. Cold compresses can help reduce inflammation. For further relief of the burning sensation, you will also want to apply a soothing cream or ointment. That said, veterinary treatment may be needed to treat dogs with severe razor burn on their privates.
If you find this guide, "How to Treat Razor Burn on Dogs' Privates," check out:
Learn more by watching "Dog Sanitary – How to Trim Hair Around Privates" down below:
Garrett loves animals and is a huge advocate for all Doodle dog breeds. He owns his own Goldendoodle named Kona. In addition, he volunteers at the Humane Society of Silicon Valley, where he fosters dogs and helps animals. Garrett enjoys writing about Doodles and believes that dogs can teach humans more about how to live than humans can teach a dog.
Why Trust We Love Doodles?
At We Love Doodles, we're a team of writers, veterinarians, and puppy trainers that love dogs. Our team of qualified experts researches and provides reliable information on a wide range of dog topics. Our reviews are based on customer feedback, hands-on testing, and in-depth analysis. We are fully transparent and honest to our community of dog owners and future owners.