Despite being shrouded in misconception, Pitbulls are loving, loyal, and laughable breeds that will go to the ends of the earth for their owners. Pitbulls come in many colors and coats, but the tiger stripe brindle Pitbull possesses a striking coat variation.
If you've been thinking about adding a Pitbull to the mix, the visually striking brindle Pitbull is a wonderful option. Not only are they stunning, but they're goofy, sweet, and protective. A brindle Pitbull is bound to make the best friend of a lifetime.
Chances are, if you're reading this, you're probably wondering about the tiger stripe brindle Pitbull. Here's everything you need to know about brindle Pitbulls from their health and history to seven fun facts.
Before scrolling down this list of facts about tiger stripe brindle Pitbull, check out: What is the Largest Pitbull Breed? (2023) and 7 Signs That Your Pitbull is Pregnant (2023).
What is a Tiger Stripe Brindle Pitbull?
A tiger stripe Pitbull is a type of Pitbull with a particular brindle pattern. Brindle coats can be defined as "tiger striped" for their slight similarity to a tiger's striped coat. They are generally brown and black, brown and white, or black and white.
Brindle coats can vary in color and intensity. Sometimes, brindle coats can be subtle, much like merle coats. Other times, they can be more pronounced. Pitbulls aren't the only breeds that can be brindle in nature. Mixed breeds, French Bulldogs, Bull Terriers, Greyhounds, Whippets, and Great Danes can all have brindle coats as well.
Tiger striped brindle coats are considered very beautiful and can attract potential adopters. However, when choosing to adopt or buy a dog, go by their temperament, health history, and socialization skills to make sure it's a good lifestyle fit.
Seven Facts About Tiger Stripe Brindle Pitbulls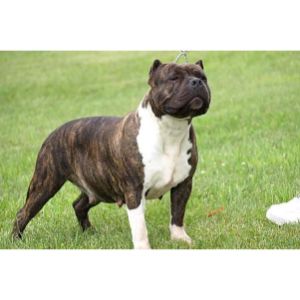 Now that we've established brindle Pitbulls, let's dive into some fun facts about this striking breed. Here are seven facts you may not have known about brindle Pitbulls.
1. Brindle Pitbulls Are Considered a Medium-Sized Breed
Most Pitbulls are actually considered medium-sized breeds, contrary to popular belief. Most people see Pitbulls as large breeds, and while Bully breeds can vary in size, they're usually medium-sized. It's important to note that bully breeds can range anywhere from 30 to 90 pounds.
However, the term "Pitbull" is actually a catchall term for various Bully breeds, such as the American Pitbull Terrier, American Staffordshire Terrier, American Bulldog, Staffordshire Bull Terrier, and the English Bull Terrier. Since multiple Bully breeds fall under the "Pitbull" term, weights can vary greatly.
When it comes to brindle Pitbulls, they fall under the same weight category and are generally considered a medium-sized breed, much like other Pitbulls with different coats.
2. They're Known For Loyalty, Love, and Affection
Despite the stigma surrounding them, Pitbulls are an incredibly popular breed. Too many Pitbulls are bred for the wrong reasons, such as dog fighting and protection. Despite the muscular and somewhat intimidating appearance of Bully breeds, they're known for their loyal, loving, and affectionate personalities. In fact, many Pitbull parents consider their pups goofy and inviting!
Brindle Pitbulls are no exception to this rule. Regardless of coat color, Pitbulls are loyal, loving, affectionate breeds that thrive off of laughs and a good time. If you're looking to add a brindle Pitbull to the mix, rest assured you'll have a best friend for life.
3. Genetics Determine if a Dog Will Have a Brindle Coat
For a Pitbull to become a brindle Pitbull, it must first carry the brindle gene, which is specific to certain breeds, like the ones we mentioned earlier. The brindle gene is recessive to the black-colored gene. Just because a dog carries the brindle gene does not mean that its coat will be brindle.
Generally, a dog is either born with a brindle coat or not. While they can develop stripes as they age, it's much more common for a dog to have a brindle coat at birth than develop it later in life. Chances are, if you have or are planning to adopt a brindle Pitbull, they were probably born with their coat.
4. A Stigma Still Surrounds Pitbulls
It's undeniable that a stigma surrounds Bully breeds more than any other in the dog world. Breeds like German Shepherds and Rottweilers gather criticism from time to time, but not like Pitbulls.
If you're looking to add a brindle Pitbull to the family, or have just brought one home, it's important to familiarize yourself with the stigma your dog may face. Education is central to being a responsible pet owner.
Just like history and physical traits characterize every dog breed, the same applies to Pitbulls. Their history, while not applicable to them today, still follows the Pitbull around. In the United States, several states have breed-specific legislation that heavily regulates or even bans owning a Pitbull.
If you own a brindle Pitbull, try to familiarize yourself with your state or country's stance on owning a Pitbull.
5. Even With Their Gorgeous Coats, They're Prone to Skin Conditions
Bully breeds are notorious for developing skin conditions, like allergies or dermatitis throughout their lives. This is largely due to their short coats and, on occasion, skin folds. Even in the midst of their beautiful coats, it's not uncommon for brindle Pitbulls to develop skin conditions.
Pitbulls are highly sensitive to allergens and external factors, because of their short coats. They're also much more likely than other breeds to develop skin infections and something called zinc-responsive dermatosis.
To take close care of your brindle Pitbull's coat, be sure to feed them a quality diet and regularly bathe them with a fragrance-free, moisturizing dog shampoo.
6. Brindle Pitbulls Are Just as Common as Other Pitbulls in Shelters
Pitbulls are one of the most, if not the most, common dog breeds found in US animal shelters. As a whole, Pitbulls and Bully breeds are unfortunately the most euthanized breed. With an abundance of Pitbulls in shelters, it makes brindle Pitbulls all the more common.
If you're wanting a brindle Pitbull, consider adopting from your local animal shelter. The bonus of adopting a dog is that they already come fully vaccinated, dewormed, microchipped, and spayed or neutered. Additionally, by adopting, you save a life. There's nothing better than that!
7. Brindle Pitbulls Make Great Therapy Dogs
Like all Pitbulls, your brindle Pitbull might have some potential when it comes to becoming a great therapy dog. In recent years, there's been an uptick in Pitbulls used as therapy and service dogs. As with any breed, socialization and proper training are key to ensuring your Pitbull becomes a stellar companion.
If you want your brindle Pitbull to become a licensed therapy dog, you must seek a letter from a licensed therapist. They can help provide actionable next steps for proper training for your dog as well.
History of the Pitbull
Now that we've established some facts about the tiger stripe brindle Pitbull, their history is important to learn. No two Pitbulls are the same, as with any dog breed, but current and prospective owners need to educate themselves on the breed's history to combat potential stigma.
It all began when breeders began cross-breeding the now-extinct Old English Bulldog and the Old English Terrier. The Old English Bulldog was bred to withstand the cruel sport of bull-baiting. One or two dogs would be set to fight a bull until one or both collapsed from exhaustion, injuries, or death.
After bull-baiting was outlawed, the Old English Terrier was crossbred with the Old English Bulldog for ratting. This is where the Pitbull that we know today was born.
They would put the dog in the pit (hence "pit") to kill as many rats as they possibly could in the shortest amount of time. With the two dogs crossbred (hence "bull" from Old English Bulldog) for ratting, the Pitbull was born.
Around the same time ratting spiked in popularity, dog fighting took place behind the scenes. This commonly involved Pitbulls. Today, dog fighting is illegal, but still takes place all across the world.
Rise in Popularity
After ratting and bull-baiting, Pitbulls were brought to America around the time of the Civil War where they found and served a new purpose. In these early American days, Pitbulls were used for many purposes on the homefront.
They became largely domesticated and were loved and revered for their ability to protect families and homes, as well as herd livestock and fend off potential intruders. They also became popular hunting dogs.
As the Pitbull spiked in popularity, they became the face of an American movement. During WWI and WWII, Pitbulls were the nation's mascot! Their courage, loyalty, and strength made them a popular symbol of American fortitude.
In 1976, the American Congress outlawed dog fighting by amending the Animal Welfare Act of 1966. In turn, it actually drew attention to the cruel sport, making it rise in popularity again illegally. Since then, they've been subjected to media scrutiny.
When looking to add a brindle Pitbull to the family, educating yourself on the breed's history can help protect both you and them from unnecessary stigma. While Pitbulls do have a darker past than other breeds, it's important to understand that owning a powerful dog comes with a lot of responsibility.
While they are incredible dogs, if a Pitbull were to bite someone, it would do much more damage than, say, a Chihuahua's bite. The same thing goes for comparing a Yorkshire Terrier and a German Shepherd.
The Appearance of Tiger Stripe Brindle Pitbulls
One of the most enticing factors when it comes to owning a brindle Pitbull is its striking coat! Also known as tiger stripes, brindle coats are fairly common among Pitbulls. Brindle can come in various colors, but most brindle dogs are often brown with black stripes. The same principle applies to brindle Pitbulls.
The brindle Pitbull can range anywhere from 30 to 90 pounds. They generally stand 18 to 21 inches tall with either lean or stocky statures. Pitbulls and bully breeds have evolved a lot over the last 200 years, so their body types can vary in size and athletic capacity.
Frequently Asked Questions
What are tiger striped Pitbulls called?
When a dog or Pitbull has stripes they're considered a brindle dog. Brindle is a coat pattern characterized by two primary colors, most commonly brown with black stripes. If a Pitbull seemingly has tiger stripes, that's probably because they have a brindle coat.
Is a brindle Pitbull rare?
Brindle Pitbulls aren't as rare as they may seem. In fact, they're fairly common. You can generally find a brindle Pitbull in most animal shelters.
What is the price of a tiger striped Pitbull?
From a breeder, you can expect to pay upwards of $500 for a brindle Pitbull puppy. At your local animal shelter or nonprofit, you can expect to pay anywhere from $25 to $250. In fact, some shelters completely waive fees for Pitbulls in an effort to eliminate the barrier of cost.
Conclusion for "Facts About the Tiger Stripe Brindle Pitbull"
All in all, brindle Pitbulls possess all the qualities of regular Pitbulls that we know and love — except they have stripes! Their striking coats make them a popular choice for many existing and prospective dog owners. With all the fun facts about brindle Pitties, what's not to love?
If you're looking for the best friend of a lifetime, look no further than a Pitbull.
For more guides like "Facts About the Tiger Stripe Brindle Pitbull," check out:
Learn more about the tiger stripe brindle Pitbull by watching "Tiger Stripe Pitbulls – The Ultimate Guide" down below:
Garrett loves animals and is a huge advocate for all Doodle dog breeds. He owns his own Goldendoodle named Kona. In addition, he volunteers at the Humane Society of Silicon Valley, where he fosters dogs and helps animals. Garrett enjoys writing about Doodles and believes that dogs can teach humans more about how to live than humans can teach a dog.
Why Trust We Love Doodles?
At We Love Doodles, we're a team of writers, veterinarians, and puppy trainers that love dogs. Our team of qualified experts researches and provides reliable information on a wide range of dog topics. Our reviews are based on customer feedback, hands-on testing, and in-depth analysis. We are fully transparent and honest to our community of dog owners and future owners.