If you are looking for Blue Nose Pitbull puppies for sale, you have come to the right place. Blue Nose Pitbulls are rare. Although they possess the same qualities as a normal Pitbull, their unusual coat and nose of light silver to a grayish color and blue eyes set them apart.
These facial characteristics make the Blue Nose Pitbull unique and add to the breed's majestic looks. However, just like other dogs, this breed has also faced criticism due to misconceptions and false rumors. But, a true fan knows what a delight it is to own a Pitbull.
These dogs are energetic, loyal, and happy. They love cuddling with their owners and are usually friendly with other people if given the right training and socialization.
Like many other breeds, the quality, temperament, and overall health of the Pitbull puppy you buy depend on the breeder you choose. So, we have created a list of reputable Blue Nose Pitbull breeders where you might find your new furry companion.
Before scrolling down this list of breeders with Blue Nose Pitbull puppies for sale, check out: What is the Largest Pitbull Breed? (2023) and 7 Signs That Your Pitbull is Pregnant. (2023).
1. Clase Pitbulls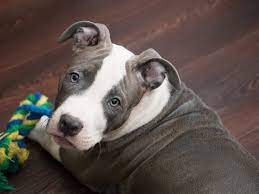 Clase Pitbulls has been breeding some of the best XL Blue Nose Pitbulls and American Bullies for over 20 years. Their kennels are located in upstate New York and Long Island, where they breed and raise fawn, merle, and tri-color Pitbull puppies.
Clase Pitbulls was voted one of the top five Pitbull breeders in New York, and it strives to maintain its ranking by breeding high-quality dogs. The breeder offers XL Pitbulls with high drives, muscular frames, and excellent temperaments. All puppies come from the best bloodlines and are socialized early in life.
The puppies are raised around children and receive lots of attention from day one. The breeder offers a health guarantee, a vet certificate, and UKC paperwork along with their puppies. You can also get a training package to help you train your pup the right way.
The breeder lists all its upcoming litters on their website. You can fill out and submit an adoption application, which is also available on their website. Since they have all kinds of Pitbulls, you must specify that you want a Blue Nose Pitbull.
If your application is accepted, you will have to place a deposit to hold your puppy till it is old enough to go to its new home. The total price of the Pitbull puppies can range from $3,000 to $5,000.
Clase Pitbulls Details:
2. Blue Fire Pits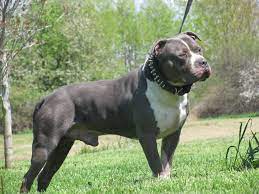 Blue Fire Pits is located in New York and has been breeding XXL Pitbulls since 2005. The breeder has refined their breeding process over years of research and experience and offers some of the best quality Blue Nose Pitbull puppies for sale.
The breeder prefers to breed blue or gray Pitbulls. However, they also occasionally have other colors, such as fawn, merle, and tri-color. Although different colors are available, the breeder focuses on producing puppies with good health, great physical attributes, and excellent temperament.
The main bloodline the breeder uses is the Gottiline. However, they have also used others, such as the Razors Edge, to add extra muscle to the puppies' structure. The breeder has also produced Blue Nose Pitbulls in other sizes, including XL, standard, and pocket. But, they currently focus on producing XL Pitbulls with exceptional muscular strength and beautiful looks.
The breeder will conduct a brief interview to ensure that you are a suitable applicant for their puppy. If your application is approved, you must place a $500 deposit to reserve the puppy. Then, you can pick up your puppy once it is eight weeks old.
The breeder also offers to ship puppies all over the US, Mexico, Canada, and Paris. Additionally, your Blue Nose Pitbull puppy will also come with a two-year health guarantee and UKC paperwork. Apart from that, the puppy will also have been dewormed and received its first set of vaccinations.
Blue Fire Pits Details:
3. Finest Pitbulls Made
Next on the list of places you can find an adorable Blue Nose Pitbull puppy is FPM. This breeding program was established in 2008 to produce family-friendly Pitbulls explicitly trained for companionship.
The breeder also has a store that offers products specially designed for Pitbulls. In addition, the breeder hand delivers the puppies worldwide, so you can get one of their amazing dogs no matter where you are.
The Pitbulls are raised in a safe environment to ensure healthy development. The breeder's facility is on 50 acres of land with a huge lake where the dogs can swim and play. The puppies also receive a healthy diet to ensure they get all the nutrition they need.
FPM's main priority is professionalism. They ensure that the clients are well cared for and answer all your queries. They produce high-quality dogs using the best breeding methods. All their dogs have health certificates, up-to-date vaccinations, and health records.
FPM also has an excellent training system which is popular among Pitbull enthusiasts. Their training package includes 21 commands which involve vocal commands and hand gestures. This training allows your dog to love and obey you and adjust to life inside the home quickly.
You can visit FPM's website to check if they have the puppy you want. Then you can fill out an adoption application. Afterward, a representative will contact you to discuss further details.
Finest Pitbulls Made Details:
4. Blue Nose Pitbull
Blue Nose Pitbull is another excellent choice with eight years of experience in breeding high-quality Pitbulls. The breeder produces puppies with exceptional temperaments, health, structure, and charisma.
As the name suggests, this breeder raises champion-line Pitbulls in unique colors, such as blue, gray, and lilac, along with standard colors. However, the breeder does not prioritize color over health.
The breeder offers a fantastic health guarantee for all its pups and worldwide shipping. If it seems like your dog contracted an illness before adoption, you can get a complete refund, get another dog for equal value, or keep your puppy and be reimbursed for vet expenses.
Your puppy will come with a health certificate, food bowls, a blanket, collars, a microchip, and food. The breeder will also give you a little booklet to help make the transition easier.
The breeder raises all their puppies at home. So, they are socialized early and receive lots of love during their time there. All the puppies are friendly, good with children and pets, and sociable.
If you are interested in this breeder, you can head to their website to learn more. All available puppies are listed on the website, along with detailed profiles. If you find a puppy you like, you can place an order immediately and start bringing your new dog home.
Blue Nose Pitbull Details:
5. Big Gemini Kennels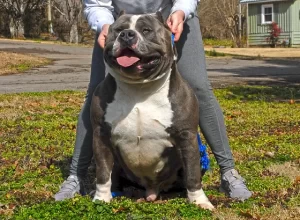 Big Gemini Kennels, or BGK, claims to have the biggest Blue Nose Pitbulls in the world. The breeder has produced some of the most famous dogs known for their incredible size, temperament, and looks.
Their licensed breeding facility is located in Southern California and has an A rating from animal control. The breeder has consistently produced the largest Pitbulls for the last 10 years. They have also loaned their Pitbulls to other kennels to help them start their ethical breeding journey.
The kennel team interacts and plays with the dogs to ensure they are socialized early, and as a result, their dogs are family-friendly and excellent with kids.
Every puppy is dewormed and up to date on its vaccinations. The puppy will also come with a contract that guarantees the puppy's pedigree, health, and UKC registration. The kennel also works with some of the best dog trainers in California to ensure you get one of the best Blue Nose Pitbull puppies in the US.
The breeder lists all their upcoming litters on their website. So, you can head there to check if they have any Blue Nose Pitbull puppies available. If you decide to buy a puppy from BGK, you can text them at the given number to get the ball rolling.
Big Gemini Kennels Details:
6. Trevinos Pitbulls
Trevinos Pitbulls is located in Western Arkansas and breeds Pitbulls and American Bullies. It is a family-owned breeding program with over 20 years of experience.
They breed for high drive, stamina, athleticism, and temperament. All their dogs are healthy, beautiful, and registered with the ADBA and ABKC.
By producing well-bred Pitbulls, the breeder aims to improve the tarnished image of the beloved breed. All the puppies at Trevinos Pitbulls are socialized early to achieve this goal. The pups are raised at home as a part of the family and receive lots of affection. They also grow up around children and people, so the pups are used to living inside homes.
All pups are priced according to the pick of the litter. The prices are $4,500 for the first pick, $4,000 for the second pick, $3,500 for the third pick, and $3,000 for the final picks.
You may have to place a deposit to reserve your puppy. The breeder charges an additional $1,000 for tri-color puppies. Apart from that, you can also have your puppy shipped to you if you cannot pick it up.
Trevinos Pitbulls Details:
7. Swag Kennels
Next on the list of Blue Nose Pitbull breeders is Swag Kennels. This kennel raises its pups like a part of the family and ensures they receive the best possible care. They specialize in raising XL and XXL American Bullies and are well-known for their two-faced merle, Phantom.
Swag Kennels produces some of the best family dogs with excellent temperaments that are great with children and other people. The breeder offers Pitbulls in many colors, including black, blue, merle, fawn, lilac, and tri-color.
The breeder sells their puppies according to picks. So, you can find out about their upcoming litters and reserve a pick. You can pick your puppy once it is six weeks old.
Apart from that, the breeder also offers shipping all over the US and worldwide. You can have the puppy shipped to your nearest airport for an additional $600 to $1,000 in the US.
If you can visit the kennel yourself, you can get customized gold or silver chains and leashes made for your adorable pup.
Swag Kennels Details:
8. Anderson Pitbulls
Anderson Pitbulls is a family-owned kennel located in Northern California. They produce top-quality Pitbulls and help clients find the perfect puppy. Whether you need a service animal, an athletic dog, a family pet, or a show dog, this breeder has it all. You can discuss your needs and work together to find the perfect puppy.
The breeder prefers quality over quantity. They breed select litters yearly and focus on the bloodline, temperament, function, health, and structure. In addition, if you want a specific color puppy, such as the Blue Nose Pitbull, you can talk to the breeder. They will set you up with breeding to produce the puppy you want, and you can reserve a puppy from that litter.
All puppies leave the kennel with age-appropriate vaccinations, deworming, and a health certificate. Your puppy will also have its UKC or ABKC registration unless you are getting the puppy as a companion only.
So, if you are searching for Blue Nose Pitbull puppies for sale, you can visit Anderson Pitbulls' website. The price of the puppies starts at $2,500 and up. If you find a dog you like, you can contact the breeder via the contact form given on their page.
Anderson Pitbulls Details:
How to Choose Blue Nose Pitbull Breeders
The breeder you choose determines the quality of the puppy you will get. So, if you have decided that the Blue Nose Pitbull is a perfect choice, the next step is to find a reputable breeder.
Here are some tips to help you pick the best option.
Reputation and Experience
Choose a breeder that has a good reputation and years of experience. You can also check their testimonials, Google reviews, and social media or ask for references.
Health and Temperament
The main priority of a reputable breeder is the puppies' health. So, it is essential to check if the breeder tests their dogs before breeding, tests the puppies for illnesses, and maintains a healthy environment. The breeder should also vaccinate and deworm the pups before adoption.
Temperament
Good temperament is vital for every dog, regardless of breed, but it is doubly important for Pitbulls. A good breeder prioritizes early socialization to ensure dogs are used to being around kids and pets.
Customer Support
A professional breeder will try their best to guide you through each step of the adoption process. They will be ready to answer any questions and also offer support after you have taken the puppy home.
Frequently Asked Questions
How much does a Blue Nose Pitbull cost?
You can expect to pay anywhere from $2,500 to $5,000 for a healthy Blue Nose Pitbull puppy.
Are Blue Nose Pitbulls rare?
This recessive gene means that Blue Nose Pitbulls are rare, which is why they can be so expensive.
Do Blue Nose Pitbulls have skin problems?
Blue Nose Pitbulls can have dry skin and allergies.
Conclusion for "Blue Nose Pitbull Puppies for Sale – Top Breeders"
Blue Nose Pitbulls are rare and adorable. These dogs are affectionate, loyal, and quite energetic as well. But due to irresponsible pet ownership and backyard breeding, this breed has gained a bad reputation. So, it is crucial to choose your breeder as carefully as possible.
It is essential to research and find a reputable breeder with a history of providing healthy and well-tempered puppies, and also make sure you are familiar with the breed's characteristics, needs, and possible health issues before deciding to buy a puppy.
We have created a list of well-established breeders that offer Blue Nose Pitbull puppies for sale across the US to help you out. However, we recommend you research and choose one that best meets your criteria.
For more guides similar to this list of Blue Nose Pitbull breeders, check out:
If this guide helped you find breeders with Blue Nose Pitbull puppies for sale, you may want to watch "PROS and CONS of owning a Blue Nose Pit Bull!" down below:
Garrett loves animals and is a huge advocate for all Doodle dog breeds. He owns his own Goldendoodle named Kona. In addition, he volunteers at the Humane Society of Silicon Valley, where he fosters dogs and helps animals. Garrett enjoys writing about Doodles and believes that dogs can teach humans more about how to live than humans can teach a dog.
Why Trust We Love Doodles?
At We Love Doodles, we're a team of writers, veterinarians, and puppy trainers that love dogs. Our team of qualified experts researches and provides reliable information on a wide range of dog topics. Our reviews are based on customer feedback, hands-on testing, and in-depth analysis. We are fully transparent and honest to our community of dog owners and future owners.