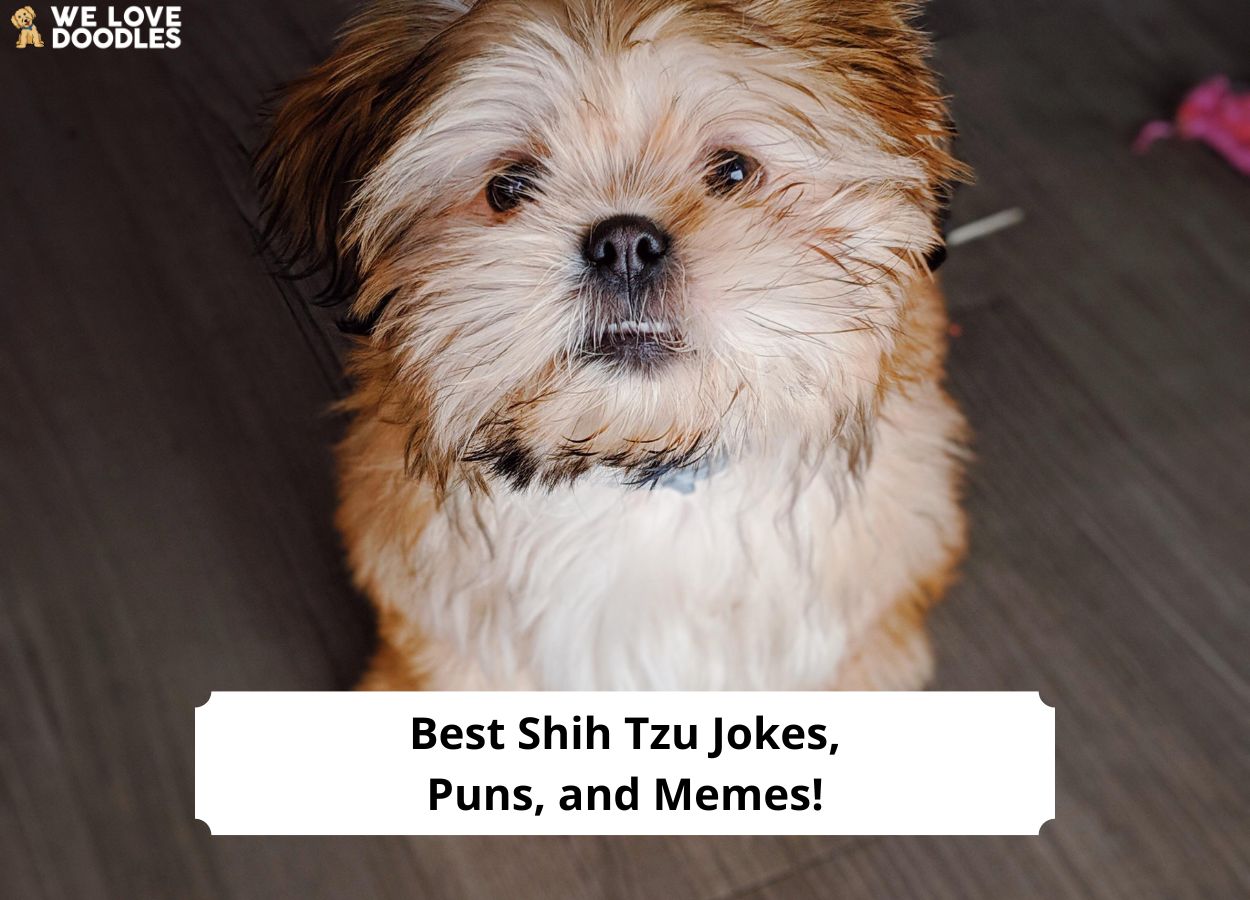 The Shih Tzu is a peppy, jolly little dog that can be as stubborn as can be! They're smart little pups, though, and they make friendly additions to just about any family. We've put together a collection of the best family-friendly, safe-for-work Shih Tzu jokes, puns, and memes.
Whether you have a Shih Tzu or just love the breed, we hope you enjoy these funny jokes and stories!
Before you read this list of Sih Tzu jokes, puns, and memes, check out: The 20 Best Funny Dancing Dog Memes! (2023) and 103 Best Hilarious Dog Puns & Jokes! (2023).
The Best Shih Tzu Jokes on the Internet!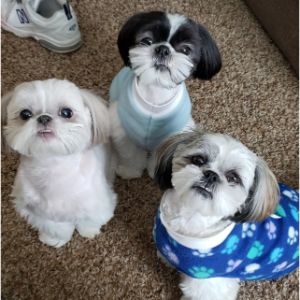 We've found that most of the Shih Tzu jokes out there aren't appropriate for families or the water cooler. To help you maintain your status as the funniest in the office, we've put these jokes together for you to share.
Question: What do you get when you cross a Shih Tzu, a Poodle, a Schnauzer, and a Dachshund?
Answer: A Weinerschnitzel!
Question: What do you call a sleeping Shih Tzu?
Answer: A hush puppy!
Question: Why aren't Shih Tzus smooth talkers?
Answer: Everything they say is "ruff!"
Question: What do you get when you cross a Shih Tzu with a calculator?
Answer: A friend you can count on!
Question: Why wasn't the Shih Tzu allowed on road trips?
Answer: He was a bark seat driver!
Question: Why did the poor Shih Tzu chase his tail?
Answer: He was just trying to make ends meet!
Question: What do Shih Tzus get after graduating from obedience school?
Answer: Their masters!
Question: What did the Shih Tzu tell his date at the restaurant?
Answer: Bone Appetit!
Question: What do Shih Tzus eat for breakfast?
Answer: Pooched eggs!
Question: What does a chemist's Shih Tzu do with his treats?
Answer: Barium
Shih Tzu Dad Jokes, Puns, and One-Liners
Again, we've found (and created) some Shih Tzu puns and dad jokes that are family-friendly. Feel free to share these with your kids — or your boss.
I went camping with my Shih Tzu. He slept in a pup tent.
I let my Shih Tzu choose our music in the car, but he always chooses pup music!
My dad told me to make the little things count. That's why I'm teaching math to my Shih Tzu.
Have a few more jokes about unemployed Shih Tzus, but none of them work.
My smartphone and my Shih Tzu have a lot in common like they both have collar ID.
Election years with my Shih Tzu are ruff. Bark Obama vs Mutt Romney was an especially tough year.
My little Shih Tzu went to obedience school for her masters; now she's a barkeologist.
The Best Funny Shih Tzu Stories
If you're into longer-form Shih Tzu jokes, this collection is for you. As always, these jokes are clean, family-friendly, and perfect for sharing with your little ones!
The Circus is Hiring
A dog walked into a bar. "I'll just have a seltzer, please!"
The bartender was amazed, and asked, "What's a dog like you doing in a place like this? Why, you oughta be in the circus!"
"The circus," the dog replied. "Huh. What does the circus want with an architect?"
Hard-Working Dog!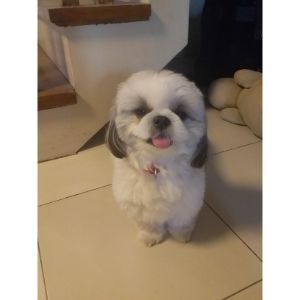 Two ladies were talking about their dogs.
"My dog fetches the paper for me every day, without fail," said the first lady.
"Well mine brings me gallon jugs of milk from the store," argued the other.
"Well, my dog is worth $10,000," retorted the first lady.
"Nonsense," replied the second woman said. "It's impossible for a dog to save that much money."
Road Trip!
A stray Shih Tzu was found wandering around the roadside. A man stopped to pick up the poor dog and was stopped by a neighbor.
"You shouldn't be messing around with that stray dog, you should be taking him to the pound!"
"Oh, that's a good idea," replied the man. "I think I'll do that."
The next week, the same neighbor saw the man and the Shih Tzu getting into a car.
"I thought you were taking that dog to the pound," said the neighbor.
"I did," said the man, "and we had so much fun that today we're going to the beach!"
"Don't Be Fooled"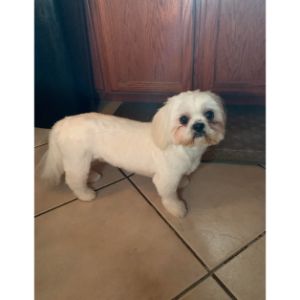 A man, a cat, and a Shih Tzu walk into a bar.
"What can I get you," asked the bartender.
The Shih Tzu looked at the bartender and said, "I'll have some seltzer, the cat will have a Moscow mule, and the man will have a cola."
"Holy cow, that's amazing! A talking dog!" exclaimed the bartender.
"Oh shoot, don't let him fool you. That cat's a ventriloquist."
Shih Tzu Memes to Save and Share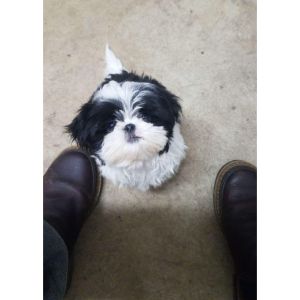 If you prefer jokes that are a bit more visual, you'll love these Shih Tzu memes. Save them, pass them on, or just treat yourself to a chuckle. Here are the best memes around!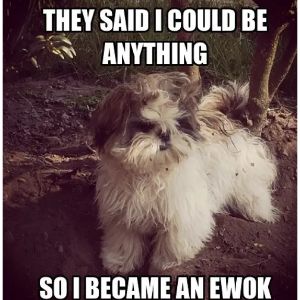 The fuzzy little face of your Shih Tzu does look like it's straight from a Star Wars movie, doesn't it? Or, for those of you who prefer it, "Wookiee hair! Don't care!"
From: ​​Pet Press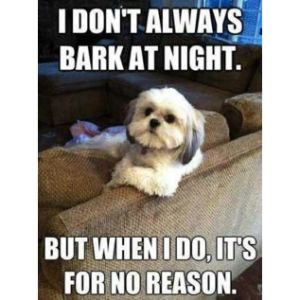 Shih Tzus are known to be exceptionally yappy dogs… even when unprovoked. We guess the important thing is that they think they're barking for a reason.
From: Shih Tzu Daily
We believe that all Good Dogs are innocent until proven guilty, but we're pretty sure this dog is guilty as charged.
From: Cheezburger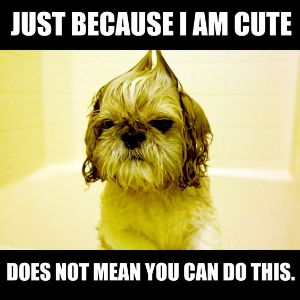 Actually, yes it does.
From: Pinterest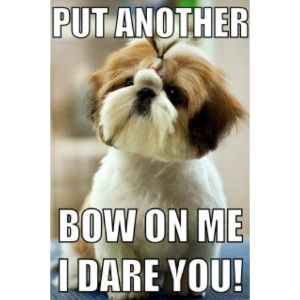 Have you ever wondered how your Shih Tzu really feels about the way you dress her up? Well, no matter. They look so cute in all those bows and sweaters, you just can't help yourself.
From: Facebook
To be fair, a lot of us look like this in photographs. This little Shih Tzu looks like he sneezed mid-shot! Still, he's cute as a button.
From: Shih Tzu Daily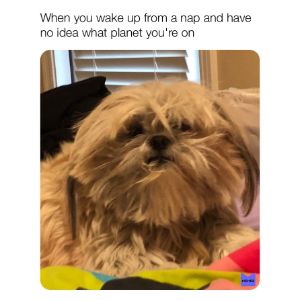 Us too, little Shih Tzu. Us, too. It's good to know that there's hope — you can wake up from a nap and look hopelessly adorable!
From: Memes
Shih Tzus are like toddlers. They're constantly shadowing you — you can't get five minutes of peace, even in the bathroom!
From: The Paws
This Shih Tzu meme made us giggle. Robert Frost wrote that "good fences make good neighbors." Well, so does a yappy little Shih Tzu!
From: The Paws
Frequently Asked Questions
What two breeds is a Shih Tzu?
Shih Tzus descend from the Pekingese and the Lhasa Apso breeds.
Are Shih Tzus smart?
Shih Tzus are not known for their intelligence among working dogs. However, even though they aren't always the most obedient, that doesn't mean they can't be smart.
How long can a Shih Tzu live?
The life expectancy of a Shih Tzu is 10 to 18 years, which is very long for a dog.
Conclusion for "Best Shih Tzu Jokes, Puns, and Memes"
We hope you enjoyed this collection of clean, family-friendly jokes about Shih Tzus! Share them around or keep them for yourself, whatever makes you happiest.
If you enjoyed these Shih Tzu jokes, puns, and memes, check out:
If you enjoyed this list of Shih Tzu jokes, puns, and memes, you might also like "Funny Dog Memes" down below:
Garrett loves animals and is a huge advocate for all Doodle dog breeds. He owns his own Goldendoodle named Kona. In addition, he volunteers at the Humane Society of Silicon Valley, where he fosters dogs and helps animals. Garrett enjoys writing about Doodles and believes that dogs can teach humans more about how to live than humans can teach a dog.
Why Trust We Love Doodles?
At We Love Doodles, we're a team of writers, veterinarians, and puppy trainers that love dogs. Our team of qualified experts researches and provides reliable information on a wide range of dog topics. Our reviews are based on customer feedback, hands-on testing, and in-depth analysis. We are fully transparent and honest to our community of dog owners and future owners.