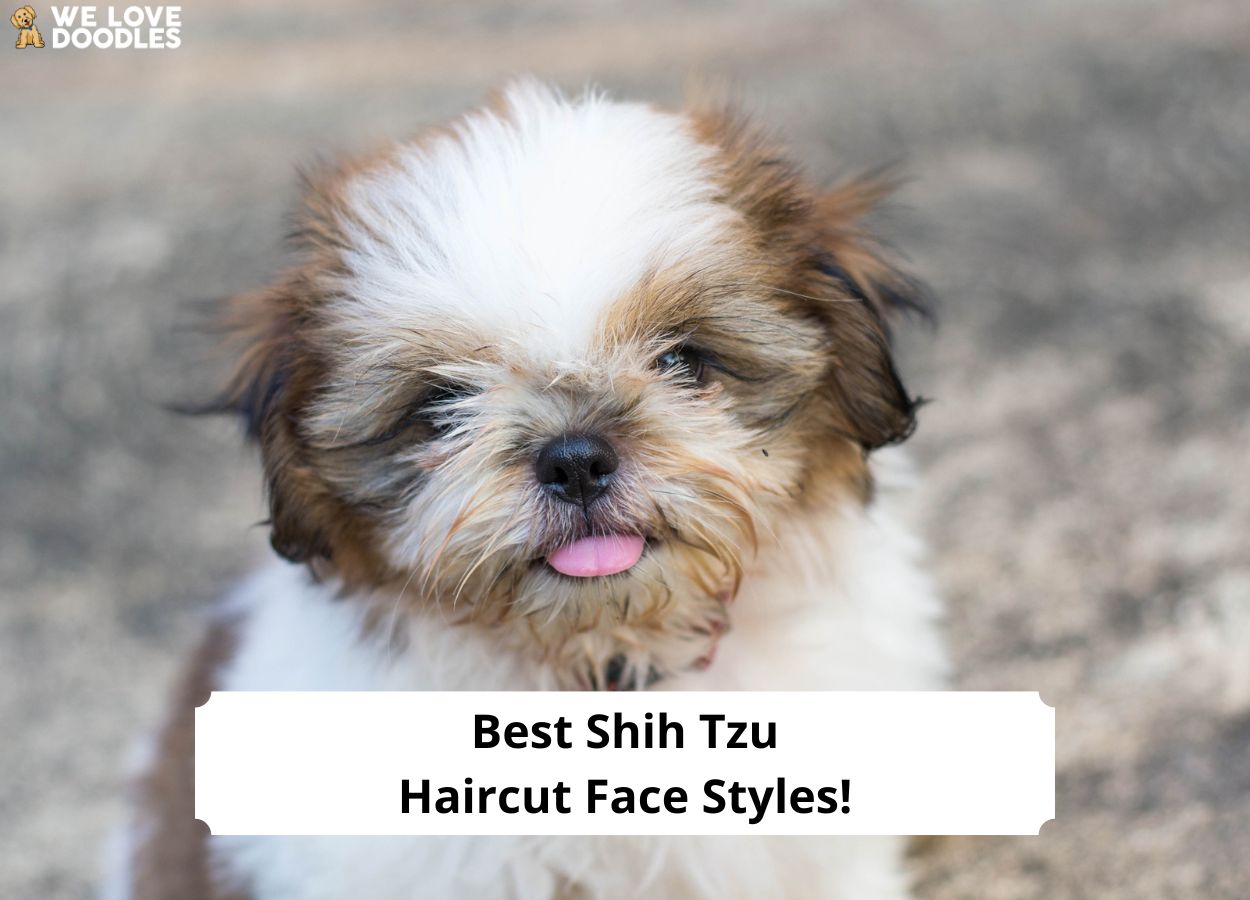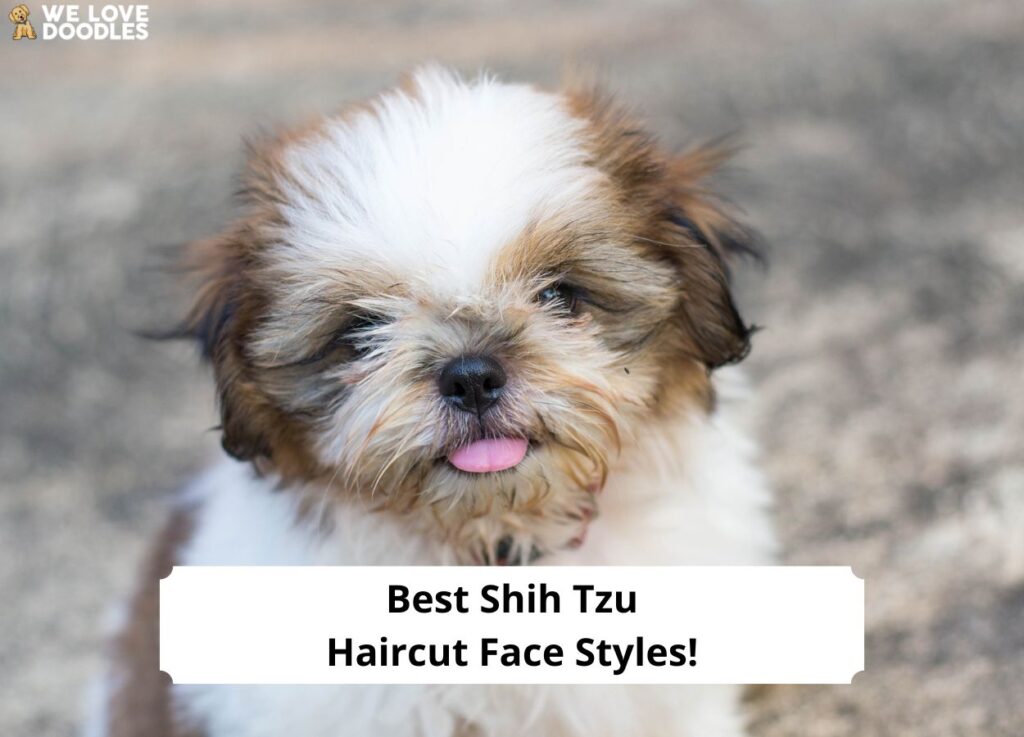 Shih Tzus are playful and unique dogs with a penchant for affection and meeting new people. However, choosing the right haircut or grooming style for your precious pup can be troublesome. You'll need to consider a lot of things like weather, climate, and comfort before weighing the best Shih Tzu haircut styles for your dog's face.
Thankfully, Shih Tzus have a stunning and luxurious coat of hair that never fails to be versatile. This dog breed can be shaved, sport a short haircut, have long hair, or get a fun and exciting haircut.
A Shih Tzu's face is equally as versatile, and this dog breed can be manicured to have its hair done in multiple ways. Read on to learn about the best Shih Tzu haircut face styles and tips on how to groom a Shih Tzu's face.
Before you scroll down this list of Shih Tzu haircut face styles, check out these other guides: 7 Shih Tzu Teddy Bear Haircut Styles! (2023) and Where Can You Get Free Shih Tzu Puppies? (2023).
8 Best Shih Tzu Haircut Face Styles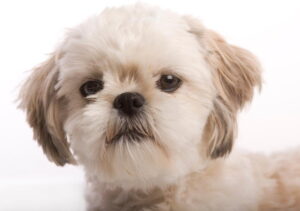 These Shih Tzu haircut face styles can take out any doubt and make you feel confident about the hairstyle you give your precious pup.
1. Teddy Bear Face
The teddy bear face will mean trimming your dog's facial hair shorter than the rest of its body hair. This haircut will likely keep some of the hair on their snout long while the rest is shorter. However, the hair on their ears and the top of the head may remain at a medium length.
A teddy bear cut is one of the most popular choices because it can make your dog look more like a teddy bear than a living dog.
2. Puppy Face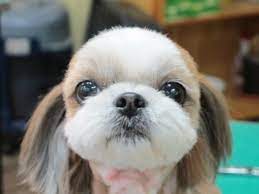 The puppy face hairstyle is perfect for small dogs or young dogs, meaning it will look great on a Shih Tzu. The puppy face hairstyle involves trimming your dog's facial hair into a uniform and even presentation. Your dog will likely have short ear hair to match its short snout hair.
Although this haircut may seem too easy for your Shih Tzu's stunning face, there are benefits. The puppy facial hairstyle can mean less cleanup and easier bath time since there isn't as much hair, and the hair available is uniformly shaped.
3. Long Ears Face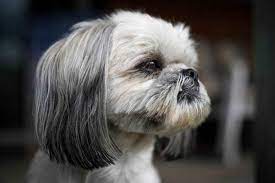 The long ears haircut will give your dog's facial hair a uniform cut but allow their ears to grow out long. These floppy ears can look elegant and flawless when trimmed and thinned to ensure they don't frizz up too much in the humid air.
This haircut style is posh and usually accompanies a rounded look to the bottom and side of the face. The hair on your Shih Tzu's ears may extend down its neck and may require extra care to maintain.
4. Short Ears Face
The short ears facial cut is perfect for families who don't have much time to manicure their dogs and would like an easy and adorable facial hairstyle. This haircut will keep a rounded look to most of your dog's facial hair while maintaining a short section of hair on your dog's ears.
This haircut won't need much upkeep, although you may need to brush your Shih Tzu's hair every few days to prevent tangles or knots.
5. Heart-Shaped Face
A heart-shaped face cut is one of the most popular for a Shih Tzu because they have such small faces. This haircut works well with the natural flow of a Shih Tzu's hair and will likely work perfectly with little intervention.
Start by trimming the sides of your dog's snout and chin hair to go upward and allow the ear hair to puff up in two arches, creating a heart shape across the face.
6. Narrow Face
A narrow face is less common than most hairstyles, but many owners may choose this option to make grooming easier. This facial haircut is perfect for dog owners who struggle to find time to regularly bathe or clean their dogs.
Additionally, a narrow-face haircut style can work perfectly for dogs who make messes when they eat or drink water.
This haircut style is easily done by trimming most of the snout, chin, and facial hair short while allowing the strands at the back of the face to be slightly longer, creating a narrow effect.
7. Ponytail Face
The ponytail face is another popular choice for a Shih Tzu and will make them look adorable. This dog breed is a perfect choice for a ponytail atop their head because of their long, luxurious locks.
To do this haircut style, you'll need to trim the hair around the sides and front of your dog's face, but leave a patch of long hair atop their head. Here, you can place a bow or tie to keep the hair gently up.
This hair can be as long or as short as you like. Some dog owners prefer the ponytail hair to droop down in a small puff, while others prefer a long ponytail that flows behind their precious pup while they run.
8. Layered Round Face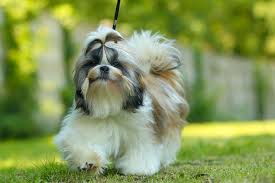 A layered round-face haircut style is an elegant and modern look. This haircut style relies on you making cuts based on the length of the bottommost layer. The layered round look may require more planning, time, and commitment. However, this look will likely get you a lot of compliments and your dog plenty of rubs and attention.
Start by deciding how long you want your bottommost layer to be, and then cut each layer a pinch shorter than that layer. Repeat this process until you have a layered look to the snout hair and ear hair.
Shih Tzu Face Grooming Tips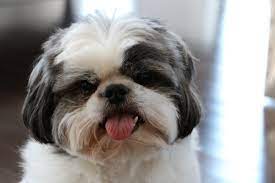 Carefully review these tips for the best practices while trimming your dog's face and hair. These tips can help make your grooming sessions an unforgettable bonding experience instead of a chore.
Train Your Dog
Train your dog to follow verbal commands before you get started on grooming. Following verbal commands will reduce any risk of injury and prevent your dog from wiggling. The best commands for grooming are those that make your dog sit, stay, and lay down.
Create a Schedule
Create a grooming schedule to suit your and your dog's needs. When your dog knows exactly what to expect from their grooming sessions, they'll be less likely to feel scared and wiggle their way away from you.
Additionally, a schedule will prevent overbathing and skin conditions that can come from excess bathing, including atopic dermatitis and dry, flaky skin.
Consider Climate
Always consider your climate and where you live. If you live in a warm location, your dog may need a shorter haircut to be comfortable. However, those living in colder climates may find their dog is more comfortable with longer hair.
You may need to try a few different haircut styles before you figure out which your dog enjoys best.
Acclimate Your Dog to Your Tools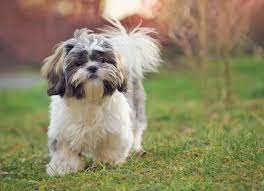 Gently get your dog acclimated to your tools by setting them out and letting your dog sniff them. Clippers and scissors can give your Shih Tzu some fear-induced anxiety and make it harder for them to be comfortable with grooming sessions and haircuts.
After your dog has sniffed the tools, you can use them gently to ensure they won't be hurt.
How to Groom a Shih Tzu's Face
This step-by-step guide on how to trim your Shih Tzu face can make a world of difference. Review each step for pulling out the trimming scissors.
Start From the Top
Begin the process from the top of the head, and allow the hair to fall to the floor. Brush away excess hair as you work your way down.
Remember to look for pests like lice, ticks, and fleas as you trim from the top. Beginning at the top of the head will help you identify any pesky creatures hiding in the hair.
Identify the Shortest Sections
Identify which sections will be the shortest before you start. Being aware of these sections will help you steer clear of these patches so you won't compromise the final look of the haircut. Mentally mark these sections off so you don't accidentally make cuts in the wrong places.
You can also use canine-friendly clips or alligator clamps to set aside longer hair for a better view.
Use Layers
Begin by layering the hair. Layering the hair can help you salvage the look from any mistakes and take things slow. With layering, you can always redirect the look if you decide you want something different halfway through the process.
Frequently Asked Questions
Choosing the best haircut style for your dog's face can be challenging, but these answers can help you figure out which style to go with and how to achieve that look.
What is a Shih Tzu teddy bear haircut?
A teddy bear haircut on a Shih Tzu is a trim that makes your dog look innocent and snuggly. This haircut will make your dog look like a teddy bear by keeping the hair around their face and head longer than that around their body.
How do you do a teddy bear haircut on a Shih Tzu?
You can do a teddy bear haircut on a Shih Tzu by trimming their hair evenly but leaving the hair on the face longer. You'll need to trim the beard hair and facial hair to resemble a teddy bear, but be careful not to trim this hair too short. The hair on the face should be longer than that on the body.
Can a Shih Tzu get a teddy bear cut?
A Shih Tzu is a perfect candidate for a teddy bear cut because of the breed's hair. Shih Tzus can be manicured and trimmed to look like a teddy bear. However, their hair may not curl as much as other breeds who get this cut often.
What is the best haircut for a Shih Tzu?
The best haircut for a Shih Tzu is one that accommodates their climate and temperature needs. For example, you won't want to cleanly shave your Shih Tzu's face in the winter when they need more coverage. The most popular haircut for a Shih Tzu's body and face is the teddy bear cut.
Conclusion for "Best Shih Tzu Haircut Face Styles"
Shih Tzus are energetic and spritely dogs who adore spending time with their owners, making them perfect candidates for haircuts at home. Additionally, these dogs have a long, luxurious coat of hair that will make them ideal for people who love to do hair and make their dogs look manicured and presentable.
Consider choosing a hairstyle for your dog's utmost comfort. For example, you'll need to consider your climate, region, and temperature before choosing a haircut so your Shih Tzu doesn't get too hot or cold.
One of the best Shih Tzu haircut face styles is the teddy bear cut because it will make your dog look innocent, cute, and manicured. This haircut is perfect for younger Shih Tzus but works well for a Shih Tzu of any age.
For more guides similar to this list showing Shih Tzu haircut face styles, you can check out these other articles from our team at We Love Doodles:
If you find these Shih Tzu haircut face styles interesting, you can learn more about grooming your companion by watching "PetGroooming – Shih Tzu Grooming from start to finish #91" down below:
Garrett loves animals and is a huge advocate for all Doodle dog breeds. He owns his own Goldendoodle named Kona. In addition, he volunteers at the Humane Society of Silicon Valley, where he fosters dogs and helps animals. Garrett enjoys writing about Doodles and believes that dogs can teach humans more about how to live than humans can teach a dog.
Why Trust We Love Doodles?
At We Love Doodles, we're a team of writers, veterinarians, and puppy trainers that love dogs. Our team of qualified experts researches and provides reliable information on a wide range of dog topics. Our reviews are based on customer feedback, hands-on testing, and in-depth analysis. We are fully transparent and honest to our community of dog owners and future owners.