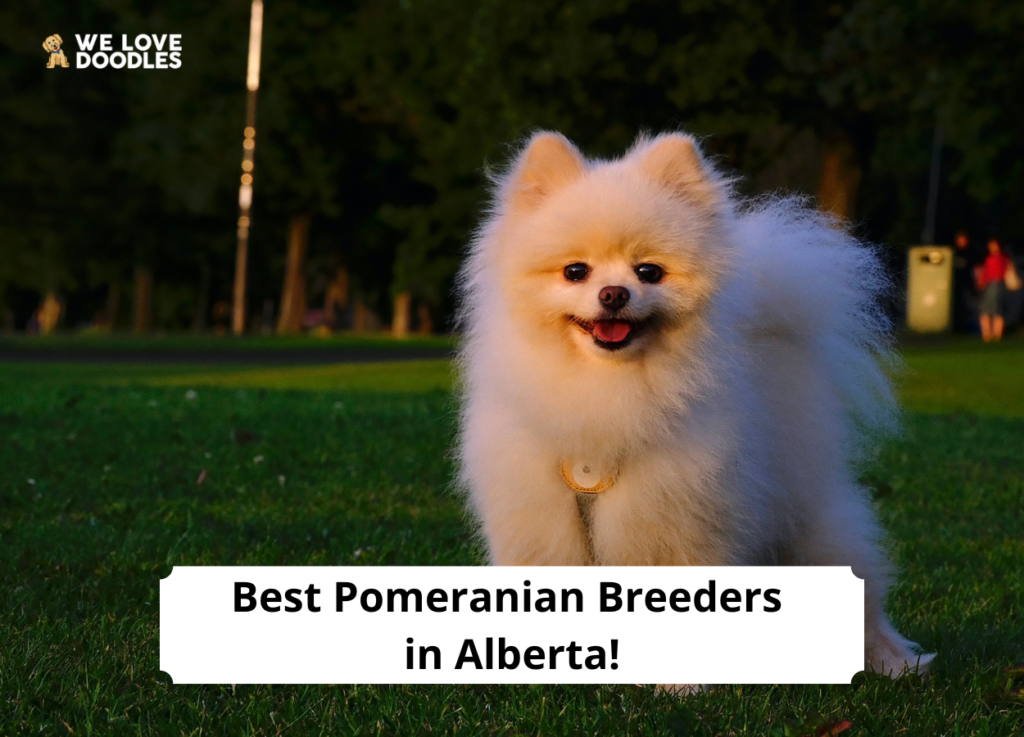 We have a great list of Pomeranian breeders in Alberta, Canada if you want to purchase an adorable Pom puppy.
Pomeranians are a popular breed of small, fluffy dogs known for their playful personalities and adorable appearance. These cute little dogs are an excellent choice for people who live in smaller spaces and want a companion that is easy to care for.
Several reputable breeders can provide you with a healthy, well-tempered Pomeranian puppy in Alberta. Let's look at some of them.
Before scrolling down this list of Pomeranian breeders in Alberta, check out these related articles: Best Dog Rescues in Alberta and Best Dog Groomers in Calgary, Alberta.
1. TerraMarie Pomeranians
TerraMarie Pomeranians have been producing healthy Pomeranians for loving homes for more than 25 years. All of their puppies are Canadian Kennel Club (CKC) registered.
In addition, their puppies are raised inside the home in a loving environment. The breeder has been a member of CKC since the 90s and has ample experience in breeding dogs.
To take a Pomeranian home, you will need to agree to the following:
All puppies must be spayed or neutered by 12 months.
You will need to pay a deposit of $500 to hold the puppy.
All deposits are non-refundable, so you will forfeit the money if you change your mind about taking the puppy.
You will need to sign a non-breeding agreement before you can take the puppy home.
Price has yet to be mentioned on their website, so you need to contact the breeder to determine the cost of the puppy.
TerraMarie has Pomeranians in a variety of colours. You can look at what is available online under their available puppies page. All puppies come with a puppy pack with a blanket, puppy food, a toy, and breed information.
TerraMarie Pomeranians Details:
2. Pom Parti Paws
Pom Parti Paws produces Pomeranians in various colours, including Red Sable, Cream, Chocolate Sable, Lilac, Wolf Sable, Beaver, Merle, Parti coloured, and tri coloured. They are a registered CKC breeder known for breeding healthy, agile puppies with excellent temperaments.
Check their website for updates to see when they will have the next available litter of puppies. Puppies will range from $1,400 to $4,000, depending upon colour and gender.
You should purchase from Pom Parti because:
They are one of the few breeders that have puppies in a wide variety of colours.
The breeder has excellent pedigree bloodlines, and the puppies are born from high-quality parents.
They do not believe in only breeding dogs for 'show' and honestly care for all the puppies born on their premises. They will take any puppy back if it does not work out for their customer.
The breeder has ample experience in breeding animals, including German Shepherds, and is also a horse expert.
Pom Parti Paws Details:
3. Pom Beach Pomeranians
Pom Beach Pomeranians are in the small town of Three Hills, Alberta. They are a small-scale breeder that believes in raising puppies at home rather than in kennels. All Pom Beach Pomeranian puppies for sale in Alberta are whelped in the breeder's home and nurtured there until they are 8 weeks old.
At Pom Beach, they raise their puppies inside the home and believe in socializing them early by exposing them to children and other animals. They strive to breed parti-coloured Poms and are working to improve their breeding practices to produce show-quality dogs.
However, they believe every puppy deserves a chance to be in a loving home, even if they do not show quality. They believe in DNA testing and carry out various tests on the parents of their puppies.
They strive to educate the public about toy and small-size puppies as there is only one size of Pomeranians. If you are interested in purchasing from them, you must fill out a puppy application and provide some personal information.
Currently, their list is complete, but they have a sample contract you can take a look at to see what they expect of their potential owners:
You will need to have your puppy inspected by a veterinarian within two days of purchase.
The puppy has received initial vaccinations, but the owner is responsible for all subsequent health visits.
The price of the puppy does not include shipping costs.
Price has not been mentioned on their website, so you need to contact the breeder.
The colour of the puppy cannot be guaranteed.
Pom Beach Pomeranians Details:
4. Wellwood Pomeranians
Wellwood Pomeranians is a small home-based breeder that raises exotic Pomeranian puppies in Alberta, including chocolate, beaver, chocolate/tan, black/tan, merle, and tri colours.
Their puppies are raised inside the home and exposed to T.V., humans, and children early on. The breeders will start pee pad training before, so your puppy will have a head start on potty training.
If you would like to purchase from Wellwood, you should know the following:
The price of the puppies ranges from $1800-$2500.
The breeder requires a $500 deposit to hold the puppy.
All puppies will have their first vaccinations before they go home.
They will be dewormed at three, five, and seven weeks.
They come with a three-year health guarantee.
All puppies are registered with CKC and are microchipped.
Wellwood Pomeranians Details:
5. Firesprite Pomeranians
Firesprite Pomeranians rounds up our list of Pomeranian breeders in Alberta. It is a home-based breeder who believes in keeping puppies inside a home, not in a kennel. All puppies are raised with other animals and socialized early on.
This breeder focuses on breeding Pomeranians for show purposes and only produces colours accepted by the Canadian Kennel Club (CKC). They do not breed exotic colours.
Firesprite's owner has ample experience in breeding Pomeranians and is involved with many dog associations:
Regional director for the Pom Club of Canada
Executive of the Southern Alberta Toy Dog Fanciers Society
Member of the Pom Club of America
If you are looking for a reliable breeder you can trust, then Firesprite is a good choice. Even though they don't breed exotic colours, they produce healthy, high-quality puppies.
At Firesprite Pomeranians, they are dedicated to promoting responsible dog ownership and helping owners raise happy healthy Pomeranians. They are a reputable breeder committed to producing high-quality puppies that make great companions.
Firesprite Pomeranians Details:
More Information About Pomeranian Breeders in Alberta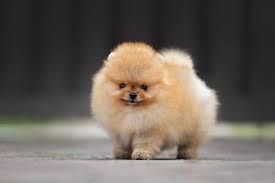 Looking for a breeder if you are a first-time puppy buyer can seem intimidating. Making sure that your breeder is reliable and following standard breeding practices is essential.
It would help if you looked at the health guarantee to see what the breeder offers. If you need help understanding the contract or guarantee, ask questions before you pay the deposit or sign any paperwork.
Most responsible breeders will allow you to visit their facility and meet the parents of the puppies so that you can get an idea of what your puppy will look like.
Pomeranians live up to around 14 years, so you must be sure that you want to commit and provide a loving home before you take the puppy home.
There is no such thing as a toy Pom, and if you find a breeder claiming to sell teacup-size or miniature Pom's, you can be sure that their breeding practices are not safe or reliable.
These puppies come in various colours and colour combinations, including black, brown, chocolate, beaver, red, orange, cream, orange sable, wolf sable, blue, white, and parti-color. If you want an exotic colour, it is essential to ask the breeder upfront if they are breeding non-standard colours.
Their coat needs to be brushed regularly; otherwise, they will become matted quickly. Due to their small size, you must protect them from overzealous children and large pets.
FAQs
How much do Pomeranians cost in Canada?
Pomeranians have a range of pricing, which is set by each individual breeder. Some breeders have a flat rate, and others price based on the colours of each puppy. Pomeranian puppies cost $1,200-$2,500 from a reputable breeder in Canada. Much less than this can signal a puppy mill. Show Pomeranians can even cost up to $10,000 per puppy. However, with their popularity and special colors, Pomeranians have a range of prices in Canada, and most breeders will have to be contacted directly to discuss costs.
How long can a Pomeranian stay alone?
Knowing how long your dog can be alone is a common concern for dog owners. An adult Pomeranian can be left alone for about 6-8 hours, or a normal work day. It's not recommended to leave them alone for longer because of their needs, such as using the bathroom, getting exercise, and mental and emotional stimulation. However, puppies should be tended to every few hours. Pomeranian HQ recommends only 1 hour alone for a puppy at 8-10 weeks, 2 hours alone at 2-3 months, and 4 hours alone at 6-12 months.
How old can Pomeranians live?
The average lifespan of a healthy Pomeranian is 14 years. The range is about 12-16 years. Healthy Pomeranians will live longer, so with a healthy diet and good exercise, your Pomeranian will live a long life.
Conclusion For "The Best Pomeranian Breeders in Alberta"
When looking for a breeder, it is essential to learn the breed guidelines on the CKC website for Pomeranians. If you know the size and other traits when you talk to a breeder, you will be in a better position to learn about their breeding practices.
It helps to ask questions from the breeder that pertain to the size and health of the puppy's parents. Some fraudulent breeders often claim they are selling teacups or miniature Pomeranian puppies that do not adhere to breed standards.
By choosing a reputable breeder, potential owners can be confident that they are getting a healthy, well-tempered puppy that will make a great companion. We have given you a great list of Pomeranian breeders in Alberta you can trust to start your journey.
For more guides similar to this list of Pomeranian breeders in Alberta, check out these guides:
Before you bring home a Pomeranian from a breeder in Alberta, you can learn more about the breed by watching "10 Fascinating Facts About Pomeranians You Need To Know" down below:
Garrett loves animals and is a huge advocate for all Doodle dog breeds. He owns his own Goldendoodle named Kona. In addition, he volunteers at the Humane Society of Silicon Valley, where he fosters dogs and helps animals. Garrett enjoys writing about Doodles and believes that dogs can teach humans more about how to live than humans can teach a dog.
Why Trust We Love Doodles?
At We Love Doodles, we're a team of writers, veterinarians, and puppy trainers that love dogs. Our team of qualified experts researches and provides reliable information on a wide range of dog topics. Our reviews are based on customer feedback, hands-on testing, and in-depth analysis. We are fully transparent and honest to our community of dog owners and future owners.