Are you looking for the top Pomeranian breeders in Ontario? If so, you've come to the right guide.
If you've always thought about owning a toy breed, look no further than a Pomeranian. Bold, perky, and friendly, Pomeranians can light up any room they enter.
However, this tiny, vibrant breed may sometimes overestimate its agility and toughness, resulting in an unwelcoming confrontation with larger dogs. Therefore, buying a Pom puppy from a breeder that provides socialization and training early on to reign in its spunky personality is essential.
Unfortunately, even these adorable dogs are not safe from puppy mills. It is common for unethical breeders to breed and raise Pomeranian puppies in unhygienic and unsafe environments and sell them to pet stores or online pet shops for a profit.
So, when you go looking for a Pomeranian breeder in the market, verify the breeder's authenticity and reliability. In this article, we've compiled a short list of the best breeders offering Pomeranian puppies for sale in Ontario to make it easier for you to find a reputable breeder.
So, without further ado, let's read on.
Before scrolling down this list of Pomeranian breeders in Ontario, check out these related articles: Best Havanese Breeders in Ontario! (2023) and Best Sheepadoodle Breeders in Ontario! (2023).
1. Pinecrest Kennels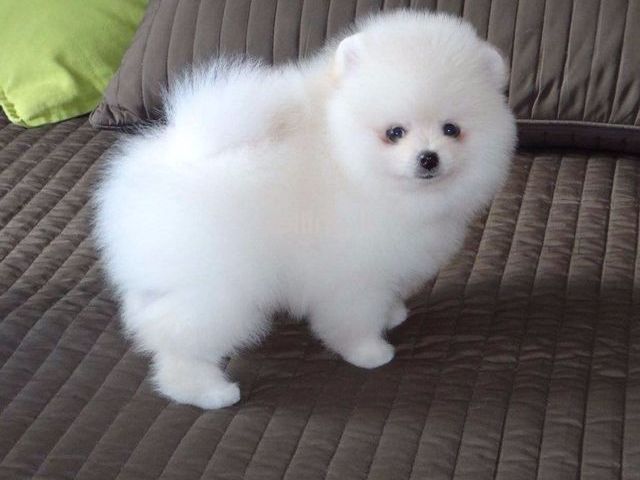 Home of champion Pinecrest Pomeranians, the Pinecrest Pomeranians are located on 10 acres of land in Bowmanville, Ontario. The kennel is "permanently registered" by the Canadian Kennel Club, licensed by the municipality, and inspected annually.
Puppies at the kennel grow up in a safe and cozy in-home environment, socialize with people and other dogs and cats, and go out for daily exercise in the country fields. Although the Pomeranian is a small breed, it requires its fair share of regular exercise.
All dogs under the care of Pinecrest Kennels are also vaccinated, vet-checked, microchipped, and dewormed. So, you will be getting a healthy and fit puppy!
If you're interested in purchasing a puppy, you can check out the available dogs and puppies by clicking here. You can also contact the kennel directly for any questions or queries through the contact details mentioned below.
Pinecrest Kennels Details:
2. Sugar Lamb Poms
When looking for Pomeranian breeders in Ontario, Sugar Lamb Poms is another option worth considering. At Sugar Lamb Poms, the team commits to raising Pomeranians with the right color, excellent temperament, versatility, and conformation according to the CKC's standard.
Puppies at Sugar Lamb Poms come with a spay/neuter contract to protect their health and ensure the quality of their pedigree. All puppies are raised in homes and are well-socialized.
The puppies are also insured, and health is guaranteed against life-threatening genetic diseases or defects. They are microchipped for your convenience, along with being vet checked.
Sugar Lamb Poms has also finished Canadian Championships on over 30 Pomeranians they've bred, purchased, or shown for others. So, if you're interested in buying a Pomeranian from Sugar Lamb Poms, you can view the available puppies here.
You can also contact the breeder directly for any queries or purchase-related queries through the contact details mentioned below.
Sugar Lamb Poms Details:
3. TinyBear Pomeranians
Some of the best Pomeranian puppies in Ontario can be found at TinyBear Pomeranians. They have owned this unique breed for over 20 years and use their expertise to breed and raise their adorable Pomeranians puppies.
Located near Toronto, all the dogs stay in a secure and comfortable environment – almost as part of the breeder's family. All puppies are brought up with love and discipline. Some of the puppies raised through the breeding program are shown in the ring, while others go to their forever homes to be petted.
TinyBear Pomeranians are dedicated to maintaining the CKC standard by breeding healthy, active, and well-socialized dogs. So, you can be assured these are some of the best possible puppies.
All the puppies at TinyBear Pomeranians are up-to-date on their vaccination shots, microchipped, and dewormed. Lastly, they also come with a one-year guarantee against genetic defects.
To learn more about the currently available puppies, click here.
TinyBear Pomeranians Details:
4. Tinyprints Pomeranians
Tinyprints Pomeranians — one of the most reliable Pomeranian breeders in Ontario — are proud members of the Canadian Kennel Club, breeding to the Canadian and American Pomeranian standards.
The team at Tinyprints Pomeranians breeds Pomeranian puppies with excellent health, temperament, movement, soundness, and more. So, you will receive a healthy and active puppy that lights up your home and family.
All pets are sold with a contract requiring them to be spayed or neutered, and they are given non-breeding Canadian Kennel Club registration unless they have already been spayed or neutered. If you're interested in purchasing a puppy from Tinyprint Pomeranians, you can check out the available puppies here.
You can then leave a detailed email to the breeder, after which you will receive a questionnaire form to fill which is part of the purchasing process. All puppies are vet-inspected, up-to-date on their vaccinations, and dewormed.
All puppy prices are mentioned in the link, and the breeder will not respond to price queries through emails.
Tinyprints Pomeranians Details:
5. Winterhaven Kennels
Home to high-quality Pomeranians, Winterhaven Kennels breeds and raises adorable puppies using the best bloodlines available, including Great Elms, Lennis, and more. All Pomeranians bred by Winterhaven Kennels are friendly, well-socialized, and healthy with excellent temperaments.
Moreover, all the puppies are registered with the Canadian Kennel Club and come to you microchipped. Each puppy will receive its first set of vaccinations, and you will also receive a record of any treatments from their vet inspections.
Lastly, note that all puppies come with a strict non-breeding contract. So, if you're interested in purchasing a puppy from Winterhaven Kennels, you can view the available puppies here.
You will also need to submit a $250 nonrefundable deposit to hold your puppy once it arrives.
Winterhaven Kennels Details:
6. Alexandroff Pomeranians
Last, on our list of Pomeranian breeders in Ontario is Alexandroff Pomeranians, a registered Canadian Kennel Club breeder. The team at Alexandroff breeds and raises dogs with professional care, respect, and utmost love.
They also train their dogs for shows and have many champion Pomeranians in their breeding program. Every dog is vaccinated, screened for health, and checked up by a licensed vet for their breeding program.
All dogs live in a home with plenty of space for exercise. Moreover, the dogs are well-socialized via Puppy Culture and ENS, so they do not have trouble settling down into their new forever homes.
If you're interested in purchasing a Pomeranian puppy from Alexandroff Pomeranians, you can view the available puppies here.
To purchase a puppy, you will need to fill out an adoption form and provide one vet reference or three personal references. For more details regarding the purchasing process, you can contact the breeder through the contact details mentioned below.
Alexandroff Pomeranians Details:
How to Choose Pomeranians Breeders in Ontario
Whenever you're in the market for Pomeranian breeders, you're likely to come around countless breeders that claim to breed the healthiest and fittest puppies. This can be overwhelming and make it harder to choose one breeder.
However, the most important part of bringing a puppy home is to ensure you pick a reliable and ethical breeder. After all, a healthy puppy is a happy puppy. But how can you differentiate a good breeder from an unethical breeder?
Here are some tips and tricks we suggest keeping in mind whenever choosing a breeder to bring a Pomeranian home.
A reputable breeder will always:
Have significant knowledge about the breeder they're raising: Make sure the breeder has all the necessary information about the breed they're selling. The breeder should know all about the health conditions the breed is at risk for and any temperament issues they may have. It's essential to understand what they are doing to overcome these challenges.
Vaccinates and deworms their puppies: A good breeder will vaccinate and deworm the puppies under its care to ensure good health. They should also be able to provide medical records that confirm this claim.
Provide a health guarantee: A reputable breeder will also provide a health guarantee against any genetic defects.
Frequently Asked Questions
How much does a Pomeranian puppy cost?
Pricing will vary based on breeder quality and the puppy's gender, coloring, and other desirable traits. On the mid-to-higher end, you can easily pay upwards of $4,500.
Do Pomeranians live long?
The typical lifespan of a Pomeranian is 12 to 16 years.
Are Pomeranians good house dogs?
If you're short on space — or otherwise spend a lot of time at home — a Pomeranian could be the perfect companion. They are affectionate, adaptable dogs who don't require as much room or physical activity as other breeds.
Conclusion for "Best Pomeranian Breeders in Ontario"
The process of choosing an authentic and reputable Pomeranian breeder may seem difficult at first. However, with some research and caution, you will easily find the perfect breeder for your future four-legged BFF.
The six Pommy breeders mentioned above are an excellent place to start your search! We've independently verified each breeder and have found them to be genuine and responsible.
We wish you the best of luck in bringing a Pomeranian puppy home!
For more guides similar to this list of Pomeranian breeders in Ontario, check out these guides:
Before you bring home a Pomeranian from a breeder in Ontario, you can learn more about the breed by watching "5 Common Mistakes That New Pomeranian Owners Make" down below:
Garrett loves animals and is a huge advocate for all Doodle dog breeds. He owns his own Goldendoodle named Kona. In addition, he volunteers at the Humane Society of Silicon Valley, where he fosters dogs and helps animals. Garrett enjoys writing about Doodles and believes that dogs can teach humans more about how to live than humans can teach a dog.
Why Trust We Love Doodles?
At We Love Doodles, we're a team of writers, veterinarians, and puppy trainers that love dogs. Our team of qualified experts researches and provides reliable information on a wide range of dog topics. Our reviews are based on customer feedback, hands-on testing, and in-depth analysis. We are fully transparent and honest to our community of dog owners and future owners.