Pitbulls are not as aggressive as many people portray them. These lovely dogs make excellent family companions. Many Pitbull puppies end up at shelters and rescues in Tennessee because their owners cannot keep up with the responsibilities of owning them.
Buying a Pitbull from a breeder might sound like a safe option, but it will cost you a lot of money. Adoption is one of the best and most affordable alternatives to getting a Pitbull dog or puppy. Besides saving a lot of money, you are giving a pet a second chance to live a normal life.
If you're ready to bring a rescued Pitbull home or you're just looking for a rescue to support, we've got you covered. Here's a list of the best Pitbull rescues in Tennessee. You can contact one near you and schedule a meeting to see their dogs before proceeding with the adoption.
Before you read this list of Pitbull rescues in Tennessee, check out: 10 Best Pitbull Rescues in the United States! (2023) and 9 Best Pitbull Breeders in the United States! (2023).
1. Bless the Bullys
Bless the Bullys made it to our list because of its dedication to helping the American Pitbull and being a voice for voiceless dogs. This small, non-profit is dedicated to the rescue, rehabilitation, and rehoming of Pitbulls in Tennessee and surrounding states.
They also educate the public with the hopes of restoring the image of the American Pitbull Terrier. There are many misconceptions about these dogs, and this rescue team aims to change the narrative.
BTB started out only as a rescue in 2004. However, the organization has evolved in recent years, shifting its priority to the fight against breed-specific legislation in Tennessee and other states.
While its major focus is on creating awareness for this breed, the organization occasionally rescues and finds suitable homes for Pitbulls. Each rescued dog undergoes a thorough health examination to ensure they are healthy before being adopted.
Dogs diagnosed with health issues are placed under proper medical attention until they are strong and healthy. In addition, they ensure the dogs are brought up to date on vaccinations, dewormed, microchipped, and spayed/neutered before being listed for adoption.
Their many years of experience with this breed make them one of the best rescues to adopt a Pitbull. They provide maximum support for all adopters, ensuring they get all the guidance and resources they need to raise and keep their newfound friends.
To significantly boost their chances of being adopted, all rescued dogs are well-socialized and trained before being made available for adoption. Pitbulls can be extremely sweet and lovely when trained properly. As such, the team provides basic obedience and behavioral training.
Whether you want to adopt a Pitbull pet or you want to learn more about Pitbulls and breed-specific legislation in the state, Bless the Bullys has you covered.
Bless the Bullys Details:
2. Fighting for the Bullys Pitbull Rescue
Based in Knoxville, Fighting For The Bullys Pit Bull Rescues (FFTB) is another great place to adopt this breed in Tennessee. FFTB is a non-profit consisting of determined volunteers who are willing to go the extra mile to ensure that Pitbulls in Tennessee have a second chance at life.
They have dedicated their hearts to saving this beloved breed and ensuring they live the best life. The rescue team searches shelters across the East Coast that need help saving Bullys from death row.
Their major focus is on Pitbulls in shelters and pounds across Tennessee and surrounding states. FFTB believes all bully dogs have good in them and they intend to help and bring out the best in them.
If this is your first time owning a Pitbull, don't worry, as they will guide you through the process. Pitbulls are one of the dogs with the highest kill rates in shelters nationwide because many people buy them without knowing much about them. The volunteers at this rescue believe that education is the key to stopping the injustices done to Bully breeds.
All rescued dogs are extensively vet-checked and tested for various health conditions. They ensure they are healthy, sound, and happy before listing them for adoption. In addition, the dogs are re-socialized, re-trained, and temperament-evaluated before being adopted.
Assessing temperament helps them pair dogs with the appropriate adopter. They are committed to making a difference in the lives of abused, unloved, neglected, and abandoned Pitbulls in Tennessee.
Fighting For The Bullys Pitbull Rescue Details:
3. Proverbs Animal Rescue
Proverbs 12:10 Animal Rescue is a charitable organization managed primarily by volunteers in Tennessee. It is a foster-based rescue, meaning all their dogs are placed in foster homes across the state.
After the rescue, the dogs are taken to a vet for a proper health examination. They are all tested to unravel underlying health conditions and treated immediately.
Proverbs Animal Rescue provides any and all medical treatment recommended for the rescued dogs in their care regardless of cost. In addition, the rescue pays for training when necessary, providing the pets with all they need to fit into any family seamlessly.
Their ultimate goal is to help animals and ensure they receive the care, love, and attention they deserve. Besides Pitbulls, this rescue saves other breeds. They occasionally save cats and kittens, too.
Adopting a Pitbull from this organization starts with filling out an adoption form online. You will be contacted afterward for a phone interview. They will ask you several questions regarding yourself and your plans for the dog.
After that stage, the next phase is a home visit, which helps determine if your home is a good fit for the dog and vice versa. All the dogs are temperament-evaluated, which helps the team to place them in the right kind of homes.
Their adoption fee is relatively cheap, and they provide lifetime support for adopters. Whether it is your first time owning this breed or not, you will greatly benefit from their training resources.
Proverbs Animal Rescue promotes the spaying/neutering of pets to help curb the issue of overpopulation. As such, they spay or neuter all their dogs before adoption. The team also educates people on responsible pet ownership while providing them with all the support they need when raising their pets.
Proverbs Animal Rescue Details:
4. Nashville Pittie
Nashville Pittie is one of the few organizations that are not only committed to the rescue of Bully breeds but also works hard to correct the misconception about these dogs. It is a foster-based rescue that believes that no pet should suffer neglect, discrimination, and abuse.
To that note, the rescue team works to restore the Pitbull's positive image through education and by promoting responsible pet ownership. They also support spay/neuter programs to help resolve the issue of pet overpopulation.
The organization aims to bring to light the true nature and character of the Pitbull and other Bully breeds. They are committed to teaching people the invaluable contributions these adorable dogs make as service companions and family pets.
Being a foster-based rescue, all rescued and medically-tested dogs are placed in foster care across the state. Prior to the temporary placement, all rescued dogs are vet-checked and tested for various health conditions associated with this breed.
The dogs are spayed/neutered, vaccinated, dewormed, and microchipped prior to adoption. In addition, the team ensures they are well-socialized, well-behaved, and trained while in foster care. Another beautiful thing about this rescue is that they always keep in touch with their adopters. They also accept their dogs back if you can no longer care for them.
Nashville Pittie Details:
Frequently Asked Questions
Are Pitbulls illegal in Tennessee?
Some cities and counties do not allow Pitbulls, but they are not banned statewide in Tennessee.
Why are Pitbulls hard to adopt?
Due to misconceptions about the breed, Pitbulls are typically one of the least-adopted dogs. There are also a lot of Pitbull puppies in the world due to pet overpopulation.
Is it a good idea to adopt a Pitbull?
When matched correctly, it's a terrific idea to adopt a Pitbull. These dogs are highly affectionate, loyal, fun-loving dogs, doubly so with proper training and socialization.
Conclusion for "Best Pitbull Rescues in Tennessee"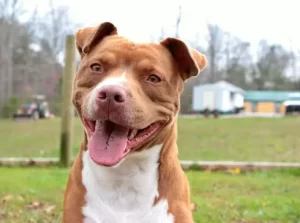 Pitbulls are one of the most feared dogs because of their reputation as violent dogs. Nevertheless, there is no established proof of this claim and most Pitbulls are affectionate, loyal, and friendly companions.
Choosing to adopt a Pitbull is an act of kindness that will also save you a lot of money. You can rely on the Tennessee-based rescues listed here for a healthy, happy, and well-behaved Pitbull.
For guides similar to this list of Pitbull rescues in Tennessee, check out:
Before you adopt a Pitbull in Tennessee, learn more by watching "Most Amazing Facts about Pitbulls" down below:
Garrett loves animals and is a huge advocate for all Doodle dog breeds. He owns his own Goldendoodle named Kona. In addition, he volunteers at the Humane Society of Silicon Valley, where he fosters dogs and helps animals. Garrett enjoys writing about Doodles and believes that dogs can teach humans more about how to live than humans can teach a dog.
Why Trust We Love Doodles?
At We Love Doodles, we're a team of writers, veterinarians, and puppy trainers that love dogs. Our team of qualified experts researches and provides reliable information on a wide range of dog topics. Our reviews are based on customer feedback, hands-on testing, and in-depth analysis. We are fully transparent and honest to our community of dog owners and future owners.