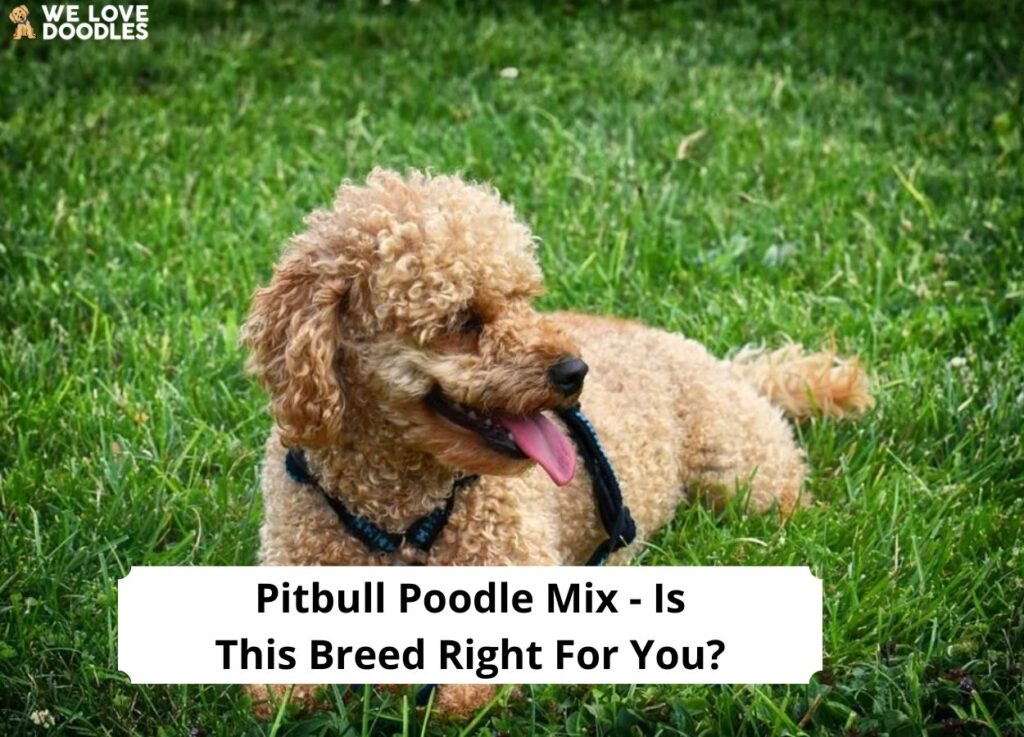 A Pitbull Poodle mix may not be what you imagine when you think of a Doodle, though they are just as lovable as the others. These adorable crossbreeds combine a Poodle's intelligence and a Pitbull's loyalty, so you get the best of both worlds!
Although the Poodle Pitbull mix is a loving, family-oriented dog, it may not be suitable for every type of household. Keep reading to learn more about this particular pup to find out if it's right for you!
Before scrolling down this Pitbull Poodle mix guide, you can check out these other Poodle mixes from our team at We Love Doodles: Mastiff Poodle Mix and Chow Chow Poodle Mix.
Pitbull Poodle Mixes: A Brief Summary
Pitbull Poodle mixes, also referred to as "Boodles," are medium-sized crossbreeds that are easy to train and loyal to their families. Although they get their temperament from their parents, they may not have physical traits from each breed.
Poodles are known to be smart but silly dogs that make great additions to families with or without children.
Pitbulls may be American Pitbull Terriers, American Bullies, or Staffordshire Bull terriers, to name a few. Despite the various types, all Pitbulls share similar traits of intelligence and adaptability, making them easy to train.
Therefore, crossing a Poodle with a Pitbull results in a quick-learning, obedient dog!
Pitbull Poodle Mix History
Designer dogs (hybrid docs) continue to grow in popularity, though most mixed breeds don't have a lengthy history. Knowing the history of this hybrid breed's parents will help you better understand the Boodle.
History of the Poodle
Standard Poodles got their start over 400 years ago as retrieving dogs. These brilliant and strong swimming animals were, and continue to be, magnificent retrievers. Despite being the national dog of France now, Poodles initially reigned from Germany.
The Poodle's signature show coat once served a practical purpose. Poodles were well-trained duck-hunting dogs whose owners wanted them to have a free range of motion but still protect them from the cold. So, they would shave their Poodles' necks, legs, and tails but leave hair over their leg joints, hips, and chests.
History of the American Pit Bull Terrier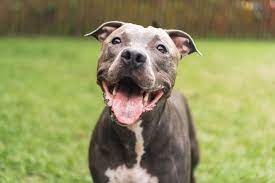 You can trace the American Pit Bull Terrier to the United Kingdom in the 1800s. They came from Old English Bulldogs and were used in dog fights. Once such games were outlawed, new games arose, like watching to see which bulldog could kill the most rats.
As the games rose in popularity, competitors wanted to create a better-skilled dog. They bred bulldogs with terriers, resulting in the American Pit Bull Terriers we know today. Years later, Pitbulls popped up in America and became working dogs that protected livestock and helped with hunting.
Pitbull Poodle Mixes: Everything You Need to Know
Here is more information on the Boodle's appearance, coat, size, temperament, lifespan, and potential health issues.
What Do Pitbull Poodle Mixes Look Like?
Poodle pitbull mixes can be somewhat unpredictable when it comes to appearance because both breeds have different builds. Poodles have a more slender body shape, whereas Pitbulls have dense muscle.
The boodle pup may have more Poodle or Pitbull features, but likely won't take the physical traits of both breeds.
Pitbull Poodle Mix Coat Types
Typically, Pitbull Poodle mixes have a coat more similar to the poodle parent, though it may not have as tightly wound curls. Their coats may be of various colors, including gray, black, white, tan, blue, or brindle. In rare cases, a Boodle will have a short, smooth coat like a Pitbull's.
Size and Weight of the Boodle
Poodles come in three different sizes: miniature, toy, and standard. Standard poodles grow under 15 inches tall at the shoulder, and Pitbulls reach between 17-19 inches, depending on gender. Meanwhile, Pitbulls can weigh up to 85 pounds, and Standard Poodles up to 70 pounds, though females usually weigh less.
The size of the Boodle is somewhat unpredictable, though you can expect it to be 18-22 inches tall and weigh between 40-60 pounds.
Boodle Temperament
Pitbull-Poodle mixes make excellent family dogs because they get the best of both worlds in terms of their temperament. They're energetic, athletic, friendly, and highly obedient. This breed is usually gentle and playful with kids if you ensure they receive proper socialization early.
Although they are family-friendly pets, avoid leaving a small child alone with a Boodle. Accidents happen, and this medium-sized dog may unintentionally injure fragile children.
Boodles are loyal companions that love their families and will protect them at all costs, making them excellent guard dogs. However, they may feel shy and aggressive toward new people they interact with, even if they're your friends. With proper training, you can easily prevent this.
These lively and family-oriented pups shouldn't be left alone for extended periods. They may feel frightened or agitated at home alone and take it out on furniture or other items around your house.
Lifespan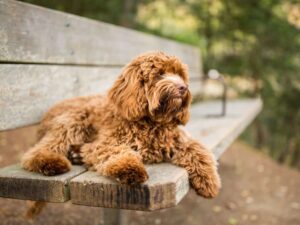 Like other larger breeds, a larger-sized Boodle may have a slightly shorter lifespan. However, the crossbreed's lifespan is ultimately determined by the dog's overall health.
Generally speaking, Pitbull Poodle mixes have a life expectancy of 9 to 15 years. For the best chance of your pup having a longer life, you must help them stay healthy. Ensure they get the proper food portions, exercise frequently, and receive regular checkups from the vet.
Potential Health Issues
Evidence suggests that hybrids may be healthier with careful breeding than purebred dogs. Unfortunately, this doesn't mean they're immune to having health issues altogether. Like all pets, Boodles are susceptible to different health issues, mainly depending on the problems their parents are at risk for.
Pitbulls can have health problems like hip dysplasia, bloat, cancer, allergies, keratosis, and congenital heart disease.
Poodles, on the other hand, are prone to Addison's disease, heart disease, cancer, thyroid issues, hip dysplasia, and epilepsy. However, the most common problem Poodles face is ear infections, which occur when their coat grows into their ear canal, which traps wax and dirt.
Knowing the potential problems your pup can face will help you prepare and watch for warning signs and symptoms. Here are the potential health issues a Boodle may be prone to.
Allergies or Skin Issues: Boodles that inherit a Poodle's fur are more at risk of developing skin diseases or having skin allergies. They may also exhibit an allergic reaction to irritation from parasites. Without close attention, they're likely to get skin infections.
Addison's Disease: Poodles are prone to developing Addison's disease, which their pups may inherit. Boodles with Addison's disease will be incapable of producing enough cortisol, causing them to struggle when handling stress or anxiety.
Hip Dysplasia: Poodles and Pitbulls are at risk of getting hip dysplasia, so it's a common condition for the Boodle. To lessen the chance of your Boodle developing hip dysplasia, ensure your dog is living its healthiest life and aim to avoid arthritis or other mobility issues.
Bloat: Bloat is common for medium-sized or large dogs who don't get enough exercise or overeat. Bloat can be deadly without immediate treatment. You can prevent bloat by providing a diet and exercise routine that keeps your dog at a healthy weight.
Obesity: Obesity is another health issue resulting from a poor lifestyle. Dogs with obesity or that are overweight are more at risk for other health issues like diabetes, heart disease, cancer, hypertension, and joint problems.
Caring for Your Pitbull Poodle Mix
Boodles need personalized care like all dogs. Knowing their health needs in advance is best, so you're prepared when your new pup finally comes home.
Diet
Choosing the right dog food and feeding proper portions to your Boodle should be at the top of your priority list. Because a boodle's weight can vary, the required quantity of food depends on the size of your dog.
Feed your dog 2-3 meals daily with treats as snacks throughout the day. On average, Pitbull Poodle mixes need two to three cups of food each day. Creating routines will get your dog used to a healthy lifestyle while they're young.
Choose a premium dog food brand to ensure your pup gets all the proper nutrients. Keep an eye on their weight and adjust food proportions accordingly. Because Boodles are at risk of becoming obese, you'll need to ensure they aren't overeating.
We know your adorable new Pitbull Poodle may give you puppy eyes, but you must avoid giving in! If you want to spoil your Boodle, fresh, raw, dog-friendly vegetables are a low-calorie treat they will love.
Supplements
Even the best dog food may not always have all the nutrients your Boodle requires. Like humans, dogs can take supplements to help fill in the gaps. Because Poodle Pitbull mixes are at risk of developing hip dysplasia, they may need supplements like omega oils, glucosamine, or chondroitin.
Grooming
Your Boodle may require different types of grooming depending on the parent your dog gets its genes from. Pitbulls have smooth, short coats that don't require a lot of grooming. On the other hand, Poodles need regular grooming to manage their long curly coats.
Short-haired Boodles only need a good brushing a couple of times each week. Alternatively, Pitbull Poodles with curly Poodle-like hair require daily brushing to prevent matting. Matted fur can cause discomfort and sometimes more serious issues like skin sores or bruising. It can even become a breeding ground for parasites.
Dogs with Poodle coats need a good quality brush and shampoo. Although curly hair is a bit more high-maintenance, there is a perk – they typically won't shed!
Poodles or breeds mixed with Poodles can be prone to skin irritations or infections. Boodles need a good monthly wash to help soothe their skin and maintain a healthy coat. Be careful not to get water in your pup's ears during their bath to avoid ear infections.
We also recommend brushing your dog's teeth daily to maintain good dental hygiene. Get a doggy toothbrush and toothpaste from your local pet shop or online retail stores.
Exercise Requirements
Because Pitbull Poodle mixes are highly active dogs, you'll need to schedule plenty of playtime and exercise. Since they have hunting dogs in their blood, a Boodle will love a good game of fetch to keep them active and help stimulate their brain.
The size of your Boodle will determine precisely how much exercise it needs. On average, they'll need 45 minutes to an hour and a half of movement each day. If you have a busy schedule, you can break up their activity into several daily walks or hire a dog walker.
Training Your Pitbull Poodle Mix
The most significant aspect of owning a Boodle is its trainability. Although it may be challenging to grab your pup's attention initially, it'll get easier the more you do it. However, you'll want to train your dog at an early age.
Teach your Pitbull Poodle tricks like sit, stay, and rollover. Because of their brilliant nature, you can even teach them more challenging tricks. Not only does training from an early age makes them easier to manage, but it helps keep their mind busy.
Bored dogs can get agitated or aggressive, so training and exercise are essential.
Importance of Socialization
Socialization prepares your dog to enjoy interactions and be comfortable with other animals, people, or places. Ideally, socialization should begin during the "sensitive period," between three and 14 weeks old.
All dogs need early socialization, but this is especially true for Poodles and Pitbulls. Because both dogs mistrust strangers, you'll want to get them used to other dogs and people as soon as possible.
Socialization will help your dog feel confident around new people, making them less likely to react aggressively.
Pitbull Poodle Mix Puppy Care
Pitbull Poodle mixes are great additions to any family, but like any young dog, they can be a lot of work when puppies. They'll need exercise even at a young age, so ensure you have enough time to play with them and take them on frequent walks.
Boodles can feel stressed or anxious when left home alone for long periods. So, ensure you set enough time aside or have someone home with them while they're in their puppy stage. They will be more comfortable alone once they get used to their new environment and receive the proper training.
If your dog has Poodle hair, you'll need to ensure you are keeping up with their grooming needs to keep their skin healthy. Additionally, you'll have other new puppy responsibilities like training and socialization to fit into your schedule.
With their grooming and exercise needs, Boodles may be too much work for some families. Only choose a Pitbull Poodle mix puppy if you can put in the daily time to take care of their needs.
Initial and Ongoing Costs
Initial Costs
Designer breeds have grown increasingly popular, but locating a reputable Pitbull Poodle mix may still be challenging. If you buy a Pit Poodle mix puppy from a reputable breeder, you'll likely spend $1,000-$2,500.
Finding a lower-priced breeder may be tempting, but working with a respected breeder is crucial. Do your research to ensure you locate someplace legit. Ask if they are a member of an AKC-affiliated club and reach out to them so you can verify their information.
The breeder should be able to provide you with your potential pup's medical history and show you the parents. Trust your gut, and if you feel like something is off, keep looking.
If you're open to adopting your Boodle puppy from a rescue, you may find one at a lower cost. Every rescue organization varies in pricing, though you can expect it to start at around $400. Keep in mind that you'll need to meet some requirements to adopt.
Ongoing Costs
Once you get your puppy, there will be several expenses to ensure high-quality care. You'll need to ensure they receive their initial vaccinations if they haven't gotten them already, typically costing between $100 and $300. From there, you'll likely pay between $300-$600 annually for vet costs.
Boodles also need nutrient-dense dog food and may need to take additional supplements. However, specialty dog food can be a bit pricier. Expect to spend roughly $300-$700 per year on dog food and treats.
For curly-haired Boodles, you'll need to account for regular professional grooming sessions. Between the grooming supplies or tools you'll need at home and their regular grooming appointments, you could spend up to $500 yearly.
Lastly, budget for new dog items like a leash, collar, toys, and bed. Each item's prices vary, though you can expect to spend around $100-$200 in total.
Rescuing a Boodle
Choosing to rescue a dog is a beautiful thing, though there are some risks involved. Typically, rescues have a less-than-ideal previous life, which may make them less affectionate and social. Luckily, they typically warm up to you once they get used to their new home.
Some rescued dogs may have previous trauma that makes them mistrust humans. With Boodles, this can be a serious concern due to their innate wariness of others. Younger dogs may be trainable, but older dogs may struggle to adapt.
If you go with a rescue Pitbull Poodle mix, ensure you have plenty of time to introduce them to your family, train them, and take care of any additional needs.
Frequently Asked Questions
Here are the most frequently asked questions regarding the Pitbull Poodle mix.
What is a Pitbull Poodle mix called?
A pitbull poodle mix is called Boodle.
How big does a Pitbull Poodle mix get?
It's impossible to know exactly how tall or heavy a Boodle will be, but they should reach around 18-22 inches in height and weigh between 40-60 pounds.
Are Boodles high maintenance?
Boodles can be high maintenance depending on the coat the dog inherits. Depending on the coat, you may need to add time for grooming sessions. Pitbull Poodle mixes also require plenty of exercise that you'll need to ensure you make time for. The truth is, Boodle puppies are a lot of work, but if you have the time, they're worth it!
Is a Pitbull Poodle mix dangerous?
There is a misconception that Pitbulls or Pitbull mixes are aggressive or dangerous. Although Boodles can be fiercely loyal and mistrusting of strangers, you can train them to prevent that poor behavior. With proper training and socialization from a young age, Pitbull Poodles are excellent family pets that your kids will be safe with.
Are Pitbull Poodles high-shedding dogs?
Whether your Boodle will shed depends on its genetics. Boodles with a Poodle's coat type are less likely to shed and, therefore, won't produce as much allergen-causing dander. Alternatively, a Pitbull's coat sheds moderately heavy, which may trigger allergies.
Is a Pitbull Poodle Mix Right for Me?
The Pitbull Poodle mix is intelligent, lively, and loyal to its family. Although this mixed breed has an array of excellent traits, it may not be the right dog for everyone.
Ideally, a Boodle owner will have a fenced-in yard or plenty of land for the high-energy pup to run freely. If you don't have a backyard, you'll have to make time to go on plenty of walks and play with your puppy daily. They need a lot of training and mental stimulation to prevent boredom.
Boodles with a Poodle coat can make them more high-maintenance, though they are the better option for those with allergies. On the other hand, a Pitbull-like coat will require less grooming but may trigger allergies.
The good news is that the Boodle will be easier to care for once it's been trained and you have a routine down. With proper training, Pitbull Poodle mixes make great family pets that are excellent with kids and protective of their owners.
For more Poodle mix guides from our team at We Love Doodles, you can check out:
If you find the Pitbull Poodle mix fascinating, you can learn more about other amazing breeds by watching "The 5 Best Poodle Mix Breeds for Seniors | Which Poodle Mix Breed is Best for you?" down below:
Garrett loves animals and is a huge advocate for all Doodle dog breeds. He owns his own Goldendoodle named Kona. In addition, he volunteers at the Humane Society of Silicon Valley, where he fosters dogs and helps animals. Garrett enjoys writing about Doodles and believes that dogs can teach humans more about how to live than humans can teach a dog.
Why Trust We Love Doodles?
At We Love Doodles, we're a team of writers, veterinarians, and puppy trainers that love dogs. Our team of qualified experts researches and provides reliable information on a wide range of dog topics. Our reviews are based on customer feedback, hands-on testing, and in-depth analysis. We are fully transparent and honest to our community of dog owners and future owners.