E-collar technology has been helping dog owners to provide off-leash training to dogs of all types. As off-leash training has always been a challenge for pet keepers, that is why e-collar products are so popular in the market.
An e-collar is a remote training system that comprises of a wireless remote and a wireless receiver. It allows you to correct your dog's behavior by sending them remote signals via beep, vibrate, and shock modes. In addition, it helps your dog understand the difference between good and bad behavior.
There are a variety of e-collar models available in the market that offer different features and functions. Among them, the mini Educator e-collar is one of the most humane and safest e-collars for dogs. They utilize all the latest e-collar technologies and offer an abundance of exceptional features.
Unlike other conventional shock collars, e-collars use a stimulus that targets the dog's neck muscles. This stimulus is as gentle as the loving touch of their mother. The choice of adjusting the stimulus level according to the need is also available.
Educator e-collars also have multiple models, but in this article, we will review Mini Educator e-collar. It is one of the best and most common models of Educator e-collars. We aim to provide you with a detailed and honest review of this popular e-collar. Overall though, we really like the Mini Educator e-collar and use it to train our dogs.
Check out also: Best E-Collar for Large Dogs

What is the Mini Educator e-collar?
Product
Best Overall
Mini Educator E-Collar
Smaller Version
Micro Educator Training Collar
Normal Version
The Educator E-Collar
Image
Educator ET-300 Mini Dog e-collar is one of the leading dog training shock collars in the world. This electric dog training system has an abundance of impressive features impossible to find in other competitor models. It is an ideal choice for dog owners who want to give their dogs the freedom to walk without a leash, teach them obedience and solve behavioral issues.
Features
Design
This dog collar is built to the highest quality standards to withstand extreme dog training conditions. All the dog training collar components are well-made, but here is advice: go through the instructions manual before starting because it will be utterly confusing to use without reading the complete instructions.
To turn the collar on, line up the two magnetic red dots on the collar and receiver. The round, yellow controller contains five buttons (a power button, two stimulation buttons, a vibration button, a switch button), an antenna, and a spinning dial.
The collar is 30 inches long and is manufactured with thick plastic. It closes through a metal buckle and has many contact points that allow you to adjust the collar properly according to your dog's size. It also features a light that allows you to track your dog in the dark. 
Stimulation
It comes with three unique stimulation options that make dog training less stressful. You have to choose one stimulation mode among the momentary, continuous, and combination modes. There are 100 stimulation levels that you can adjust via the dial. For example, you can boost the stimulation level to 60.
Two stimulation buttons are present. In addition, the transmitter also contains a button for tapping sensation and tone stimulation. 
Battery
Mini e-collar comprises a rechargeable lithium-polymer battery. It comes with a dual charger that allows you to plug in the receiver and remote at the same time. It takes about two hours to charge fully.
Indicator lights are present that blink green to indicate regular operation, and red light to show that battery needs charging.
The estimated battery life of this Mini Educator e-collar is 10-15 hours, which is perfect for brief sessions but not for an extended period. 
Transmitter
The transmitter of this dog training collar contains an antenna for transmitting signals and buttons for stimulation. A dial or a knob is present to choose the proper level of stimulation. It also includes an LCD that shows the level and stimulation.
On the side of the transmitter, a magnetic dot is present to turn it on or off.
Range
It is not wrong to say that the main selling point of this dog training e-collar is its extraordinary range. You can stimulate it with the remote from up to ½ mile away. All other models have a range of no more than one mile. Therefore, it is perfect for those who have hunting dogs.
Water-Proof
Mini Educator e-collar is entirely water-proof. So, you can use it easily for those outdoor activities that require water bodies. For example, if your dog loves to swim, this e-collar is perfect for him.
Lock and Set Stimulation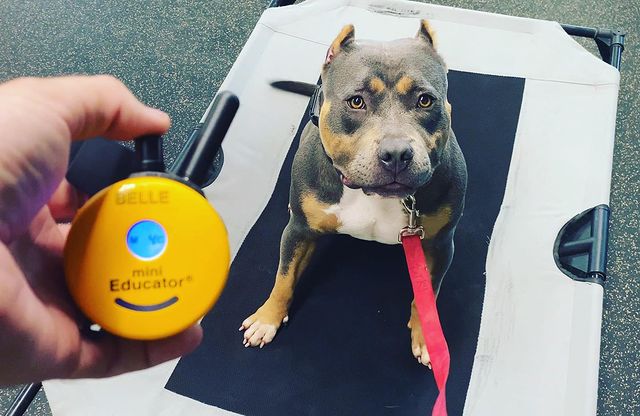 The lock and set stimulation feature offers a simple way for the dog owners and trainers to administer the stimulation. There is no need to check and set the transmitter every time before using the feature. It is already calibrated to provide the stimulation on the receiver that is based on the settings set.
In this way, you can get more time to focus on the training of the dog.
Blunt Stimulation and Strong Vibration
Many e-collars give a static shock to the dogs that are not only painful but also annoying. Therefore, it is always better to test the collars on your skin at a low stimulation level before using them on dogs. Mini Educator E collar is noticeable because it provides a blunt shock rather than the conventional sharp ones.
It felt much the same as the other shock collars; however, the effect is intense at a higher level. Therefore, it is more effective to use it on low stimulation level settings.
Price
Unfortunately, the mini educator e-collar is a little bit expensive. But, if you are on a high budget and looking for something with a long-range and reliable quality, Mini Educator ET 300 is best for you. However, if the extreme range is not something that matters to you much, you can go for less expensive models.
What are the Benefits of Mini Educator E-Collar?
Provides a Better Dog Training Experience
Mini Educator ET 300 E Collar has made dog training a lot easier and much more fun. Its advanced COS (Control Of Stimulation) feature has provided dog owners with the ability to finely tune the stimulation level according to different dogs' nature and temperament.
In this way, the fear of pain, discomfort, and head jerks have been eliminated, often with other imported shock collars. In addition, you can adjust the stimulation level from 1 to 100 to be safe and comfortable and have no overstimulation risk. Moreover, the lock and set feature allows the user to lock in the best stimulation level.
Easy to Use
This dog collar is super easy to use, whether you are a professional dog trainer or a non-tech novice. Some E Collars are tough to use, but it is not one of them. Mini Educator ET 300 E Collar has a simple controller with a clear and large button on it. Moreover, it also includes a concise instruction manual.
Pavlovian Tone
It is also a fantastic feature in that it uses a Pavlovian tone during training. It makes the dogs hear a 1.5-second tone before getting the stimulation if the button is not pressed. In this way, the dog develops an association with tone before receiving the stimulation, and they start responding even when they hear the tone for the first time.
How Does The Mini Educator Dog Collar Work?
Mini Educator Dog e-collar includes a wireless remote that determines how you will control your dog all through the training process. As described above, this collar does not work by sending forceful signals, which is a good thing. It always uses direct and low-level stimulation.
Its three alternative stimulation buttons work by sending the stimulation signals to the collar when pressed. Although the stimulation is not very stressful, it still has enough force to control the aggressive and stubborn dogs.
This stimulation affects the neck muscles, which feel like the mother's touch. It makes the dogs understand and respond to the signals.
Conclusion Mini Educator E-Collar Review
After going through the article, it becomes clear that Mini Educator E Collar is an excellent choice. Its remarkable features, versatility, and reliability are no less than a dream. It is the most promising dog collar among all others available in the market.
 Above all, it does not affect your dog's physical or mental health, and it is the most significant factor. Its tracking is also a handy feature that adds to its value. Moreover, if you are looking for a long-range dog training collar, the ET-300 Mini Educator Remote e-collar is the most classic option available in the market. It comes with an impressive guarantee that ensures durability.
No doubt, it is a considerable investment of money, but it proves to be an excellent investment for those who do not want to hire professionals for their dog's training. You may find it a bit hard to set up initially and a little complicated to control, but the detailed instruction manual will surely help you with it.
All in all, it is an excellent product for your dog, and you should consider it for sure.
You will also like:
Garrett loves animals and is a huge advocate for all Doodle dog breeds. He owns his own Goldendoodle named Kona. In addition, he volunteers at the Humane Society of Silicon Valley, where he fosters dogs and helps animals. Garrett enjoys writing about Doodles and believes that dogs can teach humans more about how to live than humans can teach a dog.
Why Trust We Love Doodles?
At We Love Doodles, we're a team of writers, veterinarians, and puppy trainers that love dogs. Our team of qualified experts researches and provides reliable information on a wide range of dog topics. Our reviews are based on customer feedback, hands-on testing, and in-depth analysis. We are fully transparent and honest to our community of dog owners and future owners.