Every dog owner knows the feeling of panic when they see the gate to the yard or the door standing open. They realize their dog is gone. Sometimes your dog simply pulls away from you and goes exploring, or digs out of the yard to take off after a squirrel or other small critter. You chase and search, call, and whistle, but the odds are your dog is well out of hearing range. This is when a GPS coordinates can come in handy to help track down your dog. However, most GPS collars have a monthly fee. We will review the best GPS dog collar with no monthly fee so you can keep track of your dog.
Hunters who work sporting breed dogs face a similar dilemma. Young dogs do not always hold their position and can be distracted or sidetracked by scent trails or other moving animals that cause them to chase or veer away from their intended targets. When in the wilderness hiking, the same can occur for the dog enthusiast that likes to take their dog off-leash on trails. It's a terrible way to end a day of working your dog, knowing that you have to follow on foot while calling and whistling for your dog to return. Often you're in unfamiliar surroundings and unsure if your dog will be able to find its way back to you or your base camp.
Thankfully, technology has caught up to our problems of lost or roaming dogs. There are now literally hundreds of pieces of technology available to you for tracking your dog via cellphone, computer, GPS, Bluetooth, or on radio frequencies. They vary in price and efficacy, and there are pros and cons associated with all of them.
We're taking a look at the best GPS tracking collars for dogs without subscriptions or fees attached. However, these collars are not necessarily free to operate. Aside from the initial purchase price, there might also be data fees associated with the use of the collars, and there are usually maintenance and upkeep costs such as battery replacement. The GPS collars we're bringing you will typically have a higher initial cost, but one thing they do not have is a monthly subscription fee which will save you money in the long run.
In a rush? Here are the top picks!
Product
Best Overall
Garmin Astro 430/T
Runner Up
SportDOG Brand GPS Collar
Budget Pick
Dogtra Pathfinder
Image
Garmin is the top brand for GPS tracking systems. They began as a vehicle mapping service and have added GPS dog collar tracking systems to their array of products. The GPS dog collars come in a variety of configurations to suit your needs.
Originally designed for sporting and hunting dog use, these GPS collars will work for any breed of dog as well. They also have products for tracking smaller dogs with their Astro Mini collars. Additionally, you can track single or multi-dogs with this system.
The T5 Astro GPS dog collar has a range of up to 9 miles, up to 20 hours of battery life. Additionally, it comes pre-loaded with TOPO maps that allow you to track your dog in difficult terrain. For the sportsman, the unit also includes hunting metrics and a one-year free subscription to birdseye view satellite imagery. However, the birdseye view isn't necessary and it's there's no monthly subscription. You will pay a higher initial price though.
The favorite of all the Garmin GPS dog tracking collars hands down is the 430 Astro T5 Combo. This is a top-of-the-line product, and the price reflects that. Garmin GPS dog system boasts high ratings and many people use this GPS dog collar.
The SportDOG Tek GPS dog tracker collar is an example of a great multi-use system for a hunter or casual dog owner. This system is expandable to include multiple dog (up to 12) tracking in addition to geofencing and hunting assistance. The remote will indicate if the dog is stopped or moving, which tells hunters when the dog is pointing or indicating prey. The LCD display indicates your location and your dog's position and includes a tilt-compensated compass.
The handheld device and collar are both rechargeable with a range of up to 10 miles. The unit and collar are water and weatherproof with up to 24 hours of battery life. This unit receives high ratings with glowing reports of fantastic customer service and support from SportDOG. The poorest reviews discussed inaccuracies in the geofencing feature.
The price point for the SportDOG Tek series GPS collar is in the $400-$500 range for the base unit. SportDOG supports this system with upgrades and options to expand. The system is popular with hunters as well as hikers or rural residents with surrounding property or wildlands where dogs love to roam. This is a GPS dog collar with no monthly fee to use the basic features.
The Dogtra Pathfinder is a combo unit designed for tracking and training. This system is also expandable to include up to 21 dogs and can be used as an e-collar with an audible tone and up to 100 levels of stimulation to keep your dog on track. You can use your smartphone and Google Maps to track your dog over three levels of terrain.
The unit boasts a 2-second refresh rate, a range up to 9 miles, and a powerful output and zoom capability. There is also a geofencing option available if you want to keep your dog contained. Dogtra also offers a free download of offline maps via their Pathfinder phone app.
This unit is competitively priced at around $400. The best reviews lauded the Google Maps and tracking features. The poorest reviews discussed the sizing of the collar, (not suitable for smaller breed dogs), inaccuracies of the geofencing feature, and the size and visibility of the antenna, which can be a detriment while hunting. One solution was to thread the antenna through the buckle on the collar. To use the basic features, there is no monthly fee for the Dogtra Pathfinder GPS collar.
Garmin does it again with a lightweight and more affordable edition of their sport dog GPS tracker collar. This collar pairs with the T9 remote to give you an effective system to track your dog up to 5 miles. This system is approved for use in Canada as well as the United States and comes pre-loaded with topographical maps. The system also comes with a free one-year subscription to birdseye satellite imaging. The high sensitivity GPS and GLONASS satellite technology have a 2.5 second refresh rate which makes tracking in rough terrain easier with a faster location.
The system is expandable for up to 20 dogs and covers up to a 5-mile radius. Customers rave about the speed with which they can identify and locate their dogs, the immediacy of the refresh rate, and the ability to get ahead of their dogs' location.
The Garmin Astro 900 Sportdog collar can be sized for your dog, although these collars do not fit very small breeds. The system includes hunt metrics useful for the sportsman who hunts with canines and is also a great choice for trainers of sporting breed dogs.
The price point for the collar only is in the $200-$300 range, and goes up as you add the remote. Garmin also sells accessories for the sporting dog owner. This is a GPS dog collar with no monthly fee.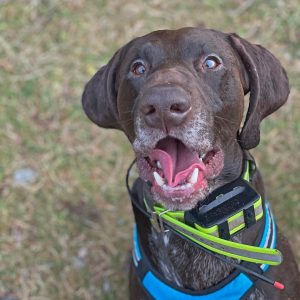 How to Choose a GPS Dog Collar with no Monthly Fee
All of the model GPS dog collar systems described above are user-friendly, provide customer support, and are expandable to include multiple dogs. The use of GPS and satellite technology gives the sporting dog owner peace of mind and the comfort of knowing that their dog will not be lost while hunting, hiking, or roaming.
The addition of training tools such as geofencing, an audible tone, vibration and/or electric shock correction expands the capability beyond tracking to turn these GPS tracking collars into valuable training tools. The e-collar function is usually integrated into the tracking system, so they function in tandem. In other words, the GPS functions must be activated in order for the e-collar functions to work.
In terms of customer satisfaction, Garmin and SportDOG had the most outstanding reviews. The Pathfinder system was found to easily upgraded and offered free downloads to their customers.
Do GPS Dog Collars with no monthly fee work for multiple dogs?
For those of you who have multiple dogs, these systems are expandable to include up to 20 dogs. Each dog can be individually tracked. For the avid hunter or trainer of sport dogs, this expandability can be very useful. Those units that have the added e-collar function are certainly more valuable to someone who is training dogs. One of the benefits of having your dog wear the e-collar is that after the introduction, often simply wearing the collar is enough, and you rarely need to use it to correct your dog's behavior.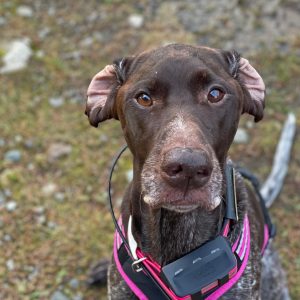 Are Dog Trackers without Subscriptions worth it?
The thing about GPS trackers for your dog without a monthly subscription is that you have to pay more upfront. This can be off-putting if you're trying to be frugal in your spending. However, the upfront cost is understandable for a GPS dog tracker with no monthly fees.
These are the top-of-the-line products, so they are a bit more costly than some of the lesser quality options that do require a subscription. When paying more for your GPS dog tracking collar at the time of purchase, you actually save money in the long run. The most important reason to purchase one of these items is that they actually work. When your dog is on the run, that's the thing that matters most. These are the top-rated GPS tracker collars on the market today.
For all their loving companionship, we must never forget that dogs are predators, and their first instinct, when they see prey, is to jump, run, and chase. If you take your dog off-leash anywhere, you should always have a safeguard just in case. The investment in a GPS tracking dog collar mitigates the risk of you losing your dog should something like that occur.
Disadvantages of GPS Dog Collars with No Monthly Fee
One complaint of these GPS collars is that the system only operates on Windows based computer systems. Additionally, some other downsides include sizing issues with some collars if you have a smaller dog. Small and toy breed dogs cannot wear these collars because they are heavy, bulky, and can't be shocked. The best solution for owners of small breeds is to look into a GPS tracking device instead of a collar.
Additionally, weather and water are always factors when you're out in the wild with your dog. Be sure to take this into account when you choose your GPS tracking collar. Choose the system that suits your intended usage. Weatherproofing does not mean that the collar is submersible in water so if your dog goes to water to retrieve something, you want to be sure that the collar you choose is submersible up to a certain depth.
Keep in mind that GPS tracking does not always work in urban areas with high building density, but these systems are the very best tools for tracking and training in wilderness and rural areas. The mapping features such as TOPO and Google Maps, and satellite birdseye views, however, are invaluable while tracking your dog in densely wooded or mountainous areas. The units with the highest refresh rates were the most popular in aiding the customer in locating their dogs more quickly.
Conclusion for Best GPS Collars with No Monthly Fee
Let's face it, we all want the very best for our best friends. It doesn't matter if you have a sport dog or a yard dog. You want to know where your dog is at all times. In terms of the best value for money, these GPS tracking collars are the best investment in the safety and well-being of your dog. It's worth the price to have peace of mind that you will not lose your dog if something unexpected should happen while you're out hunting or hiking.
Other articles you would like:
Garrett loves animals and is a huge advocate for all Doodle dog breeds. He owns his own Goldendoodle named Kona. In addition, he volunteers at the Humane Society of Silicon Valley, where he fosters dogs and helps animals. Garrett enjoys writing about Doodles and believes that dogs can teach humans more about how to live than humans can teach a dog.
Why Trust We Love Doodles?
At We Love Doodles, we're a team of writers, veterinarians, and puppy trainers that love dogs. Our team of qualified experts researches and provides reliable information on a wide range of dog topics. Our reviews are based on customer feedback, hands-on testing, and in-depth analysis. We are fully transparent and honest to our community of dog owners and future owners.