The crossing of a Labrador Retriever and a Poodle yields an excellent family dog called the Labradoodle. Initially bred by the Australian Royal Guide Dogs Association, this dog was engineered to be a guide dog. However, it's no surprise that it has gained much popularity as a family companion dog today. Not only are Labradoodles kid-friendly, but they can also be excellent pets for families with allergy concerns. If this designer dog is perfect for you, you will need a trustworthy breeder. Here are some top Labradoodle breeders in New Mexico.
Other articles you will like: Best Labradoodle Dog Breed Guide! and Labradoodle Rescues.
Top Labradoodle Puppies for Sale in New Mexico
The following breeders are some of the most reputable places to get a sound Labradoodle puppy. In general, Labradoodles have become such a popular breed due to their hypoallergenic and nonshedding coats that you'll find many backyard breeders and puppy mills that aren't licensed or registered. We highly recommend that you only purchase your Labradoodle puppy in New Mexico from a reputable breeder so they don't have health issues in the future.
PuppySpot is our top Labradoodle breeder in New Mexico because they only list their puppies that are born. That means that you won't have a wait several months on a puppy waitlist just to get a dog. Additionally, you can see all their Labradoodle puppies for sale and select one based on their coat color, size, generation, or price. We got our Goldendoodle from PuppySpot and had a really fabulous experience.
PuppySpot is a community of ethical dog breeders that are focused on breeding healthy and happy puppies. In fact, they have a 200-point inspection, require you to be registered and licensed, and you must pass USDA standards to be listed on their website. Thus, they do all the vetting for you so you won't have to call several dozen breeders in your state and interview them all.
All the Labradoodle puppies for sale come with a health inspection, support, and health guarantee. They even keep in contact with you after the sale to see if you have any questions or trouble raising your puppy. If the exact Labradoodle puppy that you want isn't located in New Mexico, they will still fly it out to you via their own private airline. We highly suggest you check them out.
Labradoodle Breeder Information
2. New Mexico Labradoodles
New Mexico Labradoodles only selects the best Labradoodle puppies for their breeding program. Located in Albuquerque, New Mexico, this breeder is one of the best in the business of producing healthy and happy puppies. They started breeding in 2003 and have been on top of their game since then. The team here focuses on health and temperament when breeding. 
If you are looking for a place to get a medium-sized or miniature Labradoodle puppy, New Mexico Labradoodles might be the best place for you. All the dogs here are sweet and gentle, with the perfect amount of playfulness. This breeder ensures that all the dogs get all the attention and care they need. Their dogs undergo one-on-one training with a dog walker and basic obedience classroom training.
This Labradoodle breeder does their best to socialize and house-train their puppies. So, by the time you go home with your new puppy, they will be able to adapt to your new home quickly. Additionally, the Labradoodle puppies in this kennel enjoy taking daily walks. The team makes sure that all puppies get a good start by health-testing their parents before selecting them for breeding.
Labradoodle Breeder Information
3. High Road Labradoodles
High Road Labradoodles is an excellent place to get a Labradoodle pup in the state of New Mexico. They offer standard-sized multi-generation American Labradoodle pups. This breeder strives to produce healthy Labradoodles with intelligent, gentle, and sociable temperaments. They also aim to ensure that all their Labradoodle puppies in New Mexico have non-shedding coats.
Their breeding program aims to produce dogs that can become excellent service dogs and loving companions. If you adopt a puppy from High Road Labradoodles, the team will provide lifetime support for your new furry pal. The breeder is close to The High Road to Taos, hence their name and high standards when it comes to caring for their puppies. They allow their dogs to run free on their property and socialize with cats, birds, bunnies, kids, and adults.
The dog here stays in their hand-built adobe passive solar dog houses with a doggie door. All the dogs at High Road Labradoodles are working dogs trained to alert them when intruders come into their property. The dogs also watch and protect the kids when hiking. This Labradoodle breeder in New Mexico whelps their dogs indoors, familiarizing them with the sounds of their home.
Puppies from this breeder are used to the sounds of singing, vacuums, laughter, bangs and clangs, drumming, music, and television. The floor of this kennel is made up of different surfaces, including wooly padding, tile, advancing to brick, and wood flooring. The puppies here also get to explore the grass and the earth outside.
Labradoodle Breeder Information
4. NM DOG
NM DOG does not like the idea of having a dog chained for many years. They are known for rescuing dogs that have undergone the harsh effects of chaining. The team at NM DOG uses their resources, care, and lots of love to ensure that their dogs live happy normal lives. Long-term abuse like chaining can cause lifelong damage to dogs. You can occasionally find Labradoodle mixes here for adoption.
The NM DOG Home Sanctuary Program offers a home environment for dogs that need it. The team here ensures that all their dogs end up in the best forever homes where they will get all the care they need. They also promise to provide lifetime financial care for their dogs. Their aim is to match special needs dogs with unique caregiving families. 
The Home Sanctuary Program is important, life-changing work and is made possible by the support of some individuals. You can visit their website or call them to adopt a puppy.
Labradoodle Breeder Information
Address: 9445 Coors Blvd NW #171 Albuquerque, NM 87114

Phone: +1 (505) 886-1PAW

Website:

www.nmdog.org

  
5. Labradoodles of Logan Ranch
400;">Labradoodles of Logan Ranch is home to many sociable, clever, and friendly Labradoodle puppies. All the dogs here are non-aggressive and highly intuitive. They go on to become excellent therapy dogs, guide dogs, and other assistance dogs thanks to their intelligence and high train-ability. The team ensures that all dogs undergo early neurological stimulation.
This way, the dogs are familiarized with being handled and held by the people in their world. The dogs in this breeder can have two types of coats; the non-shedding wool curly coat or the fleece coat. The wool coat almost never sheds. It looks like a poodle's coat and feels like a soft wool sweater.  
If you have any allergy concerns in your household, this coat type might be a sure bet for a perfect family dog. The fleece coat is also low to non-shedding and allergy-friendly.  This coat type is lower maintenance but can shed a little. If you want to see their adorable puppies, you should head on to their website, as they have tons of photos there.
400;">Labradoodles of Logan Ranch offers many different colors of puppies, which may include White, Cream, Chalk, Gold, Apricot, Caramel, Black, Red, Chocolate, Parchment, Café au Lait, Parti, and the rare color, Merle.
Labradoodle Breeder Information
6. Arie's Dogland LLC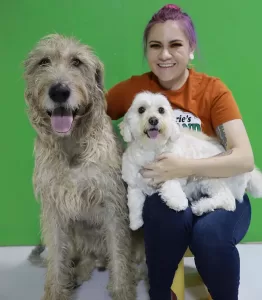 Arie's Dogland LLC has an excellent facility where they offer services like training, nutrition, socialization, and grooming. The team here does its best to promote reward-based, effective dog training. The puppies at Arie's Dogland enjoy low-stress, professional grooming, and safe, fun, stimulating play. If this is your chosen Labradoodle breeder in New Mexico, you can rest assured that your puppy has been in good hands.
With over fifteen years of experience, Arie's Dogland is one of the best breeders of healthy Labradoodle puppies. They take pride in the fact that they can offer a better facility than many other breeders in town. The team at Arie's Dogland comprises passionate breeders who carefully plan the facility to help them run their business efficiently. They have a custom-built grooming room with well-researched flooring.
The flooring type here allows the breeders to keep the floor surface clean easily. If you want to purchase a new Labradoodle from Arie's Dogland, you should visit their website. Or, you can also give them a call to kick off your puppy adoption journey.
Labradoodle Breeder Information
7. Durango Poodles
Durango Poodles has a beautiful farm located on a 32-acre property west of Durango. They named their home after their first poodle, Clyde. It is filled with Ponderosa pines, where the dogs run around and play, a true dog paradise! The team here is open to having you visit their home at any time. 
They focus on temperament, health, and companionship when breeding, but their poodles are likely to be show-quality though. The goal at Durango Poodles is to provide families with the best furry pal for life. That's why they do not remove dewclaws or crop tails at this kennel. It is their belief that puppies are perfect just the way they are.
Durango poodles are bred with lots of love. All the puppies here grow up inside the breeders' home and enjoy plenty of fresh mountain air and sunshine every day. The team carries out extensive socialization with their puppies to ensure that they produce excellent family pets. Their breeding program is called Puppy Culture.
This program allows them to produce confident, happy puppies that love to learn. They make sure that all pups are familiarized with kids and exposed to many different smells, sights, and sounds within their first eight weeks. This way, the puppies will be confident and well-adjusted. They see all puppies as members of their family until they move to their new forever homes.
At Durango Poodles, breeding is about developing relationships. They take pride in what they do and see themselves as a "forever" breeder. The team likes to stay in touch with all their customers even after they had gone home with their dream puppy. Feel free to always contact them with questions about grooming, training, or health.
Labradoodle Breeder Information
Address: 2125 Co Rd 125, Hesperus, CO 81326, United States

Phone: +1 970-903-6145

Website:

www.durangopoodles.com

 
Conclusion Labradoodle Breeders in New Mexico
Labradoodles are intelligent and sociable dogs with low-shedding coats. These dogs are pretty popular, which has led to the rise in the number of unethical breeders out there. You have taken the right step by researching reputable breeders. Our list of top Labradoodle breeders includes some of the best you will encounter in New Mexico.
You will also like:
Garrett loves animals and is a huge advocate for all Doodle dog breeds. He owns his own Goldendoodle named Kona. In addition, he volunteers at the Humane Society of Silicon Valley, where he fosters dogs and helps animals. Garrett enjoys writing about Doodles and believes that dogs can teach humans more about how to live than humans can teach a dog.
Why Trust We Love Doodles?
At We Love Doodles, we're a team of writers, veterinarians, and puppy trainers that love dogs. Our team of qualified experts researches and provides reliable information on a wide range of dog topics. Our reviews are based on customer feedback, hands-on testing, and in-depth analysis. We are fully transparent and honest to our community of dog owners and future owners.